Lake Erie, the fourth largest of the Great Lakes, offers abundant natural beauty, recreational opportunities, and thriving waterfront communities. For those unable to visit in person or simply seeking a glimpse of the lake from the comfort of their homes, webcams provide an excellent way to experience the breathtaking views and monitor local conditions. This article will explore several Lake Erie webcams showcasing locations along its shores.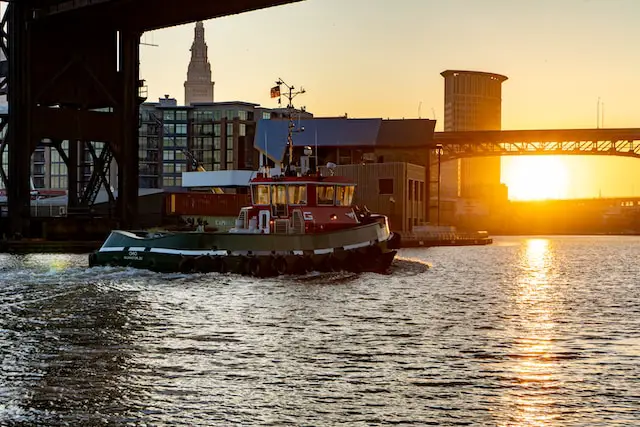 These webcams offer diverse options, from bustling cities like Buffalo and Cleveland to serene spots like Avon Lake and Edgewater. Each location provides unique attractions and activities, making them popular destinations for tourists and locals. By taking a virtual tour through these webcams, you'll better understand the vibrant life surrounding this magnificent body of water.
Join us as we delve into the captivating world of Lake Erie webcams, with featured locations including Lake Erie Live Camera Buffalo, Lake Erie Live Cam Cleveland, Lake Erie Buoy Webcam, Lake Erie Live Cam Avon Lake, Put-in-Bay Webcam, and Lake Erie Live Cam Edgewater. Get ready to immerse yourself in these webcam views and a captivating atmosphere while learning about the local attractions and activities that make each location unique. Happy exploring!
Note: If you are viewing from a Smartphone, click on the link to visit and view the webcam.
What We Will Cover
Niagara Falls Webcams Buffalo, New York
Niagara Falls: Hotel Cam at Sheraton
The Niagara Falls Webcam, located atop the Sheraton Fallsview Hotel, offers an incredible view of the world-famous Niagara Falls, capturing the beauty and power of this natural wonder. Niagara Falls, a significant tourist attraction straddling the border between Canada and the United States, draws millions of visitors yearly for its breathtaking views, thrilling attractions, and picturesque surroundings.
Nearby Attractions:
Skylon Tower: This iconic observation tower offers stunning panoramic views of Niagara Falls, the Niagara River, and the surrounding region from its indoor and outdoor observation decks.
Journey Behind the Falls: Experience the power of the falls up close by exploring the tunnels and observation platforms located directly behind the Horseshoe Falls.
Clifton Hill: This lively entertainment district features a variety of attractions, shops, and restaurants, as well as the Niagara SkyWheel, a giant Ferris wheel offering spectacular views of the falls.
Things to Do:
Maid of the Mist/Hornblower Niagara Cruises: Get up close and personal with the falls on a boat tour that takes you to the base of the Horseshoe Falls, providing a thrilling and unforgettable experience.
Niagara Parks Botanical Gardens and Butterfly Conservatory: Explore the beautifully landscaped gardens and visit the Butterfly Conservatory, home to over 2,000 free-flying tropical butterflies.
Visit the Casinos: Test your luck at the nearby casinos, including Fallsview Casino Resort and Casino Niagara, both offering a range of gaming, dining, and entertainment options.
Niagara-on-the-Lake: Take a short drive to the picturesque town of Niagara-on-the-Lake, known for its wineries, historic architecture, and charming shops.
Niagara Falls Illumination and Fireworks: Enjoy the nightly illumination of the falls and seasonal fireworks displays, creating a magical and memorable experience for all visitors.
Peace Bridge Buffalo NY
Peace Bridge - Canada Bound

Lake Erie Live Cams Cleveland
Cleveland › West
Cleveland is a vibrant city located on the southern shore of Lake Erie. As a significant cultural and economic hub, it offers visitors various attractions and activities to explore. The Lake Erie Live Cam Cleveland grants viewers a beautiful panorama of the city's waterfront and skyline.
Cleveland › South
These webcams show a stunning lake view, with the iconic cityscape as a captivating backdrop. The camera angle provides a glimpse of boats coming in and out of the harbor as we ander-changing hues of the sky over the water. It's a fantastic way to experience Cleveland's bustling waterfront from the comfort of your own home.
In the vicinity of the Lake Erie Live Cams Cleveland, you'll find the renowned Rock and Roll Hall of Fame and the Great Lakes Science Center. These popular attractions offer educational and entertaining experiences for the whole family.
West Lake Erie Buoy Webcam
A buoy webcam is a particular type of camera that floats on the water. It gives us important information about the Lake Erie water conditions in Lake Erie and helps people who like boating, fishing, or just watching the lake.
This webcam shows a close-up view of the water and the sky above it. You can see how the waves move anand wind affects them. It's a great way to learn about Lake Erie and its changing moods.
The West Lake Erie Buoy Webcam helps people stay safe on the water. It shows real-time wind, water temperature, and wave height data. To check out the live buoy webcam, click West Erie Bouy Webcam.
Cranberry Lake Marina Webcam – Berlin Heights, Ohio
Berlin Heights: Cranberry Creek Marina
The Cranberry Lake Marina Webcam in Berlin Heights, Ohio, offers a picturesque view of Lake Erie, capturing the tranquil atmosphere of the marina and its surroundings. Berlin Heights, a quaint village located along the southern shore of Lake Erie, is known for its natural beauty, outdoor recreational opportunities, and friendly community.
Nearby Attractions at Berlin Heights
Edison Woods MetroPark: This beautiful nature reserve offers miles of hiking trails, picnic areas, and a chance to observe wildlife in its natural habitat. It's a perfect spot for nature lovers and families seeking a peaceful retreat.
Quarry Hill Winery: Enjoy a taste of local Ohio wines while enjoying the stunning views of the vineyards and Lake Erie. Quarry Hill Winery also hosts live music and events throughout the year.
Thomas Edison's Birthplace: History enthusiasts will appreciate a visit to the birthplace of the famous inventor, Thomas Edison, which is now a museum located in nearby Milan, Ohio.
Huron Lighthouse Webcam, Huron Ohio
Huron
The Huron Lighthouse Webcam in Huron, Ohio, offers a stunning view of Lake Erie, with the historic Huron Lighthouse standing as a prominent landmark. The charming coastal town of Huron is known for its beautiful beaches, picturesque marinas, and recreational opportunities that cater to visitors and locals alike.
Nearby Attractions at Huron Ohio
Sheldon Marsh State Nature Preserve: This 463-acre preserve features diverse habitats and is home to various bird species, making it a popular spot for birdwatching and nature walks.
Old Woman Creek National Estuarine Research Reserve: This unique ecosystem combines marsh, forest, and barrier beach habitats. Explore the visitor center and enjoy the boardwalks and trails throughout the reserve.
The Huron Boat Basin: The Boat Basin is a lively waterfront park featuring a marina, an amphitheater, and picnic areas. It hosts numerous events and concerts during the summer months.
Things to Do in Huron Ohio
Visit Huron Lighthouse: Although the lighthouse is not open to the public, visitors can take a boat tour or paddle out on a kayak to get a closer look at this historic structure and enjoy the beautiful views of Lake Erie.
Beach Activities: Huron boasts several beautiful beaches, including Nickel Plate Beach and Lake Front Park, where visitors can swim, sunbathe, or enjoy a leisurely walk along the shoreline.
Boating and Fishing: Huron's marinas offer excellent access to Lake Erie for boating, sailing, and fishing enthusiasts. Anglers can cast lines for popular fish species, such as walleye and perch.
Golfing: Huron is home to a few golf courses, including Sawmill Creek Golf Course and Thunderbird Hills Golf Course. Visitors can enjoy a relaxing round of golf surrounded by the area's natural beauty.
Cedar Pointe Webcam – Sandusky Ohio
Huron
The Power Tower 2 Webcam at Cedar Point in Sandusky, Ohio, offers an exciting view of the park and Lake Erie, capturing the thrill of roller coasters and amusement park rides. Cedar Point, often called the "Roller Coaster Capital of the World," is a world-renowned amusement park that attracts visitors with its record-breaking roller coasters and family-friendly attractions.
Nearby Attractions at Sandusky Ohio
Cedar Point Beach: This mile-long sandy beach along Lake Erie's shore is within the Cedar Point amusement park, offering a perfect spot to relax or play between rides.
Maritime Museum of Sandusky: Learn about the history of Sandusky and Lake Erie through shipwrecks, boat-building, and ice-harvesting exhibits.
Ghostly Manor Thrill Center: An indoor family entertainment center featuring a haunted house, blacklight mini-golf, escape rooms, and a virtual reality roller coaster.
Things to Do in Sandusky, Ohio
Experience Thrilling Rides at Cedar Point: With more than 70 rides, including 17 roller coasters, Cedar Point offers excitement for adrenaline junkies and fun for the entire family.
Cedar Point Shores Water Park: Cool off on hot summer days by visiting this 18-acre water park featuring water slides, a wave pool, and a lazy river. The water park is adjacent to Cedar Point amusement park.
Boat Tours and Fishing: Take a boat tour on Lake Erie or charter a fishing trip to catch walleye, perch, or smallmouth bass. Sandusky is known for its excellent fishing opportunities.
Visit Lake Erie Islands: Hop on a ferry to explore nearby islands, such as Kelleys Island or Put-in-Bay on South Bass Island, where you can enjoy the local attractions, restaurants, and beautiful scenery.
Sandusky Historic District: Stroll through downtown Sandusky and admire its beautiful historic architecture, visit local shops, and dine at unique restaurants.
Lake Eagle Cam Near Lake Erie – Avon Lake
Avon Lake is a picturesque suburban community situated along the shores of Lake Erie, just west of Cleveland. Boasting scenic parks, tranquil beaches, and an array of recreational activities, this charming location is perfect for those seeking a serene escape. The Eagle Cam at Avon Lake offers a delightful view of one of several eagle nests located in the area, allowing you to appreciate the beauty and tranquility of this idyllic destination.
Notable attractions near the Lake Erie Live Cam Avon Lake include Miller Road Park, a popular destination for picnics, birdwatching, and fishing, and the Veterans Memorial Park, which honors local veterans. These attractions and the captivating view of the lake make Avon Lake an ideal destination for relaxation and reflection.

Put-in-Bay Webcam
Put-in-Bay Township
Put-in-Bay is a charming village located on South Bass Island in Lake Erie. Known for its picturesque scenery and vibrant atmosphere, it is a favorite destination for tourists and locals alike. The Put-in-Bay Webcam allows viewers to experience the island's beauty and lively waterfront.
The webcam provides a captivating view of the harbor, with boats coming and going, as we as shops and restaurants. Throughout the day, you can witness the changing colors of the sky as it reflects on the water, creating a serene ambiance. This live cam is perfect for those wishing to glimpse island life on Put-in-Bay.
In addition to the stunning waterfront, Put-in-Bay offers a variety of attractions and activities. Visitors can explore Perry's Victory and International Peace Memorial, go on a winery tour, or rent a golf cart to tour the island.
Leamington Municipal Marina Webcam – Ontario Canada
Leamington › West: Leamington Municipal Marina
The Leamington Municipal Marina Webcam in Ontario, Canada, provides a lovely view of the marina and Lake Erie, showcasing this charming coastal town's serene atmosphere and beauty. Leamington, often called the "Sun Parlour of Canada" due to its warm climate, is known for its outdoor recreational opportunities, beautiful parks, and scenic waterfront.
Nearby Attractions in Leamington:
Point Pelee National Park: This park is a nature lover's paradise, featuring diverse ecosystems, marshes, and beaches. It is also a renowned birdwatching destination during migration seasons.
Pelee Island: Accessible by ferry, Pelee Island is the largest island in Lake Erie and offers beautiful beaches, a winery, and nature reserves for visitors to explore.
Leamington Arts Centre: This cultural hub features local art exhibitions, workshops, and special events, promoting arts and culture in the community.
Things to Do In Leamington:
Visit the Leamington Farmers' Market: Shop for fresh, locally-grown produce, artisanal goods, and handmade crafts at the Leamington Farmers' Market, open on Saturdays from June through October.
Golfing: Tee off at one of the area's golf courses, such as Erie Shores Golf & Country Club or Orchard View Golf Club, and enjoy a day on the greens amidst picturesque surroundings.
Turkey Point Marina – Turkey Point, Ontario, Canada
Turkey Point: Marina
The Turkey Point Marina Webcam in Turkey Point, Ontario, Canada, offers a beautiful view of the marina and Lake Erie, showcasing the tranquil atmosphere of this popular vacation destination. Located on the northern shore of Lake Erie, Turkey Point is known for its sandy beaches, recreational activities, and natural beauty, attracting both tourists and locals.
Nearby Attractions of Turkey Point:
Long Point Provincial Park: This park features a sandy beach, dunes, and marshlands, providing a habitat for diverse flora and fauna, making it an excellent spot for nature lovers and birdwatchers.
Turkey Point Provincial Park: A beautiful park with sandy beaches, picnic areas, and hiking trails, perfect for a relaxing day by the lake or exploring the natural surroundings.
Burning Kiln Winery: Enjoy a wine tasting or a vineyard tour at this local winery, which repurposes tobacco kilns for wine production.
Final Thoughts About Lake Erie Webcams
We hope you enjoyed exploring Lake Erie through these incredible webcams, each offering unique perspectives on the various locations along its shores. From bustling cities like Buffalo and Cleveland to serene spots like Avon Lake and Edgewater, these webcams showcase the divLake Erie'se attractions and stunning scenery that Lthe added insights provided by the buoy webcam and the Put-in-Bay Webcam; this virtual tour is a testament to the beauty and charm of the Lake Erie region.
These webcams offer a glimpse into the local attractions and activities but also serve as a reminder of the importance of preserving and appreciating our natural resources. As you continue to explore the wonders of Lake Erie, both virtually and in person, remember to cherish and respect the environment that sustains these beautiful locations. In doing so, we can ensure that future generations enjoy the breathtaking views and vibrant communities that define the Lake Erie experience.
So whether you are planning a trip to Lake Erie, reminiscing about past visits, or simply daydreaming about the beauty of the Great Lakes, these webcams serve as a window into the world of this magnificent body of water. We encourage you to explore even more webcams in the region and, when the opportunity arises, to visit Lake Erie in person to fully appreciate the beauty, culture, and atmosphere that these webcams capture. Happy travels!
Related Reading Around the Great Lakes
20 Free or Cheap Places To Visit in Michigan
Wheatland Music Festival – A Love Letter
Port Austin Mi – 15 Unique & Amazing Things to Do At the Tip of the Thumb
10 Marvelous Great Lakes Beaches You Should Visit & Walk in 2023
22 Eye-Opening Things to Do In Caseville Mi (Some Better Than the Cheeseburger Festival)