Detroit is a city that is known for its manufacturing prowess. It's no surprise, then, that some of the well-known watches in the country are made here. Let's take a look at the 3 Detroit watchmakers who create outstanding goods in the watch industry. Looking for a sophisticated or rugged timepiece? These watches made in Detroit will wow you.
What We Will Cover
#1 Detroit Watch Company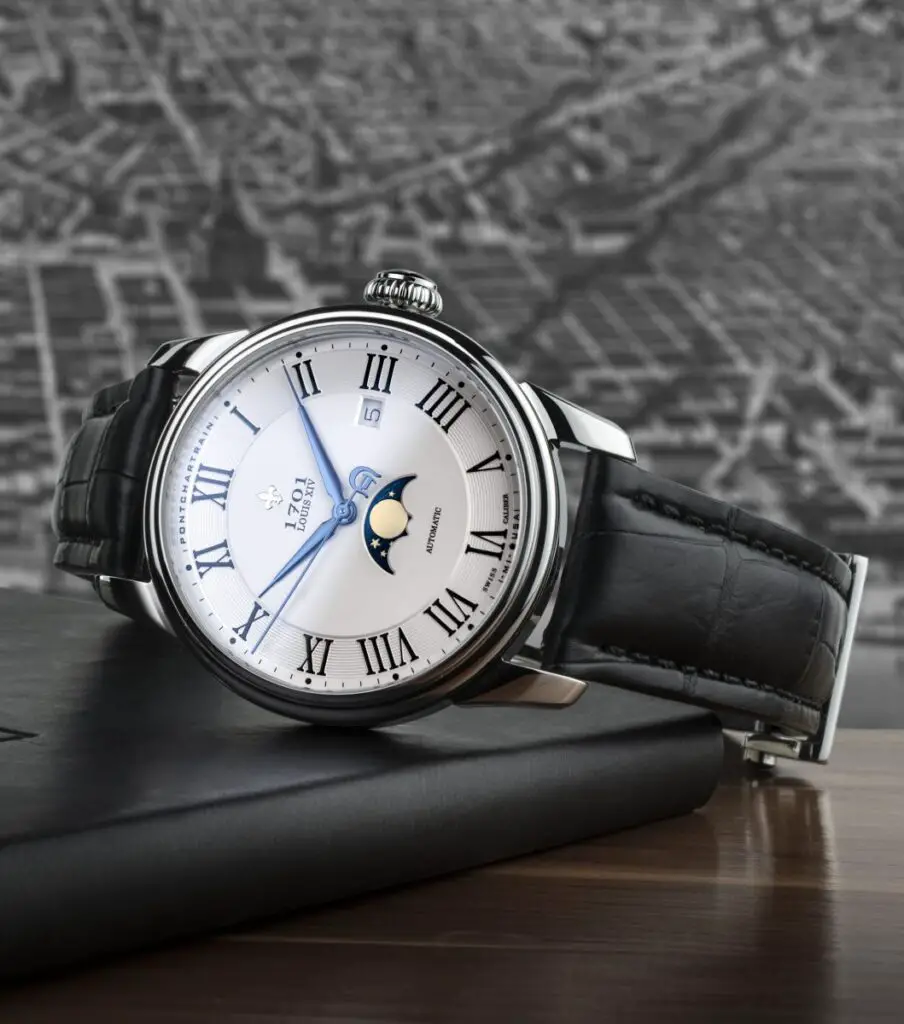 The Detroit Watch Company (DWC) is a relatively new player on the watchmaking scene. It was founded in 2012. In the short time that it has been around, Detroit Watch Company has made a big splash with its unique take on Detroit-themed watches. The company's most popular collection is the 1701 Pontchartrain collection. This series takes design cues from some of Detroit's most iconic architecture. Celebrate Detroit's rich history and culture.
Patrick and Amy Ayoub have been designing original timepieces for the past 17 years, This dovetailed with Patrick's 35-year career and passion for designing cars. over the past 35 years. Their success has also created the Pontchartrain Watch Company has its newest stand-alone collection alongside DWC.
Price: $1,000 – $2,000 USD.
Popular watch models:
39mm 1701 Pontchartrain® Exhibition Classic Big Crown
42mm Aviator Chrono
42mm City Code Collection
Website: https://detroitwatchco.com/
#2 Shinola Watches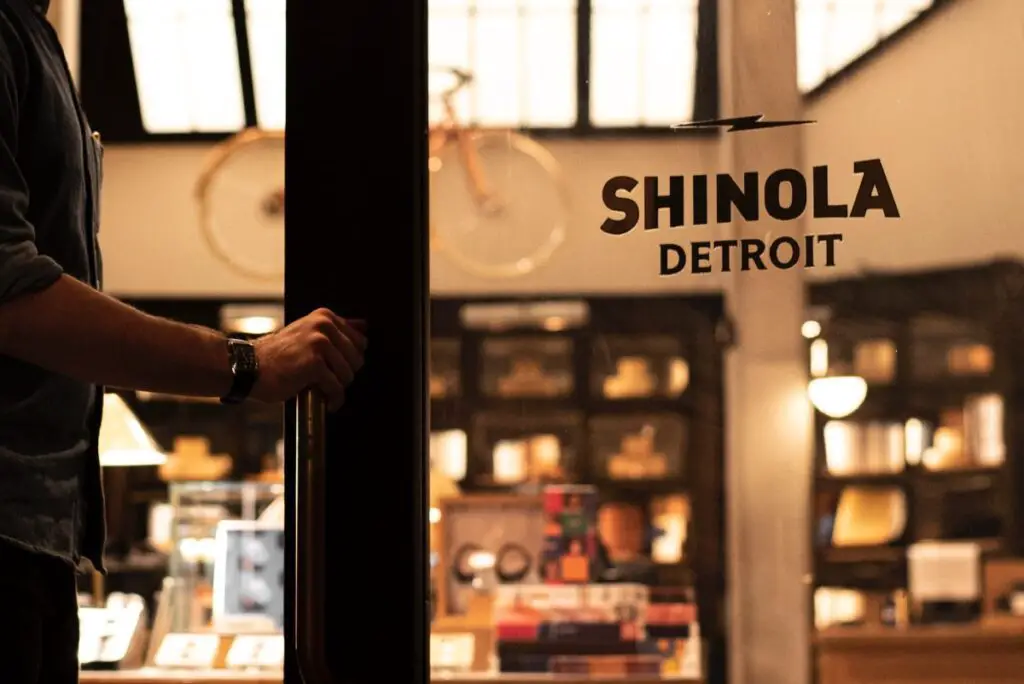 Shinola is one of the better-known Detroit watchmakers. Shinola provides well-known watches made in Detroit that are neat and sophisticated. The brand produces its own line of high-quality watches. All Shinola watches are assembled by hand in Detroit. The timepieces come with case sizes from 28 mm to 48 mm to fit any wrist. Shinola watches include classy to fancy designs to keep you in style. If you're looking for a watch that's truly made in America, then Shinola is the Detroit watches manufacturer for you.
Price: $325 – $1,200 USD.
Popular watch models:
The Runwell Chrono 41mm
The Gomelsky Chronograph 42mm
The Birdy 34mm
Website: https://www.shinola.com/collection/watches.html
#3 Canvas Watch Company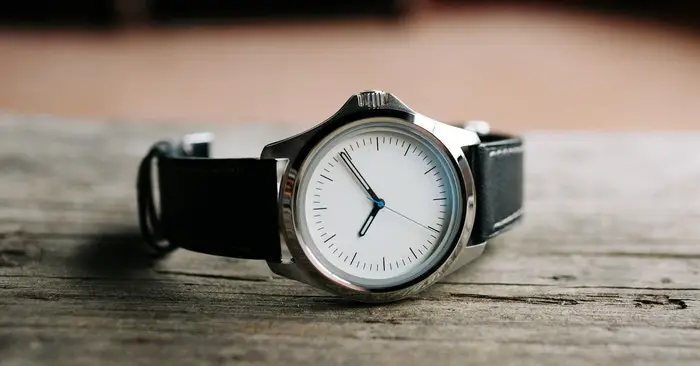 Canvas is one of the new Detroit watchmakers. Canvas is quickly making a name for itself with its stylish and well-made timepieces. This startup was founded on the idea that designing a watch dial is more of an art than a science, but the craft of watchmaking takes years of experience to master.
Canvas watches are designed with a 316L stainless steel case and Swiss-made Ronda 513 quartz movement. These Detroit watches by Canvas are water-resistant by up to 330 feet. The founder, Shaun Reinhold, shares his project on Kickstarter to get the ball rolling and start producing top-level watches in Detroit, MI.
Price: From $245
Website: https://www.kickstarter.com/projects/1128881586/canvas-watch-company-redefining-designer-watches
Frequently Asked Questions About Detroit Watchmakers
Are Detroit Watches Good?
You can find 5-star Detroit watches that will serve for years. Detroit watchmakers use high-quality materials to make their timepieces solid and durable. You can expect your Detroit watch to last for many years with proper care.
What Is the Best Detroit Watch Manufacturer?
This is a tough question, as all of these Detroit watchmakers are excellent. Shinola is a great watch manufacturer in Detroit that is worth considering. Shinola produces high-quality watches whose components are sourced from American suppliers. The brands offer a wide range of watch shapes, designs, and sizes to fit your style and budget.
Are Watches a Good Gift?
Detroit watches make a great gift for anyone on your list. You'll find the perfect dressy or casual timepiece among local manufacturers. If you're looking for a unique and thoughtful gift, consider giving the gift of time with a Detroit watch.
How to Store Watches Properly?
Here are a few tips on how to store your Detroit watch collection:
Keep your Detroit watches in a cool, dry place. Avoid extreme temperatures as they can damage the material of your watch.
Store your Detroit watches in a soft cloth or case to protect them from scratches.
Do not expose your Detroit watches to water or other liquids. If you must clean your watch, use only a soft cloth and mild soap. Avoid using harsh chemicals or cleaners as these can damage the finish of your watch.
What to Look for in a Good Watch?
When you are looking for Detroit watches, there are a few things you should keep in mind. First, consider the type of watch you want. Detroit offers a variety of watch styles, from dressy to casual. Choose a timepiece style that fits your lifestyle and personality.
Next, think about the features you want in a watch. Detroit watches offer a range of handy features. From simple timekeeping to more complex functions like chronographs and moon phases. Consider what features are important to you and look for a watch that offers them.
Finally, think about your budget. Detroit watches can range in price from a few hundred dollars to several thousand. Set a realistic budget for yourself and shop around until you find the perfect Detroit watch for your needs.
With these three things in mind, you're ready to start shopping for Detroit watches.
How to Clean a Leather Watch Strap?
To keep your leather Detroit watch strap in good condition, it is important to clean it regularly. You can clean a leather watch strap by using a soft cloth and mild soap. Harsh chemicals or cleaners are not a good option as these can damage the leather.
How to Clean a Rubber Watch Band?
Rubber bands are easy to clean – you can simply use a soft cloth and mild soap. Harsh chemicals or cleaners are prohibited as they can damage the rubber.
How to Clean a Metal Watch Bracelet?
To clean a metal bracelet, you will need to use a soft cloth and mild soap. You can also use a toothbrush to reach tight spots.
How to Measure Your Wrist for a Watch?
Selecting the perfect-sized watch is essential for both comfort and style. If a watch is too big it will slide around on your wrist and be uncomfortable. If a watch is too small it will look out of proportion and feel constricting. Detroit watch companies offer a variety of sizes to fit any wrist size. To find your perfect fit, follow these simple steps:
Use a flexible measuring tape (or a string that you can mark) to measure the circumference of your wrist where you would like to wear your watch.
If using a string, lay the string flat on a ruler next to see how long it is in millimeters (mm). This is your wrist size. 
Final Thoughts on Detroit Watchmakers
Watches made in the Motor City are among some of the finest in the US. If you are looking for a high-quality timepiece, consider the Detroit watch makers mentioned in the article. The market is quite versatile so you'll definitely find a good piece for you and your loved ones. Watchmaking isn't something new for Detroit, but it is something that is experiencing a renaissance. And we're excited about these brands, and look forward to seeing what they release in the future.
---
---