Escanaba is a charming town located on the banks of the Escanaba River. Little but mighty, it offers plenty of opportunities for outdoor recreation for the entire family. From horse riding to fishing and hiking, there's something for everyone in Escanaba. Here are 10 of our favorite things to do in Escanaba Mi this summer.
Feature image courtesy Selective Potential
#1 Take A Bike Ride in Ludington Park
This park is a great place to stroll, picnic, or enjoy the picturesque views. It's an outstanding coastal park located along Lake Michigan and includes facilities for everyone. Tennis and volleyball courts, picnic areas, and bicycle paths are wrapped up in Ludington Park.
Ludington Park is one of Escanaba's most popular attractions. The famous Harbor Hideout playground is a fave spot for children, while the Escanaba Riverwalk provides lovely views for adults. The Escanaba Municipal Beach beach is listed in our Top 50 Michigan Beaches that you will want to check out.
Those who enjoy taking a ride on a bicycle will find plenty of trails to explore. This is a great place to come for a day of relaxation or to spend some time with family and friends. Many events are held throughout the year, so check the calendar before you visit.
Address: Lake Shore Dr, Escanaba, MI 49829
Website: https://www.visitescanaba.com/things-to-see-and-do/member/ludington-park/
#2 Take Horse Lessons in Bay Run Equestrian Center
Have you ever been horse riding? It's an excellent activity to take part in when visiting Escanaba as there are a few stables in the area that offer horse riding. Bay Run Equestrian Center is one of them and is located a little outside of Escanaba.
Bay Run Horse Center is a 263-acre horse farm that has been making friends with horses for more than 20 years. There are 22 stalls available for boarding your hooved companion. If you don't own an equine, no problem! You can still come and enjoy the scenic trails that wind through the property.
Trainers provide a range of lessons, including jumping, dressage, and endurance. They offer horseback riding lessons as well as pony rides for the kids. Besides, horses at Bay Run Equestrian Center are available to lease.
Address: 6425 D Rd Bark River, MI 49807
Website: https://www.facebook.com/alvords/
#3 Feel Local Spirit in William Bonifas Fine Arts Center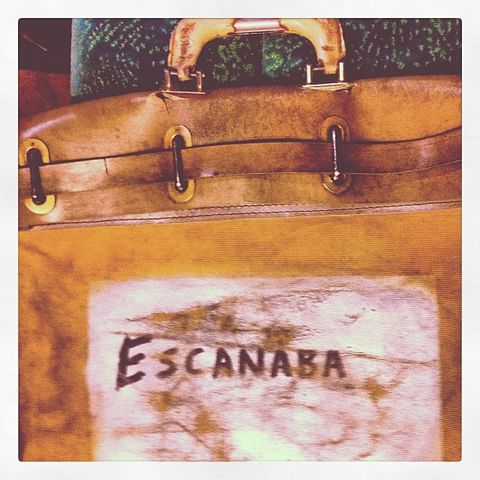 If you prefer to stay on two legs, the Escanaba William Bonifas Fine Arts Center is for you. The center hosts rotating art exhibits throughout the year. They also offer a variety of art classes for people of all ages and skill levels. Check their calendar on the official website to find out something pleasing to your heart.
Bonifas Art Gallery is a true home of all the arts. The Alice Uren Powers galleries provide annual exhibitions in the art center to show off local masterpieces. William Bonifas Fine Arts Center was founded in 1974, and it continues to bring attention to more creative lives.
Mind that Mondays and Sundays are days off when planning your trip to Escanaba, Michigan.
Address: 700 1st Ave S, Escanaba, MI 49829
Website: https://bonifasarts.org/
#4 Get Yummies in Pellegrini's Strawberry Farm
Pellegrini's Strawberry farm started harvesting juicy strawberries in 1976. Now, it has become one of Escanaba's most popular tourist attractions. The farm is open from June to July, and visitors can come and pick up their strawberries or purchase a ready-picked pint.
Pellegrini's Strawberry Farm covers up to seven acres sprinkled with red berries. The most popular strawberry breed is Cavendish, which is loved for its hardiness and attractive shape. But you can also find here other breeds like L'Amore, Jewel, Kent, Dar-select, Cabot, and Brunswick.
Escanaba is a perfect place to enjoy some family-fun berry picking while the weather is warm and sunny. Don't hesitate to visit this farm if you're looking for new emotions.
Address: 2702 16.5 Rd, Escanaba, MI 49829
Website: http://www.pellegrinifarms.com/
#5 Check the Top View from Sand Point Lighthouse
Sand Point Lighthouse is Escanaba's most iconic landmark. The lighthouse is situated on the shores of Lake Michigan and offers amazing views of the Escanaba River.
The light station was built in 1867 and has been a popular tourist destination. Visitors can climb to the top of the tower for a breathtaking view of Escanaba and the surrounding area.
There is also a museum on-site that chronicles the lighthouse's history and its keepers. Guided tours are available from Memorial Day weekend through Labor Day weekend.
Address: Water Plant Rd, Escanaba, MI 49829
Website: https://www.visitescanaba.com/things-to-see-and-do/member/sand-point-lighthouse
#6 Chill Out in Upper Hand Brewery
After a long day strolling around Escanaba, you may want to stop at Upper Hand Brewery for a pint of one of their locally brewed beers. The facility is located in the Delta County Airport business park. The taproom is open Thursday-Saturday and offers a wide selection of their brews on tap.
Apart from the well-known Upper Hand beer, check out their fancy merch. It includes a wooden sign, playing cards, and a little flannel jacket for your beer can. The kitchen offers chips & dips, jerkies, and famous pickled eggs.
Upper Hand Brewery is an excellent place to chill out after a long walk. Follow their calendar to participate in upcoming events.
Address: 3525 Airport Rd, Escanaba, MI 49829
Website: http://www.upperhandbrewery.com/
#7 Bring Family to Upper Peninsula State Fair
In August, go straight to the Upper Peninsula State Fair if you're visiting Escanaba. This well-known facility is all about family fun. The State Fais offers a great variety of entertainment for all ages: from live music to car shows.
Upper Peninsula State Fair provides livestock shows with their blue ribbon winners. Kids are excited by local truck races that are must-haves to watch. Sparkly fireworks are always a top-notch finale of the fair. Take part in the fair's competitions and don't forget to try Escanaba's famous pasties.
Admission prices range from $5 to $10 (daily) and $20 and $35 (weekly). Kids aged five and under are free of admission. The fair takes place every August, so check the website for the exact dates.
#8 Get Active in Wells Sports Complex
Looking for a cozy place to stretch out and have fun? Wells Sports Complex in Escanaba is the answer. The sports center is located in front of the Gardens of Rest Memorial Park. Wells Sports Complex provides two indoor ice surfaces open to figure skating and hockey. Coaches welcome kids and adults to join skating lessons of all levels. You can also watch open skate sessions to cheer up young players.
Wells Sports Complex offers a skate store where you can buy a new pair of footwear and sharpen your hockey skates. Book private Ice Time on the rink for those who would like to celebrate their special occasion unconventionally.
Address: 1647 17.4 Rd Escanaba, MI 49829
Website: https://www.facebook.com/Wells-Sports-Complex-130749940321799/
#9 Hike in Pioneer Trail Park
Pioneer Trail Park is a part of the Delta County Parks system located in the Upper Peninsula. The park has a playground, a pavilion, a picnic area, campsites, and a fishing area on the Escanaba River. You can go fishing, swimming, canoeing, or kayaking here. In wintertime, try skiing or snowshoeing on the trails. The pavilion is rentable for special occasions like family reunions or birthday parties.
If you're looking for new activities to try, check out disc golf in Pioneer Trail Park. This is a sport for all ages that the entire family can enjoy. Try out this funny flying disc game while observing the nature around. The rates start from $3 daily.
The campground provides 78 RV sites, so you can spend a night or two under the Escanaba stars. Twenty tent sites go with all the necessary facilities.
Address: 6822 US-2, Gladstone, MI 49837
Website: http://www.deltacountyparks.com/pioneer-trail-park.html
#10 Run a Party in UPutt Family Fun Center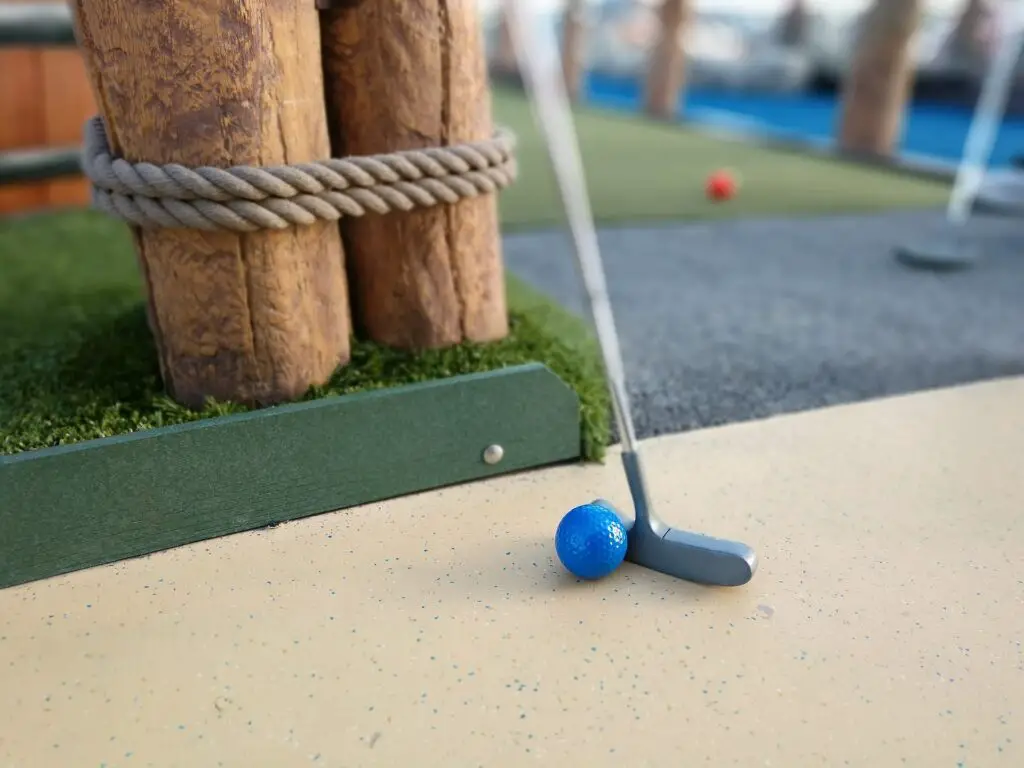 UPutt Family Fun Center is a five-star place to run a Birthday party in Escanaba. They offer an indoor mini-golf game loved by kids and their parents. The spot is designed with black light and a sound system to give it a buzz. Various golf holes provide a range of challenges for people with different skill levels.
You'll also find interactive games like NBA basketball, Big Buck Hunter, virtual snowboard, and more here! Get a break in a private room with stereo and erasable media boards.
While your kids are going nuts, book a meeting room for a business conference. The entire facility is available for private functions, with a capacity of up to 24 people.
Address: 2805 N Lincoln Rd, Escanaba, MI 49829
Website: https://uputtfamilyfuncenter.com/
The Final Word On Things to Do in Escanaba Mi
You'll definitely find Escanaba a town full of surprises. From great food to outdoor adventures, Escanaba has something for everyone. So pack your bags and get ready for an unforgettable trip. Grab our list of the ten things to do in Escanaba, so it will guide you.
---
---