Escanaba is a charming town located on the banks of the Escanaba River. Little but mighty, it offers plenty of opportunities for outdoor recreation for the entire family. From horse riding to fishing and hiking, there's something for everyone in Escanaba. Here are 10 of our favorite things to do in Escanaba Mi this summer.
Feature image courtesy Selective Potential
Table of Contents
Why Visit Escanaba?
Escanaba is not just another city; it's an experience. From its beautiful beaches to its vibrant local culture, Escanaba offers a unique blend of attractions that make it a must-visit. Learn more about Escanaba.
#1 Take A Bike Ride in Ludington Park
This park is a great place to stroll, picnic, or enjoy the picturesque views. It's an outstanding coastal park located along Lake Michigan and includes facilities for everyone. Tennis and volleyball courts, picnic areas, and bicycle paths are wrapped up in Ludington Park.
Ludington Park is one of Escanaba's most popular attractions. The famous Harbor Hideout playground is a fave spot for children, while the Escanaba Riverwalk provides lovely views for adults. The Escanaba Municipal Beach beach is listed in our Top 50 Michigan Beaches that you will want to check out.
Those who enjoy taking a ride on a bicycle will find plenty of trails to explore. This is a great place to come for a day of relaxation or to spend some time with family and friends. Many events are held throughout the year, so check the calendar before you visit.
Address: Lake Shore Dr, Escanaba, MI 49829
Website: https://www.visitescanaba.com/things-to-see-and-do/member/ludington-park/
#2 Take Horse Lessons in Bay Run Equestrian Center
Have you ever been horse riding? It's an excellent activity to take part in when visiting Escanaba as there are a few stables in the area that offer horse riding. Bay Run Equestrian Center is one of them and is located a little outside of Escanaba.
Bay Run Horse Center is a 263-acre horse farm that has been making friends with horses for more than 20 years. There are 22 stalls available for boarding your hooved companion. If you don't own an equine, no problem! You can still come and enjoy the scenic trails that wind through the property.
Trainers provide a range of lessons, including jumping, dressage, and endurance. They offer horseback riding lessons as well as pony rides for the kids. Besides, horses at Bay Run Equestrian Center are available to lease.
Address: 6425 D Rd Bark River, MI 49807
Website: https://www.facebook.com/alvords/
#3 Feel Local Spirit in William Bonifas Fine Arts Center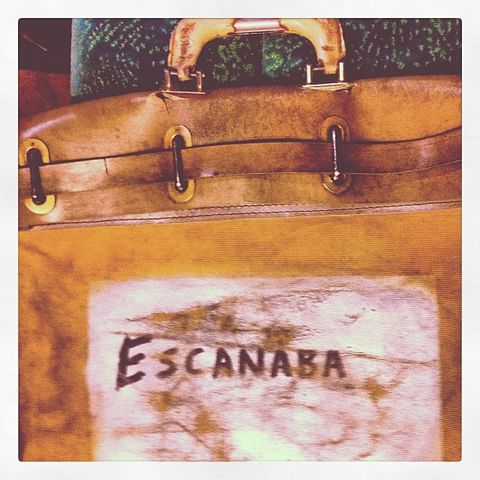 If you prefer to stay on two legs, the Escanaba William Bonifas Fine Arts Center is for you. The center hosts rotating art exhibits throughout the year. They also offer a variety of art classes for people of all ages and skill levels. Check their calendar on the official website to find out something pleasing to your heart.
Bonifas Art Gallery is a true home of all the arts. The Alice Uren Powers galleries provide annual exhibitions in the art center to show off local masterpieces. William Bonifas Fine Arts Center was founded in 1974, and it continues to bring attention to more creative lives.
Mind that Mondays and Sundays are days off when planning your trip to Escanaba, Michigan.
Address: 700 1st Ave S, Escanaba, MI 49829
Website: https://bonifasarts.org/
#4 Get Yummies in Pellegrini's Strawberry Farm
Pellegrini's Strawberry farm started harvesting juicy strawberries in 1976. Now, it has become one of Escanaba's most popular tourist attractions. The farm is open from June to July, and visitors can come and pick up their strawberries or purchase a ready-picked pint.
Pellegrini's Strawberry Farm covers up to seven acres sprinkled with red berries. The most popular strawberry breed is Cavendish, which is loved for its hardiness and attractive shape. But you can also find here other breeds like L'Amore, Jewel, Kent, Dar-select, Cabot, and Brunswick.
Escanaba is a perfect place to enjoy some family-fun berry picking while the weather is warm and sunny. Don't hesitate to visit this farm if you're looking for new emotions.
Address: 2702 16.5 Rd, Escanaba, MI 49829
Website: http://www.pellegrinifarms.com/
#5 Check the Top View from Sand Point Lighthouse
Sand Point Lighthouse is Escanaba's most iconic landmark. The lighthouse is situated on the shores of Lake Michigan and offers amazing views of the Escanaba River.
The light station was built in 1867 and has been a popular tourist destination. Visitors can climb to the top of the tower for a breathtaking view of Escanaba and the surrounding area.
There is also a museum on-site that chronicles the lighthouse's history and its keepers. Guided tours are available from Memorial Day weekend through Labor Day weekend.
Address: Water Plant Rd, Escanaba, MI 49829
Website: https://www.visitescanaba.com/things-to-see-and-do/member/sand-point-lighthouse
#6 Chill Out in Upper Hand Brewery
After a long day strolling around Escanaba, you may want to stop at Upper Hand Brewery for a pint of one of their locally brewed beers. The facility is located in the Delta County Airport business park. The taproom is open Thursday-Saturday and offers a wide selection of their brews on tap.
Apart from the well-known Upper Hand beer, check out their fancy merch. It includes a wooden sign, playing cards, and a little flannel jacket for your beer can. The kitchen offers chips & dips, jerkies, and famous pickled eggs.
Upper Hand Brewery is an excellent place to chill out after a long walk. Follow their calendar to participate in upcoming events.
Address: 3525 Airport Rd, Escanaba, MI 49829
Website: http://www.upperhandbrewery.com/
#7 Bring Family to Upper Peninsula State Fair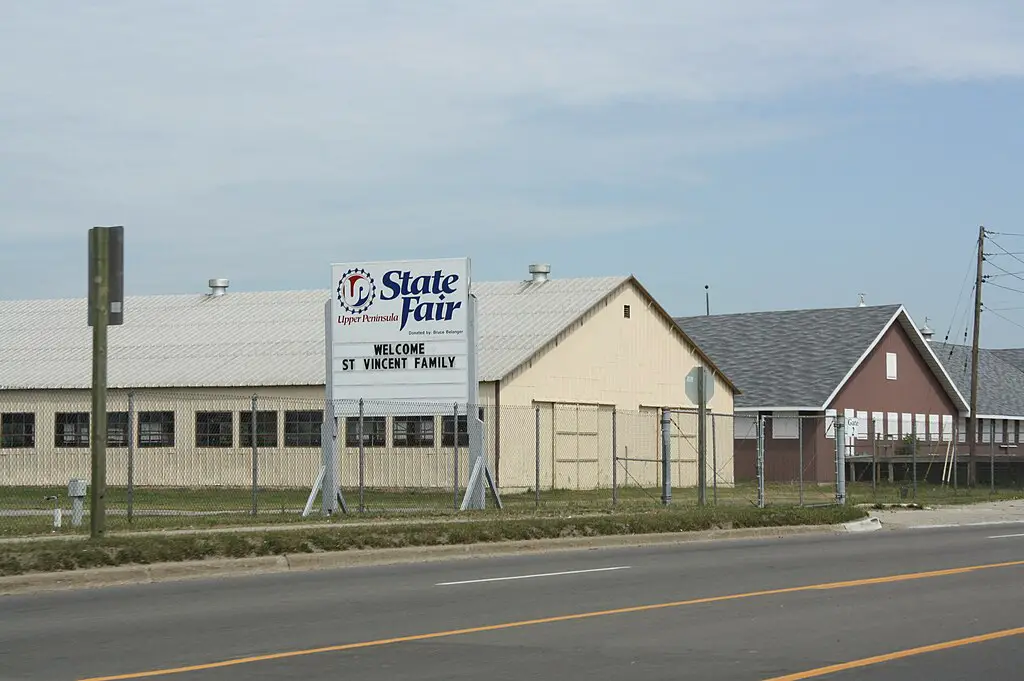 In August, go straight to the Upper Peninsula State Fair if you're visiting Escanaba. This well-known facility is all about family fun. The State Fais offers a great variety of entertainment for all ages: from live music to car shows.
Upper Peninsula State Fair provides livestock shows with their blue ribbon winners. Kids are excited by local truck races that are must-haves to watch. Sparkly fireworks are always a top-notch finale of the fair. Take part in the fair's competitions and don't forget to try Escanaba's famous pasties.
Admission prices range from $5 to $10 (daily) and $20 and $35 (weekly). Kids aged five and under are free of admission. The fair takes place every August, so check the website for the exact dates.
#8 Get Active in Wells Sports Complex
Looking for things to do in Escanaba Mi, such as working out? How about a cozy place to stretch out and have fun? Wells Sports Complex in Escanaba is the answer. The sports center is located in front of the Gardens of Rest Memorial Park. Wells Sports Complex provides two indoor ice surfaces open to figure skating and hockey. Coaches welcome kids and adults to join skating lessons of all levels. You can also watch open skate sessions to cheer up young players.
Wells Sports Complex offers a skate store where you can buy a new pair of footwear and sharpen your hockey skates. Book private Ice Time on the rink for those who would like to celebrate their special occasion unconventionally.
Address: 1647 17.4 Rd Escanaba, MI 49829
Website: https://www.facebook.com/Wells-Sports-Complex-130749940321799/
#9 Hike in Pioneer Trail Park
Pioneer Trail Park is a part of the Delta County Parks system located in the Upper Peninsula. The park has a playground, a pavilion, a picnic area, campsites, and a fishing area on the Escanaba River. You can go fishing, swimming, canoeing, or kayaking here. In wintertime, try skiing or snowshoeing on the trails. The pavilion is rentable for special occasions like family reunions or birthday parties.
If you're looking for new activities to try, check out disc golf in Pioneer Trail Park. This is a sport for all ages that the entire family can enjoy. Try out this funny flying disc game while observing the nature around. The rates start from $3 daily.
The campground provides 78 RV sites, so you can spend a night or two under the Escanaba stars. Twenty tent sites go with all the necessary facilities.
Address: 6822 US-2, Gladstone, MI 49837
Website: http://www.deltacountyparks.com/pioneer-trail-park.html
#10 Run a Party in UPutt Family Fun Center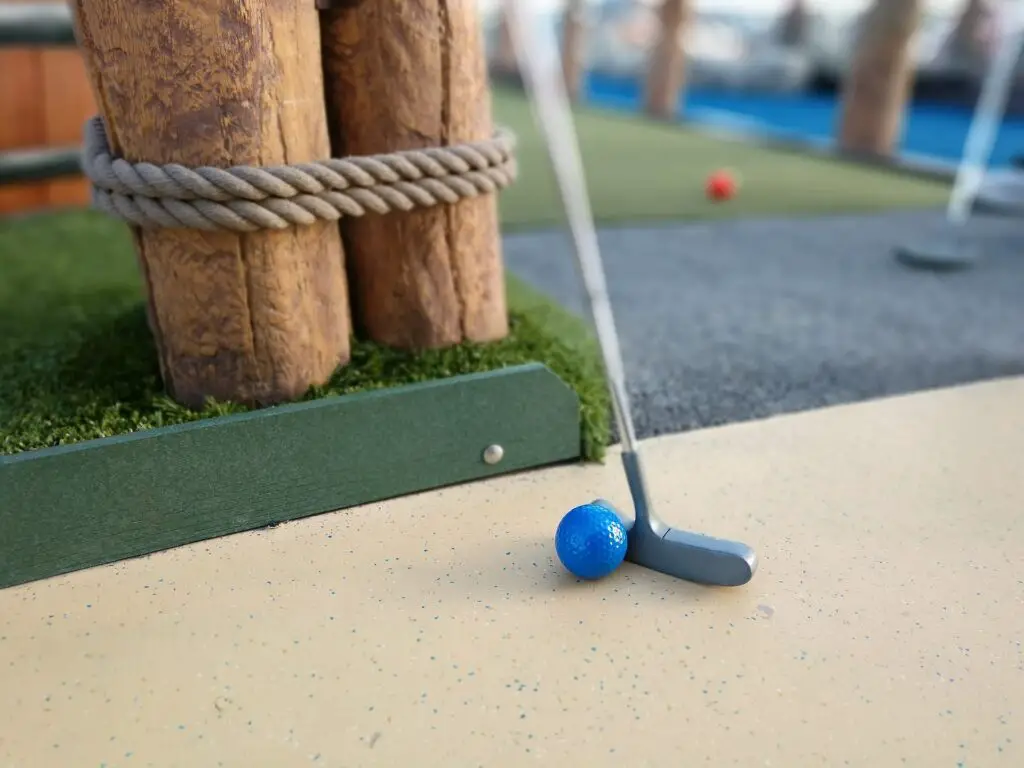 UPutt Family Fun Center is a five-star place to run a Birthday party in Escanaba. They offer an indoor mini-golf game loved by kids and their parents. The spot is designed with black light and a sound system to give it a buzz. Various golf holes provide a range of challenges for people with different skill levels.
You'll also find interactive games like NBA basketball, Big Buck Hunter, virtual snowboard, and more here! Get a break in a private room with stereo and erasable media boards.
While your kids are going nuts, book a meeting room for a business conference. The entire facility is available for private functions, with a capacity of up to 24 people.
Address: 2805 N Lincoln Rd, Escanaba, MI 49829
Website: https://uputtfamilyfuncenter.com/
#11 Explore the Beaches – A Shoreline for Every Traveler
Escanaba's coastline is a paradise for beach lovers, offering a diverse range of sandy retreats that cater to all kinds of travelers. From family-friendly Ludington Park Beach to the secluded Aronson Island, this guide will take you through the best beaches in Escanaba, each promising a unique blend of natural beauty and outdoor activities.
Ludington Park Beach
Located in the heart of Escanaba, Ludington Park Beach is the go-to spot for families and tourists alike. The beach is known for its soft, golden sand and calm, shallow waters, making it ideal for swimming and sunbathing. The park adjacent to the beach offers picnic areas, playgrounds, and even a bandshell where local concerts are held.
Aronson Island
If you're looking for a more secluded experience, Aronson Island is the place to be. Accessible via a causeway, the island offers a quieter atmosphere where you can enjoy picnics, kayaking, and fishing. The beach here is less crowded, providing a peaceful retreat for those looking to escape the hustle and bustle.
Pioneer Trail Park Beach
For the adventure seekers, Pioneer Trail Park Beach offers more than just a day at the beach. The park is home to hiking trails that lead you through lush forests before opening up to a scenic beach area. It's a great spot for those interested in combining a nature walk with some beach time.
Portage Point
Located a bit further from the city center, Portage Point offers a rustic beach experience. The beach is less developed, making it a perfect spot for those looking to connect with nature. It's also a popular spot for bird-watching and is known for its stunning sunsets.
#12 Fishing Spots in Escanaba: A Haven for Anglers
Escanaba is a dream destination for fishing enthusiasts, offering a variety of spots that promise sports and pan fishing. From the walleye-rich waters of Little Bay de Noc to the tranquil flow of the Escanaba River, this guide will navigate you through the best fishing spots in the area.
Little Bay de Noc
Known as one of the best walleye fisheries in the Upper Peninsula, Little Bay de Noc is a must-visit for any angler. The bay offers year-round fishing opportunities, with ice fishing being particularly popular in the winter months. Several fishing tournaments are held here annually, attracting both local and visiting anglers.
🔗 More about Little Bay de Noc Fishing
Escanaba River
The Escanaba River is a freshwater angler's dream, teeming with a variety of fish species including trout, salmon, and smallmouth bass. The river is accessible from several points, including Pioneer Trail Park and the Escanaba River State Forest. Fly fishing is particularly popular here, and the river's serene surroundings make it a peaceful fishing destination.
🔗 Escanaba River Fishing Guide
Sand Point
Located near the Sand Point Lighthouse, this area offers a unique fishing experience. It's a great spot for catching perch and is accessible to both boat and shore fishermen. The nearby lighthouse adds a historical touch to your fishing adventure.
#13 Parks and Trails in Escanaba: Your Gateway to Nature
Escanaba isn't just about its stunning coastline; it's also a gateway to some of the most scenic parks and trails in Michigan's Upper Peninsula. From the historical allure of Peninsula Point Lighthouse to the rugged beauty of Fayette Historic State Park, this guide will introduce you to the must-visit natural sanctuaries in and around Escanaba.
Peninsula Point Lighthouse
This historic lighthouse is more than just a beacon; it's a gateway to nature. The area around the lighthouse offers several hiking trails that take you through dense forests and open up to stunning views of Lake Michigan. It's also a popular spot for bird-watching, especially during the migration seasons.
🔗 Learn More about Peninsula Point Lighthouse
Fayette Historic State Park
This unique state park combines natural beauty with historical intrigue. Once a bustling industrial community, the park now offers hiking trails that take you past historical buildings and old furnaces. The cliffs overlooking Big Bay de Noc provide breathtaking views and photo opportunities.
🔗 Explore Fayette Historic State Park
Days River Natural Trail
This trail offers a serene escape into nature. Winding through hardwood forests and along the Days River, this trail is perfect for hiking, mountain biking, and even cross-country skiing in the winter. The trail is well-marked and offers various loops for different skill levels.
🔗 Days River Natural Trail Guide
Rapid River Ski Trail
For those looking to explore nature in the winter months, the Rapid River Ski Trail offers a snowy paradise. The trail is groomed for both classic and skate skiing and takes you through a winter wonderland of snow-covered trees and frozen landscapes.
🔗 Discover Rapid River Ski Trail
#14 Explore History & Culture in Escanaba: A Journey Through Time
Escanaba is more than just a natural paradise; it's a city steeped in history and vibrant culture. From museums that house centuries-old artifacts to landmarks that have stood the test of time, this guide will take you on a journey through Escanaba's historical and cultural landmarks.
Delta County Historical Museum
Located in Ludington Park, the Delta County Historical Museum is a treasure trove of local history. The museum features a wide range of artifacts, from Native American relics to items from the early logging and fishing industries. It's a must-visit for anyone interested in the history of Escanaba and the Upper Peninsula.
🔗 Learn More about Delta County Historical Museum
Sand Point Lighthouse
This historic lighthouse, built in 1867, is not just a navigational aid but also a window into the past. Visitors can take guided tours to learn about the lighthouse's history and its role in the development of Escanaba. The lighthouse also offers panoramic views of Little Bay de Noc.
🔗 Explore Sand Point Lighthouse
William Bonifas Fine Arts Center
For those interested in the cultural scene, the William Bonifas Fine Arts Center is a hub for the arts in Escanaba. The center features rotating exhibitions, art classes, and live performances, making it a vibrant space for artistic expression.
🔗 Discover William Bonifas Fine Arts Center
Escanaba Downtown Historic District
Take a stroll through Escanaba's Downtown Historic District to experience the city's architectural heritage. The area is home to several buildings dating back to the late 19th and early 20th centuries, each telling its own story of the city's development.
🔗 Escanaba Downtown Historic District Info
#15 Food & Drinks in Escanaba: A Culinary Adventure
Escanaba's culinary scene is as diverse as its natural landscapes, offering everything from cozy delis to upscale steakhouses. Whether you're craving a hearty sandwich, a gourmet meal, or a classic American burger, this guide will introduce you to the must-visit restaurants that define Escanaba's food culture.
Hereford & Hops Steakhouse
If you're in the mood for something more upscale, Hereford & Hops Steakhouse offers a fine dining experience. Specializing in steaks and seafood, the restaurant also features a variety of local craft beers.
🔗 Explore Hereford & Hops Steakhouse
The Stonehouse
This fine dining establishment is known for its seafood and steak options. With an elegant atmosphere, it's the perfect place for a romantic dinner or a special occasion.
Swedish Pantry
A local favorite, the Swedish Pantry offers a range of Scandinavian and American dishes. Their homemade pastries are a must-try, and the cozy atmosphere makes it a great spot for breakfast or lunch.
Crispigna's Restaurant
For those craving Italian, Crispigna's offers a range of pasta dishes, pizzas, and Italian wines. The family-friendly atmosphere and generous portions make it a hit among locals and visitors alike.
🔗 Explore Crispigna's Restaurant
Rosy's Diner
For a classic American diner experience, Rosy's Diner offers all-day breakfast and a range of comfort foods. The retro setting and friendly service make it a popular choice for families.
🔗 Learn More about Rosy's Diner
The Final Word On Things to Do in Escanaba Mi
You'll definitely find Escanaba a town full of surprises. From great food to outdoor adventures, Escanaba has something for everyone. So pack your bags and get ready for an unforgettable trip. Grab our list of the ten things to do in Escanaba, so it will guide you.
---
---