The state of Michigan is a perfect destination for dogs and their owner's thanks to its hundreds of pet-friendly camping sites, park cabins, lodges, and hotels. Michigan's Natural Resources Department opened up their parks to pet owners when they allowed more than two pets to stay in the state park cabins back in 2017. Therefore, any dog owner looking for an ideal dog friendly camping destination to take his/her entire family should try Michigan. So, here are some of the best dog-friendly camping spots in Michigan:
#1 Timber Ridge RV and Recreation Resort

Situated in Traverse City, the Timber Ridge Resort is a beautiful resort featuring miles of wooded trails, a lodge, banquet facilities, and an RV Park. Therefore, pet owners can enjoy camping in cabins, RVs, and tents. The Timber Ridge Resort is an excellent place for both cold-weather and warm-weather camping fanatics.
Timber Ridge RV and Recreation resort can provide your family with a memorable experience, but your dogs must always be on their leash when outside your RV and well-fed. So, instead of purchasing the first dog food you find on the shelf while you are on the road, you should try and get more information on the most nutritious and affordable dog food from Crazy Pet Guy.
#2 Lake Michigan Campground at Manistee
Lake Michigan Campground is a beautiful forested park that is located 15 miles from Manistee. This campground provides a unique setting with a sandy beach, which is ideal for camping. This dog-friendly destination offers a wide range of activities, including biking and hiking trails, kayaking, fishing, and even swimming. Lake Michigan Campground is a quiet destination that doesn't even allow motorized boats.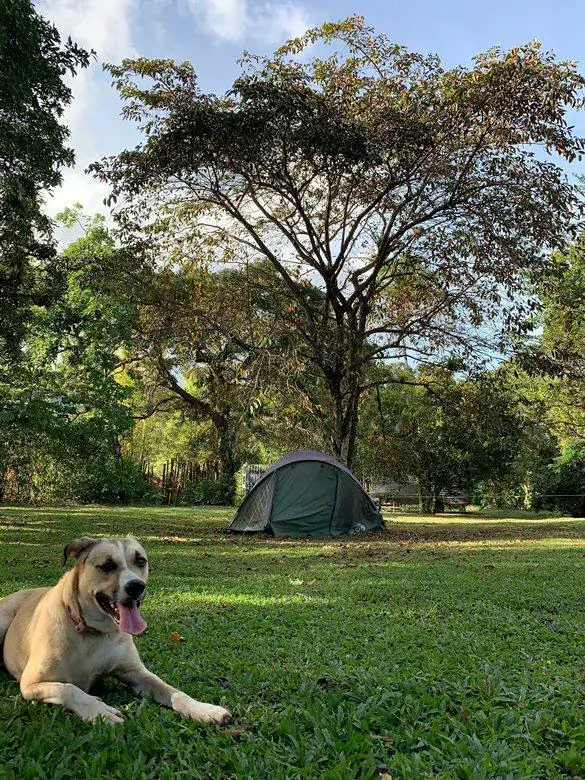 #3 Mackinaw City/Mackinac Island KOA
Mackinac Island KOA is a beautiful 50-acre camping spot that is within biking distance from the city of Mackinaw. This camping site has numerous amenities, including a heated swimming pool, Wi-Fi, firewood, and propane at a fee, camping cabins, and tent sites. So you can have a relaxing weekend with your family as you enjoy what nature has to offer.
#4 Platte River Campground
Enjoy the Sleeping Bear Dunes National Lakeshore from this beautiful camping site. This camping ground is open all year long, and it offers a wide range of camping styles, including pull-through and back-in RV sites with electrical hookups. It also provides group sites, walk-in camping sites for adventurous and beautiful tent sites.
#5 Mackinaw Mill Creek Campsite
Pitch your tent at Mackinaw Mill Creek campsite and enjoy an incredible mile-long shoreline natural setting. From here, you can see Lake Freighters, Lake Michigan, Lake Huron, Mackinac Island, Mackinac Bridge, and the Mackinac Straits. This campsite offers numerous amenities, including free mini-golf, a heated pool, natural beaches, biking and hiking trails, and roads. Mackinaw Mill Creek Campsite has everything for every camper from lakefront cabins to the RV site. This campsite also has a place for people who want to pitch a tent and enjoy their holiday.
#6 Silver Lake Campground and Resort
Enjoy the breathtaking sight of Lake Michigan and the Silver Lake while seated on a 150ft hill in your RV. The Silver Lake has some of the best dunes in Michigan that serve as the campsite's playground. You can rent a buggy and have fun with your pals and family members. This campsite has numerous amenities, including rustic camping cabins, a primitive campsite, hookup sites, Wi-Fi, a heated pool, and picnic areas.
#7 Port Huron KOA
This campsite is just a few minutes from the historical Port Huron. Port Huron KOA has numerous amenities such as a swimming pool, Wi-Fi, mini-golf, camping kitchen, and cable TV. And the fact that you can bring your pet is a bonus.

#8 Sandy Beach Campground
Situated along the shoreline of Hardy Pond, the Sandy beach campsite has everything you will ever need to have a relaxing holiday with your pet. This campground has a semi-modern and modern camping spot with 72 electric and water sites. It has a sanitation station, two bathroom buildings, a swimming beach, a boat launch area, docking space, and picnic areas. So, you can carry your boat or rent one and have fun with your family members.

#9 Waffle Farm Campground
Waffle farm campsite is a beautiful campground situated on Lake Morrison and Craig Lake in Coldwater, Michigan. This spot has two sections: the seasonal camp spot with 151 sites and the main campground with 225 sites. The main campground has numerous facilities, including a huge swimming pool, two playgrounds, and three restrooms.

#10 Honcho Rest RV Resort
Honcho Rest Resort is a great camping site for bass anglers where you can relax and forget about your busy life in the city. Honcho is situated between Lake Michigan and Elk Lake, right across Elk-Rapid Golf Course. This camping ground has 102 partially-shaded and shaded campsites and six cabins. Out of the 102 camping sites in Honcho Resort, 95 have cable TV, electricity, water, and sewer. Plus, the entire campground has Wi-Fi.

Final Thoughts On Dog Friendly Camping Spots In Michigan
Michigan is home to some of the best pet-friendly camping spots in the United States. It is the best destination for pet owners and the fact that most of their camping sites allow more than two dogs is a bonus. So, instead of leaving your dogs at home every time you go camping, why don't you try these unique pet-friendly campgrounds?
*Cover photo by Photo by Gary Meulemans on Unsplash
Related Camping Exploring
---
Dog Camping Gear From Amazon
Images below may contain affiliate links that, if purchased, we may receive a commission. See our Affiliate Disclosure for more information.