By Mike Powell of dogembassy.com
Do you enjoy being active outdoors? We wanted to know the best dog breeds for camping. Some dog breeds enjoy it as much as you do, too!
Table of Contents
Dogs Offer An Exciting New Element To Camping
Active dogs can provide extra fun and excitement to your outdoor adventures if you let them join you. Not only can they add fun, but even years in your lifetime! Aside from a healthy diet and regular exercise, science posits that dogs are essential factors in helping you live longer.
So, what's stopping you from adding a furry friend to get you in tip-top shape? We wanted to know the best dog breeds for camping.
In this article, we rounded up the top 9 dogs best suited for camping and hiking enthusiasts. Check them out below:
#1 Siberian Husky
This dog breed was initially bred to help humans pull carts and sleds across long distances under the freezing Russian weather. Siberian Huskies are working dogs with playful spirits and loyal hearts, making sure they are always ready for any adventure.
#2 Labrador Retriever
This dog has sat atop the United States as a most popular breed for over 20 years and for a good reason. It is an all-rounder breed: offering lots of love, loyalty, intelligence, and energy to keep up with your active lifestyle. Born with an instinct to swim, it's no wonder this breed made it to our list of dog breeds for camping, too.
#3 Australian Shepherd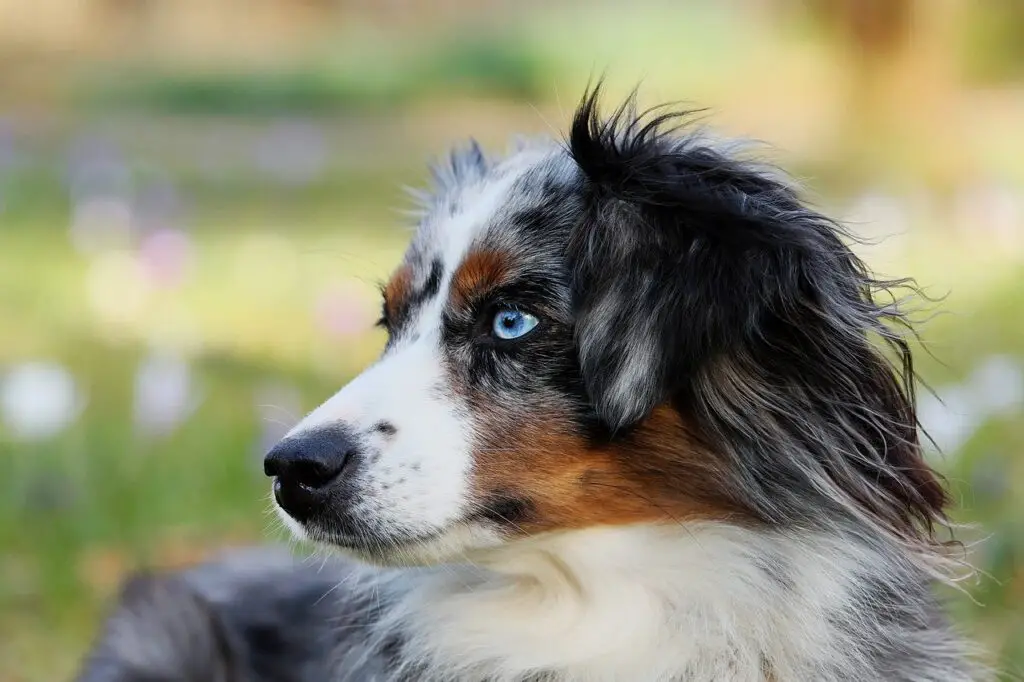 Adventurous, intelligent, and loyal, an Australian Shepherd can withstand any weather. Originally bred as herding dogs, this breed is also known for its obedience and agility, making it an ideal hiking partner.
#4 German Shorthaired Pointer
Originally used as a hunting dog, a German Shorthaired Pointer makes an excellent camping and hiking companion—it's big but not too bulky and enjoys strenuous activities in various climates. Don't forget to give this kind of giant some good treats after a tiring hike!
#5 Australian Cattle Dog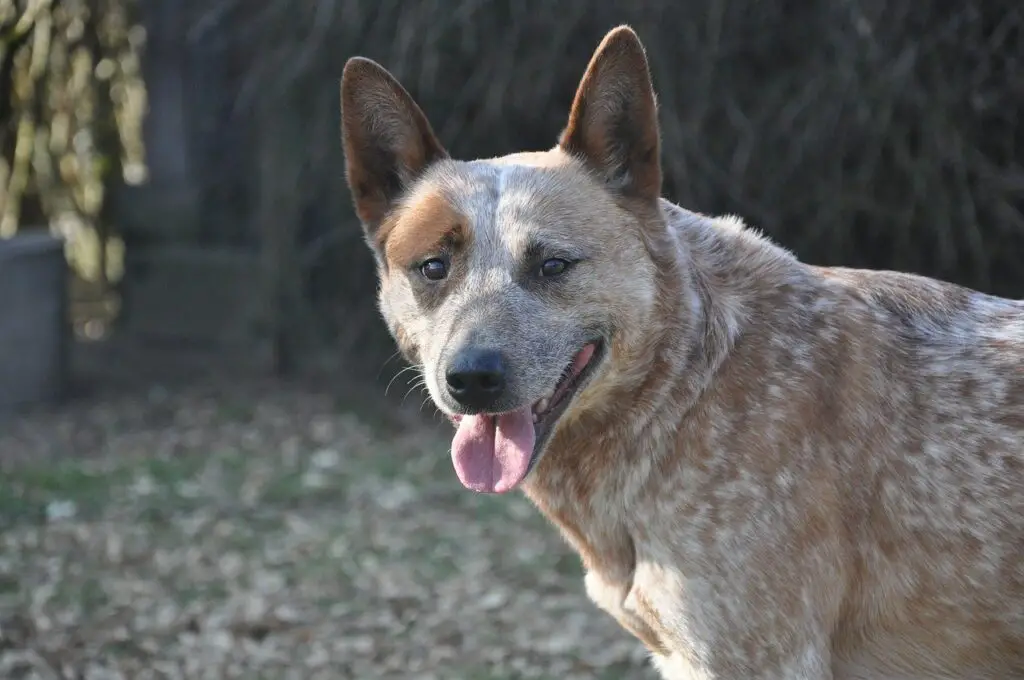 Don't be fooled by its cuteness. Behind its adorable features lies a loyal heart and a lively spirit. The Australian Cattle Dog is a very active pooch that does best outside and inside your home, provided that it has adequate physical exercise and high-quality dog food too!
#5 Bernese Mountain Dog
This dog breed possesses a massive body built but a gentle personality, making it the perfect dog to bring during group camping. The Bernese Mountain Dog enjoys all sorts of fun in nature, making it the ideal fluffy dog to hike and camp with.
#6 Rhodesian Ridgeback
Initially bred in Africa, Rhodesian Ridgebacks are hounds used for hunting for many hours. Strong and active, these dogs possess an adventurous spirit and a kind heart towards their families, making them excellent pet dogs for active families.
#7 Alaskan Malamute
Like Siberian Huskies, Alaskan Malamutes were originally bred to pull sleds and carts, so it's innate to enjoy even the most strenuous hikes and longest camping adventures. These dogs may not be as fast on the trail, but you'll be amazed by their endurance!
#8 Brittany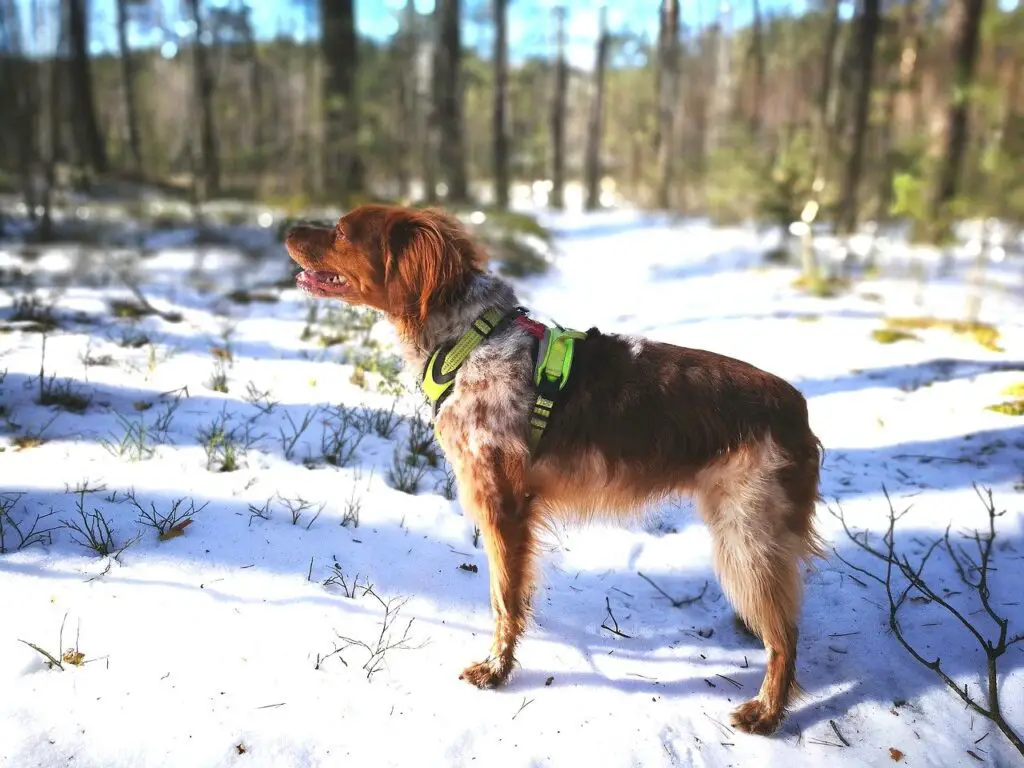 This dog breed is one of the smallest hunting dogs. Brittanys works best outside, may it be on land or water. They're jolly, extremely playful, sweet, and friendly, making them ideal companions of families who have children and active adults.
#9 Border Collie
One of the best athletes in the canine world, Border Collies, are mid-sized dogs with high levels of energy and intelligence. They are loyal and devoted, and they love playing sports a lot! Please take note that this breed is the type that gets lonely when left alone, so it's one of the great dog breeds for camping.
Conclusion and Take-A-Ways
Editor Note: These are just some of the best dog breeds for camping. There are many more to consider for their abilities and temperament. Before getting a dog, be sure you're ready for the responsibility. They become part of the family, and to the dog, you're the leader of the pack. Be ready to keep all of these breeds exercised, properly fed, attended by a veterinarian, and active. Visit Petdt for more information about dog breeds. If they will spend much of their day locked in a create, maybe getting a dog is not for you.
Author bio
Mike loves dogs and the connection they share with humans. He writes about dogs on his website, Dog Embassy, to help pet owners take good care of their furry friends.
---
Dog Hunting, Training & Resources
Images on this page may contain affiliate links in which we may receive a commission. See our affiliate disclosure for details.
Related Reading for Best Dog Breeds for Camping
What is The Oldest Coney Island In Michigan – There is an ongoing debate on who developed the first coney island in Michigan. It's kind of like asking for your mom's chili recipe. It's never the same twice. Nevertheless, we look at this ongoing debate between Detroit, Flint, Jackson, and Kalamazoo styles of Michigan Coney dogs.
10 Dog-Friendly Camping Spots in Michigan That Will Amaze You – Michigan is a perfect destination for dogs and their owner thanks to its hundreds of pet-friendly camping sites, park cabins, lodges, and hotels. Michigan's Natural Resources Department opened up their parks to pet owners when they allowed more than two pets to stay in the state park cabins back in 2017.
Indian Villages and Sites in Huron County Michigan – Upon its ninety miles of shoreline were numerous Indian villages and camps. These were found due to the debris left by the dwellers. The Indians in Huron County, Michigan, had a village site every few miles along the shore of Saginaw Bay.
Top 10 Best Foods Which Made Michigan Famous – Michigan is also famous for serving some of the best foods in the Midwest region of the USA. No trip to Michigan can be complete without trying out some of the famous foods in the area.
Plans Underway for Cabins from Ora Labora Colony to be Restored – Planning is underway by the Pigeon Historical Society to relocate and restore two cabins originally located in the Christian German Agricultural and Benevolent Society of Ora et Labora. The 1800s German Methodist religious colony was founded by Emil Baur.