A smartphone video on July 4th on the beach at Caseville County Park shows a bunch of women in full-out hair pulling, pushing, bikini brawl in the middle of hundreds of jeering onlookers. Unfortunately, because YouTube denotes this short video as being age-restricted, you may have to click through the screen to view it on YouTube.
A 20-second video taken by Ty McPherson and posted by the Huron Daily Tribune shows the end of the melee as two Huron County Shariff Department officers come in and break up the women.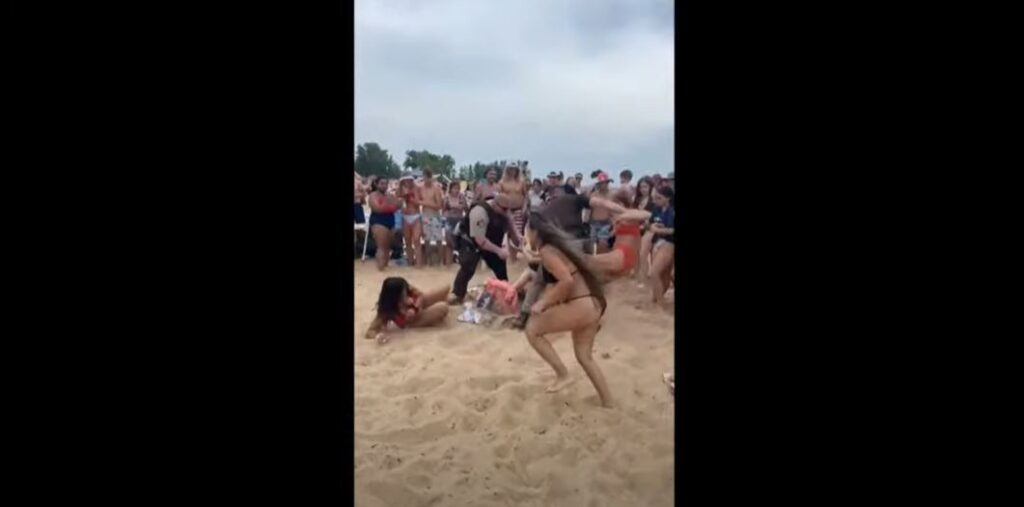 HDT reported that deputies Kyle Romzek and Chuck Bolzmen separated the woman. One deputy just about launched one woman off the scrum. She quickly walked away.
Caseville County Park Hosted Its Last Big Fight in 2019
This fight harkens back to another incident at the Caseville County Park on July 4th in 2019 when fights and drug use resulted in the treatment of four individuals suffering from overdoses. Ten officers from Caseville, Fairhaven, Huron County Sheriff, and the Michigan State Police had to come into the capacity crowd. The incidents resulted in the closure of the beach. 
Related Reading
Lake Michigan Beach Access – 3 Federal Judges Agree Shoreline Owners Cannot Prevent Use
Crash On Oak Beach Road Kills 32-Year-Old Harbor Beach Motorcyclist
If Great Lakes Ice Coverage Stays High In 2023, Lake Levels Should Too