There is nothing like the familiar Michigan hometown foods where you grew up. If you have spent time in Michigan, you will find many posts about our love of UP Pasties, Faygo RedPop, BetterMade potato chips, and Vernor's ginger ale. That is only the beginning. Michigan has unique and tasty varieties of comfort food dishes originating from Michigan's Upper Peninsula to the Ohio and Indiana border. We hit upon some of the top delicacies that the Great Lakes State loves to enjoy from many of our hometowns.
Table of Contents
Images on this page may contain affiliate links in which we may receive a commission. See our affiliate disclosure for details.
#1 Win Schuler's Bar Scheeze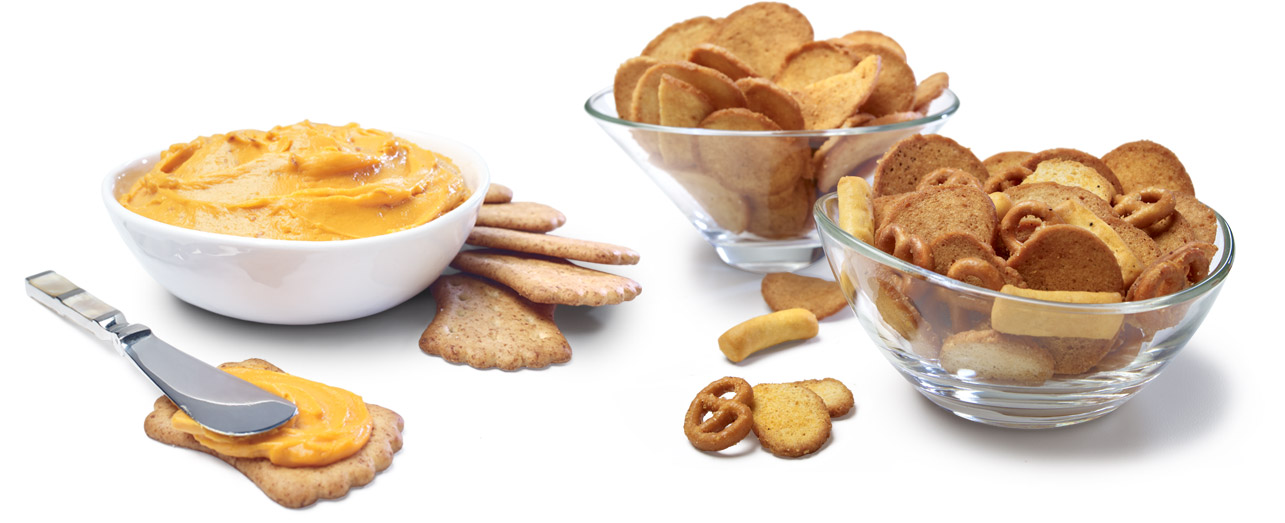 This spicy cheese spread can be found on most holiday tables and tailgate fests during the Michigan college football season. Michigan cooks pride themselves on making homemade versions. Schuler's Restaurant and Pub in Marshall, Michigan, produced this horseradish-cheese spread until 1984. Now Win Schuler's Bar Cheese is a national brand and is available in many stores in the Midwest. Serve with hard rye crunchy garlic crackers, and it is a perfect happy hour addition to a festive table. Our favorite homemade recipe for this savory delight is below.
Schuler's Restaurant is also famous for its beef prime rib. It's a favorite lunch and dinner treat for those who eat beef.
---
Famous Michigan Style Bar Scheeze Spread Recipe
15-ounce jar Cheese Whiz or processed cheese
1/4 cup fresh Brede Foods Prepared Horseradish (more or less to taste)
1 teaspoon Worcestershire sauce
1 teaspoon of bacon fat ( Yep… this is the secret ingredient everyone else misses!)
1/4 teaspoon garlic powder
1/2 teaspoon mustard powder
Mix all ingredients in a bowl in the order listed. Chill for several hours or overnight for the best flavor. Serve with rye crackers or pretzels. Store in the refrigerator.
#2 Michigan Tart Cherry Pie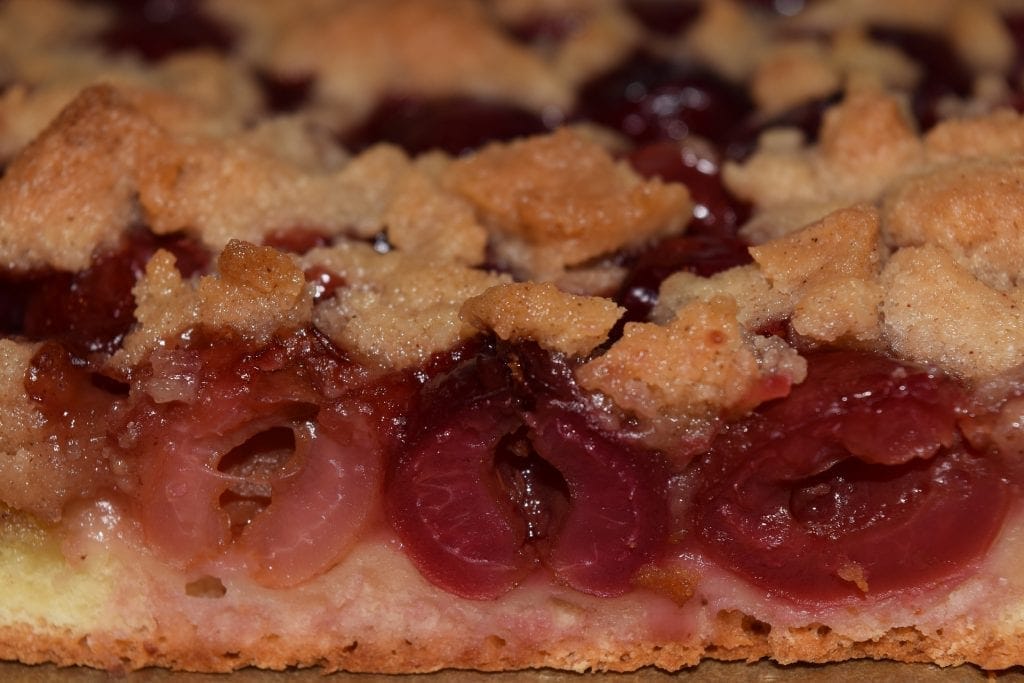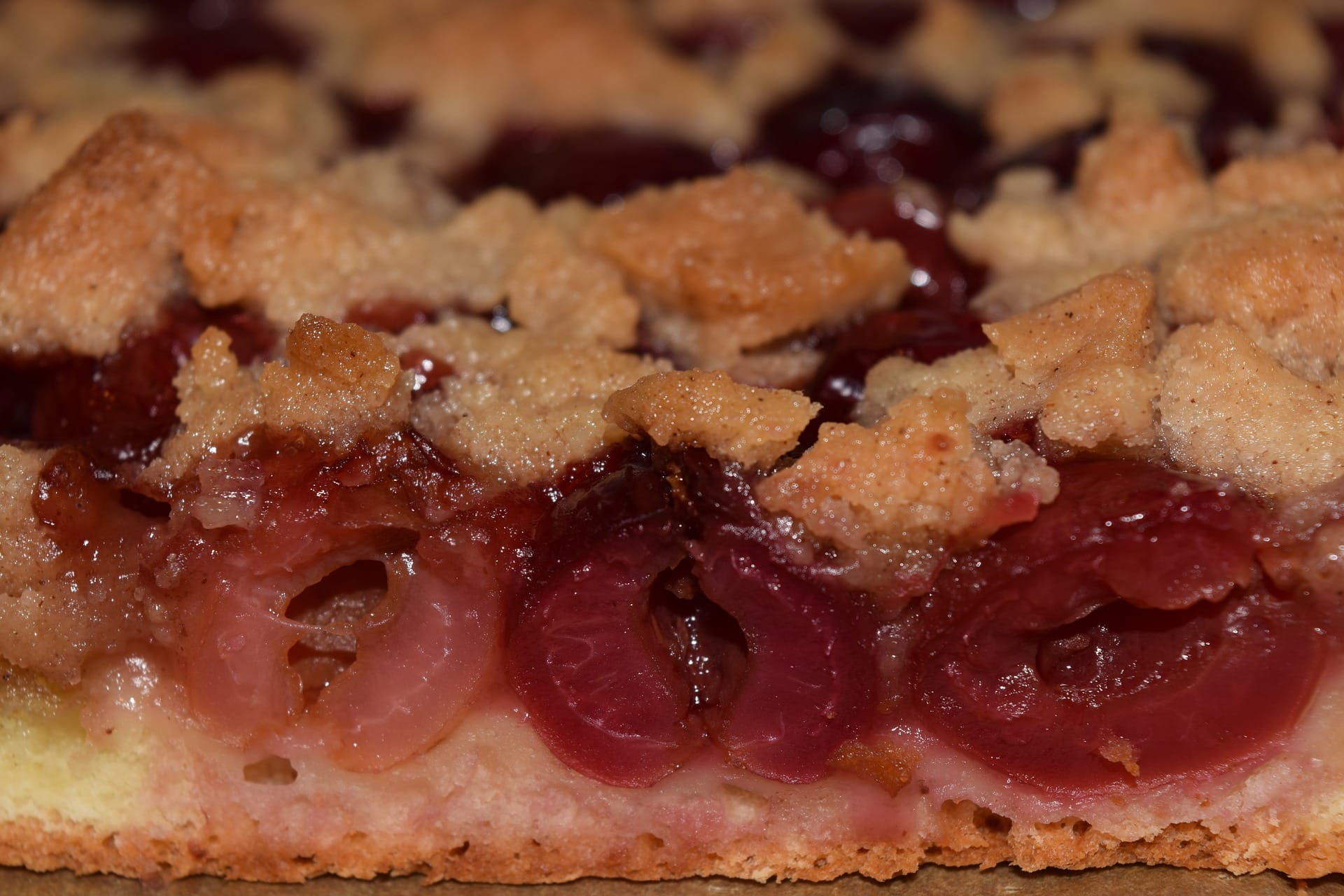 The Traverse City area is one of the largest growers of sweet and tart cherries in the world. Blessed with the ideal location and weather-moderating factor of the Great Lakes, this area has millions of cherry trees and is a key producer of table fruits and wine vineyards. While the State of Michigan does not have an official food, the tart cherry pie has been picked in reader's choice polls year after year.
#3 Michigan Pinconning Cheese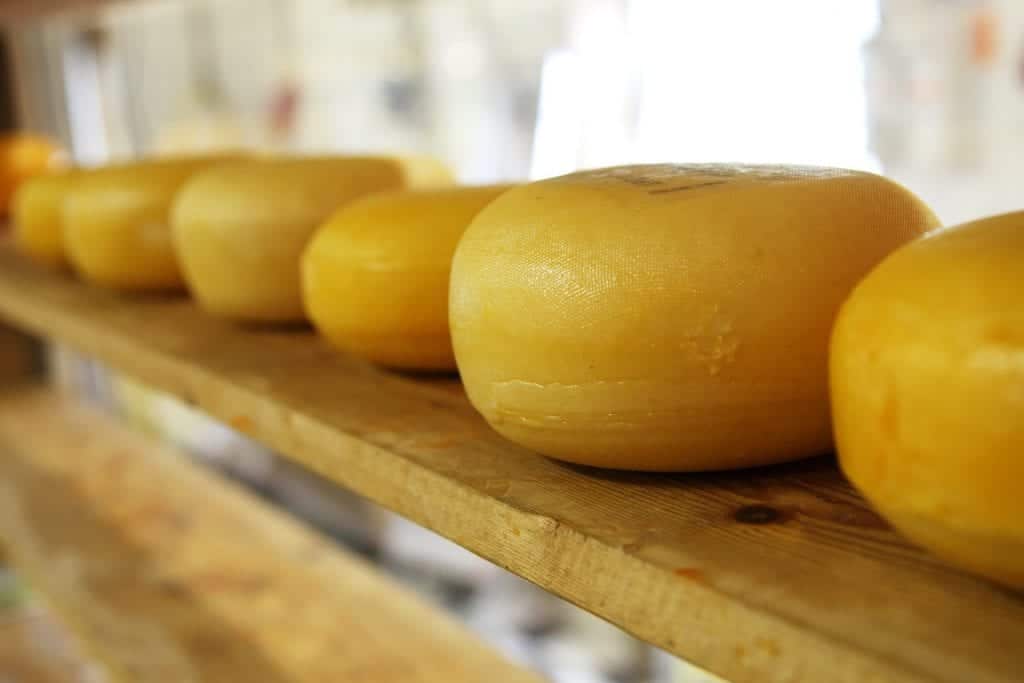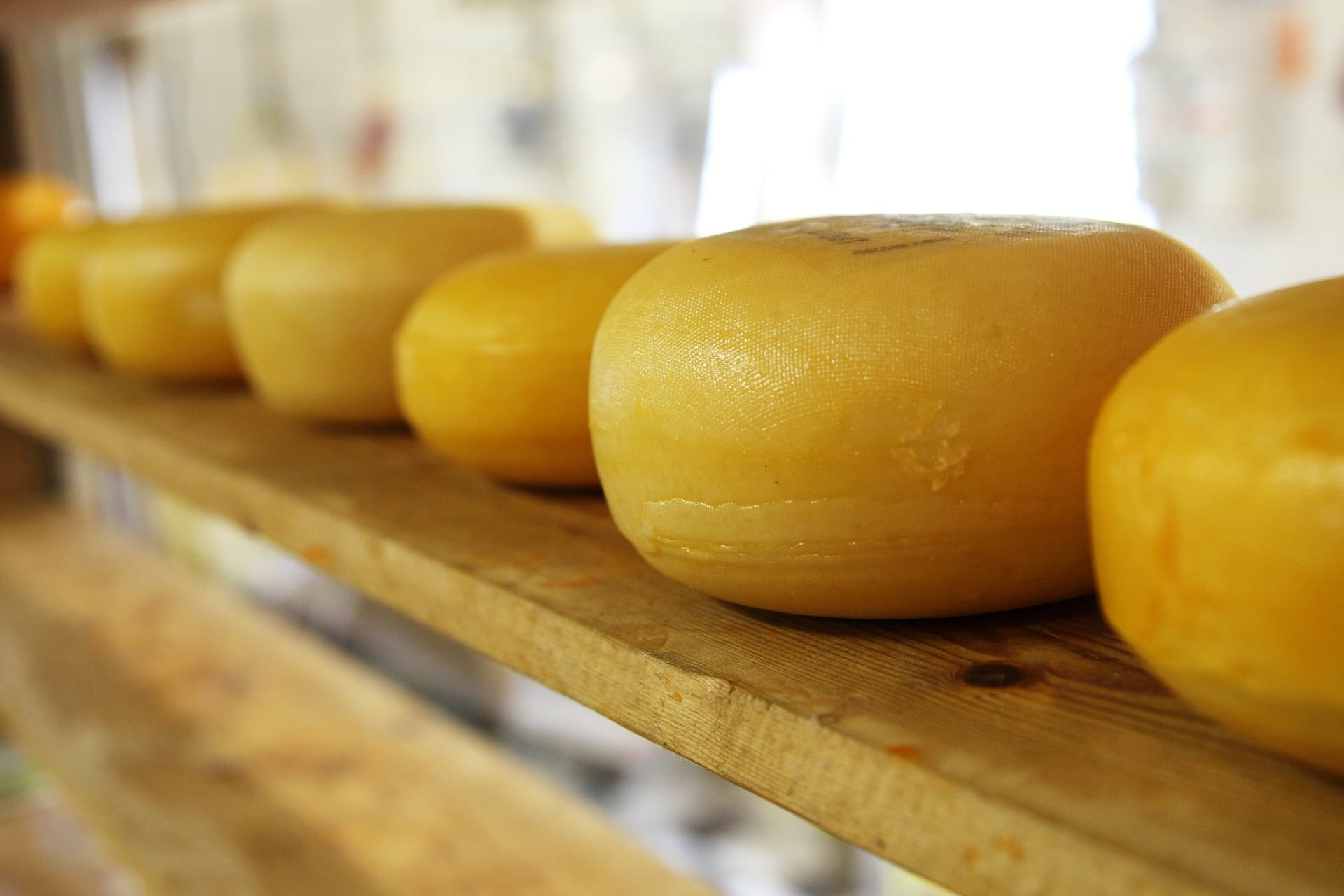 If you are traveling in mid-Michigan on I-75 near Bay City take a stop and visit Williams Cheese Company in Pinconning. This family-run cheese producer was started in a barn in 1945. This uniquely Michigan sharp, semi-hard version of Colby cheese was produced and developed in 1915. By the Second World War, Williams Cheese was the primary producer. Its hardness and flavor sharpen with age and Michigan cooks use it as a replacement for cheddar.
#4 Smoked Whitefish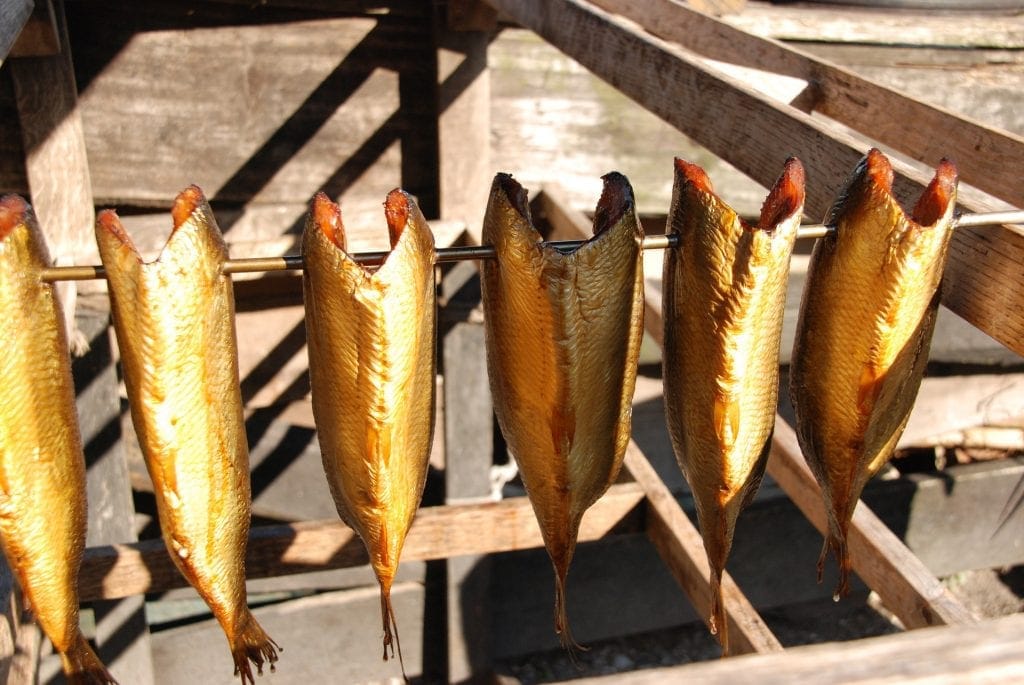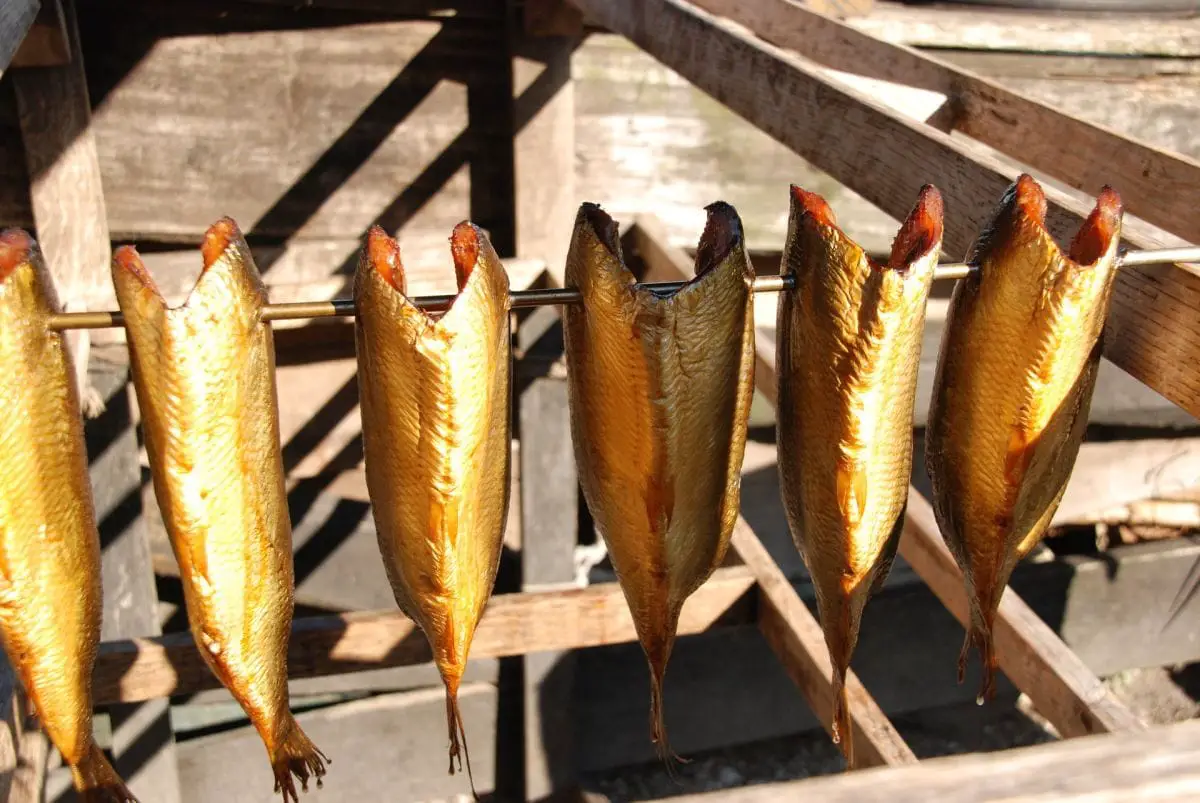 If you have never had smoked fish from the Great Lakes, you are in for a treat. This stable of the Great Lakes is known for its delicate and flavorful meat. We see many surprised looks from novices as they first taste this delectable, light-tasting fish. Smoked Whitefish is available throughout Michigan, but this freshwater delicacy is more common the further north you go. The smoking process yields a slightly salty taste accompanied by the gentle aroma and flavor imparted by hickory or oak smoke.
Hint: When buying smoked fish, make sure it is less than a few days after smoking. Look for a light, coppery color. Too dark of color means it was smoked too hot and tends to be dry.
#5 Trenary Toast from Michigan's U.P.
Trenary Toast is a Michigan Upper Peninsula bakery tradition loved by thousands from Manitoba to Toledo. At its peak, the area around Trenary was a logging and mining town. Now, there is a mill, a small grocery store, a gas station, a couple of bars, and churches. Yet the bakery is still going.
The toast is a hard, crunchy, twice-baked bread covered in cinnamon. It travels and stores well because cinnamon acts as a natural preservative. The owner of the Trenary bakery said it best, "You sit down, you collect your thoughts, you introspect, have your morning coffee or afternoon tea and have your toast, or you have people around you, and you have dunks together."
Trenary Toast is available across the Great Lakes region, typically at gourmet and independent groceries.
#6 The Pastie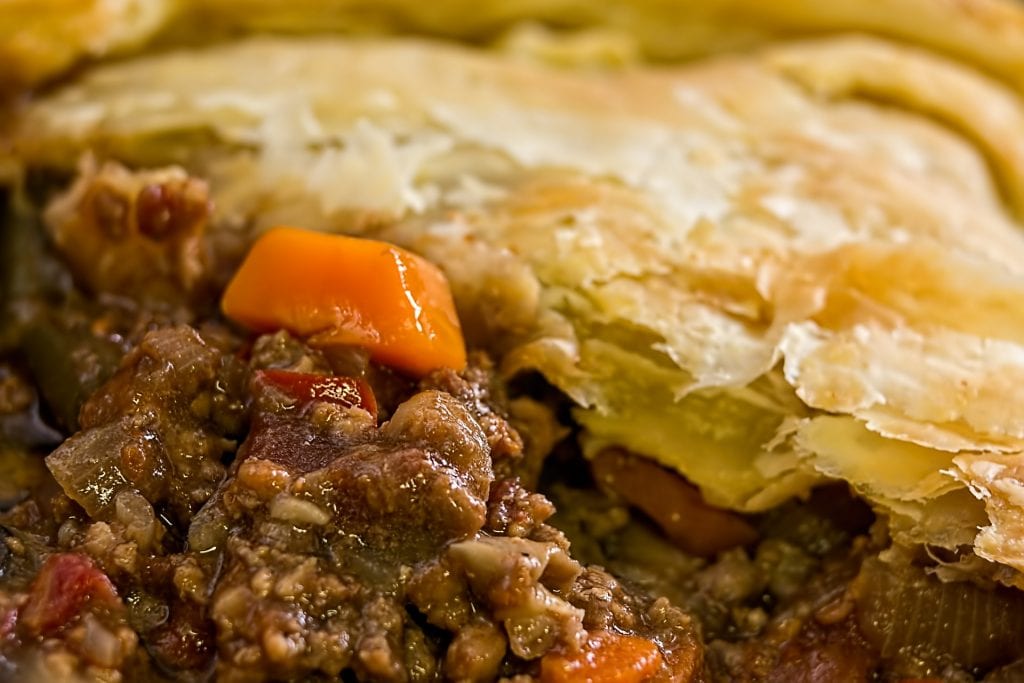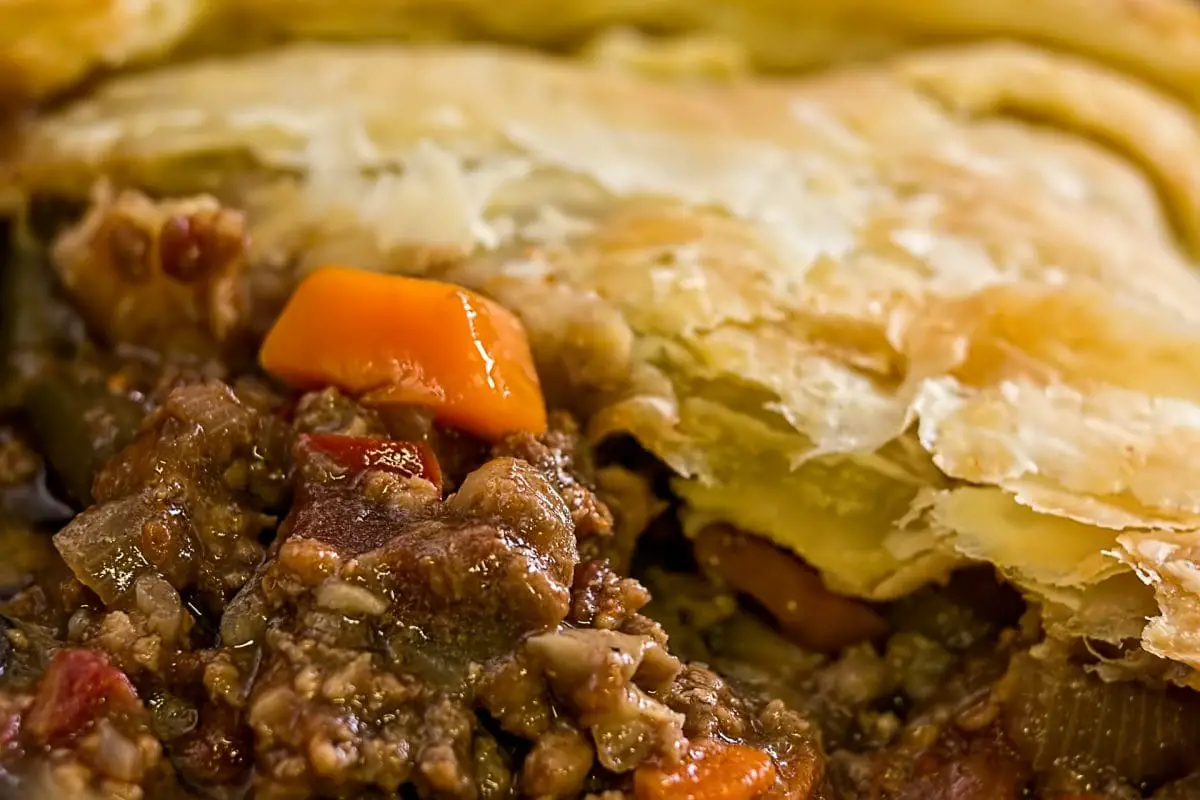 This rutabaga and meat pie was brought to the copper mining area of Michigan's Upper Peninsula by Cornish immigrants in the 1800's. We have embraced it as our own ever since. The traditional Michigan Yooper hometown way to enjoy this buttery crust creation is with two hands. If you're a student at Michigan Technological University in Houghton, you can expect to see the Pasty in your freshman dorm.
Pasties are a great cool-weather treat. Check out our Michigan Tech Pasty Recipe.
*Yooper; those living in Michigan's Upper Peninsula
#7 Michigan Coney Islands
No uniquely Hometown Michigan food will spark arguments other than Michiganders' love of Coney dogs. Brought to Michigan by Greek immigrants who passed through New York in the early 1900s, the Michigan-style Coney dog consists of a grilled natural casing hot dog sitting on a steamed bun smothered in meat sauce and topped with mustard and onions. The variations of this concoction are endless; however, there are four basic Coney Island styles found in the Great Lake State.
The Four Michigan Coney Island Styles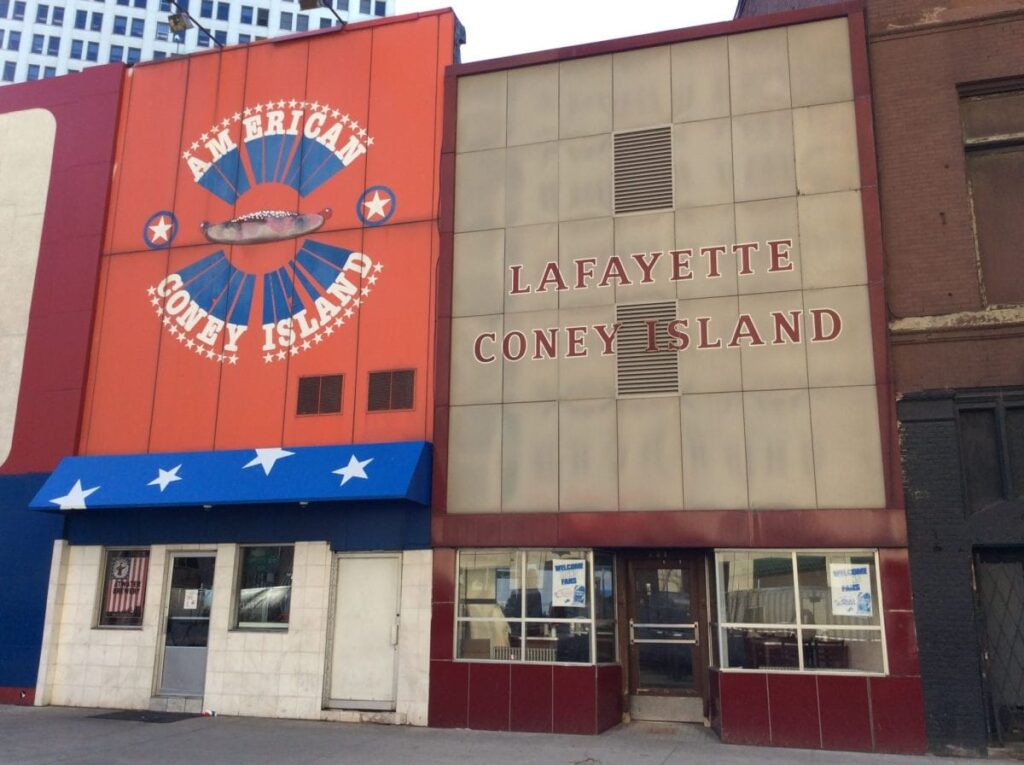 An authentic Michigan hometown food is the ubiquitous Coney Island hot dog. But not many folks know that there are several regional variations. Here are the top favorites.
Detroit Style – If you have stumbled into Lafayette or American Coney Island in Detroit after a Red Wings game, you will savor a hotdog with a chili meat sauce that is slightly spicy. It is typically eaten with a fork because it melts away from the sauce before your eyes. Delicious.
Flint Style – North of Detroit, the "Buick City" Coney has a dry meat topping made with finely ground beef heart. Purists will also demand that the only hot dog used is the Kogel natural casing and the onions are sautéed in beef tallow.
Jackson Style – West of Detroit, Coney aficionados get serious. Here the Coney topping is a very thick sauce of ground beef and heart with a secret blend of spices. Folklore states that Todoroff's Coney was the first Coney restaurant in Michigan. The family served their famous Coney in the train station until World War II. After the war, the family reopened a new restaurant nearby.
Kalamazoo Style – It is different in Kzoo. Coney Island Kalamazoo claims to be the longest continuously running Coney Island in Michigan. Established downtown in 1915, the restaurant uses skinless grilled Kogel hotdogs with secret spicy meat topping with hints of the exotically expensive Saffron and Turmeric. This is the only style of Coney that you do not need a fork to eat and enjoy. We found it hard to eat just one.
#8 Michigan White Navy Bean Soup – Served by the US Senate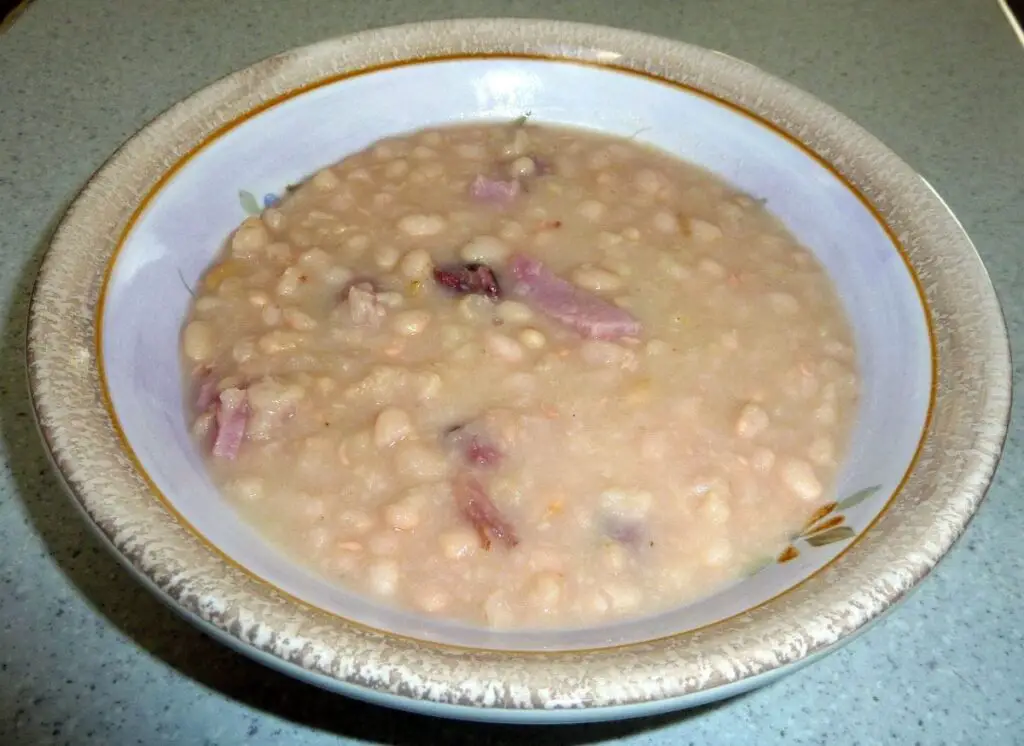 Michigan's navy bean soup has been a menu item in the U.S. Senate dining room for over one hundred years. The Senate bean soup is made with Michigan white navy beans, ham hocks, celery, garlic, and parsley. The original recipe included mashed potatoes. This staple for the Senate makes it a true hometown Michigan food.
The story goes that Senator Fred Dubois of Idaho and Senator Knute Nelson of Minnesota requested the hardy soup be placed in the Senate Dining Room menu in the early 1900s. While this is considered a national staple, white navy bean soup is considered a true hometown of Michigan food. We have found the definitive Michigan Recipe for Senate Bean Soup.
#9 Superman Ice Cream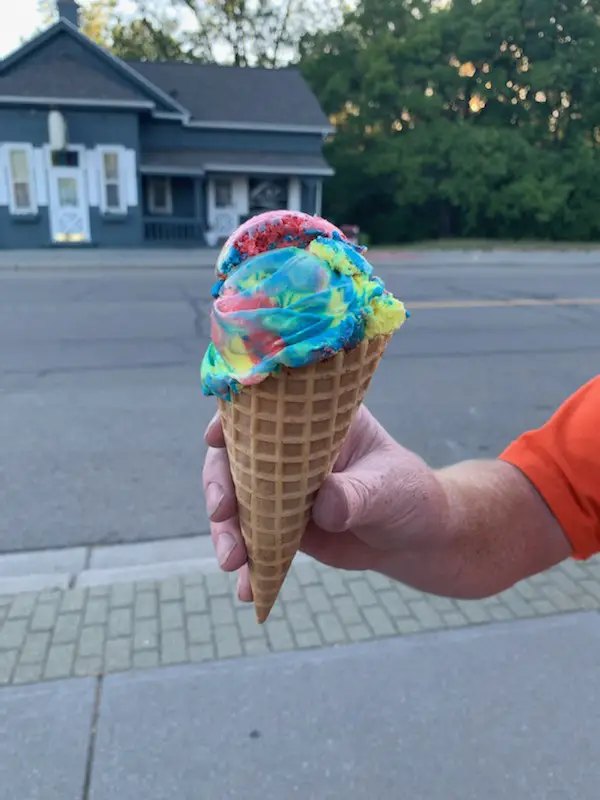 Nothing says you're from Michigan other than saying you like Superman ice cream. This ultra-sweet swirls of the colors of Superman's costume: red, yellow, and blue. The flavors are typically cherry, lemon, and long time and were supposedly first formulated by Detroit's own Stroh's ice cream company. Stroh's started making frozen desserts during prohibition; therefore, the brewery has kept at it ever since. This frozen dessert may be a Midwest favorite. The oldsters at the heart of the Great Lakes region have claimed it their own.
Our post explores the history and brands that still make this Michigan favorite. Superman Ice Cream: 6 Crazy Questions About The History Of Michigan's Favorite Frozen Treat
#10 Vernor's Boston Cooler
We agree that it's odd that a popular Detroit frozen delicacy is named after a New England seaside city, but whatever. It all begins with Detroit-based pharmacist James Vernor developing his renowned formula by maturing a particular combination of ginger extract in a barrel. At the same time, he traveled to fight in the American Civil War. When he returned from the war in 1866, he discovered his mixture to be a wonderful extract that went well with soda water.
In the early 1900s, soda fountains combined root beer and ginger ale with ice cream. Both were dubbed "Boston Coolers," although Vernors primarily promoted with the moniker in Detroit. It wasn't until 1967 that the Vernors business obtained the trademark for a ginger-ale-flavored ice cream bar.
Some of Our Favorite Michigan Food Gifts
Related Michigan Hometown Foods Reading