Known for its beautiful lakes and sights, Michigan is also famous for serving some of the best foods in the Midwest region of the USA. No trip to Michigan can be complete without trying out some of the famous Michigan foods in the area. Known for its comfort cooking, the Mitten state is famous for re-creating regular dishes by adding a twist like Detroit-style Pizza, Wet Burritos, Olive Burgers, and Coney Dog. Its home-grown foods like tart cherries and Michigan apples make Michigan a tasty food destination.  
Table of Contents
Here are the top fifteen foods that made Michigan famous that you must try on your next road trip to the Mitten state.  
Images on this page may contain affiliate links in which we may receive a commission. See our affiliate disclosure for details.
Listen to this Post
1. Mackinac Island Fudge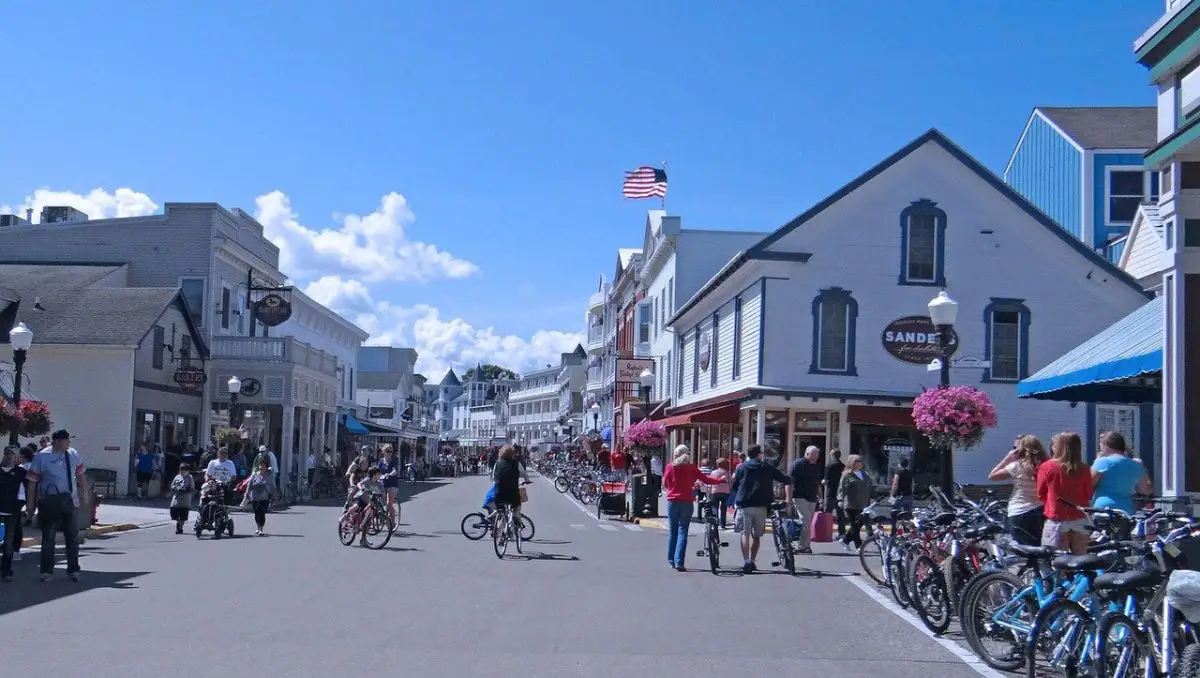 Mackinac Island in northern Michigan is rated as a top vacation destination in the United States. A trip to this small, car-free island is incomplete without treating yourself to the famous Mackinac Island fudge. The entire island is spotted with fudge confectioneries, and the irresistible smell of chocolate wafting across the island makes it impossible to keep away from them.
Most shops boast flavors ranging from peanut butter and German chocolate to Michigan walnut chocolate. The famous fudge here has also inspired several ice-cream flavors. With this variety, there's something for everyone to enjoy. Make sure to carry your box of fudge back home for friends and family – check out resources like Foodsharkmarfa to find out how to keep your box of fudge fresh for longer.
2. Famous Michigan Foods – The Coney Island Hot Dog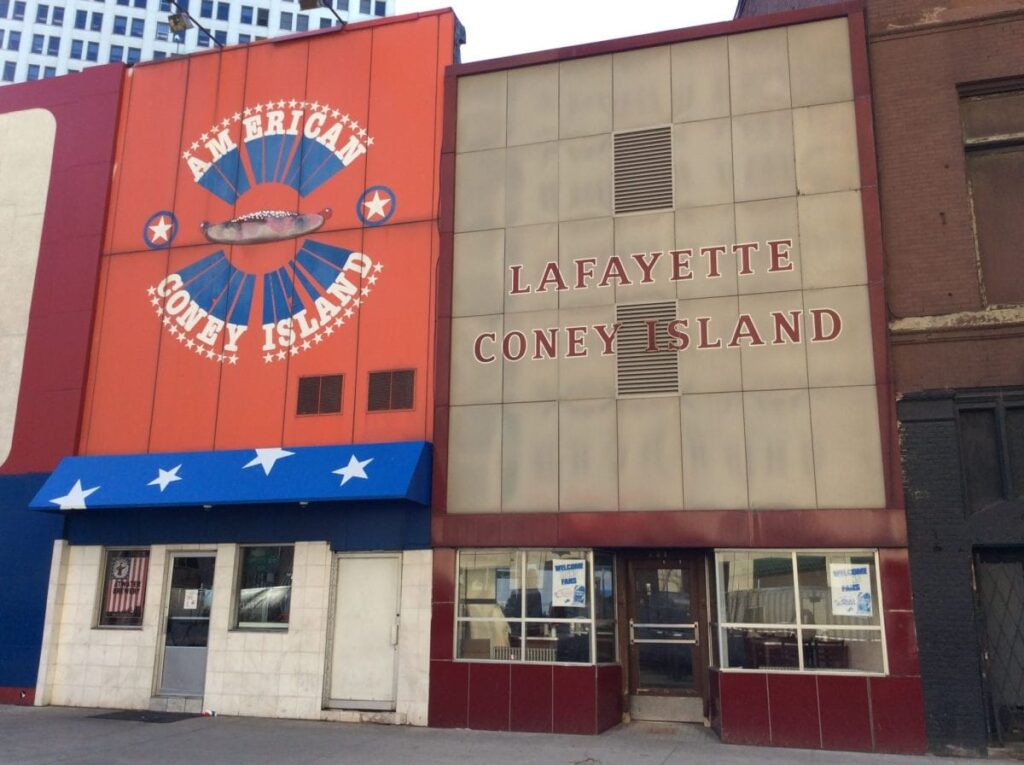 If you're visiting Detroit, don't miss out on a delicious Detroit coney dog. The coney dog is Detroit's twist on the hot dog. Made of a beef hot dog, slathered with chili and mustard, and finally topped with raw onions, a coney dog is best eaten with hands. The city has several coney dog shops that offer various flavors; but, if you are looking for some original coney dogs, try out the American Coney Island and Lafayette Coney Island joints.  
Many folks are surprised to know that Michigan is home to several styles of Coney island hot dogs. Besides Detroit, Jackson, Flint, and Kalamazoo Coney sauce flavors bring a unique blend to the state.
3. Famous Foods in Detroit Michigan – Buddy's Detroit Style Pizza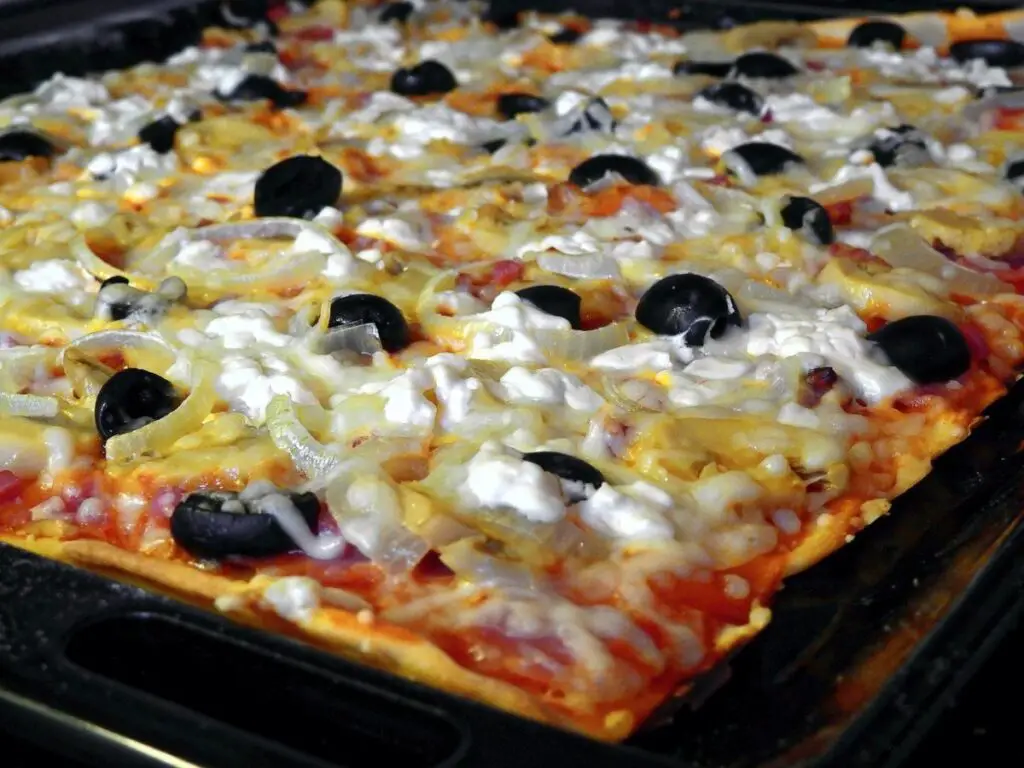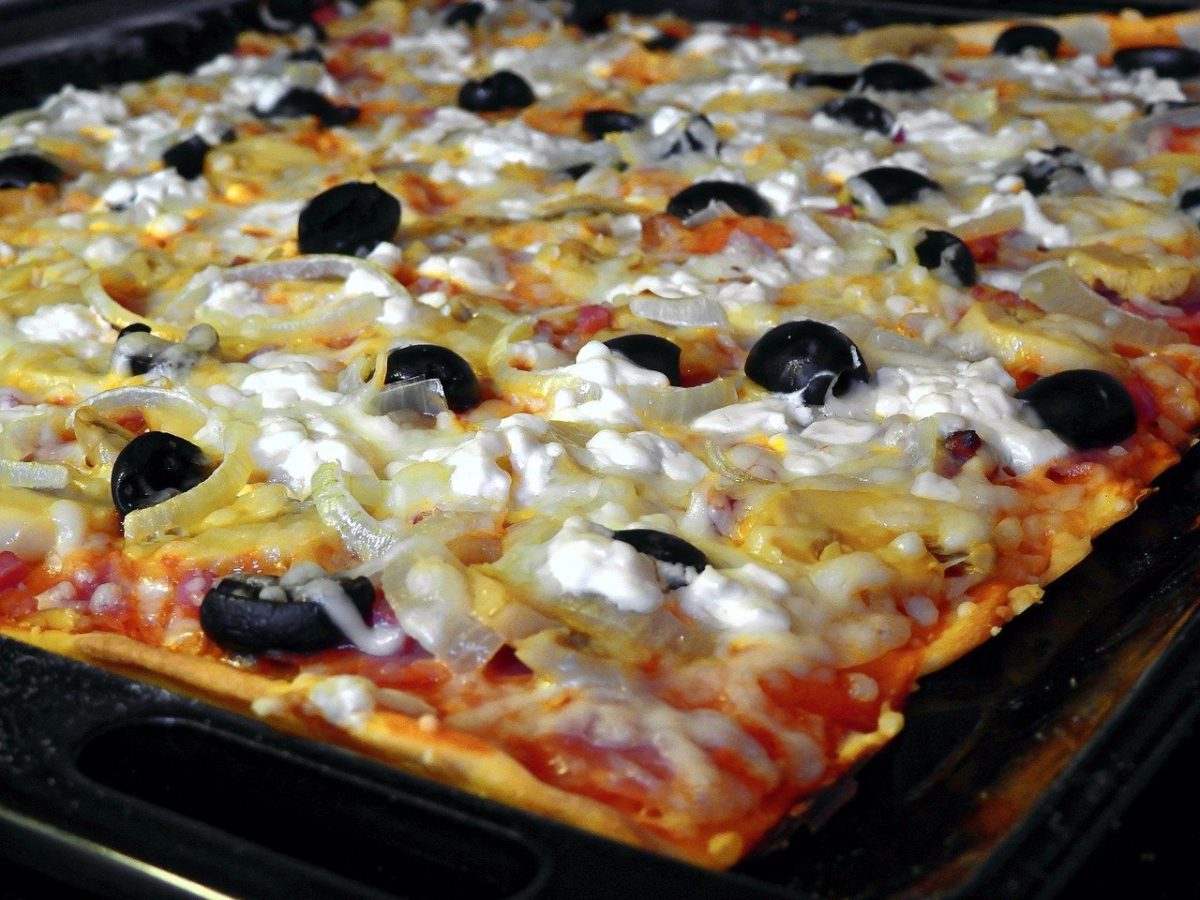 This deep-dish Pizza was started in the mid-1940s by Buddy's Pizza. If there is one food that is Michigan is famous for, this is it. The square-shaped Pizza is made of double-stretched dough, lots of cheese, and topped with sauce. Buddy's bakes the pizzas in square pans once used to deliver parts in Detroit's auto factories. Though you can find them with various toppings, the classic Detroit pizza is made with pepperoni that's layered under the cheese and sauce. Buddy's Pizza is consistently highly ranked in national pizza surveys. You must go and try this pizza, drive fast to the cafe with a Detroit airport car rental.
4. Famous Michigan Foods – Tart Cherries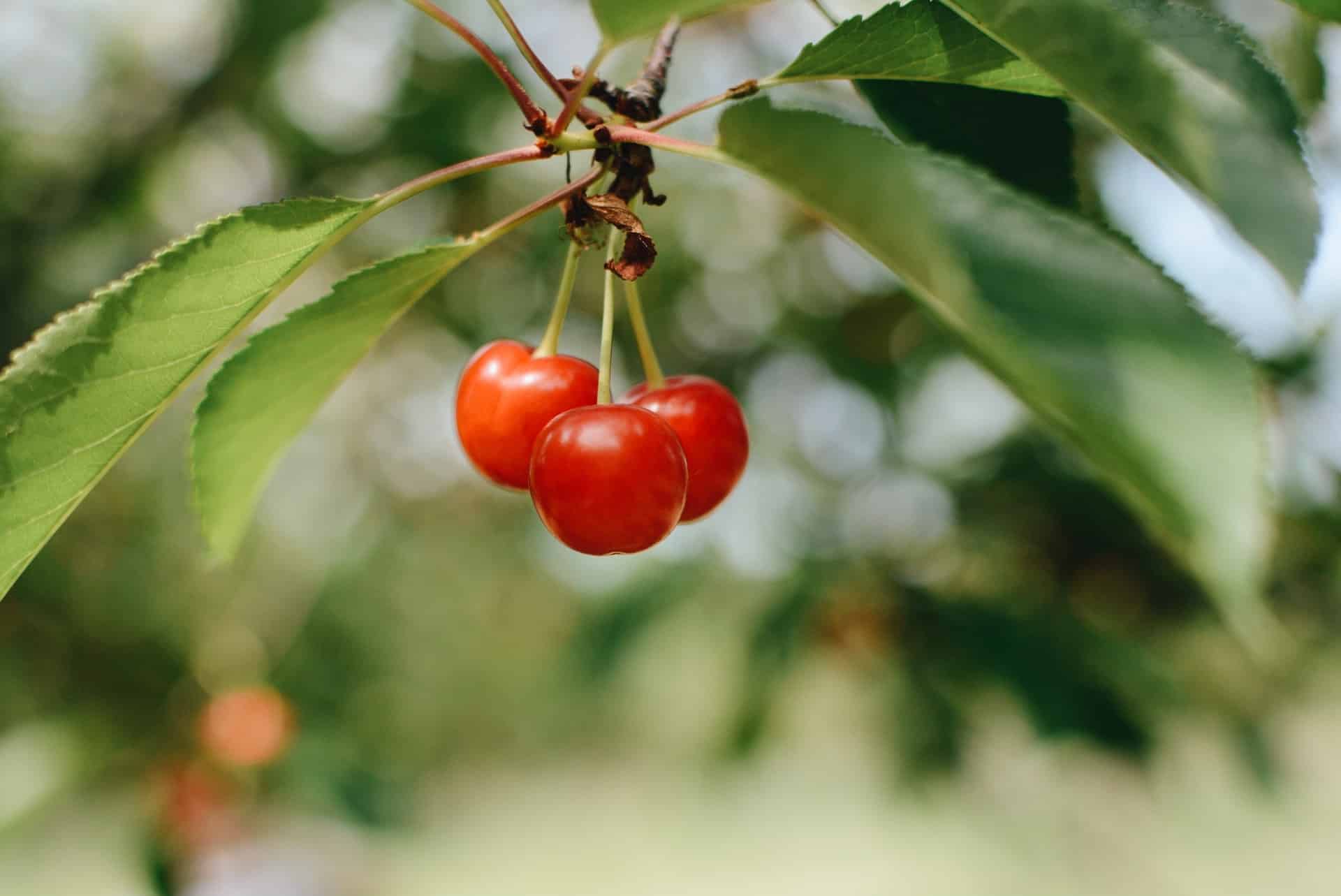 A short distance from the shores of Lake Michigan, Traverse City, Michigan, is known as the cherry capital of the world or the cherry republic. There's a national, week-long festival held every July to celebrate the cherry harvest that consists of events, carnival games, and, of course, cherry-filled foods. In addition, the state hosts many cherry farms that provide farm tours and tastings. On these farms, you can find several cherry-based foods ranging from cherry barbeque sauce to cherry coffee to hot cherry sauce.  
5. Michigan Famous Food – Pasties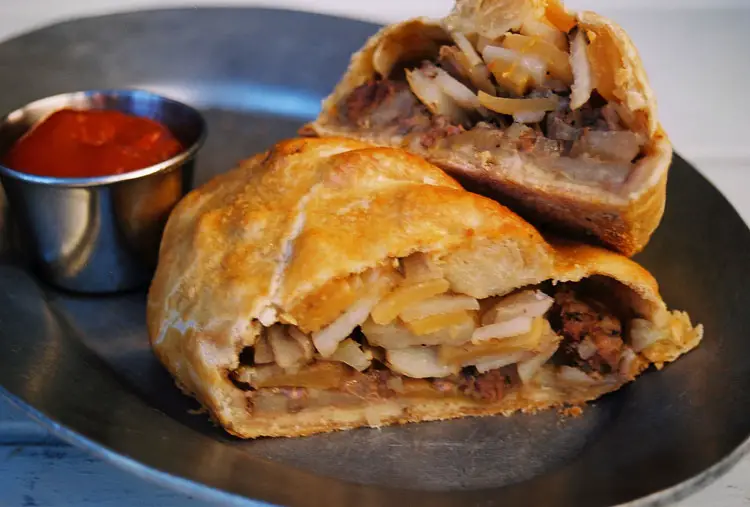 One famous Michigan food is the Pasty. Pasties originated from the Cornish immigrant copper miners who bought this easy meat pie in Michigan. Today, it's a staple of Upper Peninsula food. Restaurants serve pastry shell pasties with various fillings, but the most traditional fillings are meat fillings made of beef and potatoes, chicken, and pork. To make a meal of it, top it with gravy, and you're set for a hearty, easy-to-carry meal. For the best pasties, visit Lawry's pasty shop and try their traditional meat-stuffed pasties.  
6. Famous Michigan Foods – Frankenmuth Chicken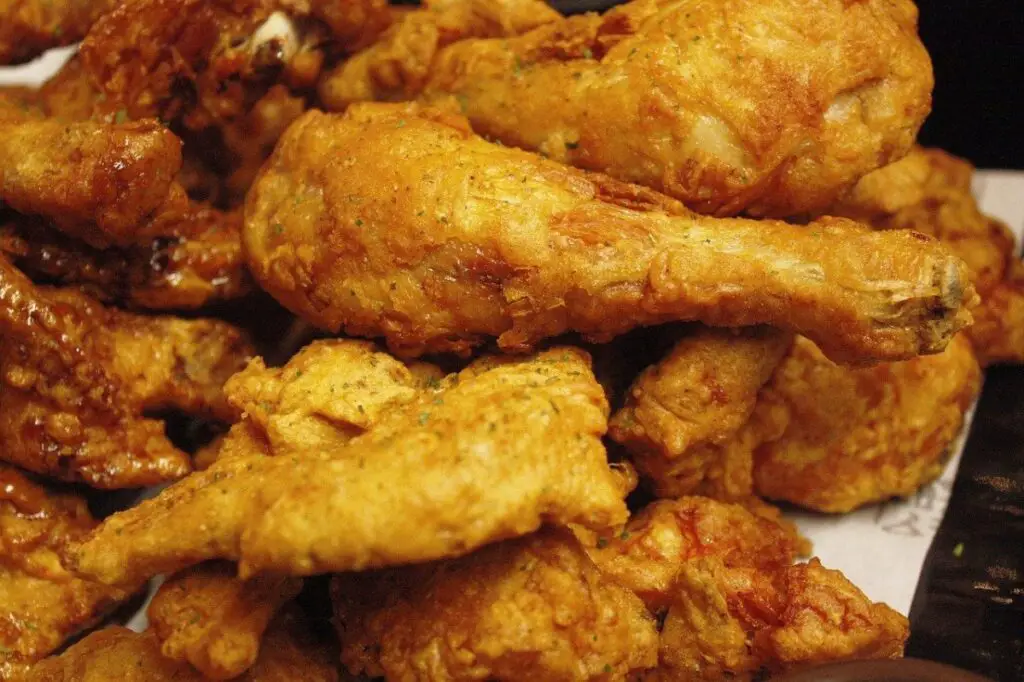 Frankenmuth is a charming little town that's known for Christmas and chicken dinners. Also known as Little Bavaria, Frankenmuth boasts of the world's largest Christmas store called Bonners, where you can shop for Christmas-related things throughout the year. Bavarian Inn Restaurant and Zehnder's are famous for their house specialty family-style chicken dinners with many sides. You can also pick up some delicious Zehnder's chicken seasoning here. 
7. Best Michigan Foods – Chipati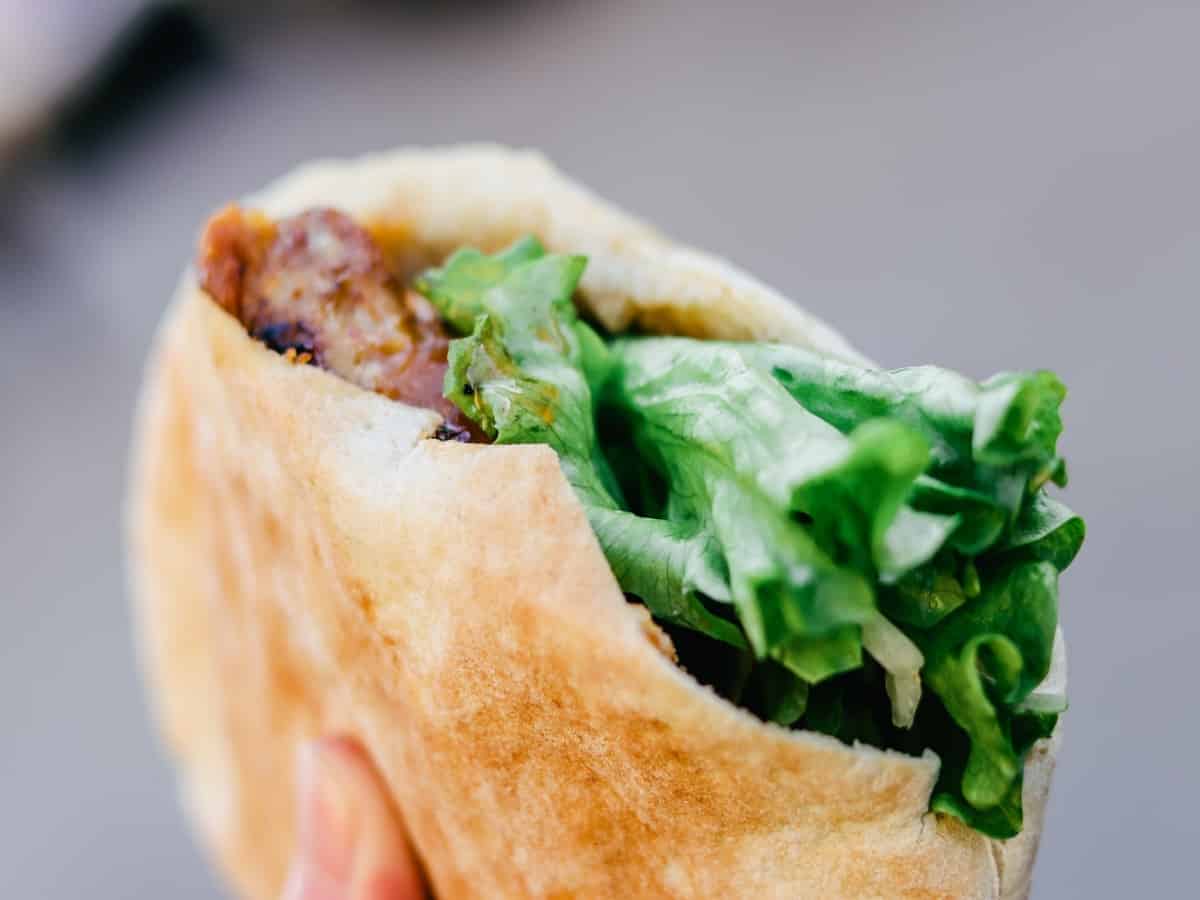 This is a staple for the students of the University of Michigan in Ann Arbor. Chipati is a pita filled with a simple salad of lettuce, mushroom, and cheese, topped with a creamy, tangy sauce. Chipati was introduced by Pizza Bob in the 1970s and remained a popular go-to snack for local Michigan residents.  
8. Paczkis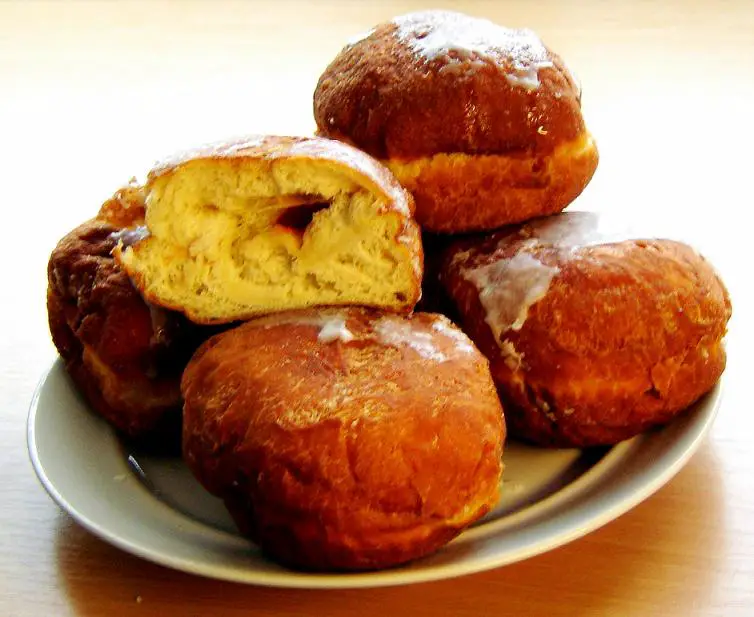 One of the famous foods in Detroit, Michigan, is the Paczki. A Paczki is a traditional Polish sweet often eaten on Paczki day or Fat Tuesday. Pronounced as "punch-key," this famous Polish desert is a donut-shaped pastry filled with rosehip or stewed plum jam. It's considered one of the most famous foods in Detroit, Michigan. However, now you can find paczkis with several variations in fillings.  
9. Foods Made Michigan Famous – Better Made Potato Chips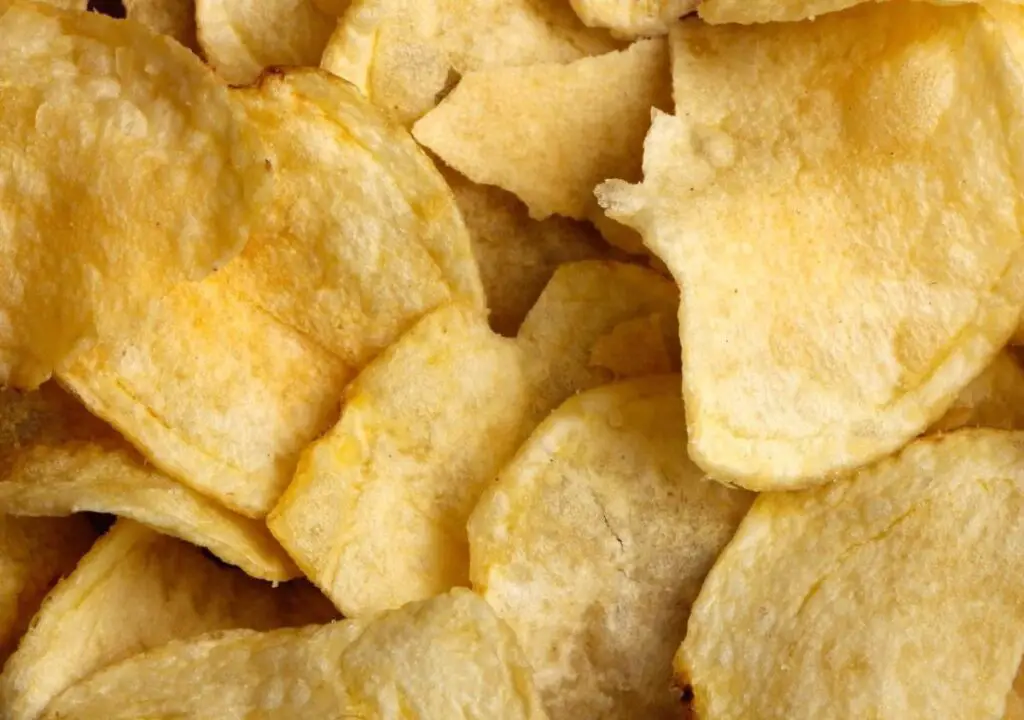 Michigan farmers produce more potatoes for making potato chips than any other state. It's no wonder Michigan is the home of some of the best makers of potato chips. The largest is Better Made. One can find Better Made potato chips everywhere in Michigan. The regional favorite for locals prefers Better Made potato chips to any other brand. You can find them in various flavors like garlic, dill pickle, red hot, and sweet barbeque.  
10. Superman Ice Cream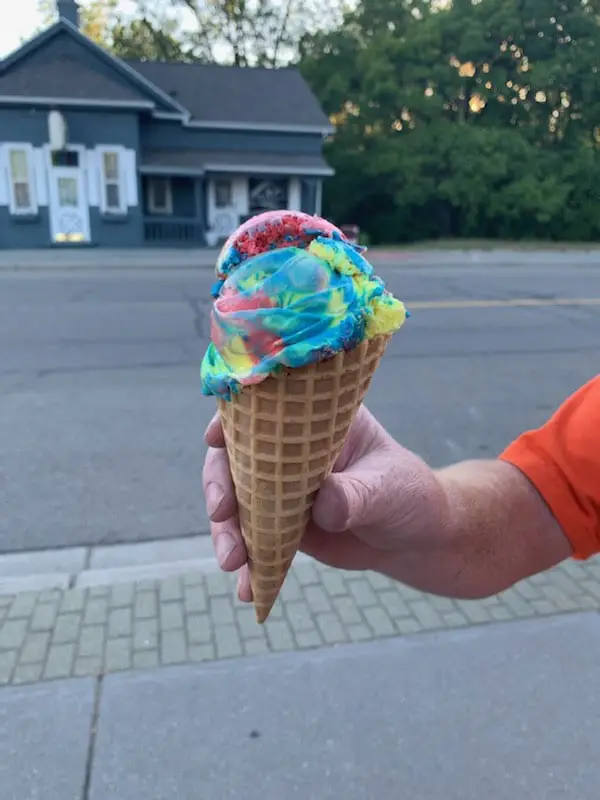 There is nothing that says you are from Michigan than saying that you like Superman Ice Cream. This ultra-sweet swirls of the colors of Superman's costume, red, yellow, and blue. The flavors are typically cherry, lemon, and blue moon and were supposedly first formulated by Detroit's own Stroh's Ice Cream company. Stroh's started making ice cream during prohibition, and the brewery has kept at it ever since. This ice cream is a Midwest favorite. The folks at the heart of the Great Lakes region have claimed it as their own.
11. The Olive Burger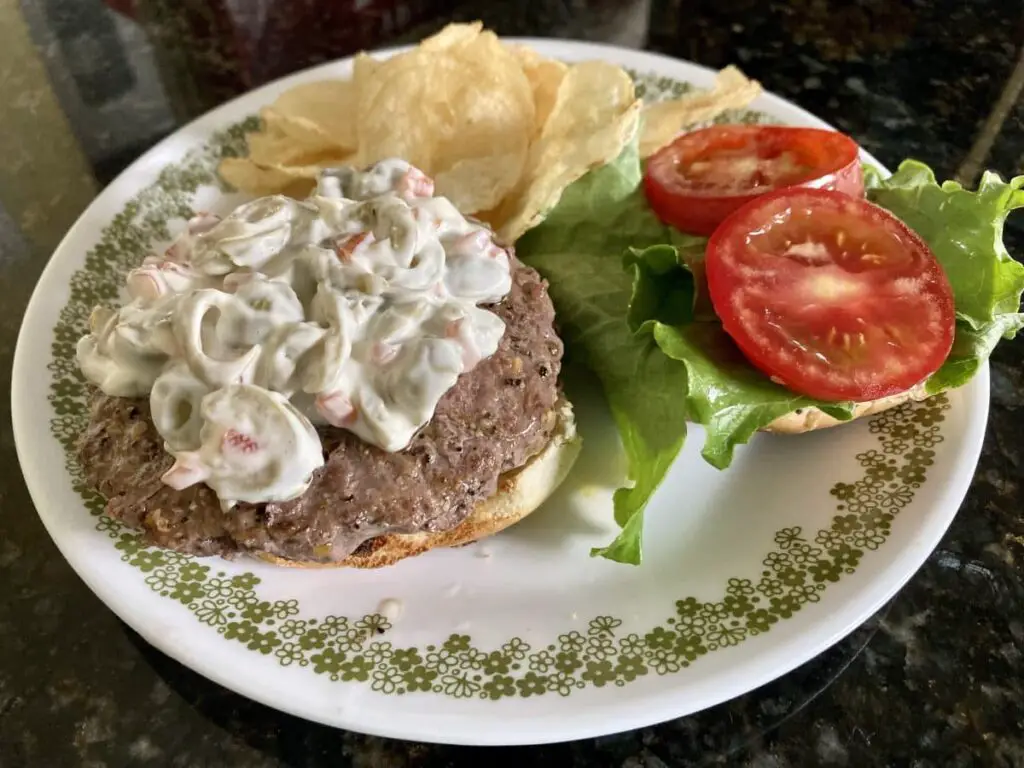 This simple topping is a Michigan favorite. It's thought that the city of Flint introduced the original olive burger. Flint is also known as Buick City and is the location of the famous sit-down strike by workers at General Motors assembly plants that kicked started the United Auto Workers Union. In 1923, Kewpee Hamburgers started in Flint as one of the early fast-food chain restaurants. The "Kewpee Hotel Hamburgs" were a hit. Particularly in Michigan's state capital of Lansing.
What food is Lansing Michigan famous for? Look no further, than the Olive burger. Some of the best olive burgers in Lansing can be found at Weston's Kewpee Burger and Olympic Broil. In East Lansing, check out the Peanut Barrel and Crunchy's. All of these burger joints have been making saucy briney burgers for decades.
The olive burger sauce recipe is straightforward. The original recipe calls for chopped green olives, and a little of the olive brine mixed with mayonnaise.
12. Fried Whitefish & Whitefish Chowder
For 1000s of years, lake whitefish were an important food source for Native Americans around the Great Lakes. When the European settlers arrived, they praised the lake whitefish for its excellent flavor and abundance. It's a fun fact that the Great Lakes whitefish boasts a long list of health advantages. The fish is considered high quality, low-cost protein option with beneficial omega-3 fatty acids, vitamins, and minerals.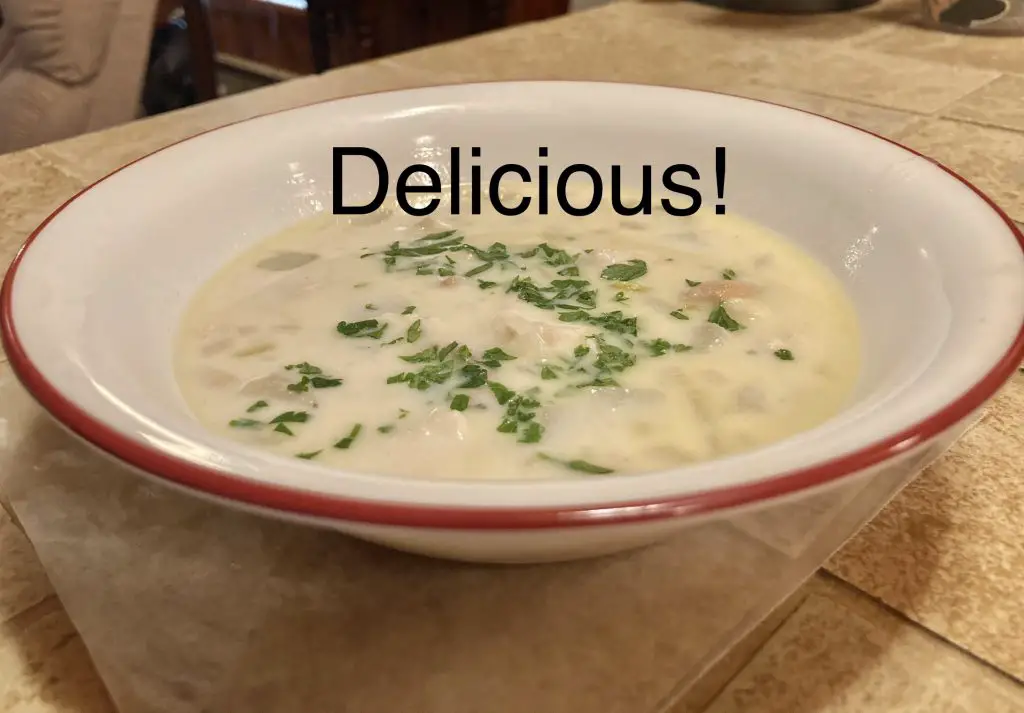 The Great Lakes whitefish is more popular than ever. One chain that got its start in Traverse City and Mackinaw City is Scalawags Whitefish. They have been taking whitefish cooking to the next level for years. One of the iconic dishes and comfort foods that we enjoy is the easy-to-make Whitefish Chowder.
13. Vlasic Pickle Is Michigan's Favorite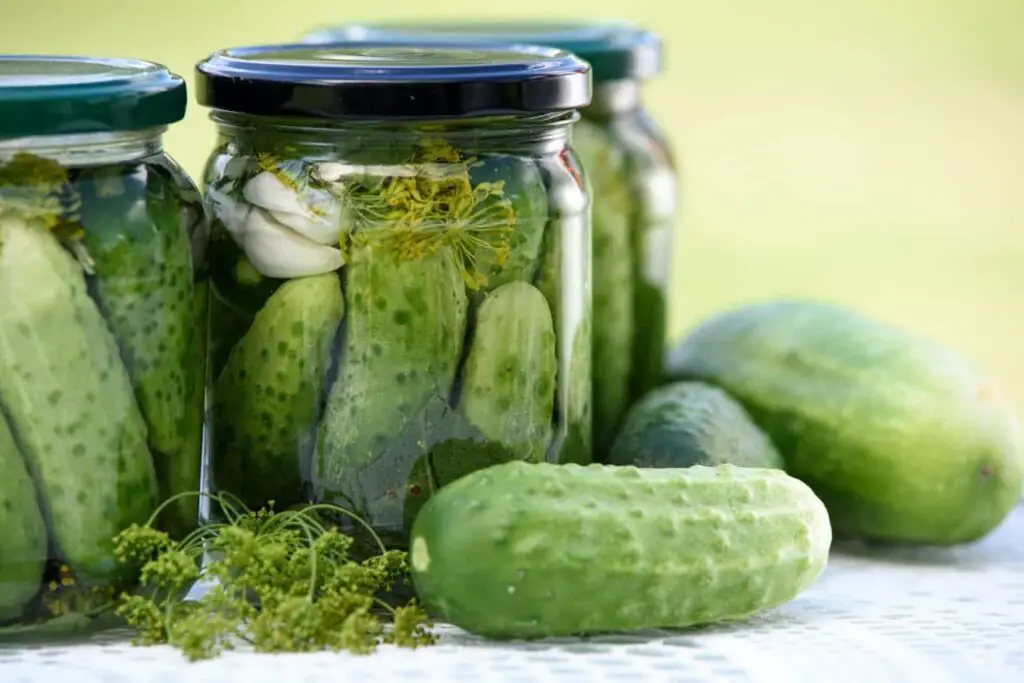 Vlasic Pickles, located in Imlay City, is at the extreme southern portion of Michigan's Thumb. The company is one of the largest in the area, and Vlasic is a significant employer for the region. Michigan farmers supply tons of cucumbers for America's #1 pickle, and scores of workers work at the Imlay City plant and distribution.
Vlasic makes its famous pickles, such as the renowned garlic dill pickle and over 100 other products in  Imlay City, Michigan. The plant produces more than 150 million jars of pickle products annually.
14. the Wet Burrito
You would think that Michigan would be the last place that would be the place for a tremendous Tex-Mex favorite. However, you cannot ignore the influence of Mexican and Latino culture and foods on Michigan cuisine. One such dish that Michiganders love to order is the Wet Burrito.
A wet burrito is made similarly to any other burrito, with various contents wrapped in a flour tortilla. Although many recipes call for shredded beef or pork as a filler, a wet burrito can also be made using beans and rice. On top, shredded cheese is melted.
The finishing touches are what distinguish the wet burrito. The hot-filled flour tortillas are served on a small dish, topped with tomatoes, shredded lettuce, and sour cream, and drenched with red meat or enchilada sauce. Delicious.
#15 Pickled Bologna
You either love it or loathe it. Pickled Bologna can be found in just about every local bar and party store in Michigan. It's a simple cased bologna ring packed in a jar or in a package with a brine that penetrates every morsel.
We typically cut it into slices and serve it with cheese and crackers. This simple snack is great around the campfire on a crisp fall day.
Final Thoughts on Famous Michigan Foods 
When it comes to distinct food culture, Michigan has a lot to offer. From deep-dish pizzas and Tex-Mex burritos to traditional Polish paczkis, the state is home to several diverse dishes celebrated for their uniqueness and flavor. Here, the various festivals and cultural nuances surrounding food offer visitors much more than a dining experience. These foods are an experience in itself that has made Michigan savory dishes famous all over the world.  
---
Famous Michigan Foods You Can Buy Online
Images below may contain affiliate links that, if purchased, we may receive a commission. See our Affiliate Disclosure for more information.
---
Related Reading for Famous Michigan Foods
20 Famous Ohio Foods That Are Worth The Drive To The Buckeye State – If you've ever wondered what Ohio is famous for, their food is part of that discussion. How the culture of a state shaped its culinary creations, we're here to shine a spotlight on what makes those menus unique. These 20 Ohio foods have everything from real-deal recipes to unheard-of flavors, but they all have big claims to fame.
Famous Indiana Foods – We Found 10 Of The Best – As Indiana shares its southern border with Kentucky, there is a southern influence in many famous dishes. The Hoosier State is renowned for many foods, but some stand out more than others. In this article, we'll explore ten different foods that are iconic to the Hoosier state.