I think you will agree that every state has its favorite foods. Massachusetts has its clam chowder. Louisiana has gumbo, while Texas and Missouri both claim the BBQ has its own. Michigan food is blessed with such variance in culture and resources that you can't pinpoint any specific Michigan foods as "the" iconic favorite. Here are a few Michigan foods and classic Michigan recipes that are our favorites.
Table of Contents
10. Great Lakes Fried Walleye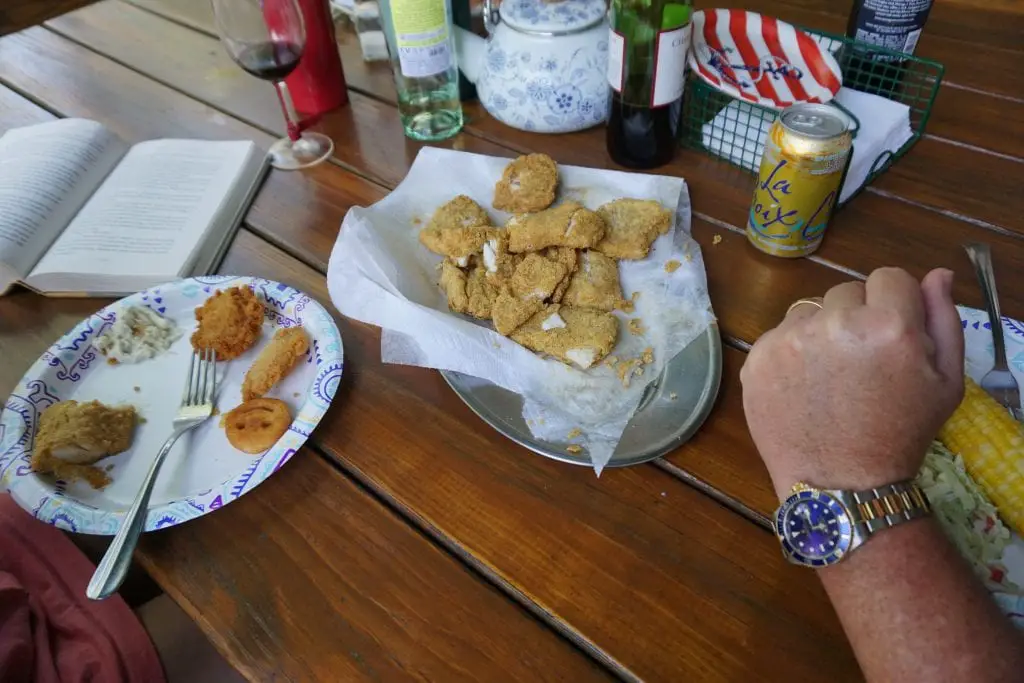 Perhaps no fish is more revered in Michigan by both chefs and sportspeople as the Walleye Pike. Abundant in the Great Lakes, these mellow-tasting fish are easy to find and prepare. We have made a step-by-step how-to guide on how to prepare the perfect walleye dinner.
One little-known fact about walleye in Michigan is that the only walleye sold in retail markets or restaurants is imported from Canada unless you fish for them yourself. Michigan commercial fishers are not allowed to catch walleye.
9. Wigley's Corned Beef Eastern Market in Detroit
Wigley's corned beef has been a Detroit favorite since the 1920s. Job Wigley, the original owner, and founder came to Detroit with a collection of family meat recipes perfected by his father, Frank Wigley, back in the 1880s. It's a treat for those who love to eat beef. The shop trims each brisket perfectly, so there is no waste. The secret is not to add any additional seasonings. Instead, simmer in plain water, then enjoy. Only available for retail sale at Detroit Eastern Market location.
8.  Downey's Original Potato Chips – Waterford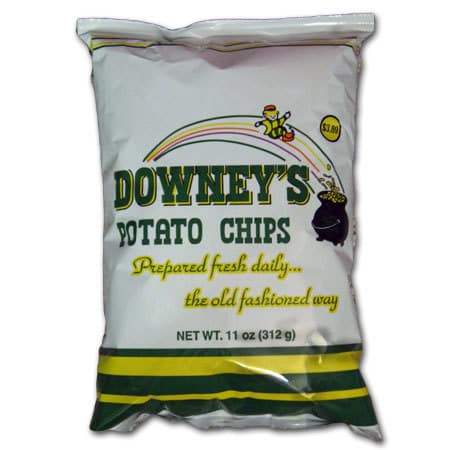 Since 1984 this little potato chip company Downey's Potato Chips has produced its famous kettle chips in  Waterford. Unlike most kettle chips, this unique chip is light and has a great flavor from its peanut oil blend. They use locally grown Michigan potatoes and are cooked and hand-seasoned daily. Hard to find. Look for them in gourmet groceries like Vince and Joe's in Shelby Township.
7. Bacon Sausage – Walt's Meats – Port Austin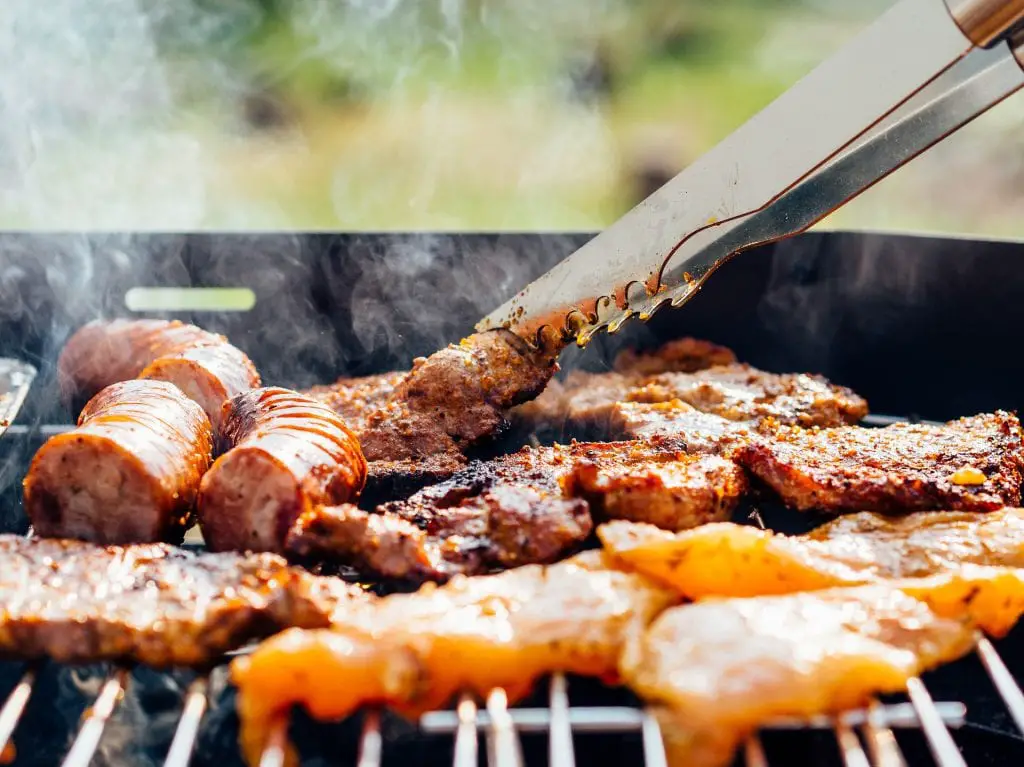 Just about everyone loves bacon. How can you possibly make it better? Well, Rick at Walt's Meats near Port Austin, Michigan, stepped it up a notch. Taking lightly smoked bacon and combining it with lean ground pork with his special blend of spices makes for a truly awesome breakfast experience. It's great on the grill and barely flares up. Food on the grill is always a perfect recipe for summer.
Florida snowbirds order Walts bacon sausage just before they beat it back down I-75. Since Walt's is a seasonal gourmet butcher shop, this is only available during the summer season. Fear not; Rick's ability to freeze the cryo pack means the taste of summer is available year-round.
6. J.L. Hudson's Maurice Salad – Cherry Creek Golf Club – Shelby Township
Mention J.L. Hudson Department store, and you may get some folks who were born after 1970 to give you a strange look. The flagship store in Detroit closed in 1983 and was demolished in an implosion in 1998. Nevertheless, the tallest department store in the world did leave a legacy of great service and memories of eating in the 13th-floor dining rooms. These dining areas each had a theme and were named. The Pine Room, The Georgian Room, and The Early American Room were remodeled and renamed the Riverview Room.
The iconic store was renowned for its Maurice salad and Canadian cheese soup.  The salad can be found all around the Detroit area. Finally, we found one that says true to the original at Cherry Creek Golf Club in Shelby Township. There are dozens of variations, but the classic salad recipe and its famous dressing follow.
---
 Maurice Salad Recipe With J.L. Hudson Maurice Dressing
5. Whitefish Chowder – The Vierling – Marquette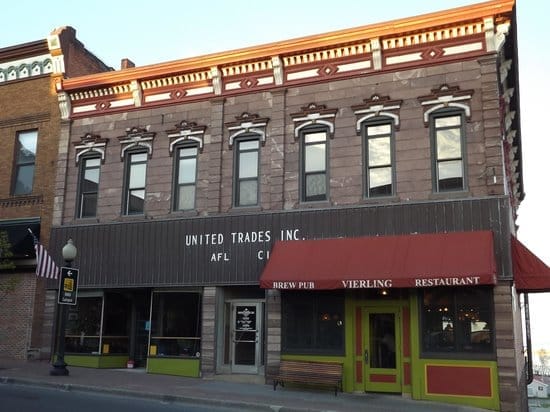 Michigan is blessed with some of the tastiest freshwater fish in the world. Walleye Pike, Yellow perch, and Whitefish are always at the top of the order.  You can find whitefish offered in just about every restaurant and pub in northern Michigan. However, Marquette's waterfront restaurant "The Vierling" offers one of the better versions of a local Michigan food favorite. Their Whitefish Chowder is a local standby, and online reviewers gauge it as one of the best. So if you find yourself in Marquette, stop in at the historic Verling near the harbor and order one of their home-brewed craft beers and a chowder. You won't be disappointed.
Recipe for Whitefish Chowder
We have captured this famous recipe for Whitefish Chowder that is perfect for a fall luncheon or your next tailgate. This simple chowder is excellent using fresh or frozen whitefish.
4. Michigan Tech Beef Pasty – Michigan Technological University – Houghton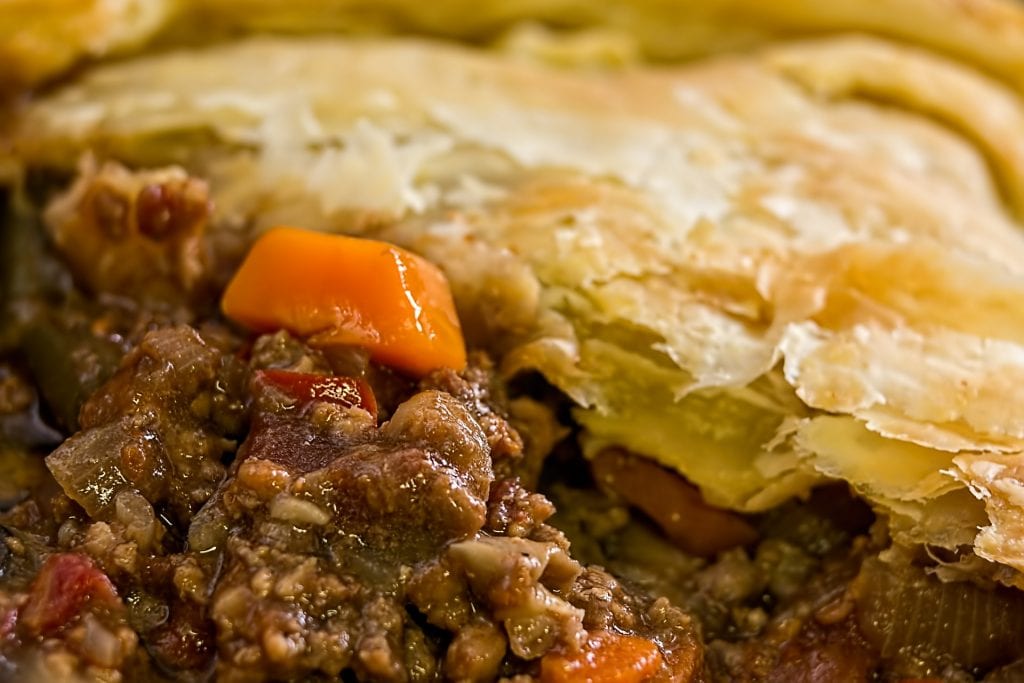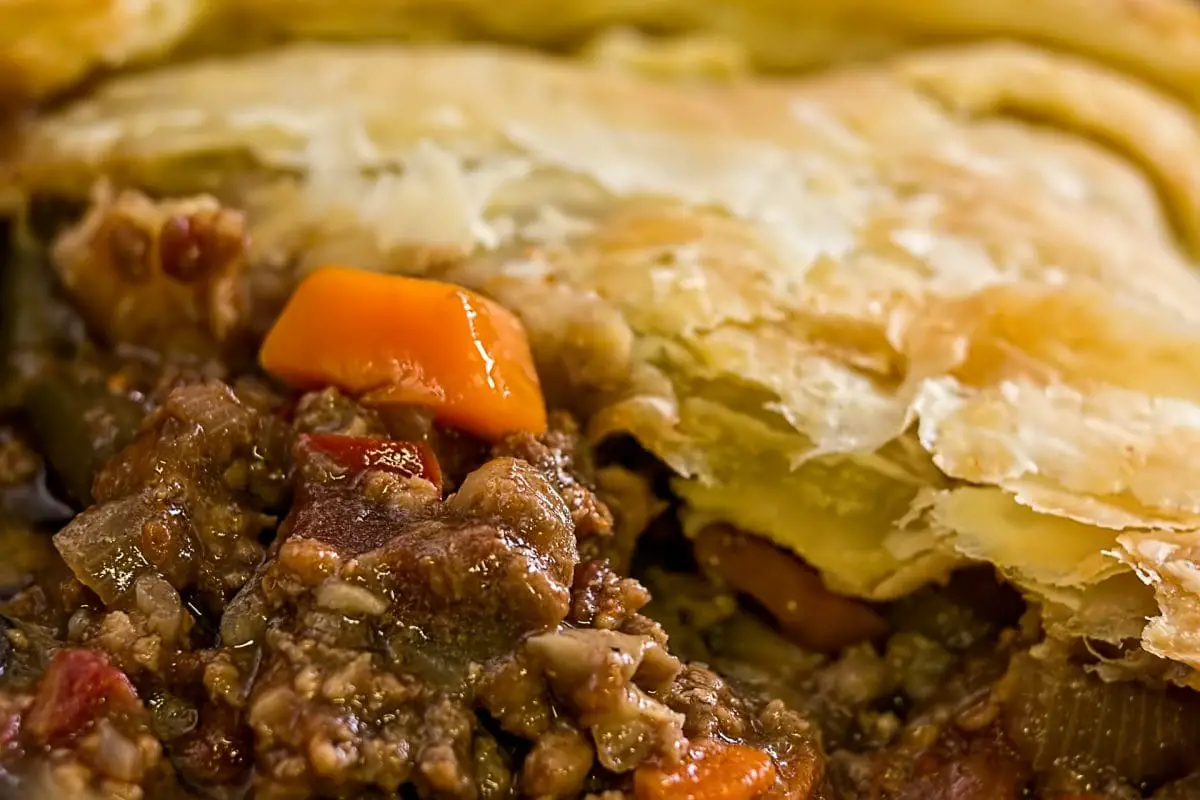 On a cold winter day, there is nothing better than a Pasty to chase out the cold. If you know anything about this meat pie staple of Michigan's U.P., you know the argument about gravy vs. ketchup as the topping of choice. Michigan Technological University was first established as a mining college. The copper-rich ore of the Keweenaw Peninsula attracted workers from Europe that knew mining techniques. The Cornish from southern England brought mining and the Pasty to create this true Michigan food. Encased in a rich crust, miners could bring a fine supper to the depths of the copper country. MTU offers this historical miners' meal the best. Here is the Dining Services recipe that feeds ten. Reduce accordingly.
---
Michigan Tech Dining Services Pasty Recipe
This recipe makes 10 pasties.  Put about 12 oz filling in each crust.
Dough:
3 1/2 flour
9 oz. shortening
10 oz. cold water
1Tbl + 1 tsp salt
Filling:
3 1/2# potatoes, peeled
1 1/2# coarse ground pork
12 oz coarse ground beef
9 oz diced onions
8 oz diced carrots
7 oz diced rutabaga
1/4# butter
1TBl salt
1Tbl pepper
Chop the carrots and onions. Dice the potatoes and rutabagas in 3/8-inch dice. Mix all the filling ingredients and set them aside. Mix the flour and salt. Cut in the shortening, as for pie crust. Add the water and mix gently just until the dry particles are absorbed; do not over mix.
Preheat oven to 350 degrees. On a floured surface, roll 4-ounce balls of dough into circles about the size of a dinner plate. Put about 12 ounces of filling on one half. Dampen the edges, fold the crust over the filling, and seal. Place on greased baking sheets (or use baking paper). Place in oven and bake for one hour. Serve with either catsup or gravy.
3. Senate Bean Soup – Capital Cafe – Washington DC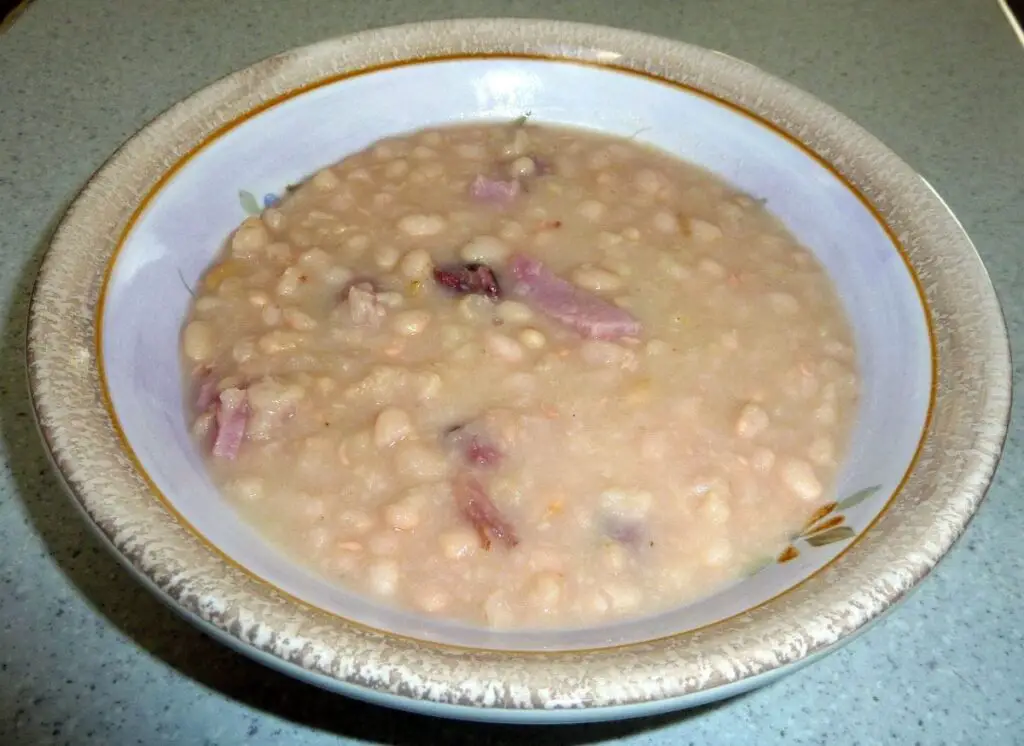 U.S. Senate Bean Soup or Senate bean soup is made with Michigan navy beans, ham hocks, and onion. It is served in the Senate Dining Room of the United States Senate every day, in a Michigan food tradition that dates back to the early 20th century. The original version included celery, garlic, parsley, and mashed potatoes as well.
The Famous Senate Restaurant Bean Soup Recipe 
2 pounds dried  Michigan Navy Beans
four quarts of hot water
1 1/2 pounds smoked ham hocks
1 onion, chopped
2 tablespoons butter
salt and pepper to taste
Wash the navy beans and run hot water through them until they are slightly whitened—place beans into a pot with hot water. Add ham hocks and simmer approximately three hours in a covered pot, stirring occasionally. Remove ham hocks and set them aside to cool. Dice meat and return to soup. Lightly brown the onion in butter. Add to soup. Before serving, bring to a boil and season with salt and pepper. Serves 8.
---
2. Kalamazoo Coney –  Kalamazoo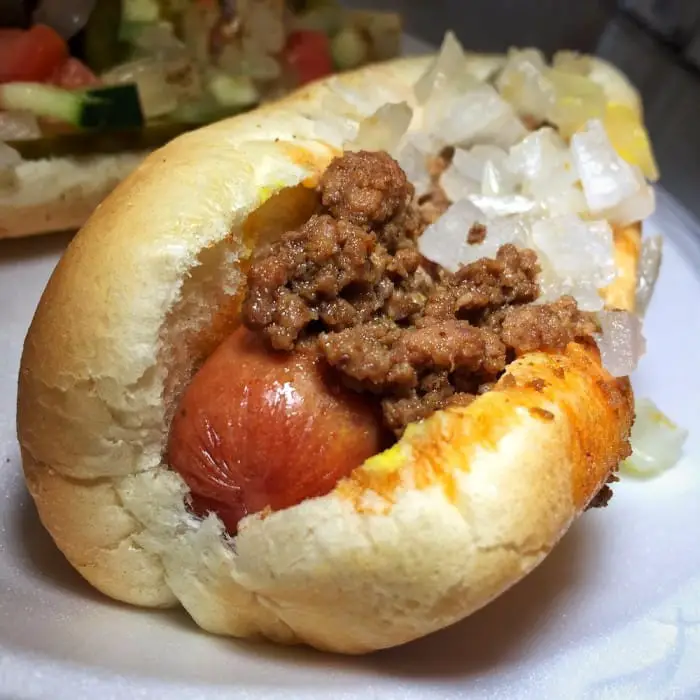 A favorite Michigan food is the Coney Island Hot Dog is a hot dog in a bun topped with a savory meat sauce and sometimes other toppings. It is often offered as part of a menu of Greek origin and classic American 'diner' dishes and often at Coney Island restaurants. It is largely a phenomenon related to immigration from Greece and the Macedonian region to the United States in the early 20th century.
Coney Island Kalamazoo was founded in 1915 and is the longest continuously operated Coney Island in Michigan. Their coney island comprises a topping made from their own recipe served on a Koegel's Skinless Frankfurter.
Based on a reader's poll conducted by mlive.com in 2012, Coney Island Hot Dog, 266 E. Michigan Ave., and Dogs With Style, 410 S. Burdick St., took home the No. 1 and No. 2 honors, respectively. Michigan is home to many coney dog variations; Flint, Detroit, Jackson, and Kalamazoo all claim to be original.
1. Heritage Cheese Spread – Schuler's Restaurant – Marshall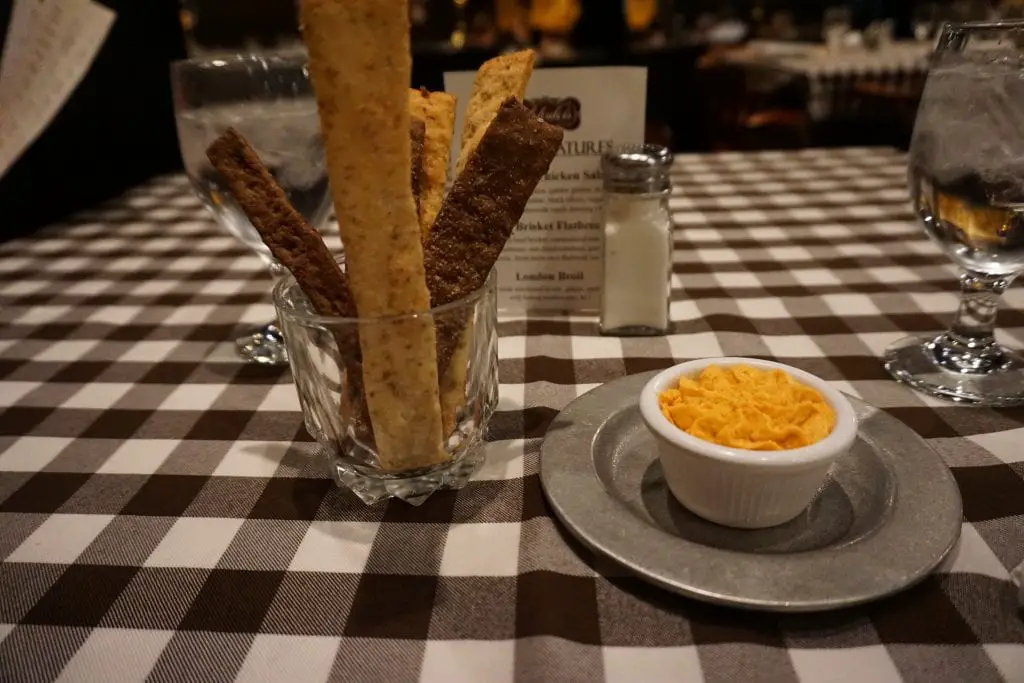 Win Schuler's Restaurant is a foodie destination close to I-94, which crisscrosses Michigan. It's worth the stop in Historic Marshall for a Sunday dinner of prime rib or a quick lunch in their pub. A traditional and iconic Michigan food favorite is their classic "Bar Scheeze." It's a tangy cheddar and horseradish spread with a hint of heat. The Win Schuler Bar Scheeze was sold to Vlasic Foods in 1984, but knock-off recipes abound.
Win Schuler's Bar Cheese
16 oz processed cheese
2 sticks unsalted butter
1 package cream cheese, softened
1/2 jar of fresh Brede's Prepared Horseradish ( from Detroit)
1/2 cup melted bacon grease (some also add a few bacon bits)
2 tablespoons onion juice
1/8 teaspoon hot red pepper sauce
Place all ingredients on top of a double boiler over simmering water. Stir occasionally until melted and smooth. The mixture will look coarse in texture. Mix with a mixer,  food processor, or blender until smooth. Serve with melba toast or favorite hearty crackers. Refrigerate or freeze.
Marshall Michigan Inspired New Zebedee in the book "The House With a Clock in Its Walls"
If you're in Marshall for a visit, it's worth spending a few minutes walking through the historic town. Marshall inspired author John Bellairs to create the fictional town of New Zebedee for this children's book "The House With a Clock in Its Walls." It is considered a milestone in Gothic mysteries that was published in 1973.
The focal point of Bellairs's book was a mansion. The Cronin House was the inspiration for his book. Today, walking tours of the town and mansion are available as interest in the book increased after being adapted into a movie in 2018.
---
Michigan Foods You Can Buy Online
Images below may contain affiliate links that, if purchased, we may receive a commission. See our Affiliate Disclosure for more information.
---
4 Detroit And Michigan Food Trends To Keep An Eye On In 2021
Growing up just north of Detroit, I took for granted some of our great iconic foods like Coney Island hot dogs, deep-dish Sicilian pizza, and the ethnic neighborhoods of Hamtramck, Greektown, Corktown, and Mexican village. Now the Food Network had finally found us, and we are considered a national treasure for the foodie culture. Wait until they drive up Van Dyke and hit Gibbys Fries at the Huron Community Fair. Southeast Michigan and Detroit have become home to some of the most innovative dinings in the midwest.
We took a look at the top three emerging food trends that are expected to go beyond 2020.
#1 Vegetarian and Plant-Based Meat
Burger King's Impossible Burger's success notes that plant-based meat-like products are here to stay and only grow in options and tastiness. The trend is so strong that McDonald's is introducing its Mc-Plant burgers shortly. But beyond the fast-food chains, even Detroit neighborhood bistros are exploring plant-based ingredients.
Chili Mustard Onions
Even in these trying times during the COVID pandemic, new restaurants are giving it a go. Detroit's Chili Mustard Onions (AKA CMO) is a new player in 2020 and is going all-in with a vegetarian menu.
Chef Pete LaCombe selected and renovated its location at 3411 Brush Street in Detroit, just south of Mack Ave and DMC. The little restaurant is currently offering curbside pickup. Their menu highlights are the Southwest Detroit Nachos, CMO Big-Mock, CMO Coney Dogs, and the inventive Beetball Sub. We expect plant-based entrees and restaurants to be a major innovative food trend in 2021.
#2 The Dominance of Detroit Style Pizza
One of the top Detroit Food specialties is the Sicilian or Detroit-style pizza. It's a cheesy deep-dish square pie that is light on top-loaded sauce and filled with Wisconsin brick cheeses. The dough is prepared and baked in steel pans formerly used in auto plants for carrying parts. It renders a thick crust but light and not chewy.
In the Detroit area, folks have their favorite places for their Detroiter. Of course, the dominant chain is Buddy's Pizza followed by Loui's Pizza in Hazel Park and the Green Lantern Pizza in Madison Heights. However, Jet's Pizza makes an absolutely perfect Detroit Style located in 390 locations in 18 states. Detroit Style Pizza will be on the list as a national food trend in 2021.
#3 Rise of Great Lakes Whitefish – Sustainable Aquaculture
Folks are reading the labels and studying where their food comes from. We are starting to see people weary of farm-raised shrimp and fish. Especially from areas where is little to no oversight on what is fed and how it is processed.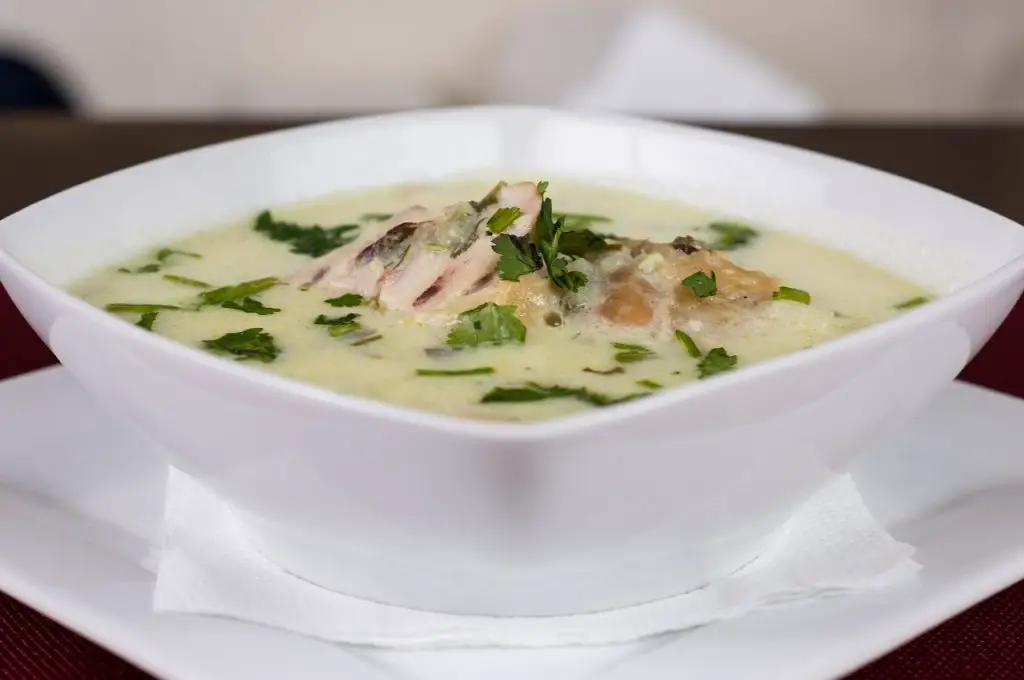 Living in Michigan, we are fortunate to live in one of the world's premier managed fisheries. With the delicious freshwater whitefish as the number one harvested fish in the Great Lakes. The remaining 13 fish companies operating in Michigan focus their efforts on sustainable practices for catching whitefish. The Bay Port Fish Company operates in Saginaw Bay and sells their catch in Detroit's Eastern Market during the summer.
The variety of recipes and entrées that can be created with this fish is amazing. We found the Whitefish Chowder recipe simple, savory, and rich in flavor. It's expected that people will look to seafood sources that are close to home and sustainable. We expect whitefish to be on the list for one of the new food trends in 2021.
#4 National Recognition for Detroit Food Trends
Detroit has been getting press as one of the best food cities in North America. National Geographic featured Detroit food trends as part of the 6 Unexpected Cities for the Food Lover. Detroit's Corktown eateries were the only North American spot named globally. The late Anthony Bourdain loved some of Detroit's hot spots and this visual tour of the food scene.
---

Detroit isn't just a national treasure. It IS America. And wherever you may live, you wouldn't be there — and wouldn't be who you are in the same way — without Detroit.

Anthony Bourdain –
---
Sights and Sounds of Detroit's Eastern Market
Related Michigan Food and Detroit Food Trends Stories