Editors Note: Thumbwind has always been fascinated with the history around the Thumb Region. A big part of this history is the rapid advancement of farming in the region after the 1881 Great Fire. The early focus was sugar beets in Mid-Michigan. I ran across a series of stories about the Michigan Sugar Beet industry written by Thomas Mahar. Mahar spent almost 40 years in the industry, first as an executive for Monitor Sugar Company and five years as the Gala Food Processing Company president. This is a reprint of a story published in 2009 about Michigan Sugar Beet history.
---
Michigan's Beet Sugar History
By Thomas Mahar 
In Michigan's Bay City suburb of Essexville on October 17, 1898, a smiling Governor Hazen B. Pingree was on hand to witness the beginning of Michigan's first beet sugar harvest. By doing so, Pingree heralded a period of speculative investment in beet sugar manufacturing marked by the founding of companies that sometimes rose overnight to spectacular heights and just as quickly spiraled downward to oblivion, carrying away the savings of thousands of small investors. The handful of companies that survived those tumultuous first years, however, would one day produce more than a billion pounds of sugar annually.
Governor Pingree had thrown his support behind Public Act 48, legislation that promised bounty money for beet sugar manufactured in Michigan. Its passage sparked a rush to build beet sugar factories all across the state and would according to its supporters, go a long way toward replacing jobs lost by the fast-approaching demise of the lumber industry that had been the state's economic mainstay for fifty years. Michigan had once been a land of white pine forests so dense that in 1812 government surveyors declared it unfit for human habitation. After exhausting the forests of Maine, New York, and Pennsylvania, the lumber barons turned their attention to Michigan's hundreds of millions of board feet of virgin white pine. Now that it was all but gone the state's political leaders needed a new source of economic wealth.
The governor and company executives, Thomas Cranage, Benjamin Boutell, Nathan Bradley, men whose fortunes had been garnered in the lumber industry, listened with satisfaction to the factory whistle summoning beets from the storage pits for entry to the first of twenty-three factories where laborers, entrepreneurs, farmers, and politicians set aside natural differences to combine their skills for the common good. It was an idea that had traveled from Europe nearly seven decades earlier.
France developed sugarbeets as a source of white granulated sugar less than one hundred years earlier. Napoleon Bonaparte, after assuming control of France continued the French tradition of threatening England with war. In keeping with his bellicose intentions, he placed an embargo on English shipments and in so doing effectively cut off access to the English ports that France depended on for the transshipment of cane sugar from the West Indies. Sugar stocks piled up on English docks while the people of France suffered for the lack of it.
Until the embargo against English trade in 1806, France met its needs with a continuous supply of cane sugar from Guadeloupe and Martinique in the Caribbean and Réunion in the Indian Ocean. To meet the unsatisfied need created by his embargo and the counter-embargo imposed by England, Napoleon decided to encourage the production of sugar from sugarbeets. Experiments ten years earlier had established the viability of the beetroot as a replacement for cane sugar. So convincing were the results that representatives of the cane industry offered to pay the modern equivalent of $120,000 to Karl Franz Achard, the scientist most responsible for carrying out the research in return for his disavowal of the possibilities of extracting sugar from sugarbeets. His rejection of the offer not only confirmed his strength of character but also established the foundation of an industry.
By 1812, forty factories were in operation in France. These factories, minuscule by 21st century standards, handled nearly one hundred thousand tons of beets produced on some seventeen thousand acres, and from them, manufactured more than three million pounds of sugar. From France, the industry spread to Germany, Russia, and other countries. In Germany, Achard established a school attended by students from all parts of Europe. When the students returned to their home countries, they carried with them technical information that encouraged the establishment of many more factories. Eventually, Achard's descendants settled in Michigan where they became involved in the state's infant sugar industry.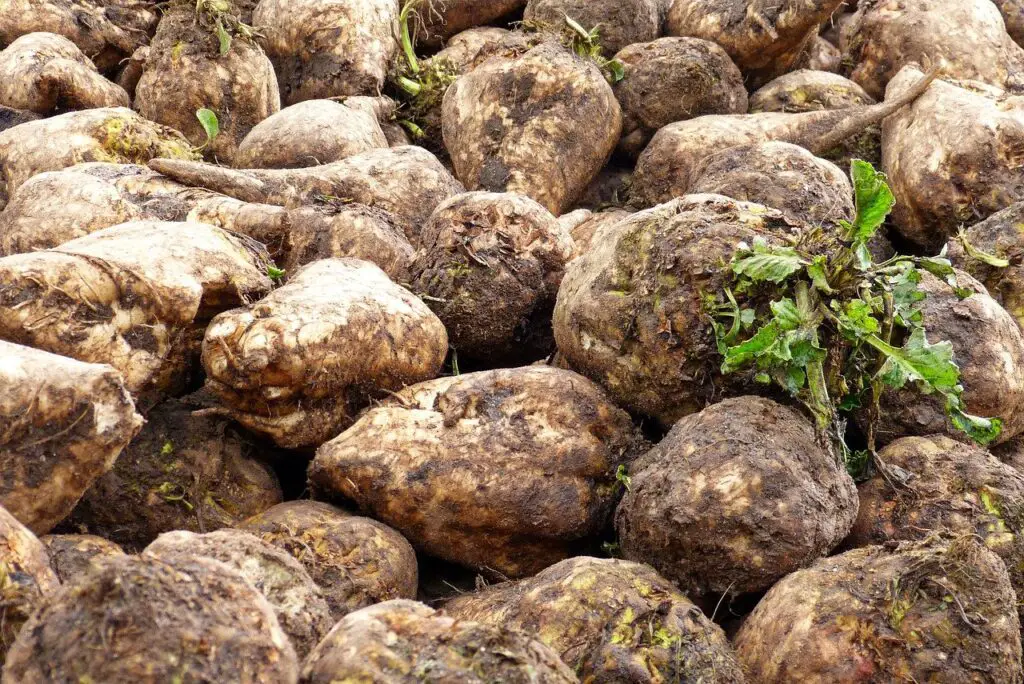 The sugarbeet resembles a turnip on steroids. Its weight varies from three to five pounds. A thick canopy of broad-leaf foliage protects it from the sun. The sugarbeet is a member of the Goosefoot family and has as its cousins, red beets, spinach, pig weed, lambsquarter and Russian thistle and is, more narrowly, of the Beta vulgaris species, which includes not only sugarbeets but also table beets, Swiss chard and mangel-wurzels. Its roots can extend six to eight feet in mellow soil thus can survive climates as varied as those found in Arizona and in Michigan where it enjoys a growing season extending from March to October. The period following the growing season, the period during which sugar is extracted from the beet and then refined, is referred to by the industry as the "campaign".
Michigan's inaugural sugarbeet campaign was, by every account, a remarkable success. Farmers harvested an average of 10.3 tons of beets from each of 3,103 acres for a total of 32,047 tons of sugarbeets. The sugar content of the beets averaged 12.93 percent with a purity of 82% from which the factory extracted 5,685,552 pounds of sugar, delivering an extraction rate of 65%.
The farmers signaled their approval when Michigan Sugar Company paid an average of $4.51 for each ton of beets, an amount that immediately classified sugarbeets as a premier cash crop. Happy investors abounded. Public Act 48 assured a profit to the sugar manufacturers by promising to pay a bounty roughly equivalent to one-third of the estimated three-cent per pound manufacturing cost. The manufacturer's obligation entailed a guaranteed payment of $4 for each ton of beets containing at least 12% sugar and a sum proportionate to $4 for all beets containing a greater or lesser percentage of sugar.
At the projected price of four dollars, no crop in human history had held the potential for creating such a high return from so few acres. A farmer with above-average ability who placed fifteen acres in sugarbeets could earn $900 and if his family provided the bulk of the labor, the net profit would more than take care of a family's needs for a year, which, including food, was less than $800. After adding revenue from crops in rotation such as wheat, corn, and beans, and revenues from milk, eggs, and poultry, the farm family's standard of living advanced from a subsistence level to one that compared favorably to those who held mid-management positions in the industry. Not only did the advent of sugarbeets radically improve the standard of living for those who grew beets but also established its reputation as a mortgage payer. A farmer who grew beets was courted by bankers eager to find reliable borrowers, allowing many farmers to advance quickly from subsistence farming to high income and eventually to the status of wealth.
Official recognition by the United States Department of Agriculture in 1898 of the importance of the sugarbeet industry–combined with success occurring right at home with the initial outstanding results of the Essexville factory, sparked rapid development. One year earlier the nation could boast of only ten beet sugar factories, four of which were in California, one in Utah, two in Nebraska and three in New York. The construction of seven sugarbeet factories in 1898 brought into focus for the first time the stirrings of a rush, one that blossomed into a full-fledged boom by 1900 when the nationwide count stood at thirty beet sugar factories in eleven states.
Nowhere was the blaze hotter than in Michigan where nine factories followed Essexville's successful experiment. A burst of cyclonic enthusiasm caused a mad scramble when investors, constructors, bankers, and farmers combined energies and skills to bring to life eight factories in a single year! They were in Holland, Kalamazoo, Rochester, Benton Harbor, Alma, West Bay City, Caro, and a second factory in Essexville. In Marine City, investors, inspired by success at Essexville, paid Kilby Manufacturing $557,000 to build Michigan's tenth sugarbeet factory. Despite the paucity of factory constructors and the engineers to operate them, fourteen additional factories rose on the outskirts of Michigan towns during the next six years, the last of which appeared in Blissfield in 1905. Fifteen years later, Monitor Sugar Company built the state's twenty-fourth and final beet factory.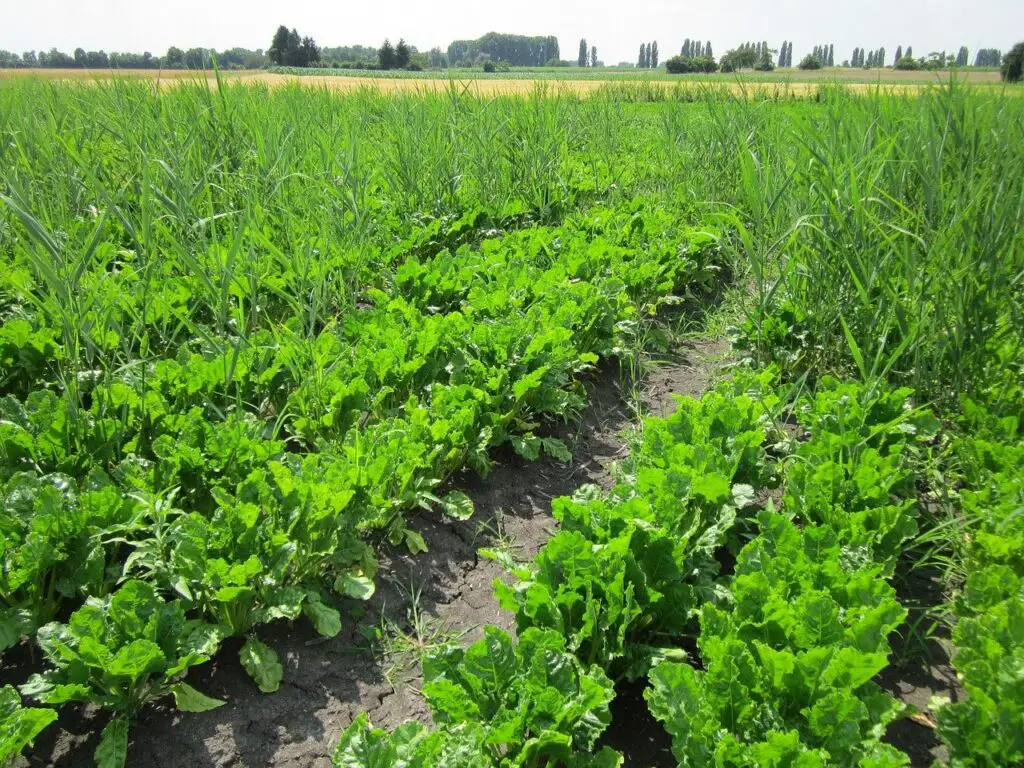 In 1898, when ardor flamed at its hottest, enthusiasts shouted the prediction that Michigan would soon resemble a single field of sugarbeets extending from its southern border to the northernmost tip of the Lower Peninsula. Legislators grew alarmed in fear that Public Act 48, designed to spark the development of a new industry, might have instead unleashed a monster that would swallow the state's budget. They stood by in relieved silence when Roscoe Dix, the state's Auditor General declared Public Act 48 unconstitutional. The decision, later endorsed by the Michigan Supreme Court, cooled passions for sugarbeets only slightly because the case was strong and after all, there was still hope that the United States Supreme Court would reverse the state supreme court's decision. That effort failed when the U.S. Supreme Court rejected an appeal on grounds of jurisdiction. The court's decision was not much more than a speed bump in Michigan where mounting excitement for beets brought fresh capital to cities that otherwise faced extinction in the fading light of the lumber industry.
If credit is given to an effort made sixty years earlier, the Essexville factory was Michigan's second beet factory. By the 1830s, the new European practice of extracting sugar identical to cane sugar from beets had captured the minds of separate but like-minded small groups of investors in Pennsylvania, Massachusetts, and Michigan. The latter group took the name "White Pigeon" after the town in which the company was organized. The Michigan and Massachusetts experiments led eventually to the construction of factories sized to produce salable white sugar in commercial quantities. Those first factories, cobbled together relics of French origin, averaged five tons of sliced sugarbeets per day, an amount processed in less than sixty seconds in today's factories. Unable to achieve the goal of producing marketable sugar, both failed in 1841.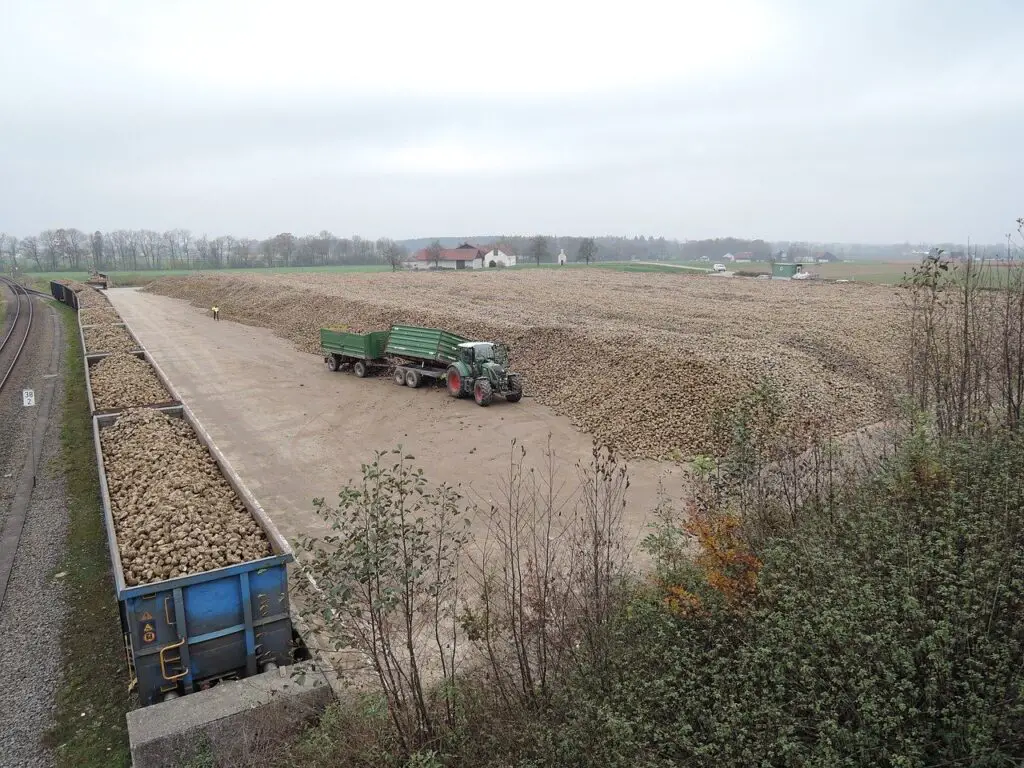 While it is true that a good idea has many fathers, the Michigan industry recognized one more than any other. That was Professor Robert Kedzie, a legendary chemistry professor at Michigan Agricultural College (later, Michigan State University) and a pioneer consumer advocate who had helped the country end the practice of manufacturing arsenic-laden wallpaper and volatile kerosene. He had originated the idea of the agricultural extension service. He devoted more than fifteen years research to the development of the sugarbeet, eventually earning the sobriquet "Father of the Michigan Sugar Industry" for his steadfast devotion to the belief that sugarbeets would play a vital role in Michigan's agricultural future.
By 1906, thanks in part to Robert Kedzie and to dozens of town leaders across the state who were willing to accept desperate measures to save their dying communities, the state's beet sugar industry had evolved into three basic groups that would remain largely unchanged during the next 100 years. The first constituted those factories that experienced a lifespan of fewer than ten years, one of which was Michigan's first factory at Essexville. The others included four of the eight factories that came into existence in 1899.
Factories in Rochester, Kalamazoo and Benton Harbor plus one in Charlevoix had been built by industrialists who firmly believed in their self-invented axiom that when it came to farmers, "build it and they will come". The theory failed to blossom into sugarbeets when farmers saw little reason to surrender profitable fruits and vegetables for a product that depended upon a factory to convert farm goods into salable products. The factories failed for want of beets.
Lumber baron Worthy Churchill led a group of investors to the idea of building a 600-ton per day sugar factory directly across the street from Michigan Sugar Company's Essexville factory, correctly believing that the factory's 350-ton slice capacity made it an easy target for an aggressive competitor. He was right. By 1903, he had persuaded Tom Cranage, Michigan Sugar Company's president, to merge with his new company. They named the new corporation, Bay City-Michigan Sugar Company, effectively ending the existence of the original Michigan Sugar Company, and then began the process of closing down the smaller factory.
In addition to the group of factories destined for brief existence, there were seven others that would remain largely independent and survive for an average of 41 years. Chief among them was the Holland factory that by all standards should have gone the way of other undersized 350-ton factories but because of frugal management by Charles McLean, a former school superintendent who possessed the obstinacy of a bear trap, the factory survived 37 years. The Holland factory was the only factory in the United States to shut down operations on Sunday, which it did during its first eleven years at great cost in efficiency but in keeping with the religious convictions of a majority of the community.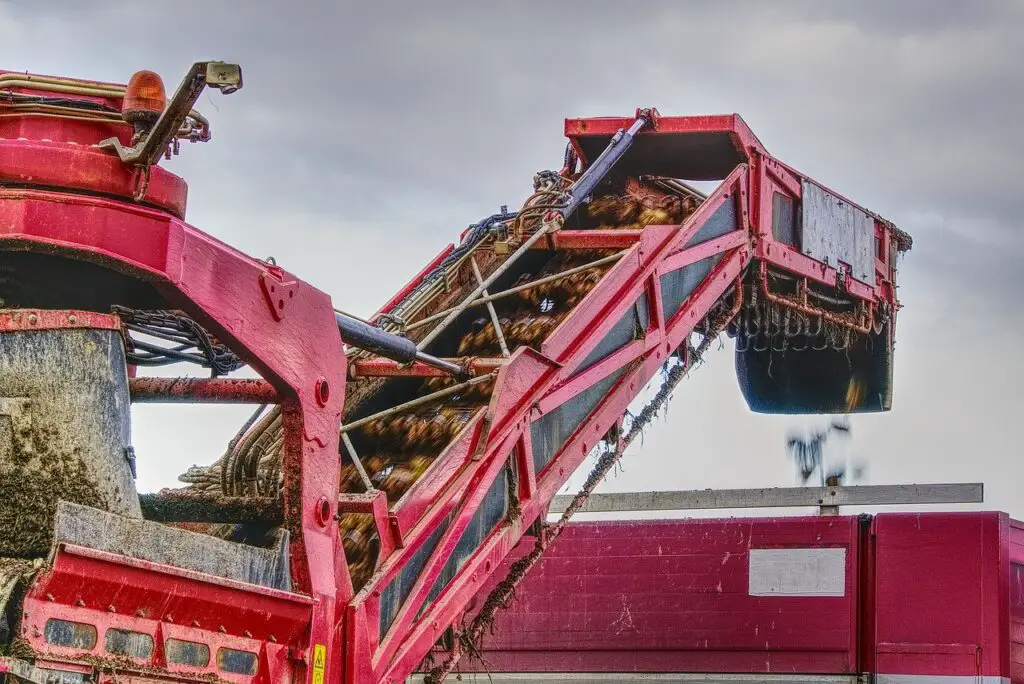 Bay City in1899 was still a fast-paced lumberman's paradise enjoying the last hurrah of timber harvesting while keeping an eye out for a handy replacement. Among the ruins of a decaying industry rose the city's third beet factory, revealing another example of persistence, one matching that displayed at Holland in terms of lifespan and the will of a single individual to achieve success.
Mendel J. Bialy, a scrappy lumber mill manager, a bookkeeper by training, assembled a group of investors, who like himself had no experience in beet sugar manufacturing. Together they organized the West Bay City Sugar Company in 1898. The investors awarded a contract to Bartlett and Howard, a Maryland ironworks company looking for an entry into a hot new industry – sugar manufacturing.
Such was Bialy's confidence that he determined himself qualified to operate the factory without the aid of technicians schooled in the intricacies of a beet sugar factory. The result was predictably disastrous. The factory achieved a mere 126 pounds of sugar per ton of beet sliced, a 48% extraction rate in an era when factories often achieved 65-69%. Even the Holland factory, where operations ceased twelve hours each Sunday, recorded a higher extraction rate of 53%.
Those who had instigated rumors of imminent abandonment did so without first considering Mendel Bialy's indomitable spirit. He kept the factory in operation for 38 campaigns on a shoestring budget and the charity of nearby factory managers who came to his aid with spare parts, expertise and patience.
Five additional factories made up the balance of the independents, each with a story like those at Holland and West Bay City where persistence, derring-do, hard work and dedicated artisans gave life to factories that in turn generated economic well-being for townspeople and farmers in equal portions. Four of those factories came into existence in Mount Clemens, Menominee, St. Louis, and Bay City. The new Bay City factory was the fourth built in that city's environs giving it more beet sugar factories than any city in America. At first, operating under the name German-American Sugar Company, it evolved into the Monitor Sugar Company. The fifth was established in Blissfield where a magnificent showplace factory took the center stage only to collapse into mediocrity a few years later when its chief sponsor and benefactor, Henry O. Havemeyer, died suddenly of a heart attack.
As 1905 drew to an end, the Michigan beet sugar manufacturing industry began to wobble not unlike a child's spinning top at the end of a vigorous twirl. Factories that had opened just a few years earlier to the sound of blowing bugles, marching bands, and patriotic speeches from political luminaries reposed behind locked gates in mute reproach to the forces that had rendered them so. Seven factories had closed, Essexville and five others situated in Kalamazoo, Rochester, Benton Harbor, Marine City, Saginaw, and East Tawas most often because farmers turned indifferent to the appeals of factory representatives to grow beets. Sixteen beet factories with a combined daily slice capacity of nearly eleven thousand tons remained in business, however.
Despite disasters elsewhere a new company formed, one that would eventually become the sole survivor among the state's sugar companies. It came about on August 20, 1906 when the Bay City-Michigan Sugar Company struck a deal with Charles Beecher Warren, its principal shareholder and Bay City native, to form a new company, one that borrowed its name, Michigan Sugar Company, from Michigan's pioneer entrant into the beet industry.
The new Michigan Sugar Company's balance sheet reflected the assets of six sugar factories located in Michigan. The companies were, in addition to the Bay City-Michigan Sugar Company, the Saginaw Valley Sugar Company in Carrollton, the Peninsular Sugar Company in Caro, the Alma Sugar Company in Alma, the Sanilac Sugar Refining Company in Croswell, and the Sebewaing Sugar Company in Sebewaing. Warren would serve as the company's president until 1925 when he resigned in anticipation of accepting an appointment by President Coolidge as United States Attorney General. An unusually fractious United States Senate, however, pointing to Warren's relationship to the sugar industry, rejected the nomination in a narrow vote. Coolidge's Vice President, Charles Dawes, who could have swung the vote in Warren's favor, was taking a short nap at the Willard Hotel when the vote was called. He arrived in the Senate chamber too late to change the result. It was the first time since 1868 that the US Senate had rejected a presidential cabinet nomination, ending both Warren's distinguished public service career and his association with the sugar industry. Previously, he had served as Ambassador to Japan (1922-1923) and Ambassador to Mexico in 1925.
Eighteen years after its founding, Michigan Sugar, in 1924, added two additional factories to the corporate roster when beet sugar factories in Owosso and Lansing joined the company. Twenty-four years later, in 1948, Michigan Sugar acquired the Mount Pleasant factory in a move calculated to acquire acreage allotments mandated under 1948 federal legislation. The factory had been built by Monitor Sugar Company in 1920 and taken over by Isabella Sugar Company in 1933. Members of the Coryell family who under the leadership of Charles Coryell held the controlling interest in Monitor Sugar Company until 1982, also for a time held a controlling interest in Isabella Sugar Company. By 1948, the factory had become a derelict, useful only for odd parts and marketing allocations assigned by the U.S. Department of Agriculture, an unfitting end to a company that had successfully pioneered molasses desugarization via ion exchange fifty years before the process gained acceptance in the domestic sugar industry.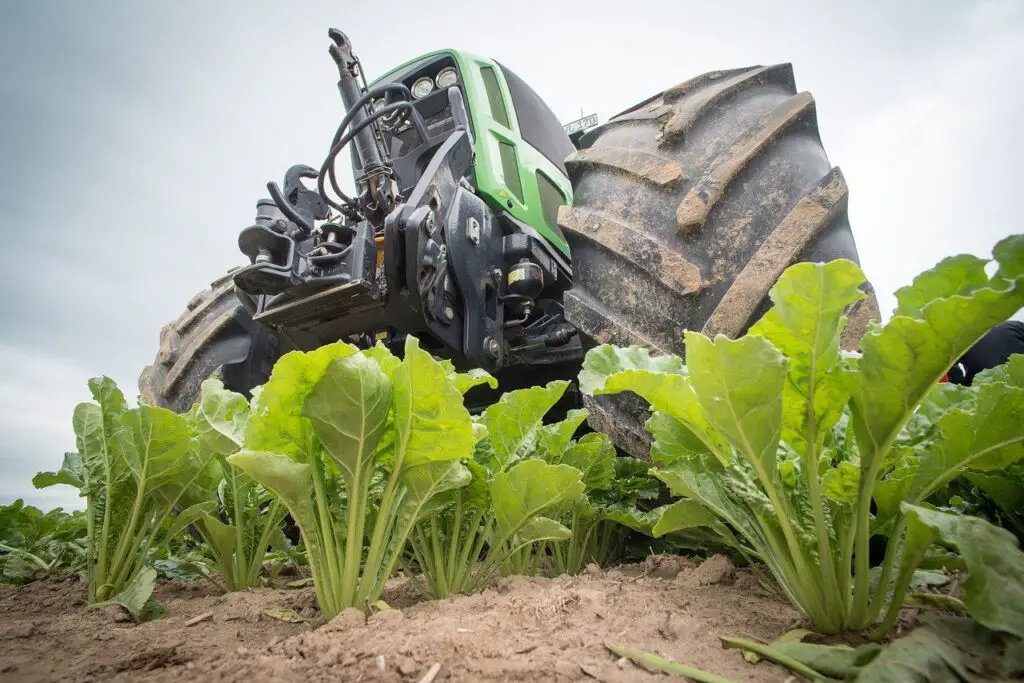 With the closing of three factories at Menominee, Blissfield, and St. Louis in 1954, the state of Michigan had only two companies remaining, Michigan Sugar Company that by then was operating four of the nine factories it had acquired, Caro, Carrollton, Croswell, and Sebewaing, while Monitor Sugar Company operated one in Bay City. The two companies would operate in competition with each other for the next half century until Michigan Sugar Company, by then a grower's cooperative owned by 1,300 sugarbeet growers as of 2002, acquired Monitor Sugar Company from the Illovo Sugar Company of Durban, South Africa on October 1, 2004.
Today, the combined factories, each of them examples of modern extraction technology, possess a beet slicing capacity of 22,000 tons per day (not including Carrollton where production was suspended in 2005) and an ability to produce more than a billion pounds of sugar each year. The sugar arrives at the marketplace in granulated, powdered, brown or liquid form packed in bags ranging from two pounds to 2,000 pounds or in carloads. In addition, the company markets more than 150,000 tons of molasses and pulp by-products, which combined with sugar products, gives the state of Michigan a significant presence in the domestic food industry. Somewhere, surely, Governor Pingree, who did so much to foster an economic marvel, continues to smile.
Article Source: https://EzineArticles.com/expert/Thomas_Mahar/172313
Article Source: EzineArticles.com
Reprinted per terms of EzineArticles.com as of the publishing date in 2021.
---
Related Reading on Michigan Sugar Beet History On Thumbwind