Editor Note: I have recently been in touch with a fascinating author going under the pen name of Carolyn Court. Her romantic suspense novels involve intertwining the historical elements of the past with living today in and around lighthouses. Last year, she visited Pointe Aux Barques Lighthouse to introduce her latest book and spend some time researching. Carolyn graciously passed along some fascinating historical nuggets about the Upper Thumb's most towering lighthouse. It's a charming little tale about Michigan's first woman lighthouse keeper.
Michigan's First Woman Lighthouse Keeper was in the Thumb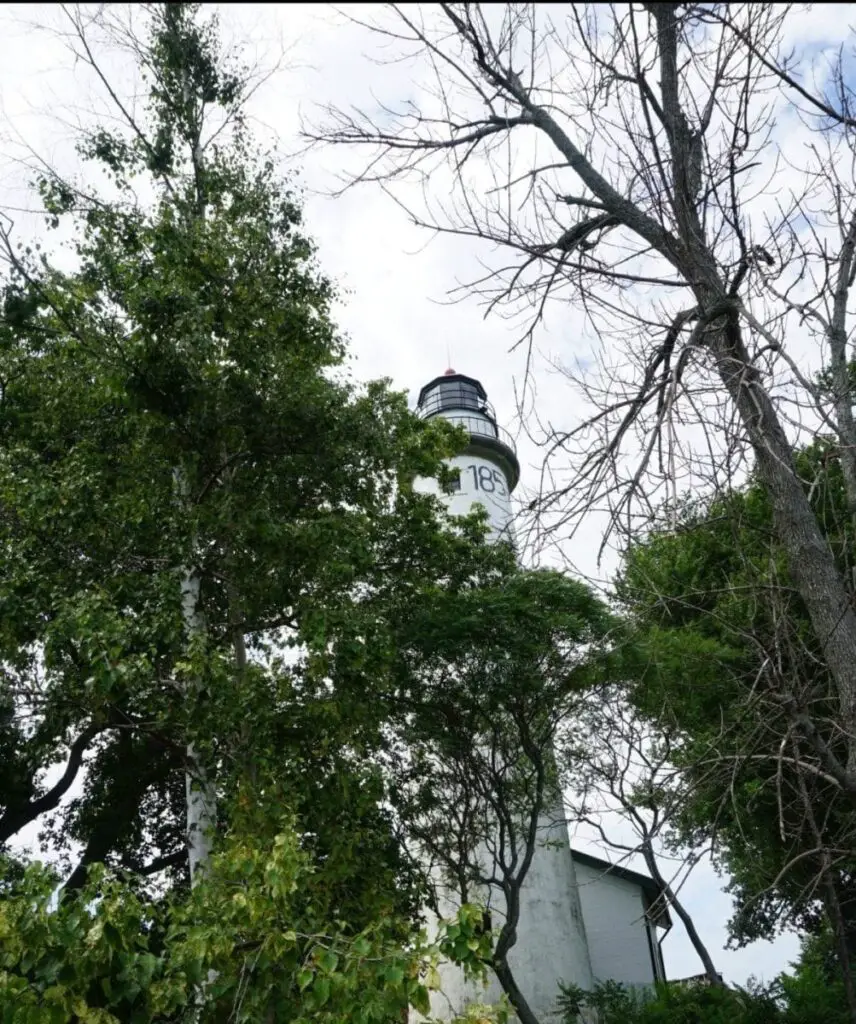 In 1849, Catherine Shook was appointed the first female lighthouse keeper in the State of Michigan. She replaced her husband as keeper of the Pointe Aux Barques Lighthouse after his vessel capsized and he drowned. When Peter Shook died, he was survived by his wife Catherine and their eight children.
In many cases, they looked to a family member to replace the injured or deceased keeper. Sometimes that job fell to the courageous wives and daughters of the lightkeeper. Recorded history shows numerous female lightkeepers in America who bravely held those jobs for short periods, up to half a century.
Those forgotten stories of life-saving survival at these dangerous and remote locations include mourning the loss of their loved one and caring for the surviving family members. It also meant managing the entire workload and responsibility of being a lighthouse keeper. Sadly, in Catherine's case, we find that a kitchen fire broke out between the kitchen and the ceiling. She was severely burned by a courageous attempt to save the flames from spreading to the main house.
As a result of the fire, her family lost their dwelling and most of the furniture and belongings. They were forced to stay in a small makeshift structure under terrible living conditions until the Lighthouse Superintendent was able to have their house rebuilt in 1850.
Due to poor health, Catherine Shook was unable to continue. Thus, Michigan's first woman lighthouse keeper resigned from her position in 1851 and died nine years later. She was buried in a grave, next to her husband in the Oakwood Cemetery in New Baltimore, Michigan.
Before there were Little Libraries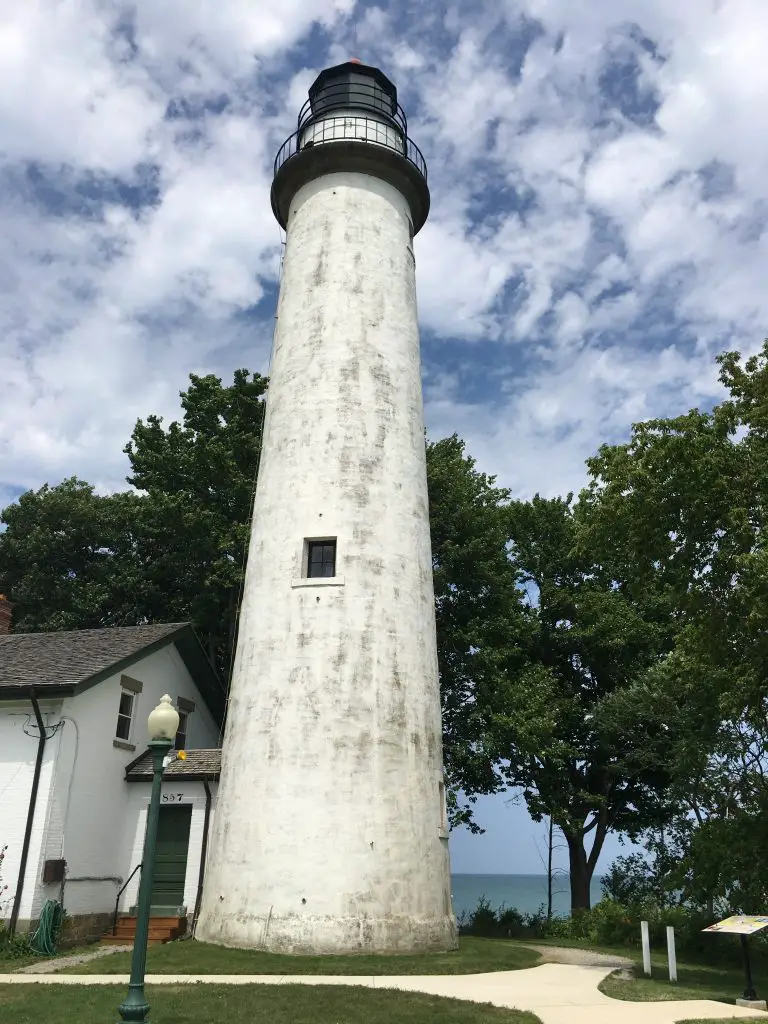 A visit to the Pointe Aux Barques Lighthouse also offers another unique glimpse into Michigan's lighthouse history. Around 1876 the Michigan Lighthouse Conservancy began distributing its now-famous Portable Traveling Libraries to its lightkeepers. These rugged wooden boxes held an assortment of 40-50 of the best books of their time.
Inside the top of each box was attached a list of its inventory. A Bible was often included, but the rest was a variety of reading material suitable for the family. These treasured libraries would be exchanged with other lighthouses quarterly. Out of date or damaged books were replaced as needed. The grateful keepers and their families had an excellent opportunity that even the public lacked at that time. Unbelievable as it seems, during the 1800s, there were more lighthouses than public libraries.
The Pointe Aux Barques Lighthouse has an excellent replica of one of these weathered Portable Library Boxes on display. Many of us lighthouse lovers today view the rich history of lighthouses through a lens of romance and adventure. Our imaginations prefer to display the splendor that we see from the top of these tall, beautiful towers.
About Author Carolyn Court
I'm Carolyn Zacheis, writing under the pen name of Carolyn Court. Last summer, I was privileged to work with Marge Ellenberger to arrange a two-day book signing at the Michigan Lighthouse Festival in 2019. I was especially pleased to stay at the Lightkeepers Vintage Cottages near the Pointe Aux Barques Lighthouse, where Bryan and Laura Vogel were warm, wonderful hosts. Larry Becker, Lighthouse Board President, and his lovely wife, Marolyn, went out of their way to make us feel welcome.
I love lighthouses, and I've always been drawn to the history of lighthouses from around the world. I marvel at the courageous lives of lightkeepers, and I'm fascinated by the heroic spirit they possess.
I'm writing a series of romantic suspense novels that speak to both ardent fans and hopeless 'Lighthouse Lovers' while honoring the rich history that my research uncovered. The storylines are based on the present-day period. The characters in each book discover long-buried details about their ancestors and the secrets of the Sea Crest Lighthouse. They also come across real-life events and famous people from the past whose history is significantly linked to their lighthouses.
Over the years, I have seen numerous lighthouses in my travels to France, England, Scotland, Ireland, Turkey, Central and South America, The Galapagos Islands, The Caribbean, Bermuda, Canada, Tahiti, and America, including Alaska and Hawaii. I invariably took the path less traveled but well worth the effort, to reach those storied towers in the sky.
Visit the author's website Sea Crest Lighthouse Series, for more updates and information
Books by Carolyn Court
---
The Heart of the Lightkeepers Daughter
The Heart of the Lightkeeper's Daughter is book 1 of The Sea Crest Lighthouse Series of Romantic Suspense Novels. In this fast-paced romantic novel Kate, a Coast Guard Search and Rescue Helicopter Pilot, has saved many lives, but can she save her heart? She meets her match when Michael arrives. Their love-hate fun begins when they are locked inside the lighthouse for days -together! Watch their worlds collide as Kate and Michael try to outsmart each other as they try and figure out how to get rescued. Book 2 – The Lightkeeper's Secret, will be published and available soon.
---
Related Lighthouse Reading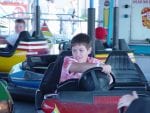 14 Of The Best Attractions In Michigan Thumb – Top 14 "Must See" Michigan Upper Thumb Sites. A perfect recipe for a day trip from Southeast Michigan or a week of exploring. Many are free to see and easy to drive. Use this list as a check-off on your Thumb explorations.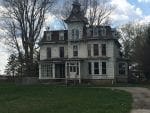 Haunted And Spooky Sites To Visit In Michigan's Thumb – Michigan's Upper Thumb is full of colorful history—from the boom-towns of the 1800s lumber era to the resorts and cottages of today. The area has long been acknowledged as an active paranormal region and has been the subject of books, film, and television, including a story of the first woman lighthouse keeper in the Thumb.
The Travels Of Henry Schoolcraft To Charity Island 1820 – 1820 – Exploration of Saginaw Bay Michigan I learned about Henry Rowe Schoolcraft while still in grade school. I don't remember the details, but there may have been a children's story involved. I found it hard to imagine that Michigan could be so wild and untouched. Henry Schoolcraft lived from 1793 until 1864.
Fort Gratiot Light Station – Guarding Southern Lake Huron Since 1829 – Fort Gratiot light was built in April 1829. It was situated north of an older tower light that has collapsed into the St. Clair River after a violent storm. The tower was constructed of brick to a height of 65 feet. In 1862 the height was increased to 82 feet to match the focal point of a new 4th order Fresnel lens.
---
Women Lighthouse Keepers in Michigan FAQ
Who was the first woman lighthouse keeper in Michigan?
Catherine L (Doyle) Shook was appointed Pointe Aux Barques lighthouse after her husband, Peter Shook, drowned with three others after his sailboat capsized north of Lexington on March 31, 1849.
How many women served as lighthouse keepers in Michigan?
At least 56 woman served as keepers or assistant lighthouse keepers in Michigan from 1849 until 1954.
Who was the longest serving woman acting as a lighthouse keeper in Michigan?
Elizabeth Van Riper Williams served as a lighthouse keeper for the Beaver Island and Little Traverse lighthouses on Lake Michigan from 1872 – 1913.