The first successful attempt to manufacture Michigan salt was made by the East Saginaw Salt Manufacturing Company in 1859. This company's success led to the industry's rapid development in the Saginaw Valley, where the blocks were operated in connection with sawmills. This industry soon took off in Huron County in Michigan's Thumb and across Lake Huron in Canada near Goderich Ontario.
What We Will Cover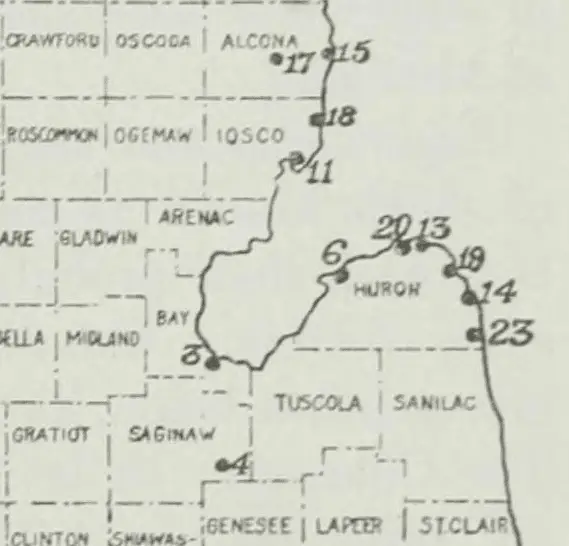 ---
Listen to this Story On the End of the Road in Michigan Podcast
The industry soon spread to Midland and St. Louis and the lumbering towns on the shores of Lake Huron. Towns such as Caseville, Port Crescent, Port Austin, New River, Port Hope, Harbor Beach, and White Rock on the south side of Saginaw Bay; and Tawas City, East Tawas, Au Sable, and Oscoda to the north all started salt operations. A salt well was sunk in Bay Port but never had any production. By 1888 there were 127 companies listed in Michigan producing 5.2 million barrels of salt annually. Michigan produced almost half of the nation's salt in the 1870-1880s.
Michigan Salt Production in Huron County
The availability of salt deposits in the Thumb has been evident since ancient times. The SandRidge Indian Trail which started near Saginaw and wound its way around the Thumb to Harbor Beach was known as a path in which to access rich hunting and fishing areas of the area. It also provided access to three salt licks which attracted game.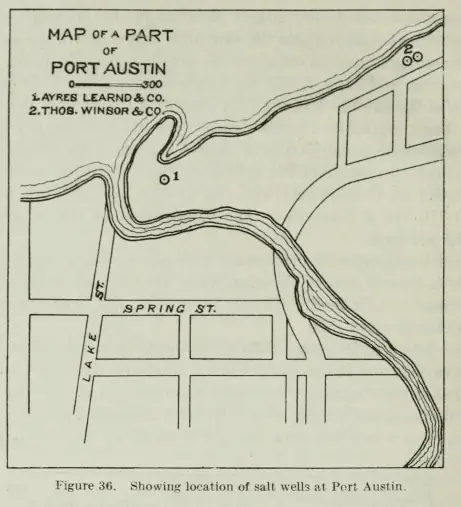 The first salt well in Huron County was sunk by Ayres and Co., at Port Austin in 1863. Later a salt block was erected, and the industry gradually spread to Caseville, Port Crescent, Grindstone City, New River (1874), Port Hope (1874), Harbor Beach (aka Sand Beach 1876), and White Rock (1872). A 2000-foot well and block were also erected at Old Bay Port but never operated.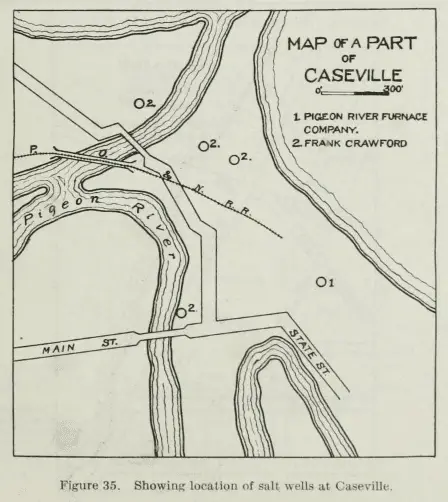 The brine wells extracted from the Berea sandstone which occurs at depths varying from 495 feet at White Rock to 1,770 feet at Caseville.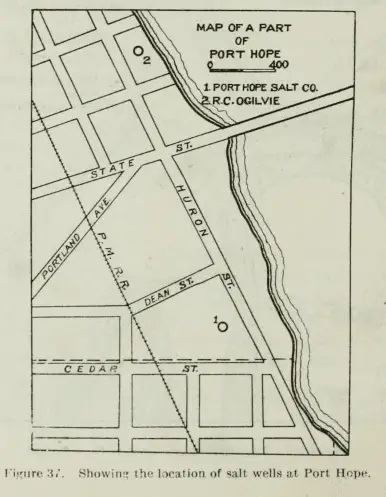 The Salt Industry Declines in the Thumb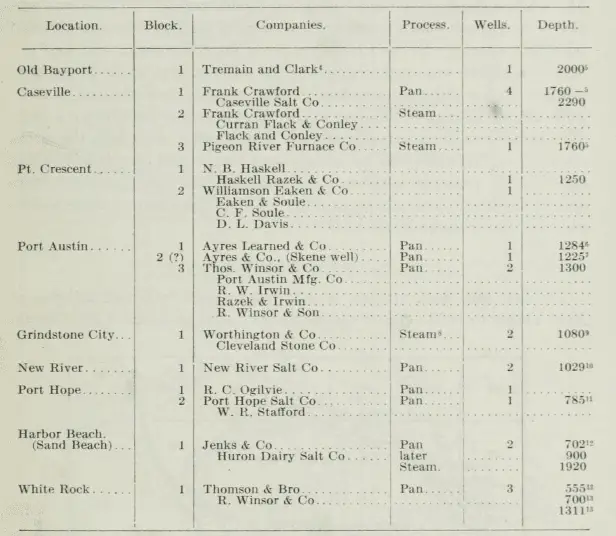 That the salt industry was largely dependent upon lumbering operations. The salt block operations depended on the sawdust, bark, and trimmings from the sawmills for fuel. Wood fuel for steam and pan evaporation lasted until the forests were gone, as a result when lumbering ceased, major operations in the Thumb it became too costly to use alternative fuel such as coal.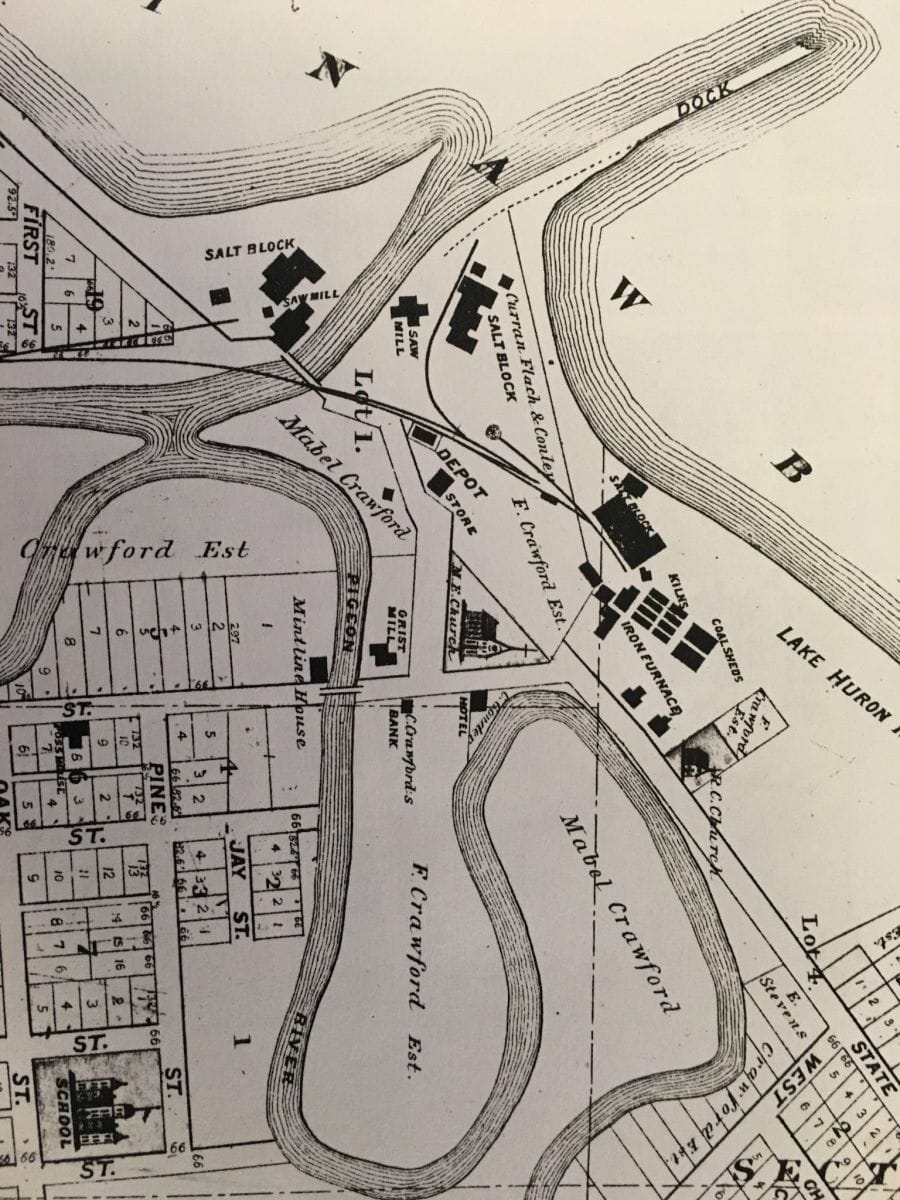 All salt production operations from the 14 companies ceased in Huron county by 1896, therefore by the early 1900s all the lakeshore plants had disappeared. Towns such as Port Crescent and New River no longer existed.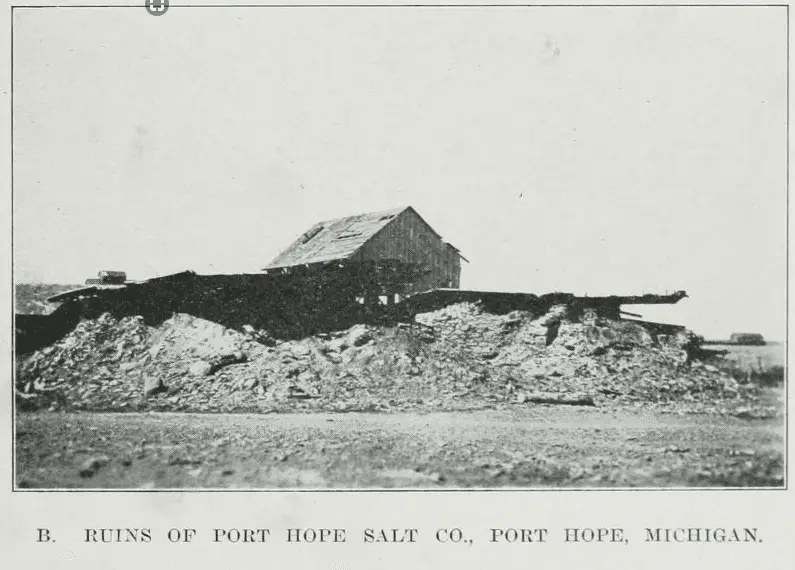 Related Michigan Salt Reading
Michigan Salt Production Sources
The brine and salt deposits of Michigan, their origin, distribution, and exploitation by Cook, Charles Wilford, 1882-
Publication 8. Geological Series 6. Mineral Resources of Michigan with Statistical Tables of production and value of mineral products for 1910 and prior years
C.M. Davis' Readings in the Geography of Michigan (1964).
---

---