Embarking on a holiday from Michigan to California presents a plethora of exciting opportunities to explore diverse landscapes, vibrant cities, and breathtaking natural wonders.
 California's unparalleled beauty and cultural richness make it a dream destination for travelers seeking adventure, relaxation, or an immersive experience in American history. From the stunning coastlines of Northern California to the iconic landmarks of Los Angeles and the awe-inspiring national parks, this guide will navigate you through the best places to visit on your Californian holiday.
Table of Contents
Getting There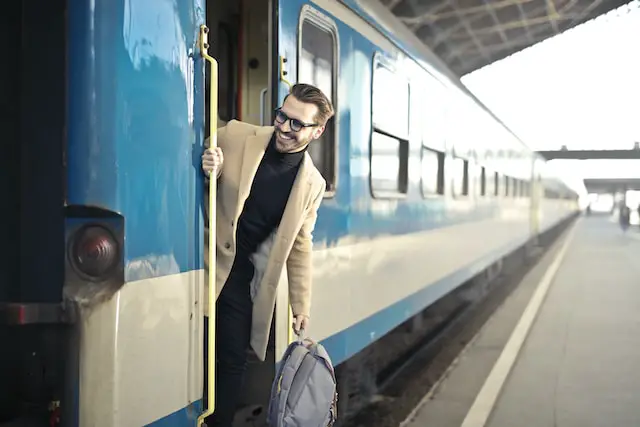 Traveling from Michigan to California opens up a world of possibilities. You can choose between many different means of transport to complete this journey and see the towering redwood forests, the glamour of Los Angeles, and the cultural vibrancy of San Francisco. Endless options for unforgettable adventures and cherished memories are there. Perhaps the most intriguing and enchanting is the skunk train – Fort Bragg as it will allow you to marvel at beautiful scenery and views along the way. Exploring California by train is a forgotten treasure you should absolutely try. 
San Francisco Bay Area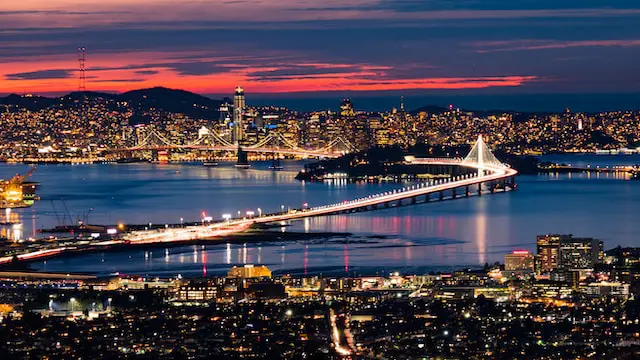 The San Francisco Bay Area, renowned for its innovation and progressive spirit, is a haven for tech enthusiasts, art aficionados, and nature lovers alike. Explore the bustling streets of the Mission District, where vibrant street art blends seamlessly with Latin American culture and mouthwatering culinary delights. Immerse yourself in the bohemian ambiance of Haight-Ashbury, the epicenter of the 1960s counterculture movement, and peruse its eclectic vintage shops.
Escape the urban bustle and take a scenic drive along the stunning Pacific Coast Highway. Marvel at the dramatic cliffs of Big Sur, where the mountains meet the ocean, creating a mesmerizing coastal panorama. Don't miss the enchanting Monterey Bay Aquarium, a world-class facility showcasing a myriad of marine life, including playful sea otters and majestic hammerhead sharks. For wine enthusiasts, a visit to the vineyards of Napa Valley is a must, where you can savor exquisite wines amidst rolling vineyards and picturesque estates.
Los Angeles
A visit to California wouldn't be complete without experiencing the glamour and excitement of Los Angeles. Indulge in the glitz and glamour of Hollywood, where the legendary Walk of Fame immortalizes the entertainment industry's biggest stars. Immerse yourself in the creative energy of the Getty Center, an architectural marvel housing an extensive collection of art spanning centuries.
Spend a day exploring the vibrant neighborhood of Venice Beach, known for its colorful boardwalk, street performers, and the iconic Muscle Beach. Head to Griffith Observatory to witness breathtaking views of the cityscape and the starry skies above. For a touch of culture, visit the Los Angeles County Museum of Art, which boasts a diverse collection of artwork from around the world, ranging from ancient to contemporary.
Yosemite National Park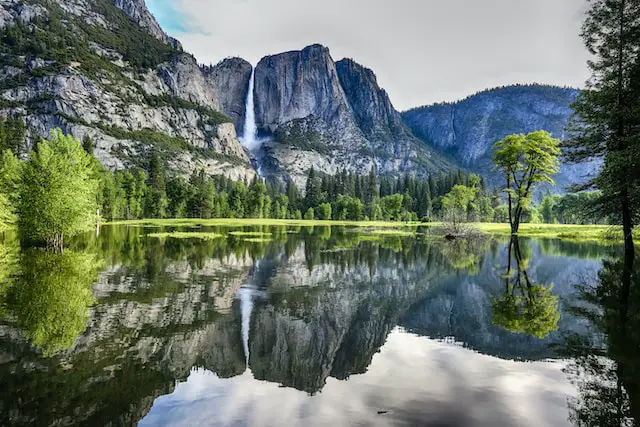 Venturing into the heart of California, Yosemite National Park unveils a breathtaking tableau of soaring granite cliffs, cascading waterfalls, and pristine wilderness. Marvel at the iconic Half Dome, a colossal rock formation that entices adventurous hikers to conquer its challenging summit. Embark on a scenic drive along Tioga Road, taking in panoramic vistas of alpine meadows, crystal-clear lakes, and the dramatic beauty of Yosemite Valley.
Embark on an unforgettable hike to the base of Yosemite Falls, one of the tallest waterfalls in North America, where the thunderous roar and mist create a truly immersive experience. For a moment of tranquility, visit Mariposa Grove, home to over 500 giant sequoia trees, some of the oldest living organisms on Earth.
Lake Tahoe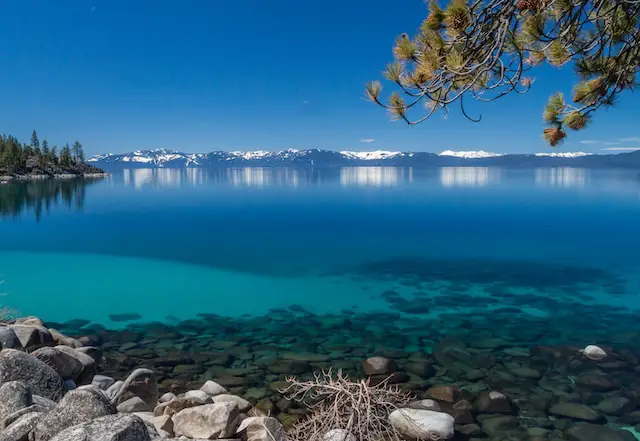 Nestled in the Sierra Nevada mountain range, Lake Tahoe offers a pristine alpine retreat with its crystal-clear waters and breathtaking natural surroundings. During the summer months, engage in a myriad of outdoor activities, from kayaking and paddleboarding to hiking along picturesque trails that offer panoramic views of the lake and surrounding peaks.
As winter blankets the region with snow, Lake Tahoe transforms into a winter wonderland, attracting skiers and snowboarders from near and far. Revel in world-class ski resorts such as Squaw Valley and Heavenly Mountain Resort, where you can carve your way through fresh powder while admiring the stunning scenery.
California's Prestigious Real Estate
Hollywood, the birthplace of the motion picture industry, is located in California and is often regarded as one of the state's most appealing tourist attractions because of its association with the American Dream. The 'golden triangle' of Beverly Hills, Bel Air, and Holmby Hills represents a prestigious area of Los Angeles where many celebrities and well-to-do professionals own prestigious real estate.
Luxury purchasers worldwide go to the Golden State in search of a pleasant climate and a high quality of life. Silicon Valley's influential significance as a technological hub must also be acknowledged. Multiple prominent luxurious companies, such as The Nightfall Group, assist special clients in finding the appropriate prestigious accommodation in accordance with their specific needs.
Prestigious Real Estate Areas in California
Some of the world's most expensive and luxurious properties can be found in California. The high demand for luxury real estate can be attributed to the state's stunning shorelines, famous cities, and cultural significance. The most demanded areas are considered the following:
Beverly Hills. The place is a prominent home to some of the most recognizable addresses in the world, including mansions owned by Hollywood stars and Rodeo Drive. Tree-lined streets, well-kept parks, and other green spaces contribute to the city's aesthetically pleasing landscape.
Laguna Beach. This beach resort offers some of the most costly properties in the state because of its artistic reputation and beautiful coastline. Small coves, tide pools, and coastal cliffs make local beaches among the state's most photogenic. Laguna Beach became known as a haven for artists, writers, and other creative people in the early 20th century. Some areas of the city maintain this bohemian vibe to this day.
Bel Air. The wealthy have long made their home in this area just outside of Beverly Hills, which is why it features many lavish residences. Due to its high level of solitude and seclusion, Bel Air has been the preferred residence of many famous people throughout history. The community's exclusivity and privacy are emphasized by the presence of many monitored access points.
Hollywood Hills. Many actors, musicians, and other members of the entertainment business call the Hollywood Hills home. The place is secluded and provides stunning views of the city below. The Hollywood Sign, arguably the city's most recognizable landmark, can be seen atop Mount Lee in the Hollywood Hills.
Looking to buy or invest in high-end property in California, one should consult with a real estate agent who has experience working with high-end homes. They will know the market and have the contacts to help individuals find the ideal prestigious real estate in California.
Final Words – Holiday from Michigan to California
Traveling widens the mind and opens your eye to new opportunities. From the enchanting forests of Northern California to the cosmopolitan charm of Los Angeles and the awe-inspiring landscapes of Yosemite National Park and Lake Tahoe, California offers many diverse experiences for holidaymakers. Whether you seek natural wonders, cultural immersion, or the joy of exploring new destinations, the Golden State promises unforgettable adventures at every turn. So pack your bags, embrace the spirit of adventure, and embark on an extraordinary journey from Michigan to Cali, where unforgettable memories await.
Related Reading
6 Exciting Short-Term Rental Investments Flourishing in Michigan
3 Best Alternatives To Owning Rental Property In Michigan
Investing in Michigan – 4 Ways to Unlock Wealth