Numerous Huron County beaches are at the tip of Michigan's "Thumb". With over 90 miles of shoreline, the Upper Thumb has some of the best sugar sand beaches in the state. From Port Austin west to Caseville, families can find numerous parks, waterfront summer rentals, and campgrounds. You can even camp right on the beach waterfront at Port Crescent State Park the historical location of a long lost lumbering town.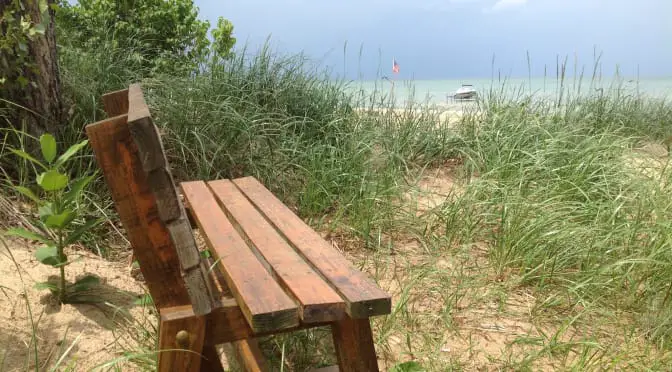 Several of these great beaches are listed on our list of Top 50 Michigan Beaches For Families.
Huron County Beaches
Huron County's 93 miles of shoreline play host to 17 public beaches. Here are our top five best beaches in the thumb of Michigan beaches that are certainly worth checking out on a hot summer day.
#1 Port Crescent State Park Beach
Port Crescent State Park is located just west of Port Austin near the tip of Michigan's "Thumb." It has an incredible three miles of sandy beach on the northern edge of Saginaw Bay. Just in from the beach, there is a sizable boardwalk that curves around some of the protected dunes. This allows exploration of hidden clearings for beach access and a chance to see wildlife. Nearby is a dog-friendly shoreline.
#2 Sleeper State Park Beach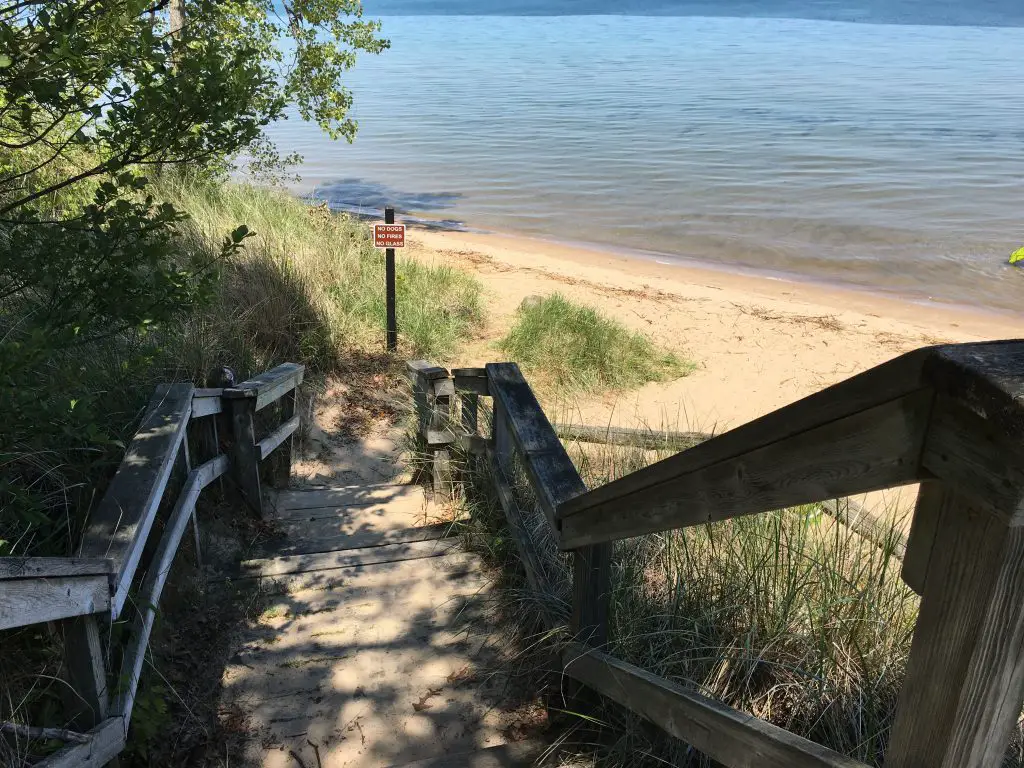 Families and groups can spend the day swimming, kayaking, and playing at the beach. Then take a rest and picnic in the shade under a thick cool cover of oak trees. There are two handicap-accessible restrooms and changing areas with showers. A large covered pavilion is available for rent steps away from the beach. It's perfect if you have a large group, such as a family reunion. In addition, the beach area is known as an ideal spot for beach weddings and company picnics.
#3 Caseville County Park Beach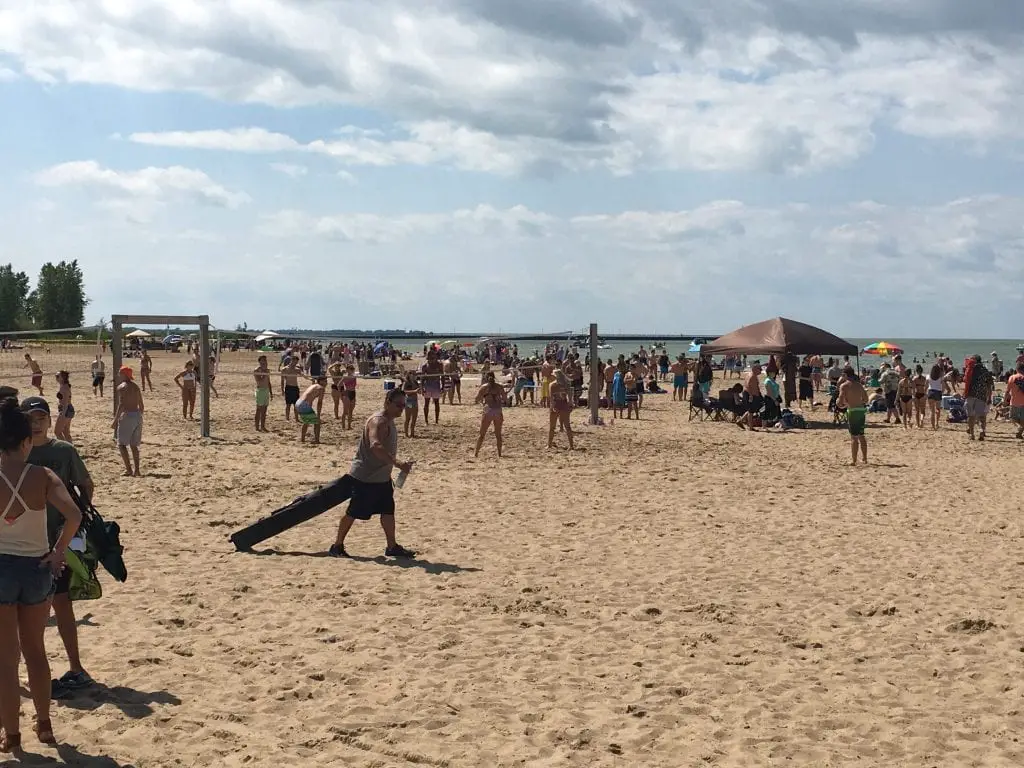 It's almost like Florida's Daytona Beach. While you can't drive on the beach you can park close enough to get a great view of sunsets or the fireworks shot off the Caseville breakwater pier on July 4th. During the annual Cheeseburger festival, key events such as the cardboard canoe race and the sand sculpture draw large crowds. If you're hungry there is a lunch stand called Bay Watch On The Beach Grill that offers some of the best French fries around.
#4 Oak Beach
The first thing folks notice at Oak Beach County Park is just how large it is. Sitting on over 40 acres, it sports a beautiful beach, a playground, and a pavilion for family gatherings. It even has several sets of well-maintained horseshoe pits. Across M25 is a modern campground with 55 sites featuring full services for camper and tent camping. This is one of the Huron County Beaches that folks keep coming back to over generations.
#5 Philp County Park Beach
Is the smallest park on the beach at only 2 acres. But this beach is calm and offers a wide beach even in the current high water conditions. There are a few picnic tables and grills available near the parking area which offers commanding views of the beach and Saginaw Bay. Wood steps lead from the parking down to the beach.
Huron County Beaches Honorable Mentions
McGraw Park – Has a huge wide sandy beach. Steps allow easy access to the beach from the parking area. There are also picnic tables, shelter, running water, and a changing bathhouse.
Thompson Scenic Outlook and Park – This small roadside park has one of the best lake views on the shore. The park is rustic, with picnic tables, grills, and toilet facilities. It's very picturesque, with two huge grindstones guarding the pathway to the beach. It's trendy during the weekend, so the best advice is to arrive early and stake your claim on your bit of the beach.
Jenks Park – This is one of the original Michigan roadside parks. It is perfect for pulling off of M-25 with a picnic and a swimsuit and spending a couple of hours in the shade looking out over the water of what it used to look like at Huron County beaches in the 1900s. An old-fashioned hand pump is perfect for rinsing off the sand after your time on the beach.
Bird Creek County Park – Located in Port Austin and offers a great day-use park with a marked swim area, bathhouse, playground, picnic area, fishing, and picnic shelters along a huge boardwalk. The big attraction is the new splash pad that is perfect for small children who want to get used to playing in the water
Forester Park Beach – Located about 6 miles north of Forrester on M-25, this large beach is perfect for a picnic, taking a hike on its nature trails, and playing in the sand.
James Lincoln Memorial Park Beach – Located in downtown Harbor Beach this is a large active beach each summer. Picnic tables and grills with nearby running water make a great place to make an afternoon out of it. Put your canoe or kayak in and paddle around the harbor. It's a point in the Tip of the Thumb Heritage Water Trail.
Eagle Bay Public Access – Noted as a spot to put in your boat to fish, this spot also has a small secluded beach to play in.
Wagner County Park Beach – Located 6 miles south of Harbor beach. The beach is at the east end of the park.
Delaware Park – Located 14 miles north of Port Sanilac, this roadside park is a perfect picnic spot overlooking a small beach.
Lexington Park – Located 3 miles north of Lexington, this is a popular site for tennis, picnicking, and swimming.
Veterans Water Front Park – This is within walking distance of the Port Austin Harbor. It has playgrounds for the kids and is a great spot to watch the activity on the breakwall, especially if it is stormy.
Beaches of Huron County Video
We found some wonderful videos are part of a promotional campaign produced by Huron County Economic Development Corporation. They are short and highlight the best aspects of our wonderful area. Worth a look if you're trying to find a new favorite Huron County beach.  If you think this is pretty good stuff please Like and Share
The western edge of Huron County in Michigan's Thumb is blessed with some of the finest waterfront beaches in Michigan. With few rocks and the comparatively gentle waves of Saginaw Bay, the entire shoreline is ideal for families. In some cases, they call it the "baby beach".
MLA Citation Of this Article
Hardy, Michael. "5 Of the Most Popular Huron County Beaches of the Upper Thumb • Thumbwind." Thumbwind, Thumbwind Publications, 8 May 2022, https://thumbwind.com/2022/05/08/huron-county-beaches/.
Huron County and Michigan Thumb Beach Reading