Huron County Nature Center volunteers recently completed the final boardwalk section on the new bike and hike trails. The boardwalk allows trail users to access the final two loops of the route. Trail signs are the next step of the project before Loops 4 and 5 open on Memorial Day weekend.
The materials for the boardwalk were paid for through a grant from Apple Blossom Wind.  Andrew Johnson, the company's Plant Manager, and Joe Estep, O & M Manager, volunteered their time to build the boardwalk with help from a Nature Center board member.
HCNC Work Day Set for Saturday, April 23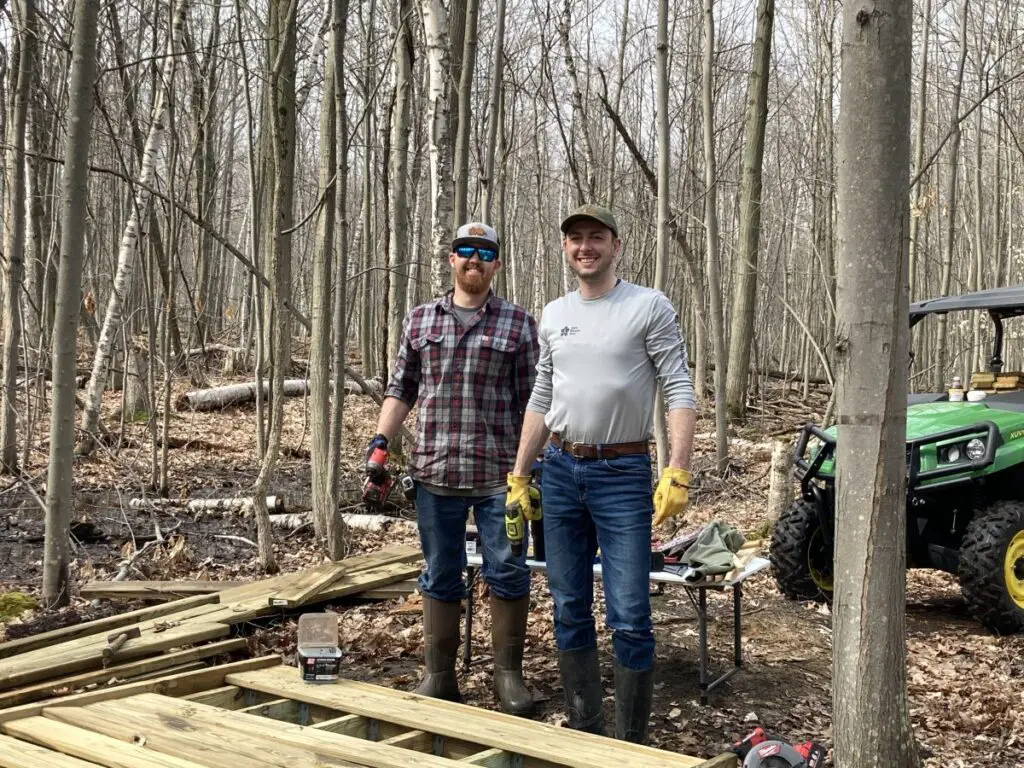 The public is invited to participate in the Nature Center's Spring Work Day to help remove debris from the trails. Scheduled for Saturday, April 23, the Work Day is a great way to experience the trails and learn more about the nature center, located at 3336 Loosemore Road, east of Oak Beach Road. Interested volunteers and community service organizations can call 989-551-8400 or email hello@huronnaturecenter.org for more details.
More information about the non-profit Huron County Nature Center can be found at https://www.huronnaturecenter.org/ and https://www.facebook.com/HCnaturecenter/.
Related Reading of the Huron County Nature Center
Huron County Nature Center Officials Have Ambitious Plans For 2022
Huron County Nature Center Strives To Improve Services
The Huron County Nature Center And Wilderness Arboretum Is Hiking And Biking Delight
Busy Beavers Lodging At Huron County Nature Center Near Port Austin Michigan