The pandemic has really affected travel in Michigan. There are no concerts, theaters, movies, and big festivals like Caseville's famous Cheeseburger in Festival. However, this does not prevent a person or immediate family currently in the same household from engaging in a Michigan Day Trip of outdoor activities like site-seeing, walking, hiking, running, and biking. There is no better place to do that, using safe distance practices, than in Michigan's Thumb. So, if you have been housebound for the past 60 or more days, I would like to offer you some potential ideas to explore and take that outdoor walk. Especially before the summer weather fades into fall color.
A – Port Huron – Thomas Edison Park
This day trip starts at the gateway to Michigan's Thumb. In the 1800s, stagecoaches plied their way north to lumber camps along ancient trails on the Lake Huron shoreline. Schooners and steamships passed on their way to the upper Great Lakes. Today you will travel north along M-25. This is considered one of Michigan's earliest scenic highways as most of it closely hugs the shore all the way around the thumb. Our first stop is to see if we can catch a glimpse of one of the big freighters moving up the St. Clair River.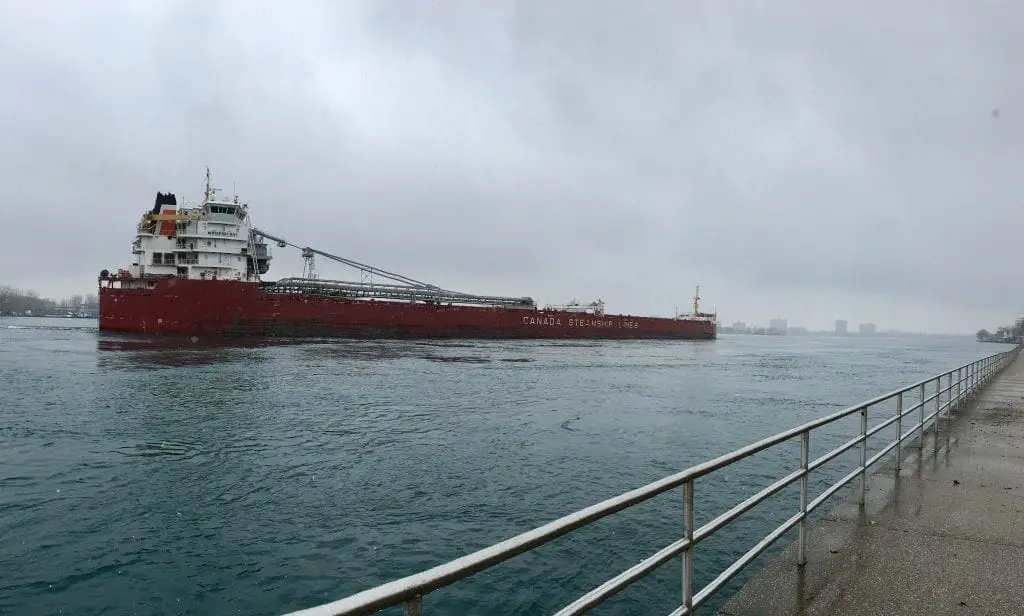 Our first stop is at Thomas Edison Parkway. This venue is a great place to watch the freighter and boat traffic on the St. Clair River. It's free to visit with plenty of parking nearby. See the statue of young Thomas Edison and the railway deport where we worked as a boy. Next, walk under the Blue Water Bridges. This international crossing to Canada consists of two bridges. The original cantilever truss bridge with a total length of 6,178 feet was built in 1938. The second, newer span is a 6,109 foot, continuous bowstring arch bridge completed in 1997. This crossing to Canada is the second busiest next to the Ambaster Bridge in Detroit.
B – Fort Gratiot Lighthouse
Your Michigan Day Trip continues a short drive north of Port Huron to one of the finest lighthouses on the Great Lakes. Enjoy a walk along the shore of the Fort Gratiot Lightstation. It operates today, has a county park, and is open to the public. The park campus includes the Light Keeper's Duplex, Fog Signal Building, Single Keeper's Dwelling, former Coast Guard Station, Equipment Building, and a three-bay garage.
The U.S. Coast Guard maintains the automated light tower. The light can be seen from 16 miles out into the lake. The green light flashes for one second every six seconds. In 1971 the Light Station was declared a National Historic Monument.  The US Coast Guard's mission includes Search and Rescue, Maritime Law Enforcement, Ice Rescue, and Recreational Boating Safety.  The area of responsibility is Lower Lake Huron, the St. Clair River, three smaller rivers, and two artificial harbors on Lake Huron.
C – The Charming Lexington General Store
Our next stop is Lexington, only a little over a ½ hour from Port Huron. This town was first settled in the 1830's supporting lumbering and early farmers with blacksmith, shoemaker, and fishing. Today it's considered "on the edge" of suburbia for Metro Detroit.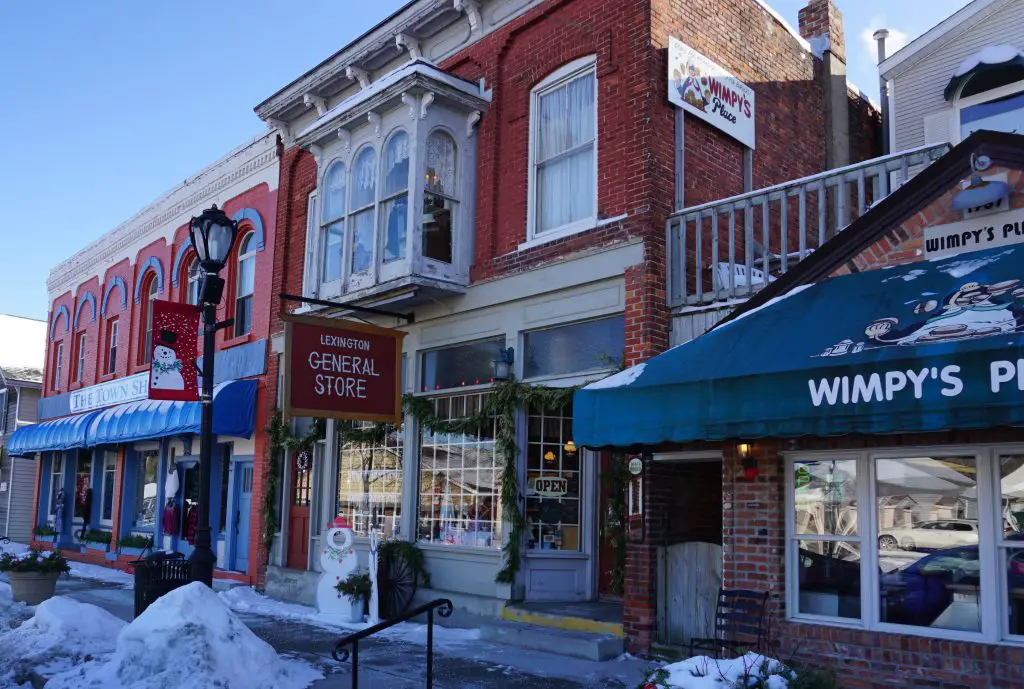 This store was built in the late 1800s and is a great example of what was in just about every country village and town in Michigan. Known for their large candy selection, including the old-fashioned penny candy. Take a picture and remember to come back to the general store so you can walk along with old squeaky wood floors and browse gifts, lake signs, candles, kitchenware, jellies, and souvenirs. Listen for the "cha-ching" from their pull handle register from every sale. This is a neat step back in time.
D – Croswell Swinging Bridge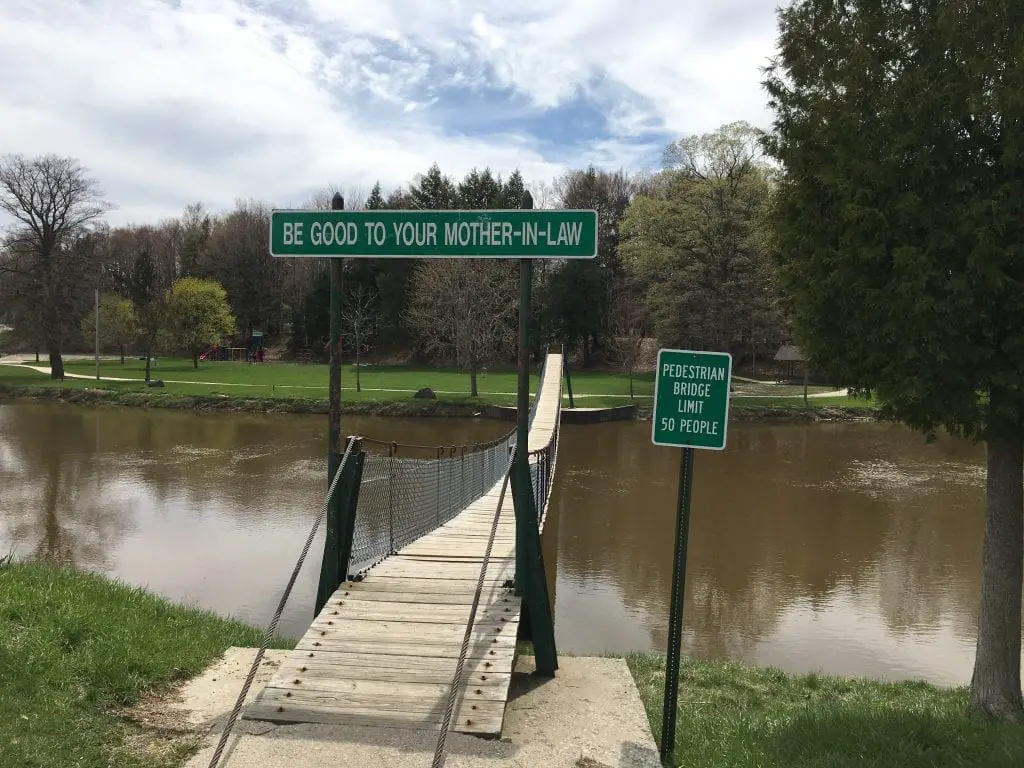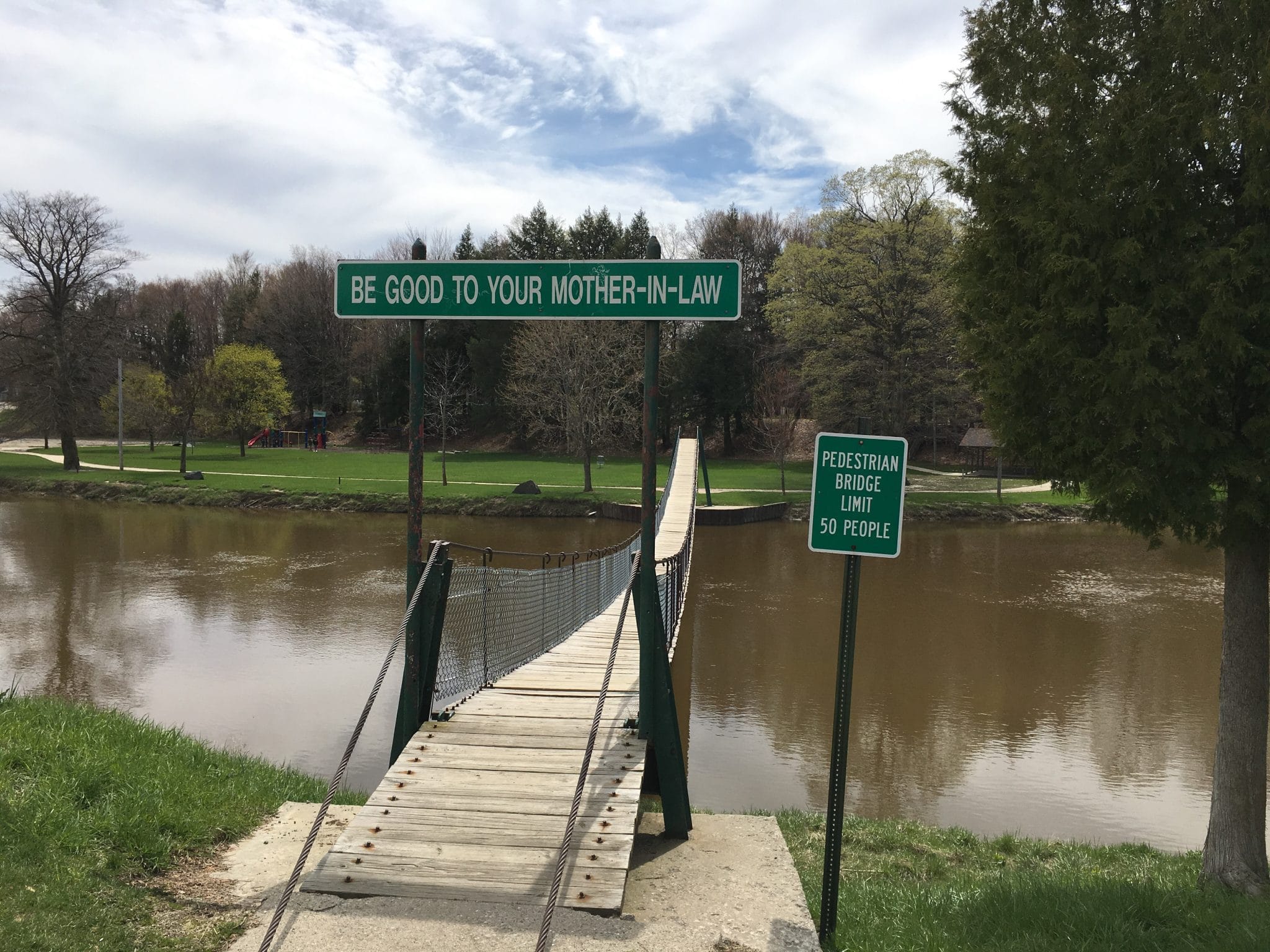 This little side detour is just west of Lexington. The Croswell Swinging Bridge is a pedestrian suspension bridge claimed to be the longest (maybe only) spanning suspension footbridge in Michigan. It was built in 1905 over the Black River, with only the planks between two cables provided by Michigan Sugar Company.
Some call it Michigan's Scariest Bridge. For little kids is a good-natured terror with the bridge always moving and swaying. It has a sign on one end that states, "Be Good To Your Mother-in-law."
E – Port Sanilac Lighthouse
For the life of me, I think there is a conspiracy of silence concerning Port Sanilac. The town, lighthouse, and harbor are truly charming, but I hardly heard of this little port town until the past couple of years. So park down by the lighthouse, walk out along the break wall for some great shots of the harbor, lighthouse, and catch a cool lake breeze.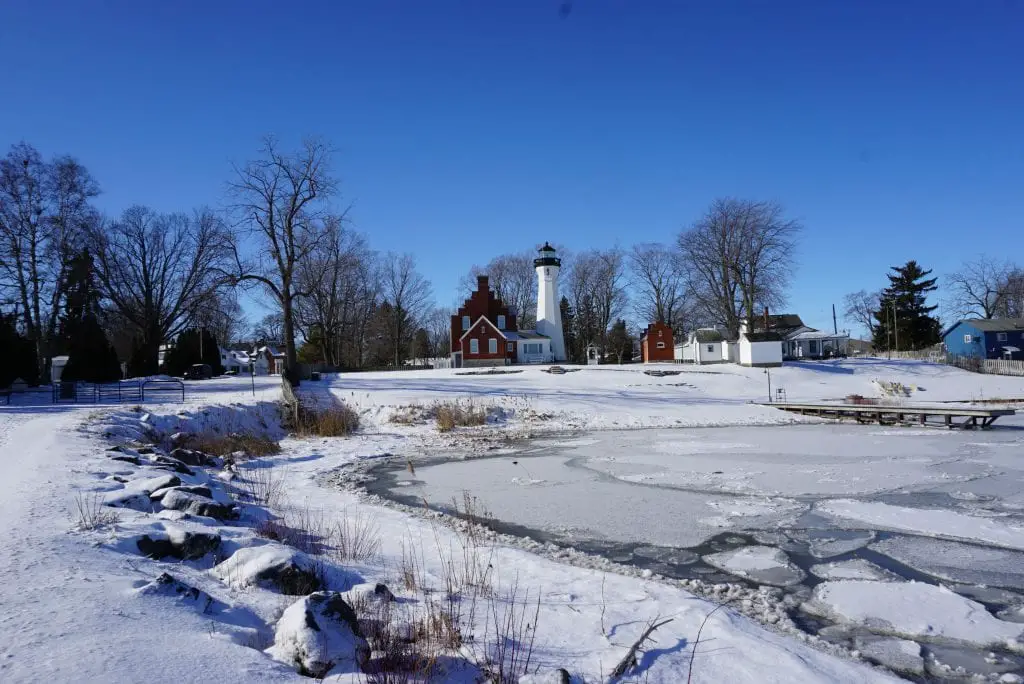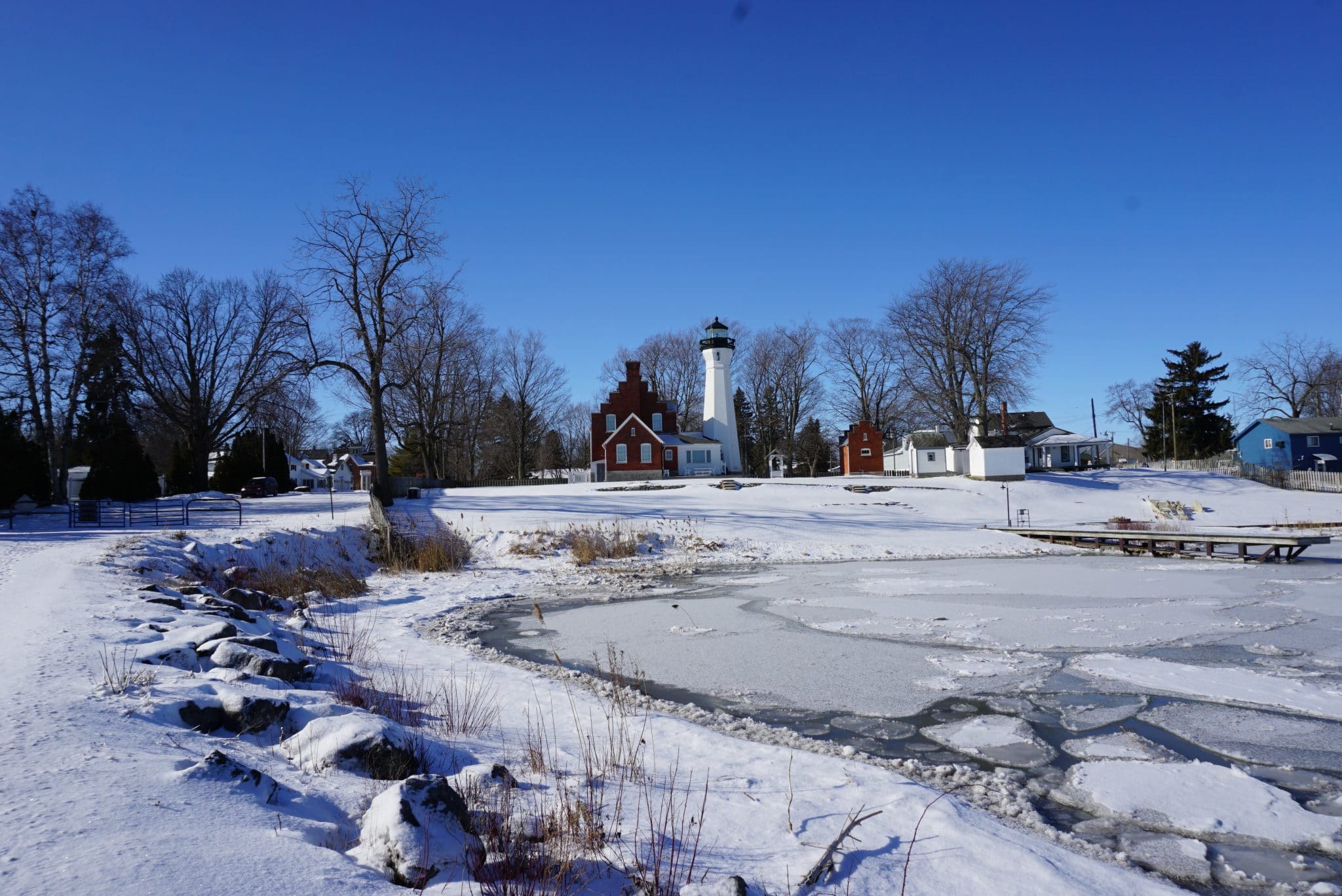 While the lighthouse is privately owned, the navigation light is still in operation for mariners. In 2016, the United States Coast Guard removed the Fresnel lens from the tower and installed an LED light in its place. The automated beacon flashes white every 2.5 seconds and can be observed up to 14 nautical miles out into Lake Huron. The light operates from dusk to dawn.
F- White Rock Scenic Overlook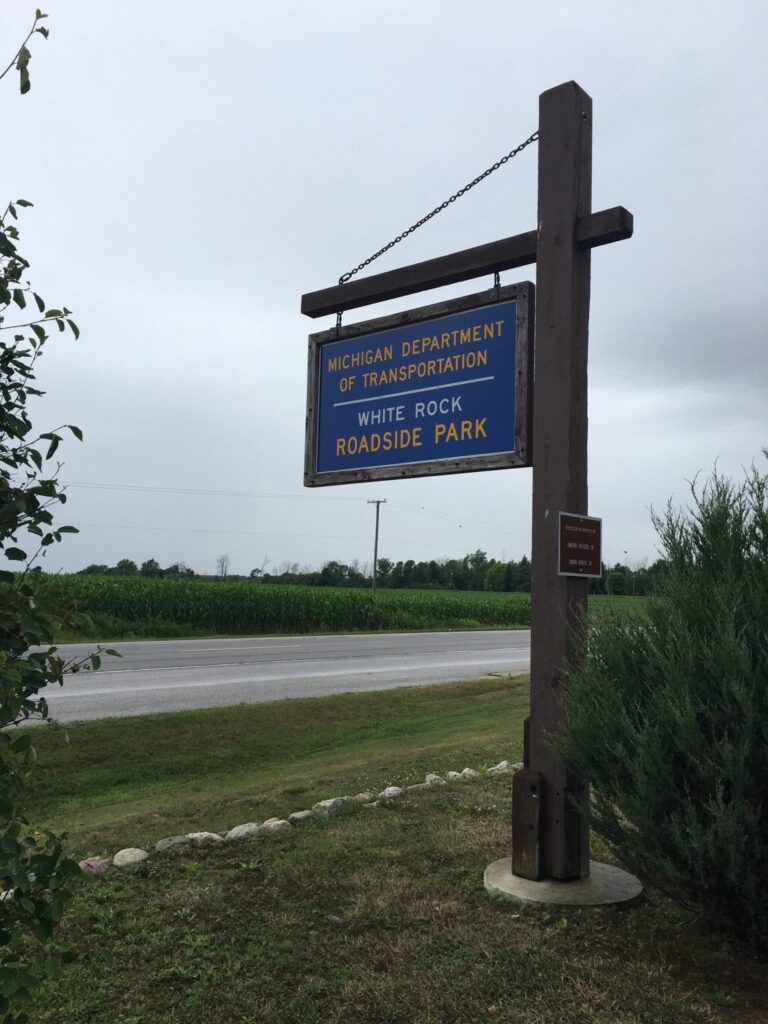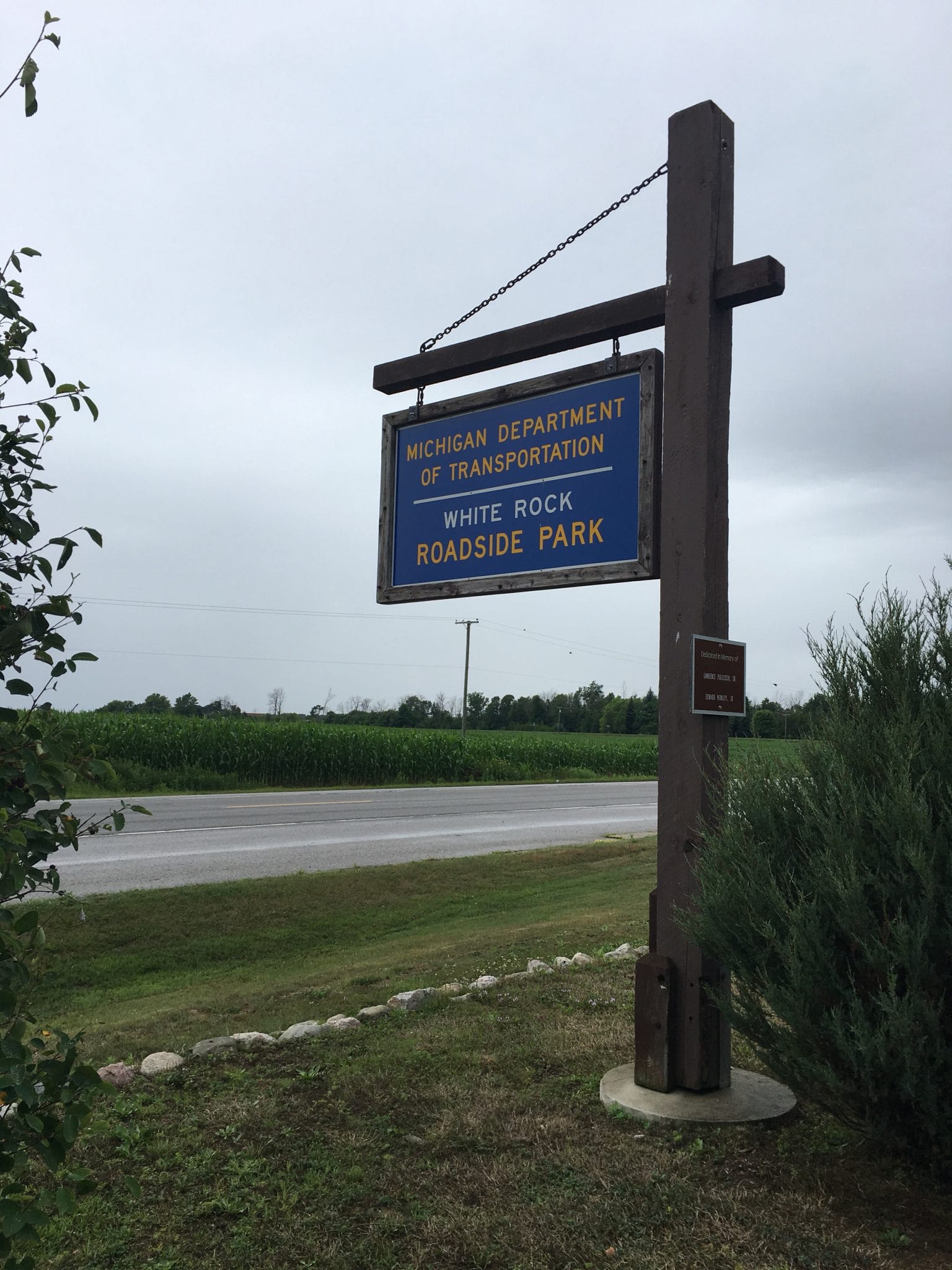 This is our long jaunt north. We take a quick rest stop at the historic site of White Rock. A scared native site and a treaty marker ceded all land south of it to the early European settlers. Indigenous Peoples of Michigan, the Anishinabeg, views the White Rock on the edge of the Lake Huron shore as a sacred site. The rock was much, much larger than it appears today. (Which is 2020 is mostly underwater). The Indian ensured that fresh game and food items were placed on the site as an offering. Gitchie Manitou or Great Spirit would recognize the offering by the Anishinabeg as a token of thanks for the bounty and richness of the peninsula.
There are steps to the beach at the White Rock part, an observation deck, walking trails connecting to a non-motorized path on Michigan M25. A unique element is an interpretive sign and viewing opportunities for the "White Rock" that marked an 1807 treaty with local tribes.
G – Harbor Beach Harbor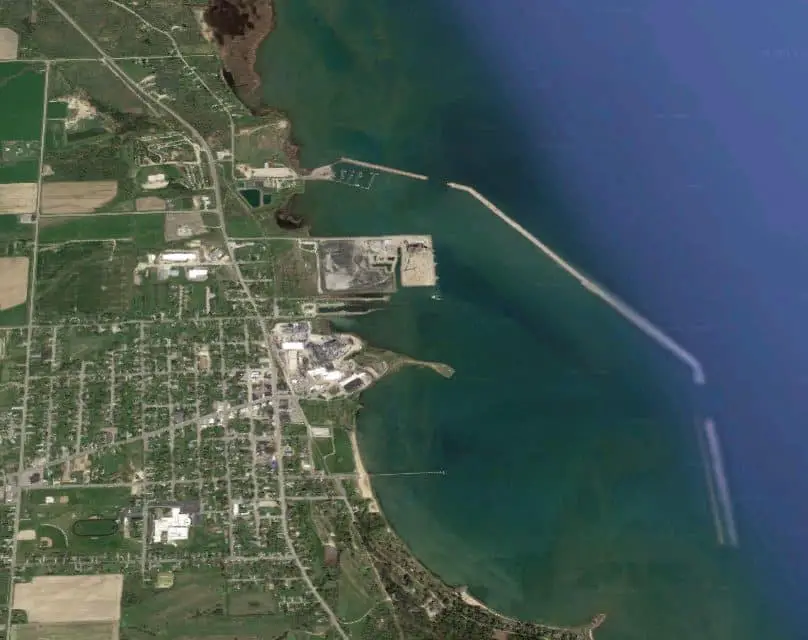 Your Michigan Day Trip takes a quick stop at the world's largest freshwater artificial harbor, the port of Harbor Beach, Michigan, which is an ideal stopping point for sailors making their way up the shore of Lake Huron. With its protected port and town that's steps away from the Marina, Harbor Beach offers sailors and boaters a welcome break and an ideal provisioning point. Harbor Beach has some interesting things to see and do when things get back to normal. If you find yourself with a few extra hours, some great little sites see short and interesting trips.
H – Port Hope, Stafford County Park On Lake Huron's Shore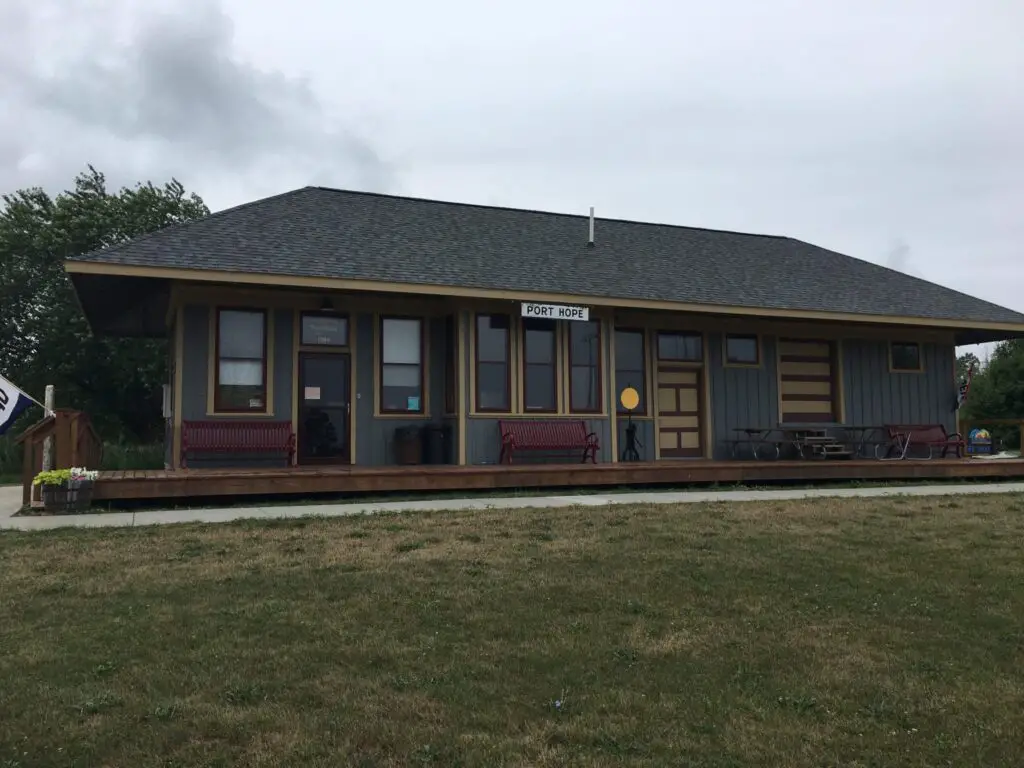 Just north of Harbor Beach, Port Hope is a shore town that is also home to a completely restored railway depot from the early 1900s. The Port Hope Depot was built in 1904 and was the end of the line for the Pere Marquette railway. It's been restored to its county charm of the early 1900s. Nearby at Stafford County Park is the historic landmark of an 80-foot sawmill chimney.
I – Pointe Aux Barques Lighthouse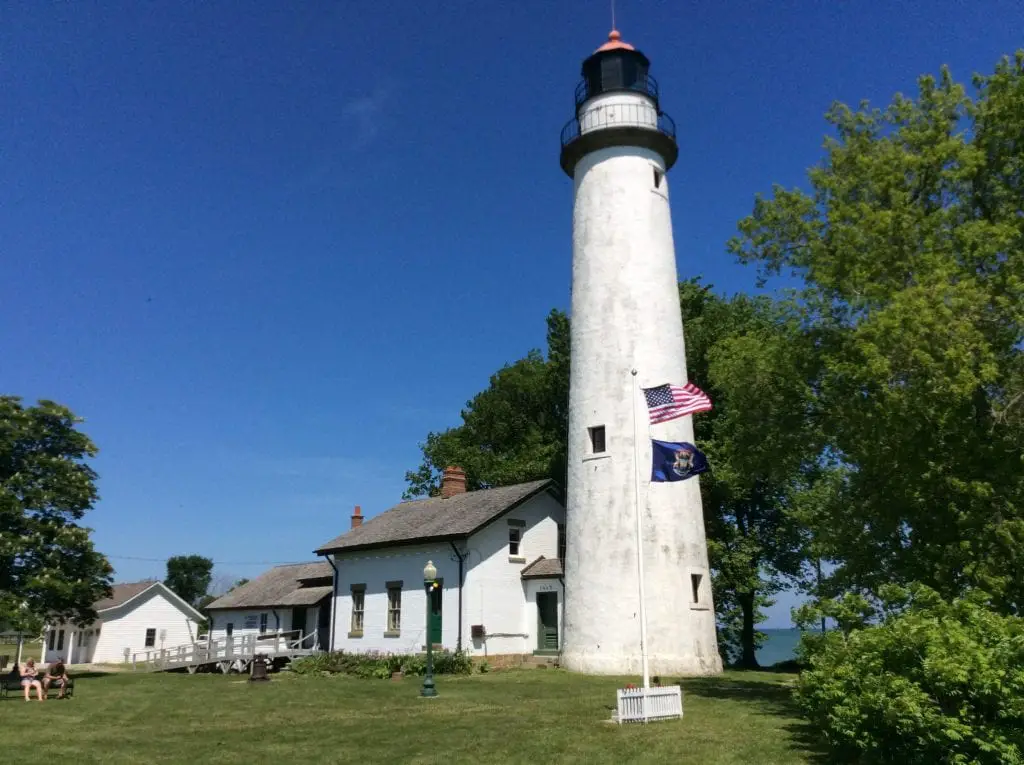 We keep on our Michigan Day Trip with a short drive further north of Port Hope is a small detour to Lighthouse Park. The original Pointe aux Barques Lighthouse was constructed of stone taken from the shore of Lake Huron in 1848. The keeper's house and separate tower were located on a three-acre clearing hacked out of the dense wilderness. By 1857, the ravages of shoreline weather and a fire in the house's interior created the need for a new structure. The new keeper's house and attached 89-foot tower were built of the finest brick available. The light is still an active aid to navigation, making Pointe aux Barques one of the oldest continuously operating Lights on the Great Lakes.
J – Grindstone City Harbor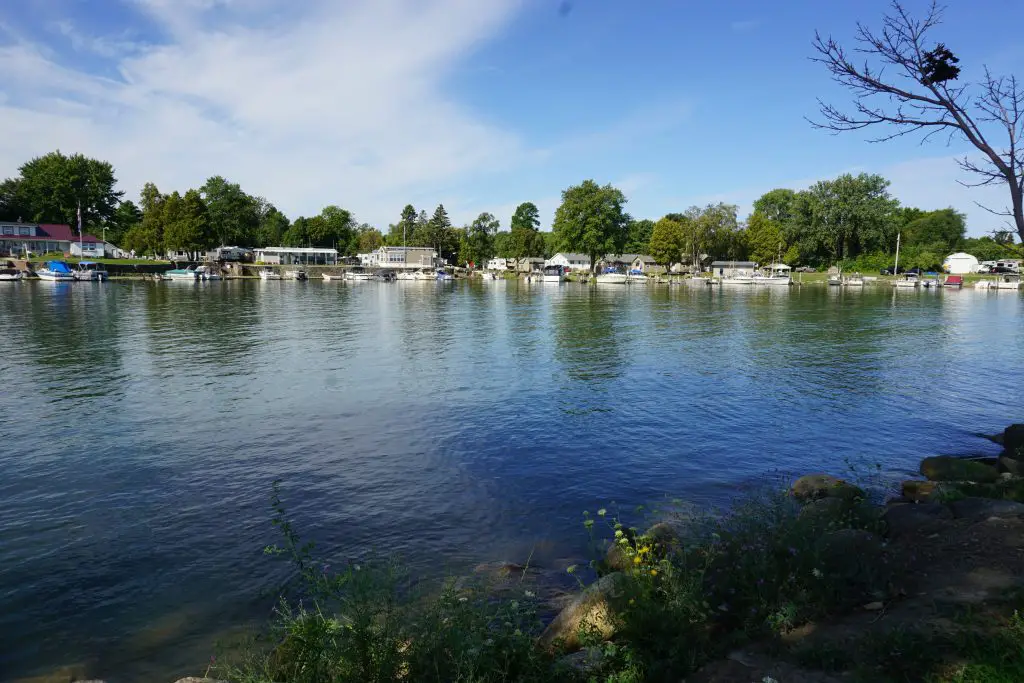 This tiny town is only 10 minutes away from the Pointe Aux Barques lighthouse. But unless you're a local, it could be tough to find. Instead, follow the direction on the map to Grindstone Harbor. This small natural harbor was roughly the same size when it was found by Captian Aaron Peer in 1856 when he was looking for safety from a storm.
Shelly's Bar & Grill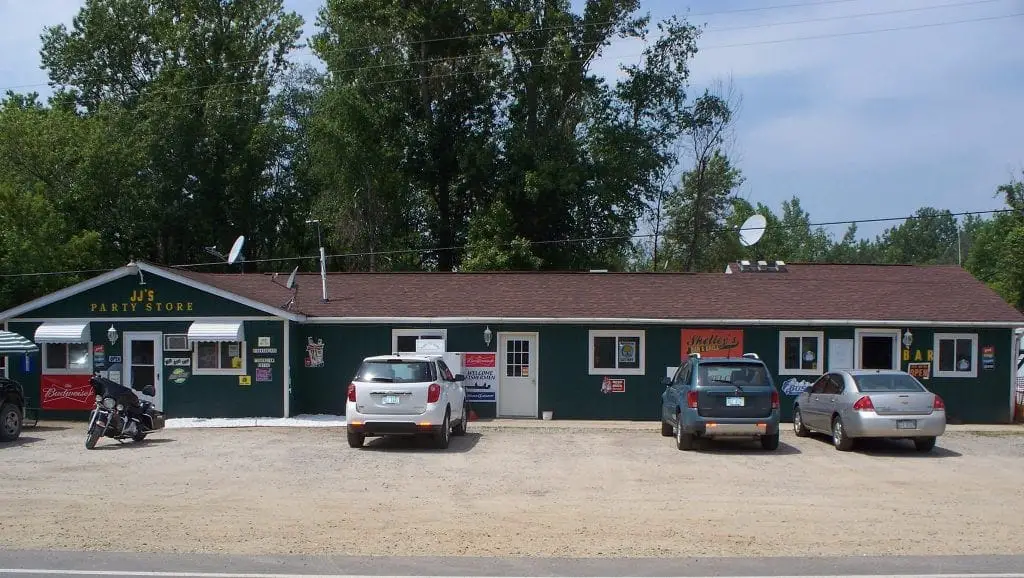 If it's lunchtime on your trip, Shelly's is one of those hidden gems that no one talks about. They don't advertise much because they don't need to. A favorite with the locals and bike clubs touring the shoreline. It's one of our go-to places when we want to get away from the crowds and tourists of Port Austin. Make no mistake; it's tavern food. But they have large portions, and if you're lucky enough to find they have walleye available – get it. Don't let the exterior put you off. It's super clean, and they offer to carry it out.
Part Two of the Day Trip Around the Thumb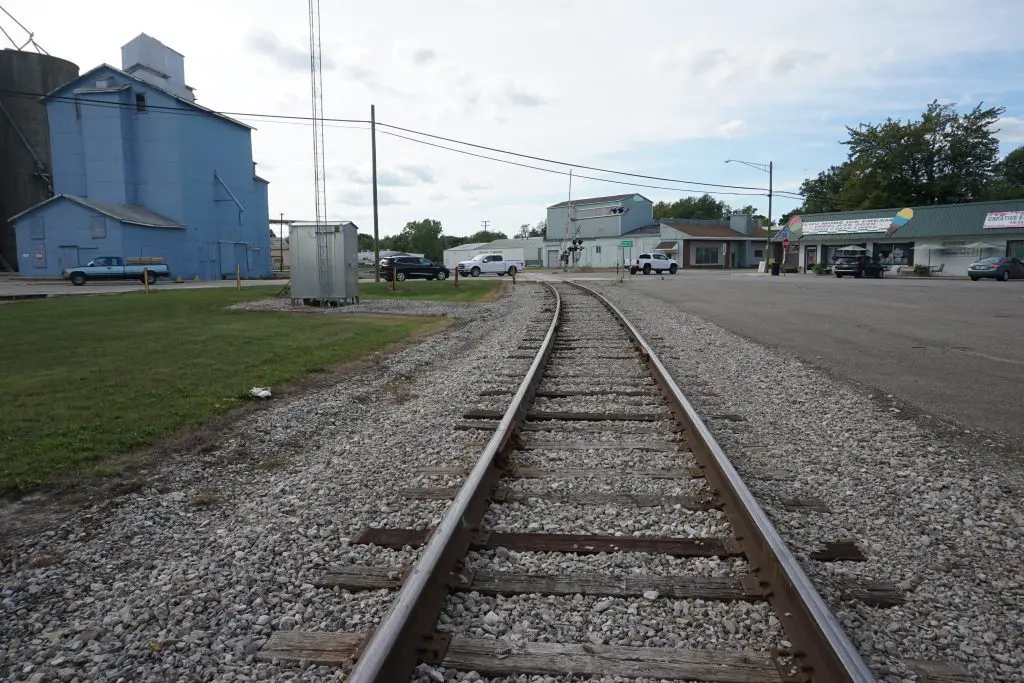 This concludes Part One of our day trip around the Thumb. From here, you can proceed to Part Two or head back home or explore on your own. Part Two takes you to Port Austin, a quick hike through the site of a former ghost town at Port Crescent State Park, then on to Caseville, Bay Port, Sebewaing, and to look for an elusive bear in Quanicasee. Finally, we finalize the trip to the famous German town of Frankenmuth. All at a safe distance.
Related Reading