Welcome to the enchanting world of Bear Lake Michigan, an idyllic retreat that offers many experiences in its spectacular landscape. With a history spanning several centuries and a diverse array of recreational activities, this place is a haven for those seeking adventure, relaxation, and learning.
As you navigate through the unique natural wonders that define this sanctuary, indulge in local culinary delights, and explore a variety of accommodations to nestle into after a day's adventure, you will discover why Bear Lake Michigan has earned a special spot in the hearts of locals and tourists alike. Journey with us as we unveil the breathtaking natural wonders, delve into the historical roots, explore the vibrant food scene, suggest recreational activities, and offer valuable travel tips to make your Bear Lake Michigan experience memorable.
Let's Go To Bear Lake Mi
Map of Bear Lake Michigan
History of Bear Lake Michigan
Picture this: Surrounded by deep hues of serene blue water, Bear Lake Michigan presents an intricate patchwork of history etched within its shores. Now, allow the mind to unravel one such quaint nook – Bear Lake Michigan. This prolific landscape, loaded with heritage narratives, adapts seamlessly to the curious wanderer's lifestyle. This marvelous pocket of the world is no ordinary gem but a many-splendored canvas of history that will ignite a spark in the most adventurous souls.
The Treaty of Washington Opens Settlement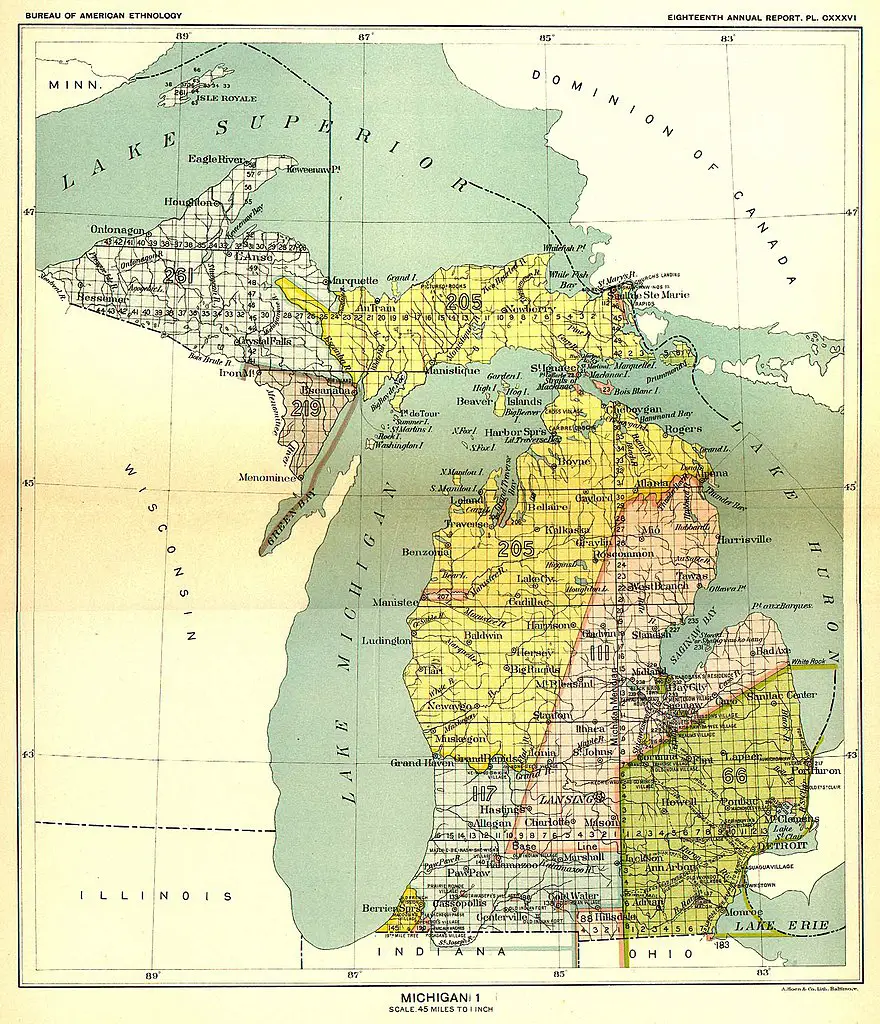 The history of Bear Lake dates back to 1836 when various tribes of native people signed the Treaty of Washington, ceding the land of the northwest lower peninsula to the United States. Native people had lived in the Bear Lake area, leaving behind evidence in burial mounds, including one at Pierport. Michigan became a state the following year, in 1837.
The Homestead Act of 1862, signed by President Lincoln, opened up the area for settlement. People began exploring the Manistee and Traverse City region, looking for prime farmland. In 1863, pioneers, including Russell Smith and D.E. Sibley, arrived in Bear Lake. At that time, the area was heavily forested, and these pioneers began their homesteads, with Smith covering the present village's location.
A Village Forms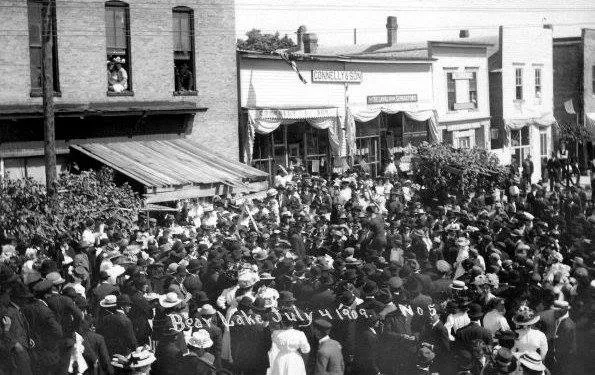 By 1864, around 25 families had started homesteads in the Bear Lake area. In 1865, the township of Bear Lake was officially created, and a township council was formed. By 1867, many more families had settled, and two-thirds of the prime farming land had been claimed. A post office was established, and the Richmond family completed their eleven-week journey to Bear Lake. Around this time, Russell Smith offered some of his land to anyone willing to set up a sawmill and a gristmill. Mr. Carpenter and Mr. Harrington took up the offer, leading to the construction of rudimentary mills.
The Lumbering Era At Bear Lake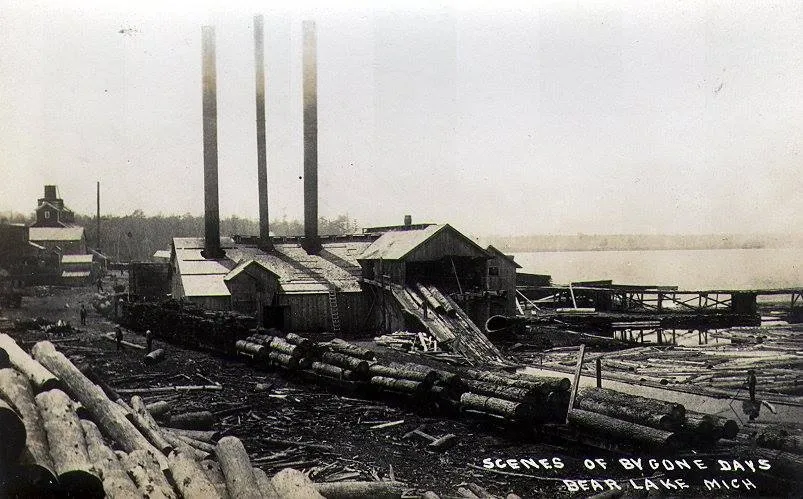 The 1870s were a period of significant development. The Hopkins family, initially into brick manufacturing, switched to lumbering. Homesteaders were cutting trees to clear the land, as there was no market for the trees then. In 1873, the Hopkins family purchased 88 acres of the Smith property and built the Bear Lake Tram Railway, enabling lumber transport to Lake Michigan. By 1874, they had built a large sawmill, a brickyard, a gristmill, and a store. The original subdivision map of the village was filed in 1874, and the village was platted with 299 lots.
According to historical accounts, within a decade, almost every tree in the area had been felled for lumber. This early period of rapid deforestation was a testament to the village's significance in the lumber industry. For more details, you can refer to this article from Manistee News.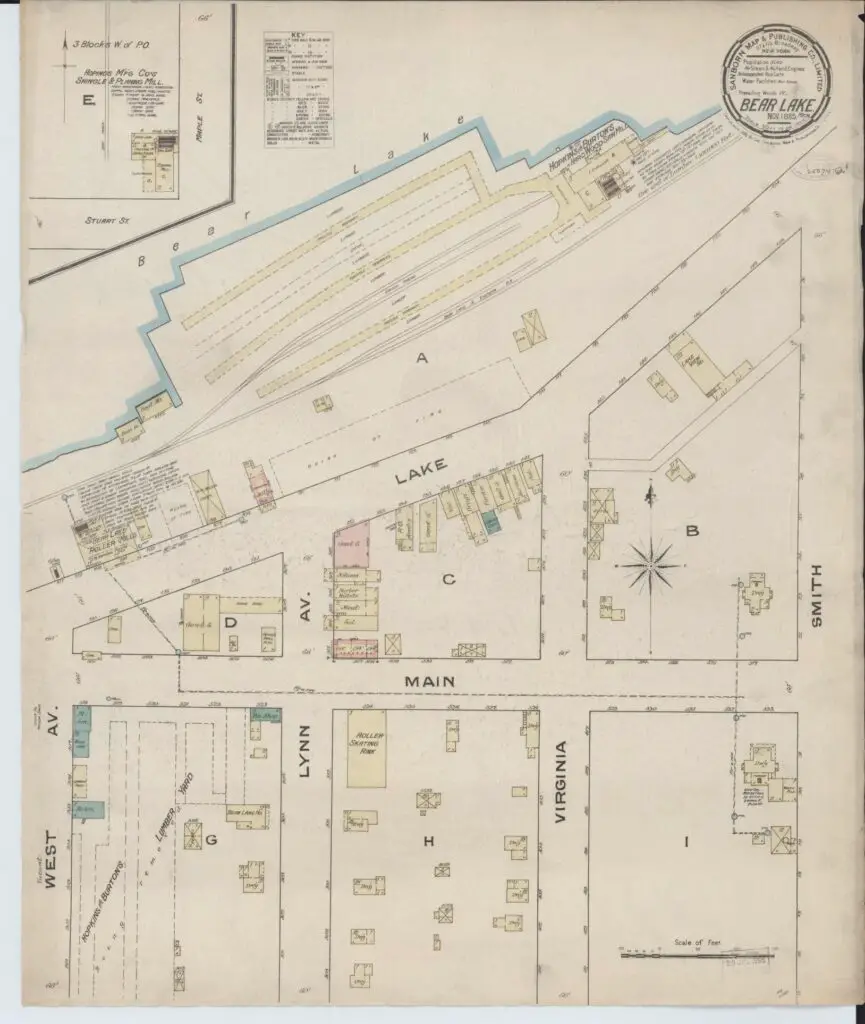 With Trees Gone, Agriculture Takes Root
The village continued to grow through the late 19th and early 20th centuries. The 1880 census showed 1,258 people living in Bear Lake and Pleasanton townships, growing to 1,880 by 1890. The Village of Bear Lake was incorporated in the fall of 1893. By 1902, all the trees in the area had been cut, and the focus shifted to agriculture and summer tourism.
Natural Wonders and Landscape of Bear Lake Michigan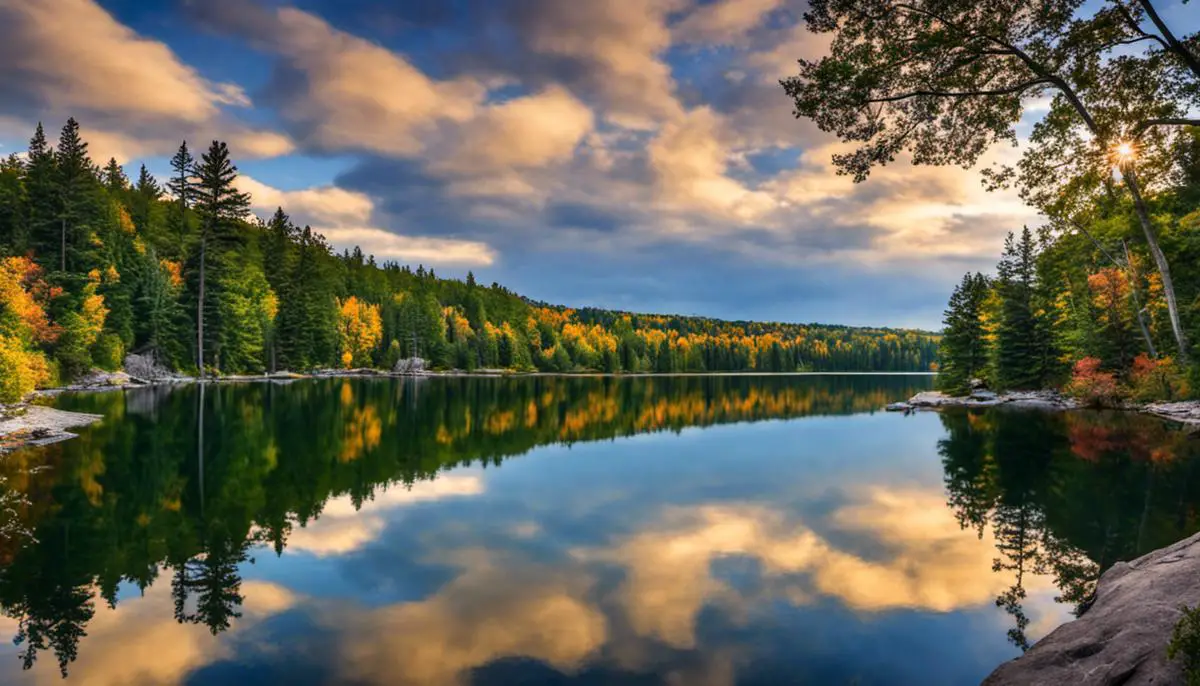 Ah, Bear Lake, Michigan – a mosaic of natural delights nestling in the land's gentle curves. It has its unique tale of evolution, interwoven with stories of early settlements and unique agricultural milestones.
But let's delve beneath the surface of this alluring area and get to the heart of the matter. What connects your adventurous spirit to this haven is the abundance of unseen, natural wonders that remain largely untouched, awaiting exploration.
The Wild Side of the Nordhouse Dunes Wilderness
Can we talk about the wild beauty of Nordhouse Dunes Wilderness? Scarcely 30 miles west of Bear Lake, these dunes provide a splendid spectacle of remarkable landforms. Rising majestically from the shores of Lake Michigan, the dunes' sandy slopes are covered by a forest of jackpines, with some areas tinted with wildflowers that dance merrily in the wind.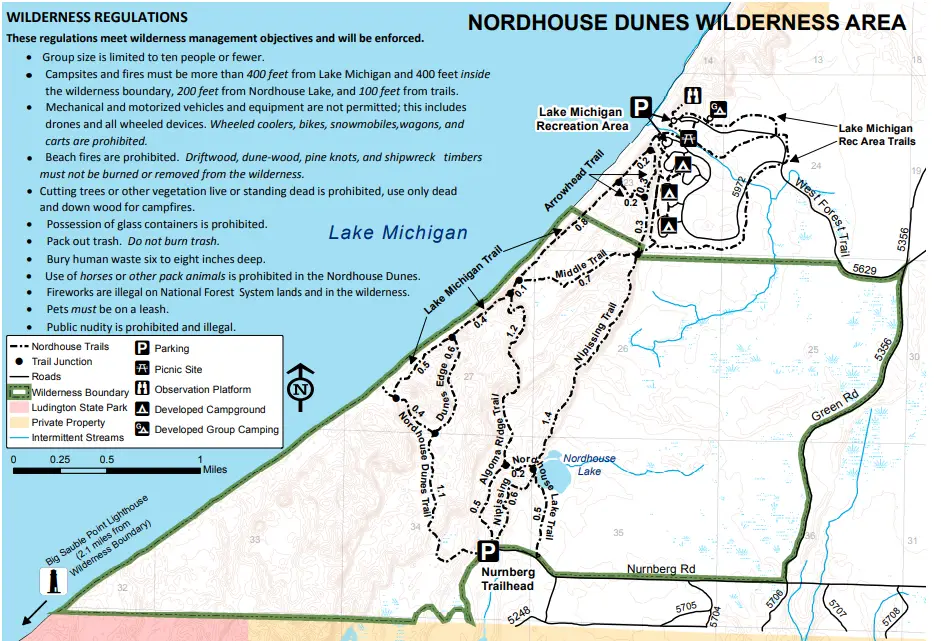 The Nordhouse Dunes Wilderness is a 3,450-acre wilderness area in the Manistee National Forest, north of Ludington, Michigan. It was established in 1987 by the Michigan Wilderness Act. The Nordhouse Dunes Wilderness is known for its wild, untouched forest and shoreline. It comprises 4 miles of undeveloped Lake Michigan shoreline, dunes, and lakes with Hiking, wildlife views, and camping.
Grand Traverse Light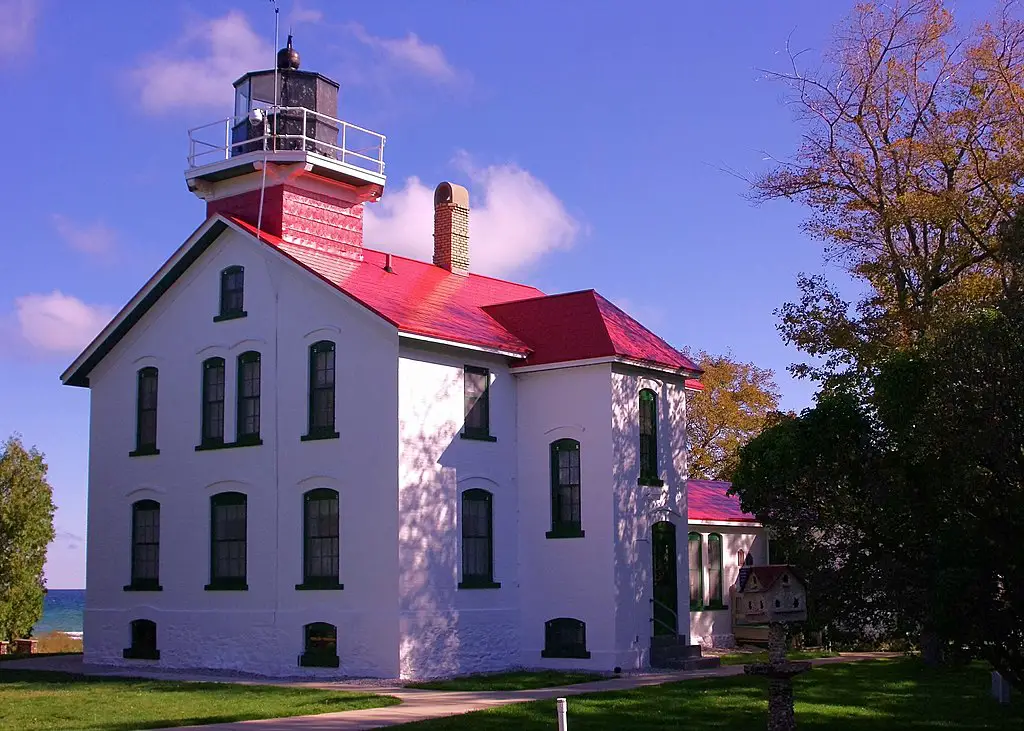 Heading north, you find the Grand Traverse Light standing alone against the weathered rocks of the western coast. Against a backdrop of beautiful sunset hues, this historic lighthouse beams across the waters of Lake Michigan. An ideal spot for peaceful solitude, the surrounding area is bustling with seabirds and sea life, creating a diverse ecosystem.
The Crystal Mountain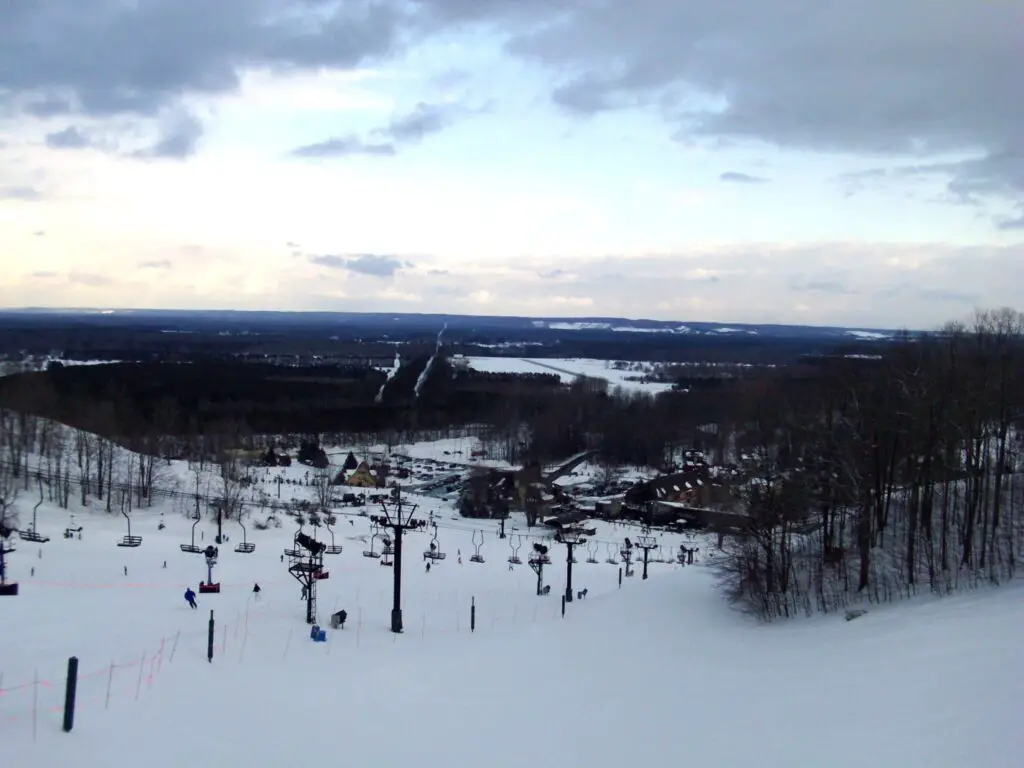 East of Bear Lake lies the Crystal Mountain, fulfilling every thrill-seeker's dream. The mountain covers 102 acres, offering not just a captivating view but also an exhilarating ski experience in the winter. When summer blooms, outdoor enthusiasts can immerse themselves in wine tasting, zip lining, or golfing.
The Sweet Surprise – Old Facefull Spring
Truly a hidden gem of nature, Old Facefull is a natural, free-flowing artesian well. Nestled near the Lake Michigan shoreline on 13 Mile Road, visitors will enjoy the scene of ice-cold spring water gushing out or a vertical pipe. Some claim it's the best water they have ever tasted. The spring water eventually finds its way into Lake Michigan. The surrounding green space is perfect for picnics or casual strolls.
The Sleeping Bear Dunes National Lakeshore
A paradise on earth, Sleeping Bear Dunes National Lakeshore never fails to stun with its azure waters, towering sand dunes, and verdant forests. The prominence of wildflowers adds a sprinkle of color to this protected area's green persona.
Delving into Greens – Manistee National Forest
Enveloping over half a million acres, Manistee National Forest is a wonder in its own right. The offbeat tracks guide visitors through a labyrinth of lush vegetation, leading to stunning overlooks, peaceful lakes, and rich fauna.
The areas surrounding Bear Lake, Michigan, brim with various natural wonders. Each treasured spot offers a unique experience, whether you are an adrenaline-fueled adventurer, a peaceful wanderer, or a history buff. The beauty of this region is as diverse as those who explore it – go ahead, chart your course and find your special connection with Bear Lake's captivating charm.
Things to Do At Bear Lake Michigan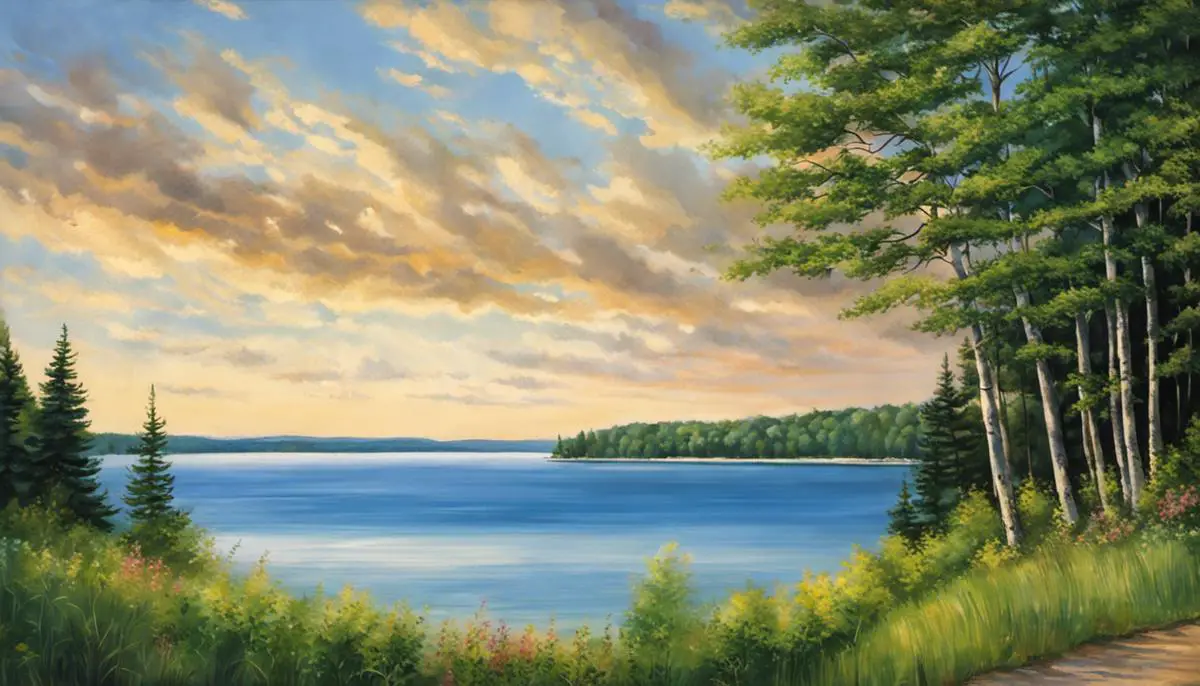 Drenched in rich history and nested amidst verdant landscapes, Bear Lake Michigan is a treasure trove of leisure pursuits that go beyond historical exploration and apple picking. Whether plunging into clear waters, exploring lush forest trails, or challenging oneself on snowy peaks, one is certain to find something that stirs the soul and tickles the senses.
Alpine Slide At Crystal Mountain
The Alpine Slide at Crystal Mountain, known as the Crystal Coaster Alpine Slide, offers an exhilarating experience for visitors. The adventure begins with a ride on the Loki Quad chairlift that takes you to the top of the mountain. Once there, you hop onto a specially designed sled and cruise down a 1,700-foot-long curved track. The slide is action-packed with dips and high-bank turns, and offers spectacular views of the surrounding landscape. You have full control over the speed, making it a customizable experience for thrill-seekers and those looking for a more leisurely descent.
Reservations are required to experience the Alpine Slide, and tickets are sold in one-hour blocks. You can ride as many times as you'd like during that hour. The daily rates are $20 per person for those over 52″ tall and at least 80 lbs. Riders under 52″ and less than 80 lbs can ride for free with a paying adult. The slide has specific operational hours, which vary depending on the time of year.
As for the requirements, riders must be at least 3 years old. The maximum weight for the Alpine Slide is 300 lbs, either individually or combined. The minimum weight to ride solo is 80 lbs. All guests must check in at the Mountain Adventure Zone to obtain their RFID Card and a wristband, which are used for admission. Additionally, all participants are required to sign a waiver, and parents or guardians must sign for those under 18 years old.
The Alpine Slide is a seasonal attraction, and its hours of operation are subject to change based on weather conditions. It's worth noting that the slide cannot operate in the rain. If weather affects your reservation, every effort will be made to reschedule. However, refunds are not granted for cancellations made less than 24 hours before the slide reservation.
For more information, you can visit the Crystal Mountain website. This could be a fantastic addition to your blog, especially for readers interested in outdoor activities in Michigan.
Discover the Little Wonder of Sara's Falls
Michigan waterfall CLAYBANKS FALLS MANISTEE RIVER MESICK MICHIGAN BY DRONE
Sara's Falls, known as Claybanks Falls, is a tranquil and picturesque site near Copemish, Michigan. While the falls may not be 'magnificent' in height, being only a few feet tall, the surrounding environment truly makes this spot special. This little sprite is considered the tallest waterfall in the lower peninsula! Water pouring over the five-foot drop can be heard from far away. The falls offer a peaceful setting perfect for spending quality time in nature. The area is somewhat secluded, making it a little-known gem that you might want to keep as your secret getaway.
The falls are accessible via a parking spot at the junction of Blueberry Lane and E. Sweets Ravine, 27 miles northwest of Cadillac. Despite the varying names—some even call it "Manistee Falls"—the beauty and serenity of the place remain constant. Whether you're looking to take photographs, have a picnic, or simply enjoy the soothing sounds of cascading water, Sara's Falls provides an idyllic backdrop for a variety of outdoor activities. For more details and to plan your visit, you can check out the article on 99WFMK.
View A Giant Sequoia at Lake Bluff Arboretum in Manistee
The Giant Sequoia at Lake Bluff Arboretum in Manistee is a remarkable natural wonder that is a testament to the area's unique ecology. Planted in 1948, this towering tree has grown to an impressive height of about 110 feet and boasts a diameter of over five feet across its trunk.
According to David Milarch, the co-founder of the Archangel Ancient Tree Archive, this particular sequoia is healthier than its counterparts in California. The tree was planted by Edie Gray, whose family has a rich history of tree planting, including the founding of Morton Salt and Arbor Day. For more details, you can read the article on UpNorthLive.
During the summer, the Giant Sequoia attracts more than 2,500 visitors worldwide, making it a significant point of interest in Manistee County. The tree's ability to thrive in Michigan's climate is an ecological marvel and a source of local pride.
According to experts, this sequoia has shown a unique genetic ability to grow in colder climates, and its thriving condition helps sequester CO2 about 10 times faster than almost any other tree on the planet. This makes it a local and global asset in the fight against climate change. For more insights, you can check out this WoodTV article.
Hike Across the Suspension Bridge, Manistee River Trail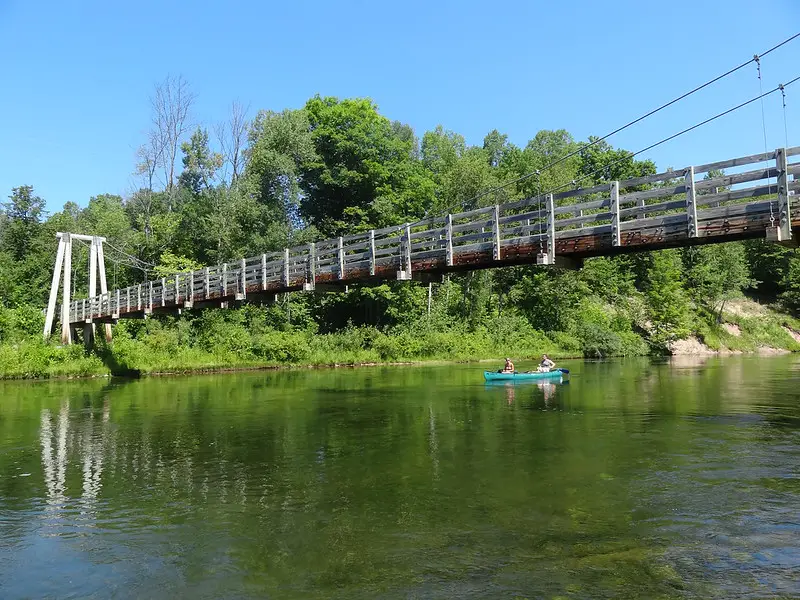 The Suspension Bridge on the Manistee River Trail, also known as the "Little Mac" Foot Bridge, is a remarkable engineering feat that adds a unique touch to the scenic hiking experience. Spanning 245 feet, this pedestrian footbridge was completed in 1996 and is the largest wooden suspension bridge in Michigan's Lower Peninsula. It serves as a vital connector, uniting the Manistee River Trail with the North Country Trail. The bridge offers hikers a chance to pause and take in the stunning views of the Manistee River below, making it a must-see point of interest on the trail.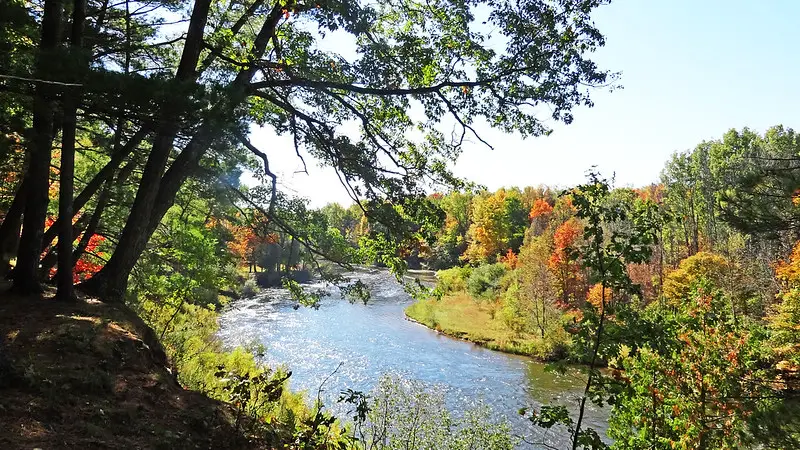 The Manistee River Trail itself is an 11-mile trail system developed in 1992, running along the high banks of the Big Manistee River between Tippy Dam and Hodenpyl Dam. The Suspension Bridge is located near Hodenpyl Dam and is one of the trail's key points of interest. Whether you're a seasoned hiker or a casual nature lover, crossing this iconic bridge is an experience that adds a sense of adventure and wonder to your journey. For more details, you can check out the articles on Visit Manistee County and Little Mac Foot Bridge.
Bear Lake Michigan is more than just a Lake Town- it's an enchanting repository of leisure, adventure, exploration, and serenity. Every turn of the path, every crest of the wave, and every whisper of the winds carries a new surprise, a new delight, and a new story waiting to unfold.
Accommodation and Food in Bear Lake Michigan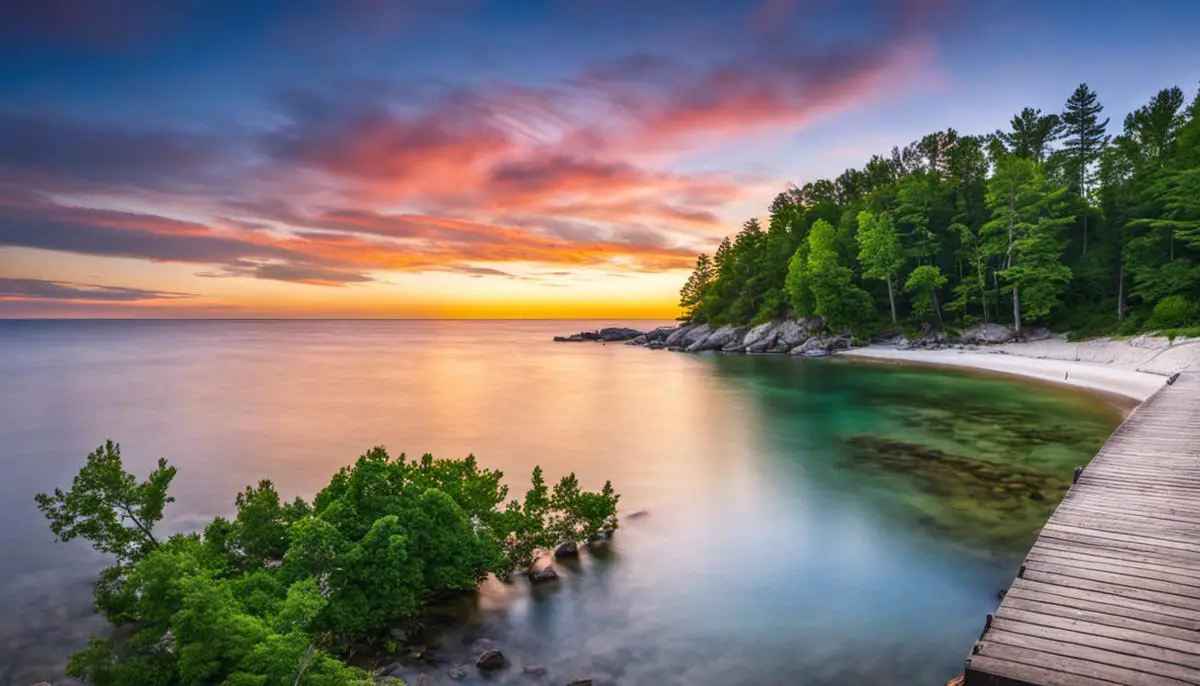 Stepping foot in Bear Lake Michigan is akin to stepping into a postcard picture – it's all verdant landscapes, cloud-dappled skies, and a hush of calm that is the heavens' music. After a day spent frolicking in its expanse or exploring its historic breadth, one must, naturally, satiate their hunger and seek shelter in this stunning corner of Michigan. Hence, let's whisk you away to a few iconic local eateries and accommodations that promise comfort, flavor, and irreplaceable Bear Lake charm.
Places To Eat Near Bear Lake Michigan
To begin with, there's something mouth-watering about the whiff of freshly baked bread wafting through Bear Lake's air. Grille 44 checks that box right off the list with a surefire blend of all-American specialties, craft brews, and live entertainment that makes it a classy local favorite. Buds' of Interlochen, located within a comfortable drive from the lake, offers a unique mix of hearty meals that transports you straight to Culinary Heaven.
But for that ultimate lake-dining experience, The Blue Slipper Tavern awaits. Located in Onekama, a short drive from Bear Lake, this rustic tavern offers a charming milieu, stunning lake views, and a menu to die for. Try the crab cakes – you will not be disappointed!
For a cherry on top, sample some of the finest cherry pies in the region at a humble gem known as Cherry Hut in Beulah. This family-run eatery has won hearts for over 90 years with their delectable pastries and warm service. If you're lucky enough to visit during cherry season, consider it a sweet high-five from the universe.
Places to Stay In and Near Bear Lake Michigan
The Famous Motel Bear Lake
Motel Bear Lake in Northern Michigan is a unique lodging experience that combines retro charm with modern amenities. Originally built in the 1960s, the motel has been thoughtfully renovated to offer guests a comfortable and inclusive stay. The property is just a 10-minute drive from the renowned Arcadia Bluffs Golf Course, making it an ideal choice for golf enthusiasts looking to stay close to the action. For more details, you can visit their page about proximity to Arcadia Bluffs Golf Course.
Motel Bear Lake in Northern Michigan is not just another lodging option; it's a destination for cannabis enthusiasts looking for a unique and welcoming experience. Situated in the tranquil village of Bear Lake amidst the natural splendor of Manistee County, this recently restored 1960s motel offers a cannabis-friendly atmosphere.
While smoking is not permitted in the rooms, the motel provides designated areas for guests to enjoy their favorite strains. To further enhance your cannabis experience, in-room guides offer local insights into the best dispensaries, ensuring you have access to a wide variety of high-quality products and discounts during your stay.
One of the standout features of Motel Bear Lake is its commitment to inclusivity. The motel proudly markets itself as a Northern Michigan LGBTQ+ destination, offering a welcoming environment for all guests. While the area may not be the "gayest town in Michigan," the motel aims to be the inclusive destination you've been dreaming about. For more information, you can check out their inclusive lodging page.
Nearby Lodging Around Bear Lake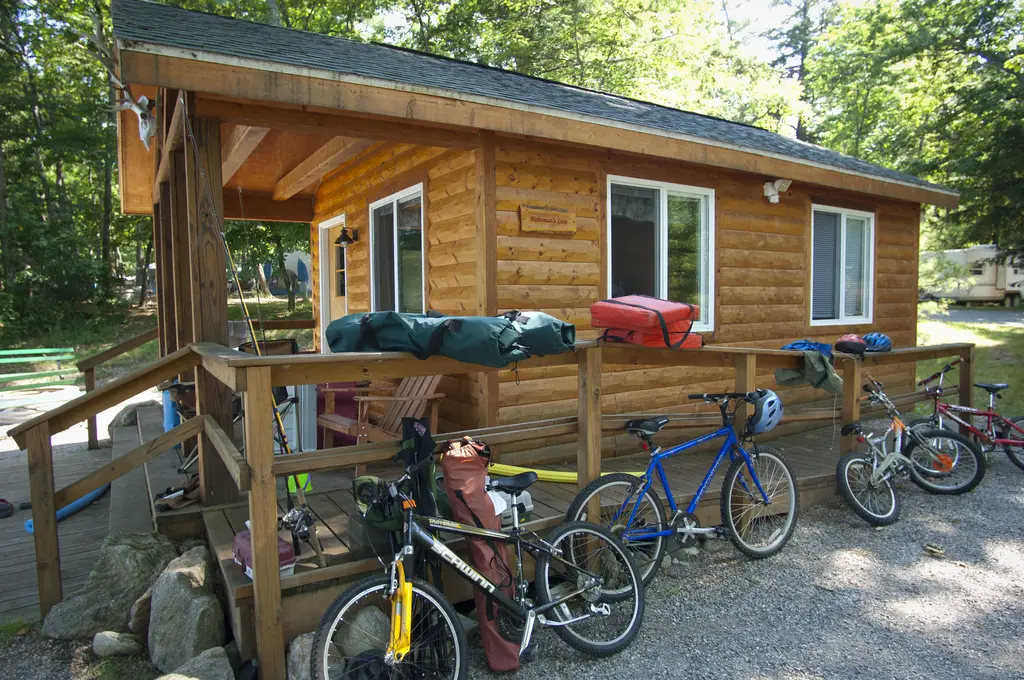 When night falls over Bear Lake and the stars start to shimmer on the water, retreat to one of the lake's elegant accommodations. First on the list is Serendipity House, a quaint Bed and Breakfast in Frankfort that offers a homely refuge with the lake's tranquillity as your nighttime lullaby.
Bear Lake Bed and Breakfast is another immersive stay – housed in a Victorian-style home; the place features enchanting rooms, a prime beachfront location, and a sumptuous daily breakfast. For something a little more rustic, Interlochen State Park cabins offer a back-to-nature experience while providing modern amenities.
If you fancy a lavish, resort-style getaway, the surrounding region has such spots. Crystal Mountain Resort, for instance, offers great food, stunning views of nature, and an array of fun activities to indulge in off-lake, including skiing, golf, and spa services.
Nomadic life next to Bear Lake, Michigan is filled with the warmth of local eateries and the comforting whisper of homely accommodations. Whether you're a digital nomad or an everyday traveler, you're bound to feel right at home in these vibrant places. So here's to making every moment in Bear Lake count, one bite and one restful night at a time. Welcome to your kind of paradise!
Weather in Bear Lake Mi
Final Thoughts About Bear Lake Michigan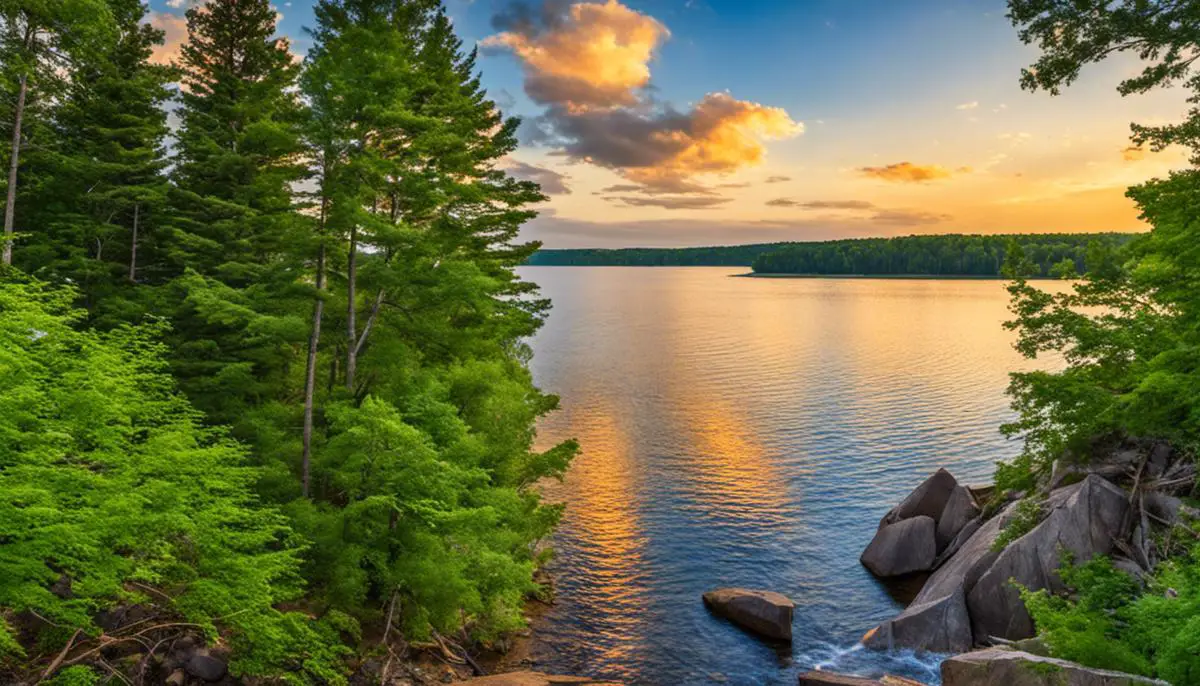 Bear Lake in Michigan offers a deeply personal yet universally resonant experience, where local eateries, accommodations, and recreational spots provide more than just the basics. It invites visitors to embrace the unique details of their surroundings and let the spirit of Bear Lake seep into their souls.
This ethereal location celebrates nature, embodies living history, and offers endless adventures. Every step taken in Bear Lake enriches the travel experience, from savoring local cuisine to finding the perfect lodging and discovering useful travel tips. The beauty of Bear Lake lies in its ability to offer each visitor a unique perspective and create lasting memories. Whether witnessing breathtaking sunrises or experiencing the tranquility of the forests, Bear Lake invites visitors to immerse themselves in its captivating vistas and create their own extraordinary stories.
FAQs About Bear Lake
How large is Bear Lake Michigan?
Bear Lake in Manistee County, Michigan, is approximately 1,744 acres in size. The lake has a maximum depth of about 24 feet and an average depth of around 8.4 feet. It's a popular destination for various outdoor activities, including fishing, boating, and swimming. The lake is known for its clear waters and scenic surroundings, making it a favorite among locals and tourists alike.
Is the water in Bear Lake Clear?
Yes, Bear Lake in Manistee County, Michigan, is known for its clear waters. The lake's clarity makes it a popular destination for activities like swimming, boating, and fishing. The clear water also adds to the lake's scenic beauty, attracting both locals and tourists who are looking to enjoy nature and outdoor activities. Whether you're interested in kayaking, paddleboarding, or simply taking in the views, Bear Lake offers a picturesque setting.
How many acres is Bear Lake Michigan?
Bear Lake in Manistee County, Michigan, is approximately 1,744 acres in size. This makes it a sizable body of water, offering ample space for a variety of recreational activities such as boating, fishing, and swimming. The lake's size and clear waters contribute to its popularity among locals and tourists alike.
Related Reading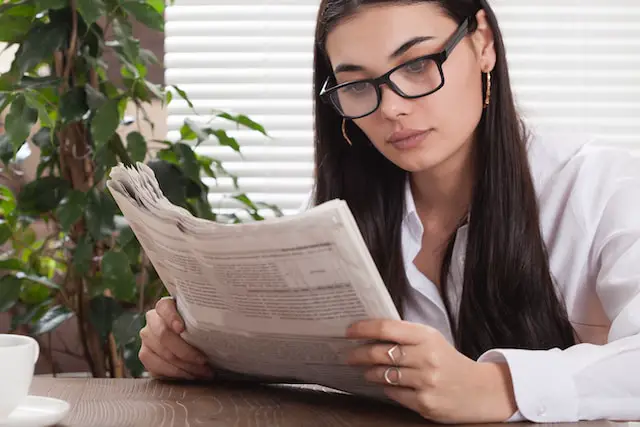 6 Travel Tips for Exceptional Michigan Vacation Planning
Michigan Family Destinations: 4 Unforgettable Spots to Explore
Exploring the Charms of Gun Lake Michigan
Lexington MI Beaches – Where the Sand Meets the Soul—A Beachcomber's Confessional