Embedded in the heart of Michigan, Gun Lake presents a captivating blend of serenity and adventure, tempting every wanderer with its beguiling charm. Its sandy shores and crystal clear waters promise a tranquil retreat, an escape from the buzz and tumult of everyday life. Offering tranquil beachside lounging and an array of exhilarating outdoor activities, Gun Lake morphs into a playground for the adventurous soul. Yet the delights of Gun Lake extend beyond its natural beauty, with local eateries that reflect Michigan's diverse culinary panorama and a myriad of welcoming accommodation options, establishing it as a destination for every kind of traveler.
What We Will Cover
The Relaxing Shoreline of Gun Lake
Unveiling the Charms of Gun Lake, Michigan: An All-Season Traveler's Paradise
Delving into the delightful shores of Gun Lake Michigan? Or perhaps, just flirting with the idea? Buckle up, folks. With the spirit of adventure in your heart, a love for nature in your mind, and saltwater (or freshwater, in this case) coursing through your veins, you're about to uncover the quaint magic of one of the Midwest's best-kept secrets.
At Gun Lake's heart, nature awaits you in its most unadulterated form. Picture a 2,680-acre freshwater lake festively draped with miles of gentle shoreline. A spectacle of waves playing tag with the sun-basked sand, creating a harmony that harks back to the timeless lullaby of Mother Nature. That, dear friends, is Gun Lake in its full glory.
Each season, there's a new flavor in store. Let me put it this way: Gun Lake's natural beauty is like a box of gourmet chocolates; every bite brings a different surprise and yet, every surprise is equally magnificent. Autumn leaves collide with the sharp blue sky, providing a kaleidoscopic spectacle for the eyes. Winter arrives with glittering white landscapes, making a perfect backdrop for snowmobiling and ice fishing. Come on now, who doesn't love a good Ice-a-palooza?
Spring's arrival caresses the shoreline with a soft palette of pastel hues and warmer breezes, making it a delight for bird watchers and budding botanists. As for the summer, it's the season for languid swims, sizzling barbecues, boating adventures, and camping under the star-lit sky. Often caught in a conundrum about the right time to visit, the answer is simple – Gun Lake transcends the confinement of time with its year-round charm.
Next up is the element of serenity. Life at Gun Lake is an unending meditation session. The lapping waves lull you into a peaceful state. And the absence of bustling city noises allows you to relax and recharge truly. It's not just about scaling the unknown and seeking yet-to-be-discovered adventures; it's also about finding your tranquil refuge to reboot.
Dotted around the lake, you'll find a smattering of cozy vacation rentals. Perfectly ensconced in the lap of nature, these idyllic homes away from home are the window to an authentic Gun Lake experience. Allowing that perfect blend of comfort, rustic charm, and access to the shoreline's glory.
Camping At Gun Lake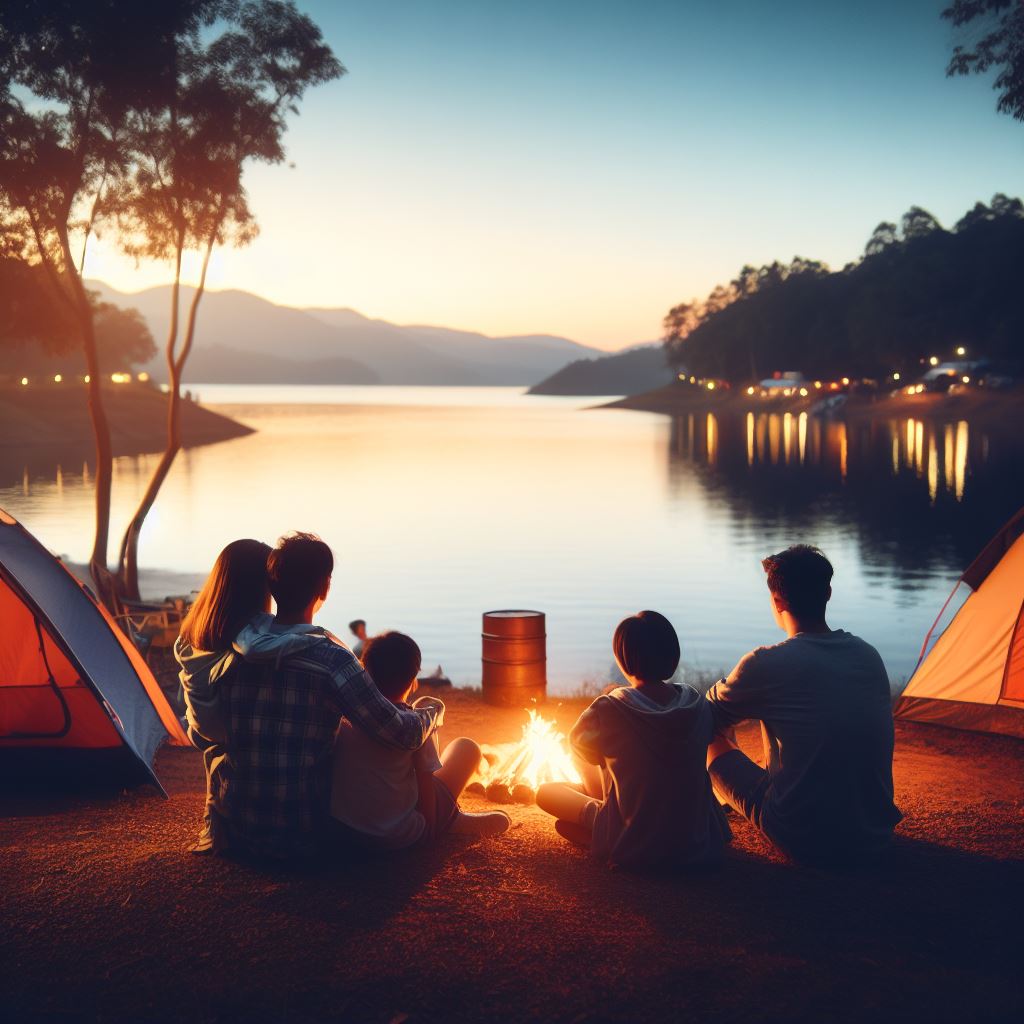 For the adventure junkies, there's Yankee Springs Recreation Area. With over nine hiking trails, vast fishing grounds, and opportunities for horseback riding and mountain biking – it's truly a playground for those who yearn for a dash of adrenaline in their travel tales.
Gun Lake isn't just a place to see; it's a place to feel. It's the amalgamation of year-round beauty, calming serenity, exciting activities, and, above all, the freedom to flow with the rhythm of nature. So, pull out a map the next time you feel the nomadic itch reaching for a new adventure. You know where to point your finger.
Outdoor Activities at Gun Lake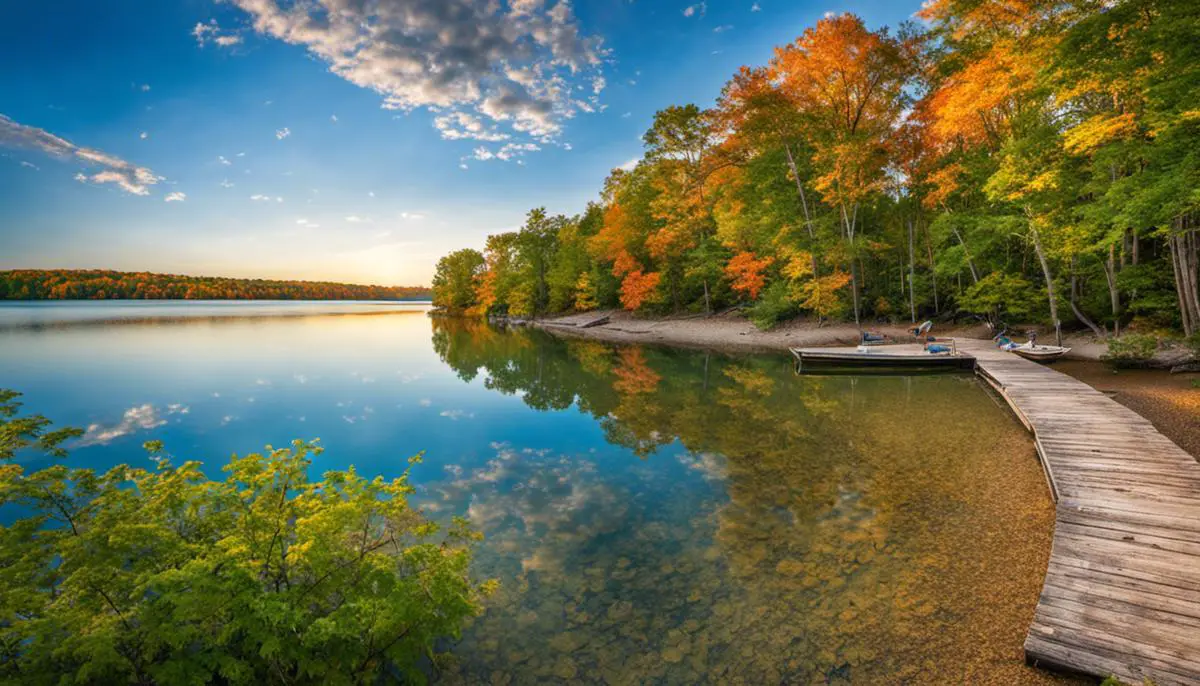 Excitement, thrills, and exploration are hidden around every bend in Gun Lake, Michigan. It's a haven for those with an adventurous spirit and who believe the world is their playground. And why shouldn't it be? With countless outdoor activities teeming in the vast expanses of Gun Lake, it's an enchanting land waiting to be discovered by wanderers from near and far.
As you pack your bags and fasten your boots for a memorable journey to Gun Lake, brace yourself for a host of adrenaline-pumping activities. Get ready to let your hair down, let the wind kiss your face, and dip your toes in the enchanting world of Gun Lake's outdoor adventure.
Boating on Gun Lake in Michigan
Canoeing and kayaking are a must-try on Gun Lake's crystalline waters. Let the rhythm of your paddles guide you across the lake's glistening surface, engrossed in occasional bird sightings and the rustling sound of leaves greeting you from the shoreline. For thrill-seekers, water jet skiing is another invigorating option, offering a dynamic blend of speed and splashing waves.
Fishing on Gun Lake
Head toward Pickerel Lake to experience the joy of fishing. The lake is a sanctuary for anglers, boasting a diverse range of species, including Bluegill, Largemouth Bass, and Northern Pike. Whether you're a seasoned fisherman or a novice, the joy of casting a line in Gun Lake's serene surroundings is an experience not to be missed.
Hiking Gun Lake
But what's an adventure without a mountainous hike? Pierce your way into vast, verdant terrains and breathe in the refreshing scent of Michigan's wilderness. The North Country Trail – a walking route of over 4600 miles, crossing seven northern states from Vermont to North Dakota – passes through the heart of Michigan, offering an adventure like no other.
Cycling Gun Lake
For cycling enthusiasts, Gun Lake trails can transform into a paradise. The winding rides, with picturesque views, will test your mettle while allowing you to encounter nature at its purest.
Skygazing at Gun Lake
Getting immersed in Gun Lake's night sky is filled with mystic wonder. The stargazing here is splendid! Embark on a cosmic journey as you set up your camp under a blanket of stars. Listen to the whispers of nature as you delve into an awe-struck universe above you.
A visit to Gun Lake is not just a visit; it's an immersion into a world of wilderness, adventure, and tranquility. So, let's put down the mobile screens, lace up those hiking boots, and dive into the adventures that await in Gun Lake, Michigan. For those who seek exploration, joy, and a generous dose of thrill, Gun Lake is not just a place on the map – it's an experience that echoes in memory long after the journey concludes, beckoning the restless souls to return again and again.
Local Cuisine and Eateries Near Gun Lake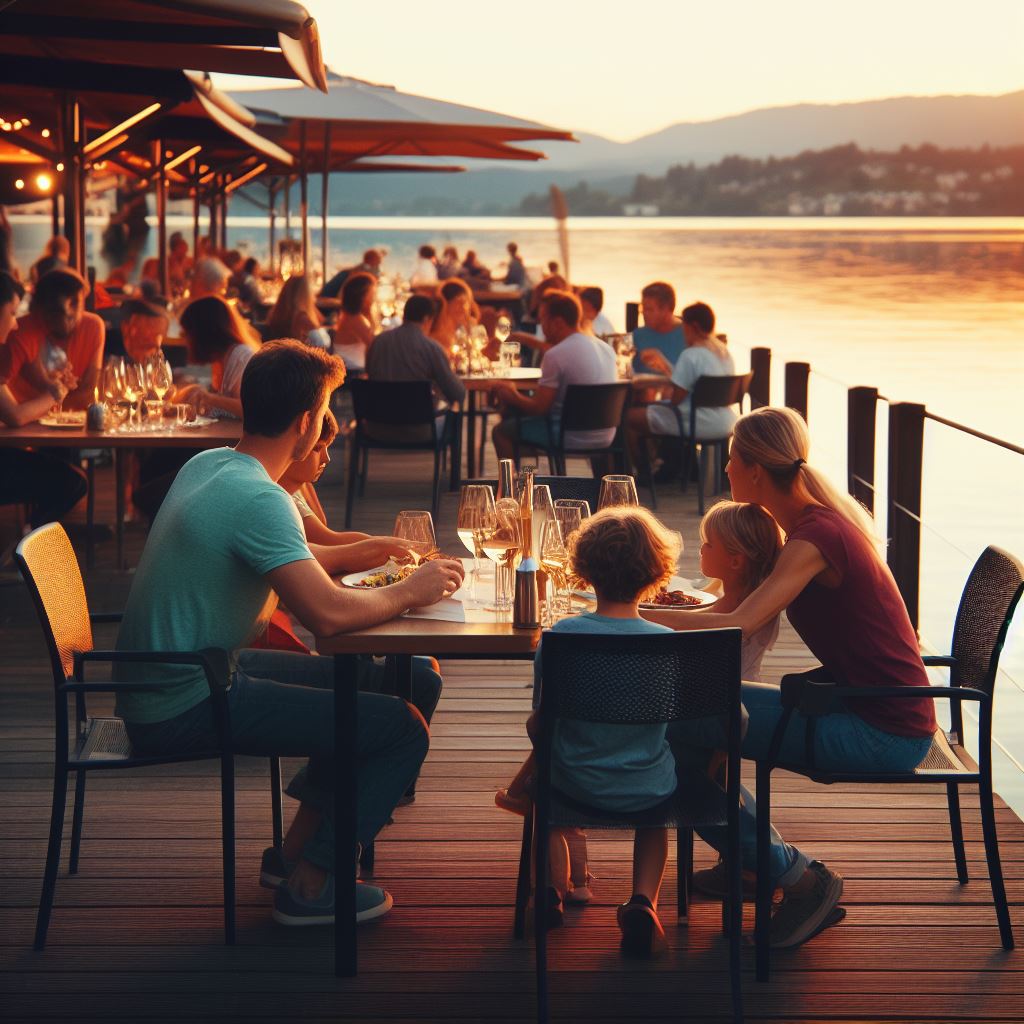 As explorers, it's not only the sights that enchant us but also the flavors. Around the clear waters and lush parks of Gun Lake, Michigan, there's a dynamic culinary scene eager to treat your taste buds to the genuine flavors of local gastronomy. Let's embark on a mouth-watering adventure around Gun Lake.
Starting with the heartbeat of the local dining scene, the Sand Bar and Grill. The Sand Bar and Grill is a family-friendly place is famed for its selection of burgers and pizzas. Situated right on the lake, nothing beats chowing down on their famous Lake Burger whilst enjoying the stunning views.
No visit to West Michigan is complete without savoring a fresh, farm-to-table spread. The Gilmore Collection is here for this purpose, offering a menu that reflects the seasonal diversity of Michigan's agriculture. So, whether it's juicy summer berry pies or hearty winter stews, your palate will get a genuine taste of the region.
Time for a detour. Just a stone's throw away from Gun Lake, in Middleville, you'll find the Gun Lake Casino. A place where the aroma of sizzling steaks from Sandhill Cafe mingles with the thrilling jingle of the slot machines to create an unforgettable experience packed with excitement and flavor.
In all corners of this serene and beautiful locale, you'll find a delicacy waiting to steal your heart, a flavor beckoning to awaken your senses. One can enjoy the tranquil natural beauty of Gun Lake while relishing the warmth and comfort of the local cuisine. Isn't that why we travel, to unwrap each layer of a place, one experience at a time?
Let's toast to the food roads untravelled and the journeys yet to be savored here at Gun Lake, Michigan!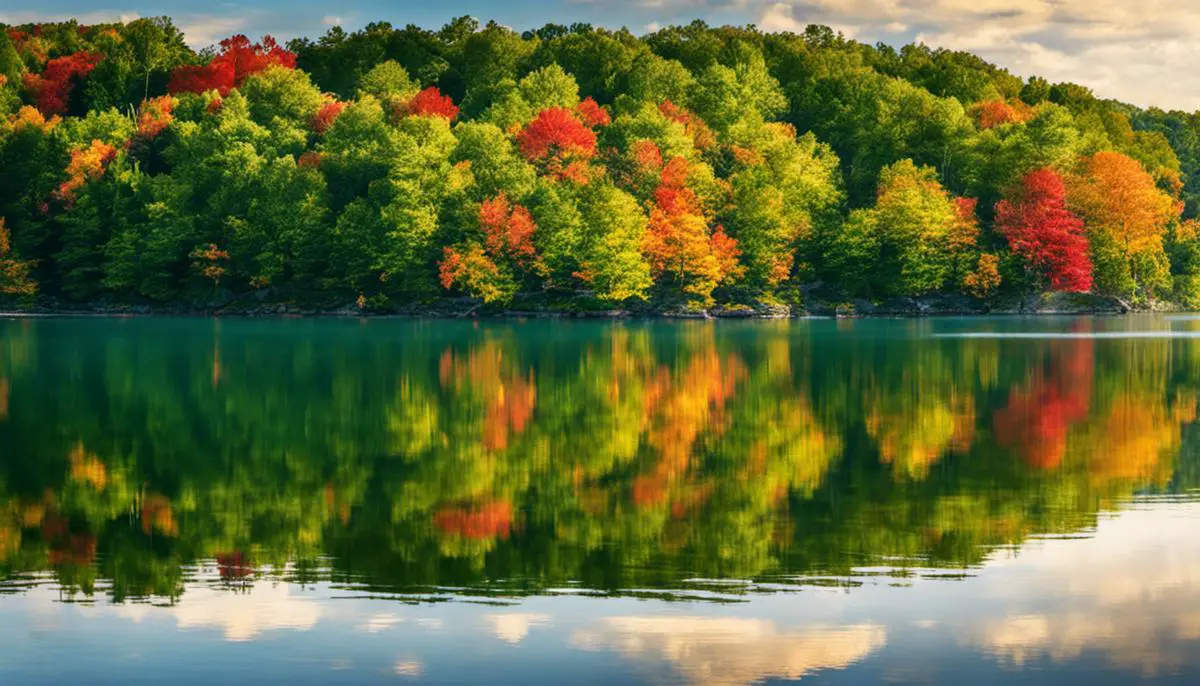 Accommodation Options Around Gun Lake
Venturing into the heart of Michigan, one surely cannot miss the allure of Gun Lake – a place where adventure and tranquility collide. The sparkling waters and the stunning countryside call out to the wanderer's heart, promising an unforgettable escape that is tinged with the magic of nature. Armed with previous insights into the mesmerizing beauty of Gun Lake, let's explore the best spots for a cozy stay.
First in line is the Bay Pointe Inn Lakefront Resort. With its private balconies overlooking the lake, it offers a picturesque view paired with luxury. This resort not only guarantees an intimate rendezvous with nature but also seeks to indulge its guests with plush amenities and excellent hospitality services. It is the perfect destination for those who love the blend of comfort and adventure.
Next on our list is the Gun Lake Cottage Rentals, a haven for those who love the simplicity of cottage living. Wake up to the melodious birds chirping along the shoreline, soak in the mesmerizing sunsets, or lounge on their private dock; the charm of these cottages is in their ability to offer a home-like feel while being away from home.
For those who seek to nomadically reside amidst nature, the Gun Lake Campgrounds provide an ideal choice. Here, setting up a camp under a clear, star-lit sky becomes an unforgettable memory. The whispering Willows Campground captivates with its fairy-like illuminated surroundings during the night, making it unique among the many campgrounds.
If one prefers a more spacious and private set-up, the Gun Lake Vacation Homes and Log Cabins offer the privilege of a secluded vacation. Enhanced by their rustic charm, these log cabins are designed to offer a sylvan experience in the heart of the woods with all the modern facilities.
Back to civilization, the Country Inn & Suites by Radisson promotes a cozy stay away from the wilderness. With its heated pool and modern suites, it surely caters to the comfort seekers. It's an excellent choice for those who want to experience the beauty of Gun Lake but also appreciate the convenience and amenities of city life.
Last but not least, the finest of all is hidden in the green territory of Gun Lake – too silence-inspired for a placard – the Hidden Ridge RV Resort. With its secluded RV spots, complete with full hook-ups and well-groomed landscaping, this place gloriously masks the division between the organic and the synthetic, fascinating the true nomad within us.
Thus, Michigan Gun Lake, with its eclectic lodging options, makes a fitting retreat for every traveling heart seeking to engage with nature and appreciate life at a serene pace. No matter what kind of accommodation you prefer – be it a resort, cottage, campground, vacation home, city hotel, or RV Resort – there is a slice of paradise waiting to welcome you at Gun Lake. And as whispers of this Michigan oasis continue to be passed down between nomads alike, we hope you too find your peace amidst its serene corners. Wander well, fellow explorers!
Gun Lake Michigan Weather
Final Thoughts About Gun Lake Michigan
Few places embody the spellbinding convergence of tranquility and thrill as elegantly as Gun Lake does. Its sweeping shoreline promises hours of tranquil contemplation and leisure, while its offering of outdoor activities breathes excitement into the grandeur of nature. Embracing Michigan's culinary diversity, Gun Lake's local eateries extend the promise of tantalizing gastronomical journeys. Furthermore, the spectrum of accommodation choices ranging from luxury hotels to homely cabins, underscores Gun Lake's commitment to cater to every lifestyle and budget. Gun Lake, indeed, epitomizes a destination cocooning myriad experiences within its realm, promising a memorable, enriching sojourn.
Related Reading
Exploring Banff Hot Springs at the Cave & Basin National Historic Site – 2 Steamy Pools Of Wonder
6 Top Attractions near Manistique Michigan Not To Miss
Michigan Boat Tours – Experience A Real Taste of the Great Lakes With 35 of The Best
Discover Lexington MI: 15 Must-Do Activities in a Charming Lakeside Town