Emerging from the depths of Michigan's Upper Peninsula, Kitch-iti-kipi Spring offers a mesmerizing blend of natural beauty, rich history, and unique visitor experiences. Bestowed with the honor of being Michigan's largest natural freshwater spring, Kitch-iti-kipi—often referred to as "The Big Spring"—enriches the environment with its crystal-clear water, verdant surroundings, voluminous flow, and intriguing underwater formations. This marvel is not just a geological wonder but also a canvas painting the cultural and historical stories of the region.
From ancient legends to its contemporary status as a popular tourist attraction, Kitch-iti-kipi presents an engaging saga that aligns seamlessly with the thrill and serenity it offers its visitors. Whether you're there for a ride on the self-operated observation raft, to relish the scenic views, or to partake in numerous recreational activities within nearby Palms Book State Park, Kitch-iti-kipi promises an unforgettable experience.
Table of Contents
The Natural Beauty and Features of Kitch-iti-kipi Spring
The Crystal Clear Waters of Kitch-iti-kipi Spring
Kitch-iti-kipi Spring is known for its stunningly clear water, boasting year-round visibility extending to an impressive 45 feet deep. This allows visitors to easily view the unique underwater features, including ancient tree trunks, swirling sand, and schools of enormous trout navigating through the crisp spring currents. One of the main attractions of the site is the self-operated observation raft equipped with a viewing window at its center, which traverses the spring, allowing visitors a close-up view of deep underwater formations and marine life.
Lush Environs of Kitch-iti-kipi Spring
The spring is ensconced in a lush environment that provides visitors with a feast for the senses all year round. Bordered by mature evergreen trees, Kitch-iti-kipi Spring is located within Palms Book State Park, a verdantly populated area in Michigan's Upper Peninsula. As visitors approach the spring, they are greeted by the sound of leaves rustling in the wind, chirping birds, and the soft murmur of flowing water. The park's walking trails offer a tranquil, immersive experience in nature, dotted with benches for those wishing to sit, relax, and absorb the stunning setting.
Voluminous Flow of Kitch-iti-kipi Spring
The spring is notable for its voluminous flow—it discharges over 10,000 gallons of freshwater per minute at a constant temperature of 45 degrees Fahrenheit. This impressive outflow arises from fissures in the underlying limestone, feeding the spring with a continuous supply of mineral-rich water. The constant temperature contributes to the spring's vibrant ecosystem, supporting various forms of aquatic life, including brook trout and brown trout, which are a favorite among visiting bird species.
Unique Underwater Formations at Kitch-iti-kipi Spring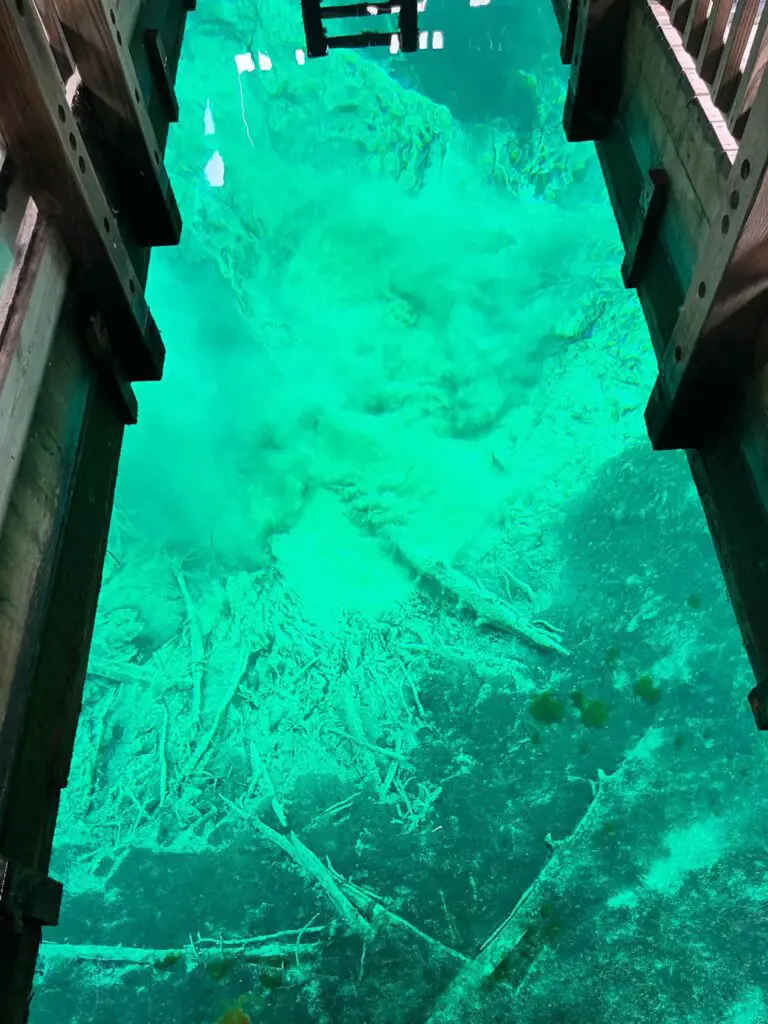 Adding another layer of beauty to Kitch-iti-kipi Spring are the unique underwater geological formations. Aquamarine pools of underground spring water can be seen bubbling up from the sandy bottom, creating fascinating and peculiar patterns. The sand boils, caused by the pressure of the incoming spring water, display a hypnotic light show on the floor of the spring as they mingle with the sunlight filtering through the crystalline water above.
Explore the Wonders of Kitch-iti-kipi Spring
Located in Michigan's Upper Peninsula, Kitch-iti-kipi Spring is a natural haven that captivates visitors with its pristine waters, lush surroundings, and unique geological formations. More than just a natural spring, Kitch-iti-kipi exudes an air of tranquility and serves as a living exhibition of natural art. From underwater viewings and hiking trails to simply soaking in the serene environment, this awe-inspiring spring promises an unforgettable experience for nature enthusiasts of all ages.
The Rich History and Legends of Kitch-iti-kipi
Gateway to the Past: The Legend of Kitch-iti-kipi
Nestled within Palms Book State Park lies Kitch-iti-kipi, fondly known as "The Big Spring." Revered in Native American oral traditions for generations, this ancient freshwater spring tells countless narratives, each one more fascinating than the last. In the Ojibwe language, "Kitch-iti-kipi" is translated as "big cold water," although interpretations such as "great water" or "reflective waters" are also used. This sacred name reflects the deep significance of this enchanting spring, illuminating its majesty and charm.
Legends and Local Folklore
One legend associated with the spring tells of a young Chippewa brave who propositioned a maiden from his tribe, promising to disclose the location of the miraculous spring that supposedly granted eternal life and youth. The maiden, out of fear and thinking the brave was trying to deceive her, pushed him over a raft into the spring. Consumed by guilt and sorrow, she confessed what she had done and the spring was termed "Kitch-iti-kipi" in memory of the fallen brave.
The Discovery of Kitch-iti-kipi
The modern discovery of Kitch-iti-kipi Spring involves John I. Bellaire. In the early 1920s, Bellaire, an enterprising native of Thompson, Michigan, saw potential in the untapped beauty and magnificence of the spring. After corresponding with the local conservationists and the state of Michigan, he secured tangible protection for the area that included the spring, eventually resulting in the formation of Palms Book State Park in 1928.
Kitch-iti-kipi as a Tourist Attraction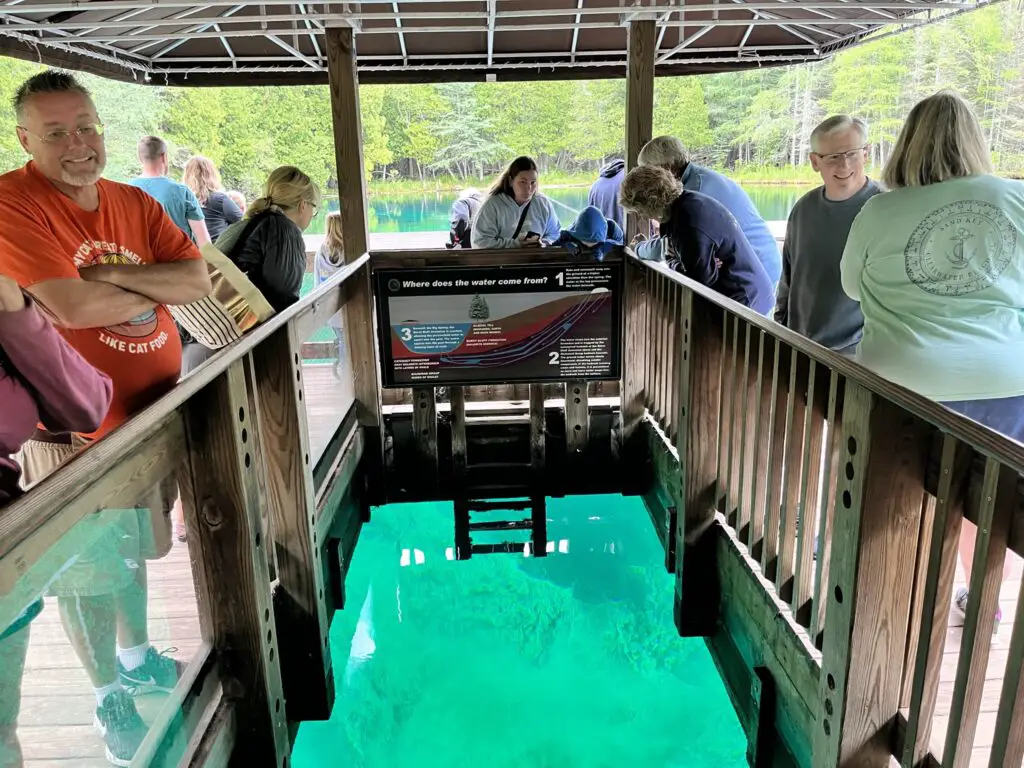 Today, Kitch-iti-kipi continues to bewitch visitors with its enchanting beauty. The spring measures about 200 feet across and 40 feet deep, with an impressive flow of 10,000 gallons of water per minute. A unique aspect of the spring is its self-operated observation raft, which allows visitors to peer into the crystal-clear depths and view the underwater features and functioning, ancient tree trunks, venturing fish, and the continuous play of sand-fountains due to erupting springs beneath the bed.
Cultural Significance and Conservation
The Kitch-iti-kipi Spring is steeped in cultural relevance and natural charm. Its existence today stands as a reflection of effective conservation initiatives and a gift handed down from Native Americans to the denizens of Michigan in the present day. With folklore of everlasting life and crystal-clear waters that enchant its onlookers, the Kitch-iti-kipi Spring encapsulates a vibrant legacy, delivering an indelible impression on all who venture its way.
Visitor Experiences and Activities at Kitch-iti-kipi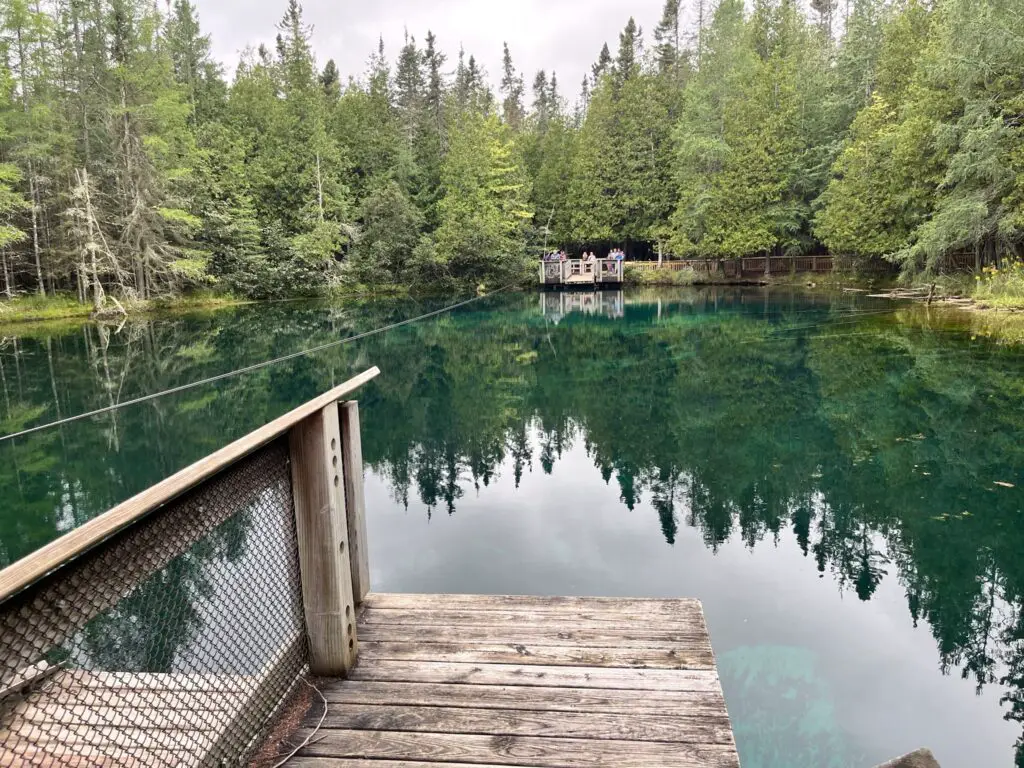 Experiencing Kitch-iti-kipi: A Natural Marvel
Encased within Palms Book State Park, Kitch-iti-kipi shines as Michigan's most expansive freshwater spring, extending its visitors an exceptional journey laden with natural aesthetics and wonder. The spring sustains a constant temperature of 45 degrees, and the transparent nature of its waters reveals the spectacular spectacle of ancient limestone structures beneath, accompanied by the vibrant trout that call the spring home.
Self-Operated Observation Raft
One of the truly unique attractions at Kitch-iti-kipi is the self-operated observation raft. This large, floating platform is equipped with a viewing well in the center and a simple, self-propelled cable system for navigation. It allows visitors to cross over the 200-foot wide spring, offering an unparalleled view of the crystal clear waters beneath their feet. Sightseers can observe the dancing sand, propelled upward by the spring's constant flow, and glimpse into the depth of the spring that reaches 40 feet.
Scenic Views
The encompassing area around Kitch-iti-kipi offers breathtaking scenic views. Clear blue waters set against a backdrop of beautiful pines, birches, and other local vegetation make for amazing photo opportunities. The changing seasons paint the landscape with a variety of hues, from the vibrant green of spring and summer to the gold and russet tones of fall, and the stark, quiet beauty of winter, offering a captivating spectacle year-round.
Picnicking Opportunities
There are picnic tables and grills available for visitors who want to enjoy a scenic outdoor picnic. The picturesque beauty of the area dotted with the colors of wildflowers and the sound of chirping birds provides a serene ambience for a relaxing lunch amidst nature. The picnic amenities are well maintained, making for a comfortable and enjoyable outdoor meal experience.
Photography and Recreational Activities
Kitch-iti-kipi provides a glorious backdrop for photographers. The stark contrast of the pristine turquoise water, vibrant local flora, and the teeming fauna provides endless opportunities for stunning nature and wildlife photography.
For visitors who enjoy an active experience, Palms Book State Park offers a variety of outdoor recreational activities. While swimming in the spring isn't allowed, there are other nearby locations suitable for swimming. Hiking trails through the woods offer tranquil forest scenes and an opportunity to spot local wildlife. While, during the winter months, snowmobiling is a popular activity.
Exploring Palms Book State Park
Aside from Kitch-iti-kipi, Palms Book State Park offers other attractions. The park is an ideal location for bird watching, fishing and boating, as well as snowshoeing and cross-country skiing in the winter. The park's verdant forests and variety of wildlife species offer guests an immersive nature experience.
In the nearby town of Lakefield
Visitors can find accommodations, dining options, local shops and other facilities. With its own unique attractions and small-town charm, it's the perfect complement to Kitch-iti-kipi's natural splendor.
Final Thoughts About Kitch-iti-kipi Spring
Kitch-iti-kipi Spring truly encompasses the exceptional combination of stunning natural aesthetics, rich cultural history, and engaging visitor experiences. The tranquil water produces not just awe-inspiring vistas but also gives life to a diverse array of underwater formations that intrigue and delight. History echoes through every ripple, remembering the Native American culture, narratives, and legends that are integral to the area's identity. Today, as visitors embark on their self-guided raft ride, picnic amidst nature's bounty, or capture the spring's ethereal beauty in their lens, they're not just partaking in a recreational activity, but also immersing themselves in a narrative thousands of years in the making. Kitch-iti-kipi Spring, thus, offers more than just an opportunity to explore and appreciate nature—it offers the chance to experience and appreciate a living story, a captivating history, and an environment that inspires both awe and respect for the world's natural wonders.
Related Reading
Discover Lexington MI: 15 Must-Do Activities in a Charming Lakeside Town
6 Top Attractions near Manistique Michigan Not To Miss