Regarding the food world, one state tends to steal the show. No, not California — you're thinking of a different kind of "show." We're talking about famous Ohio foods. Her grueling love for many classic dishes brings national acclaim and significant hunger pangs in honor of being a foodie state that is second only to Michigan with a great selection of favorite hometown foods. But with Ohio, these favorites tend to circle a few select goodies.
If you've ever wondered what Ohio is famous for, its food is part of that discussion. How the culture of a state shaped its culinary creations, we're here to shine a spotlight on what makes those menus unique. These 20 Ohio foods have everything from real-deal recipes to unheard-of flavors, but they all have big claims to fame.
What We Will Be Covering
Images on this page may contain affiliate links in which we may receive a commission. See our affiliate disclosure for details.
Famous Ohio Foods – Buckeye Candy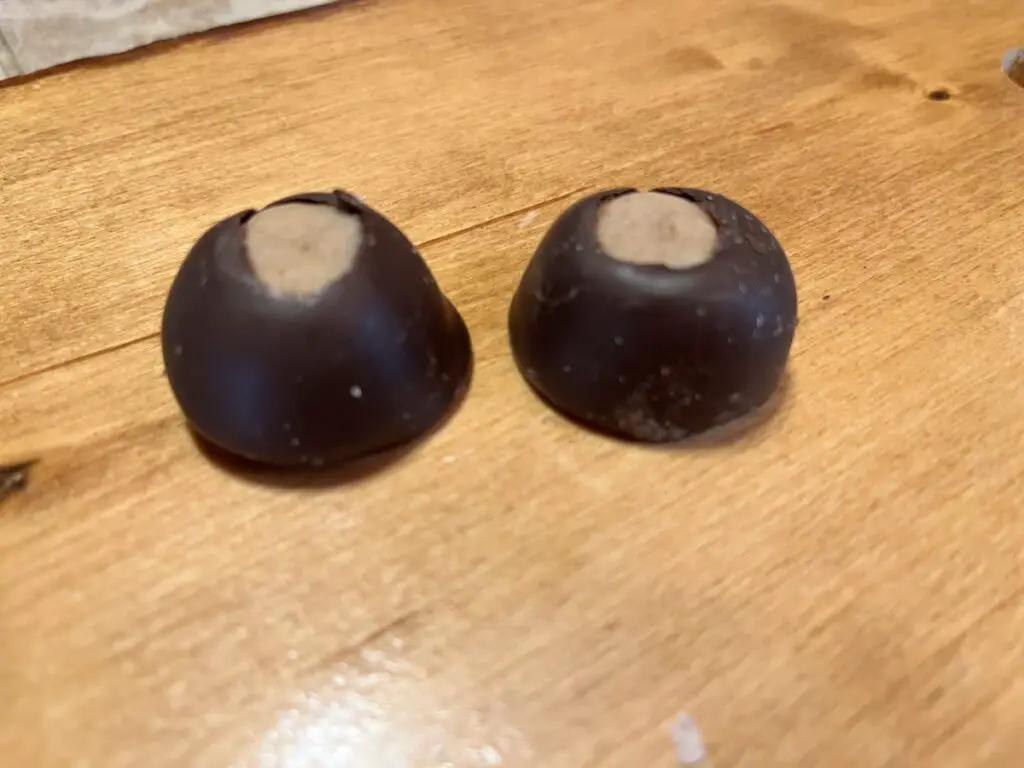 This is one of those iconic Ohio foods everyone loves. It is a candy treat with a name and an appearance reminiscent of its namesake, the buckeye. The buckeye nut is the state nut of Ohio and is the seed from the buckeye tree. It's brown on the outside, with a lighter brown or tan spot in the center that looks like a large pupil in an eye.
Buckeye Candy consists of a combination of peanut butter covered with chocolate intended to resemble the buckeye nut.
The buckeye candy has been a regional favorite in Ohio for many years, but it can be made anywhere because of its simple ingredients. Buckeyes are generally made with peanut butter and powdered sugar, then dipped in melted chocolate. The chocolate should cover all but a small portion on the top left exposed to resemble the actual buckeye nut.
The candy was named after the nut because it resembles it so closely. It takes quite an eye to see that it's not an actual nut when placed with nuts from other trees.
Goetta Sausage – Once a Poor Man's Food, Now A Ohio Breakfast Treat
The German-inspired delicacy is steel-cut oats and ground pork (or beef and pork). It's sliced thin and griddle-cooked till excellent and crispy. It's a regional specialty in Cincinnati, served with eggs, but it originates in Germany, where quick-cooking grains were mixed with meat to stretch meals for large families.
In the 17th century, German peasants comprised about 95 percent of the population. Life was rough for these poor souls. The Thirty Years War left an estimated 60 to 80 percent of the population dead from battle casualties, famine, and disease. Farmers began combining oats with meat to stave off starvation to make a kind of poor man's sausage.
The Germans who immigrated to America brought their recipes, including the one for Goetta. They were attracted to Cincinnati because of its location on the Ohio River. The river meant easy transporting grain products like oats out of Ohio and into ports along the Mississippi River.
Goetta was first produced in Cincinnati by Charles Glier Sr., who came to the U.S. in 1828 at age 16 from Großweitzsc. This is one of those Ohio foods that is not found elsewhere.
---
Click>> The Best Foods From Minnesota That You Are Likely Missing
---
Ohio's Cheese Coneys – Uniquely Ohioian Twist On A Regional Favorite
A true Skyline Coney is covered with Cincinnati chili, a sweetish spiced meat sauce based on a Greek recipe brought to Ohio by Macedonian immigrants in the 1920s. The original secret Skyline Chili recipe was developed by Nicholas Lambrinides in 1922 and is known only to a few people who work at Skyline Chili.
A Coney Island hot dog is an all-beef hot dog in a steamed bun, topped with Cincinnati-style chili, diced onions, and shredded cheddar cheese (a "cheese coney"). Cincinnati chili is often used as a spaghetti sauce, but it also serves as the base for ordering coneys. A "two-way," which is includes chili and cheese, and a "three-way," which adds either onions or beans. A "four-way" consists of all three toppings, while a "five-way" adds chopped raw onions. This is one of those Ohio foods that can compete for head-to-head with a Detriot, Jackson, Flint, or Kalamazoo coney.
Tony Packo's Hungarian Hot Dogs – A Famous Toledo Institution
It all started with a simple hot dog.
Tony Packo has been serving authentic Hungarian food in the Toledo area since 1932. They are one of the Ohio food brands that many people across the US know. They've grown from a single hot dog stand to a local icon, and Tony Packo's Inc. now consists of two full-service restaurants and one quick-service restaurant. They offer everything from Sweet Hot Pickles to the signature Packo's Chili Hot dogs.
You can find Tony Packo's restaurants all over Toledo and the surrounding area. You can also buy Tony Packo's products in stores throughout Ohio. The company has also been featured on M*A*S*H and the Food Network show "Diners, Drive-ins, and Dives."
Tony Packo is known for signing hot dog buns from celebrities displayed on its walls and autographed hot dog bun covers from sports teams. This is of those Ohio foods that must be sampled when traveling up I-75 into Michigan.
Skyline's Cincinnati Chili – Chocolate and Cinnamon – Yum!
One of the top Ohio foods can be found in Cincinnati. The city is known for its unique version of chili. The difference from the chili you may be used to lies in the fact that it's made without tomatoes, beans, or unusual spices. Skyline is known for containing both chocolate and cinnamon and being served over unseasoned spaghetti with a giant mountain of unnaturally orange, shredded cheddar cheese thrown on top. If you sit and think about how those flavors might mix, though, especially with the addition of hot sauce, you'll start to see how good something so misunderstood can be.
Cincinnati-style chili had existed since 1922, when Macedonian immigrant Tom Kiradjieff opened his first chili parlor in downtown Cincinnati. His secret recipe was based on one he brought from Bursa, Turkey. It became such a big hit that by 1949, he had opened five more stalls in the city. After he died in 1962, his wife sold the business to her nephews — John and Jim Kiradjieff — who operated nine Skyline restaurants by 1968. Now there are nearly 100 locations throughout Ohio and surrounding states, and their cans of chili in grocery stores nationwide.
You have probably seen the vast signs on I-75 as you traverse Ohio to Florida. The Gold Star Chili seems to be the standard-bearer for this iconic Ohioan dish. Lean ground beef, sweet onions, and tomato sauce are common ingredients in Cincinnati chili recipes. However, the way the meat is prepared and seasoned distinguishes it. Cincinnati Chili is made using a unique spice combination that combines the sweetness of cinnamon, cocoa powder, and allspice with the heat of garlic, chili pepper, paprika, and cumin. Gold Star is designated as the official chili of the Cincinnati Bengals professional football team.
The chili is typically served on top of spaghetti with oyster crackers and either shredded cheddar cheese ("two-way") or beans ("three-way"). Onions can be requested to make it a "four-way," If both cheese and onions are added, it's called a "five-way."
Cleveland's Polish Boy – Ohio's Version of a Chicago-Style Hot Dog
If you wonder what food is Cleveland, Ohio, is known for, this is it. While the Polish Boy is widely available throughout Cleveland, there are a few notable places where it is prevalent. The kielbasa sausage used in a Polish Boy is similar to a hot dog, with a casing designed to be grilled or quickly deep-fried. It is also identical to the Vienna Beef sausages served at Chicago-style hot dog stands, except it is typically longer and thinner than what is usually served on a Chicago-style hot dog.
The bun used for a Polish Boy is also longer than a standard hot dog bun. The length of the bread varies from vendor to vendor, but it can range from 10 inches to 18 inches; some vendors will even offer 24-inch sandwiches. The french fries used for the sandwich are classic diner fries that are approximately 1/4 inch thick and 3 inches long.
The coleslaw used for the sandwich can vary in texture depending on the much-shredded cabbage included with the mayonnaise dressing. Some establishments will use finely shredded cabbage, while others mostly dress with a few cabbage shreds.
NORKA Soda – Don't Call It Pop! (That's A Faygo Word)
The NORKA Beverage Company was founded in 1924 by Albert J. Schumacher and his wife, Helen, who started the company in their basement in Akron, Ohio. The company's first product, NORKA Cherry-Strawberry Soda, was an instant success when soft drink options were limited. To keep up with the demand for NORKA Soda, the Schumacher family moved production to a building on South Main Street in Akron. Then, when the business grew, they built a larger facility on North Howard Street in Akron.
In 1926, NORKA Orange Soda was created due to feedback from consumers. Later that year, the company introduced Ginger Ale and Root Beer flavors to complete its soda line. NORKA Sparkling Beverages were sold through home delivery and soda fountains throughout Northeastern Ohio until 1970, when they became widely available at retail stores.
---
More Books About Famous Ohio Foods You Can Get on Amazon
Images on this page may contain affiliate links in which we may receive a commission. See our affiliate disclosure for details.
---
Fried Lake Perch – A Tasty Bounty From Lake Erie
Ohio only has one Great Lake to make up a good part of its northern border; Lake Erie. This shallow lake is known for its ability to create lake-effect snow that gets dumped in upstate New York. However, this wonderful lake is also known for its abundant supply of yummy yellow perch. 
Perch from Ohio is caught and shipped all over the midwest. The perch's popularity started in the early 1900s when Catholic immigrants followed the church mandate not to eat meat on Fridays. As a result, local churches, taverns, and clubs held Friday fish fries during Lent, and they have been held ever since. 
Baby Swiss Cheese – Small and Savory
Baby Swiss cheese was created in the mid-1960s near Charm, Ohio, by the Guggisberg Cheese Company, owned by Alfred Guggisberg. The cheese has a mild flavor with a slight tang and is characterized by tiny holes that form as it ages. In addition to regular Baby Swiss cheese, Guggisberg produces smoked, onion and chive, and garlic varieties.
Baby Swiss differs from regular Swiss cheese because it has larger holes and a sweeter taste. It was created to appeal to American tastes, which prefer mild cheeses. Baby Swiss is generally made from pasteurized cow's milk and contains about 45% butterfat.
Barberton-Style Chicken – Southern Influence on an Ohio Favorite
Barberton chicken, also known as Serbian fried chicken, is a style of fried chicken native to the city of Barberton in Summit County, Ohio. It is a distinctive Serbian-American style served in several mainly Serbian-owned restaurants in Barberton, nearby Norton, and increasingly in other surrounding communities.
Belgrade Gardens was the earliest known restaurant to serve Barberton-style fried chicken, which opened on October 13, 1938. Belgrade Gardens and the many other restaurants that followed it serve food in Southern Serbia's style, including ćevapčići, a famous grilled sausage sandwich.
The specialty at all of these restaurants is marinated chicken fried or baked chicken and served with hot sauce and french fries. The marinade is based on vinegar and other seasonings. In addition to the signature chicken dish, these restaurants offer similar dishes made from beef or pork and conventional side dishes such as mashed potatoes, gravy, coleslaw, and green beans.
Sauerkraut Balls – Perfect for Tailgating
Sauerkraut balls were invented in Akron, Ohio, and in many restaurants around Akron, a favorite hors d'oeuvre is a sauerkraut ball. It's a small sphere of sauerkraut and ground-up meat that is breaded and deep-fried, like mozzarella Arancini (Italian rice ball), but with the tang of sauerkraut. The dish's origin is unknown, but it's been popular since the 1970s.
The story goes that John Loyack developed the recipe for the sauerkraut ball at the Palace Barbecue. He came up with the idea of this weird Ohio food when he found some leftover kraut sitting around one day and decided to try to use it up. So he combined it with hamburger meat, bread crumbs, and spices, formed it into balls, and fried them up. This is one of those Ohio foods that seems only be found within the buckeye state.
Klondike Ice Cream Bar – Yep! Ohio Invented It
The Klondike Ice Cream Bar is a delicious dessert bar with a considerable chunk of creamy vanilla ice cream dipped to create a thick chocolate shell. This sweet snack has existed for more than 100 years and is still as popular today as it was first made.
The Klondike Ice Cream Bar was invented in Ohio by dairy farmers who wanted to create an ice cream treat that could be eaten with one hand. The Klondike name came from the gold rush in Alaska in the late 1890s. The Olympia Candy Kitchen produced the ice cream bar and Soda Fountain Company in Columbus, Ohio, was purchased by Good Humor-Breyers and continued production under that name. Unilever bought Breyer's ice cream lines and began producing the Klondike bars under their name.
Ohio City Chicken – Even For Breakfast
This famous entre isn't even chicken, but a pork cutlet. City chicken was born during the Great Depression in the 1930s when eating chicken was considered an extravagance most working folks couldn't afford. Chickens were for laying eggs. The pork is pounded into cutlet-sized pieces, skewered, breaded, and baked with a drippings-based gravy. The golden-brown result looks and kind of tastes like fried chicken. City Chicken is on the menu at some breakfast places in Ohio and the midwest. 
Corn Chewing Gum – Don't Knock It Til You Try It
Although chewing gum had been used for thousands of years, Tyler, a Toledo, Ohio citizen, was the first to patent it in the United States. Amos Tyler got the first patent, "Improved chewing-gum compound," on July 27, 1869. Tyler's gum was made from white rosin and cooking oil, which he heated and carefully combined. When the mixture cooled, it turned white. Tyler then stretched the concoction, cut it into sticks, and packaged it for sale and usage. 
The Shelby Gum Company in Shelby, Ohio, claims to have created the world's first bubble gum in 1925.
Shaker Lemon Pie – A Simple and Loved Summer Dessert
The Shakers were a collaborative group of religious people living in colonies known for their hard work, simplicity, and craftsmanship. The recipe for this pie is said to have originated in the 18th century in the Mount Lebanon community in New York.
Shaker Lemon Pie is a custard pie that is both tart and sweet at the same time. We describe Shaker Lemon Pie as a bright citrus pie with full-on lemony goodness. This dessert pie has a texture that's a cross between lemon curd and marmalade.
The recipe is easy to make. You whisk together eggs, sugar, lemon juice, zest, salt, butter, and cream. Even though this pie is sweet, it has more than twice as much lemon juice as sugar. This means you get loads of bright lemony flavor without all the sweetness typical of lemon meringue or tart lemon pies made with only lemon juice and sugar for a filling.
Ohio Pawpaw – Loved By George Washington
The pawpaw, America's most giant tree fruit, may be found in southeast Ohio. George Washington's favorite dessert was the pawpaw. The pulp tastes like a creamy cross between tropical fruits like a mango. Every year, an Ohio pawpaw festival celebrates the fruit.
The pawpaw is about the size of a mango and tastes like it, too, except for one thing: It doesn't taste like anything else. Its flavor is elusive, difficult to describe, and hard to place. The best way to explain it might be as a banana-mango-custard pineapple with bubble gum, papaya, and pineapple sorbet hints.
That may sound unappealing, but the folks who grow them say they're delicious and deserve to be more widely known. A few chefs in Cincinnati agreed. So the pawpaw is getting a culinary makeover, showing up in everything from flan to ice cream.
Honorable Mentions
These are not specific foods but famous brands well known in Ohio. Therefore, they deserve recognition as representing what foods Ohio is famous for in the buckeye state. 
Slyman's Corned Beef
Slyman's Corned Beef from Slyman's Tavern continues a beautiful Cleveland legacy, the original Slyman's Restaurant in downtown Cleveland. Opened in 1964, Slymans' has become a Cleveland staple, loved and respected by all who come to enjoy the most extensive and best-corned beef sandwich.
A Frisch's Big Boy
A Frisch's Big Boy is a regional Big Boy restaurant chain headquartered in Cincinnati, Ohio. Although for many years, a Big Boy franchisee, in 2001, Frisch became the exclusive owner of the Big Boy trademark in Indiana, Kentucky, and most of Ohio and Tennessee and is no longer affiliated with Big Boy Restaurant Group. It operates over 100 restaurants in these states. Founder David Frisch opened the first location on October 5, 1939.
Frisch's is known for its "Big Boy" hamburger, a double-decker sandwich introduced by Bob Wian in 1936. Since the company was founded, it has been a staple on the menu at Frisch's restaurants. The sandwich includes two thin hamburger patties with lettuce, a single slice of American cheese, and a special sauce (a variant of Thousand Island dressing) on a toasted bun.
Montgomery Inn Ribs
Montgomery Inn was initially opened in 1951 by Ted Gregory took over McCabe's Inn in Montgomery, Ohio. The Gregory family just celebrated their 70th anniversary of operation. Based in the Cincinnati neighborhood of Montgomery, Ohio, this family-owned barbecue restaurant franchise is well known for its specialty loin baby back ribs and house-made BBQ sauce.
Kaiser Pickles
The Kaiser Pickle Company was established in 1941. The company produces a full line of peppers, savory pickles,  and relishes. Currently, the company produces in excess of over 90 million pounds of pickles and peppers each year.
Kaiser Pickles' products are distributed throughout Ohio, Kentucky, and Indiana. They are sold in independent grocery stores and Kroger and Meijer stores. Kaiser Pickles is located in Toledo, Ohio.
FAQ On Famous Ohio Foods
Related Reading Like Ohio Foods, Only Better!
7 Fantastic Michigan Food Companies Not To Overlook
Gibby's Fries – A Favorite Michigan Comfort Food
10 Michigan Hometown Foods That Scream You're From Michigan
Superman Ice Cream: 6 Crazy Questions About The History Of Michigan's Favorite Frozen Treat