In Part One of our Michigan Day Trip Around the Thumb, we traveled from Port Huron up the eastern shore of Lake Huron to the tip of the Thumb. Grindstone City is our starting point for the second half of our fun day trips in Michigan adventure. We will begin heading west along Saginaw Bay's shore of sugar sand beaches and interesting coastal towns and villages. I hope you brought your bathing suit because this side of the Thumb offers some of the best swimming beaches in Michigan.
Table of Contents
Map Route Of Our Best Day Trip In Michigan
A – Grindstone City Harbor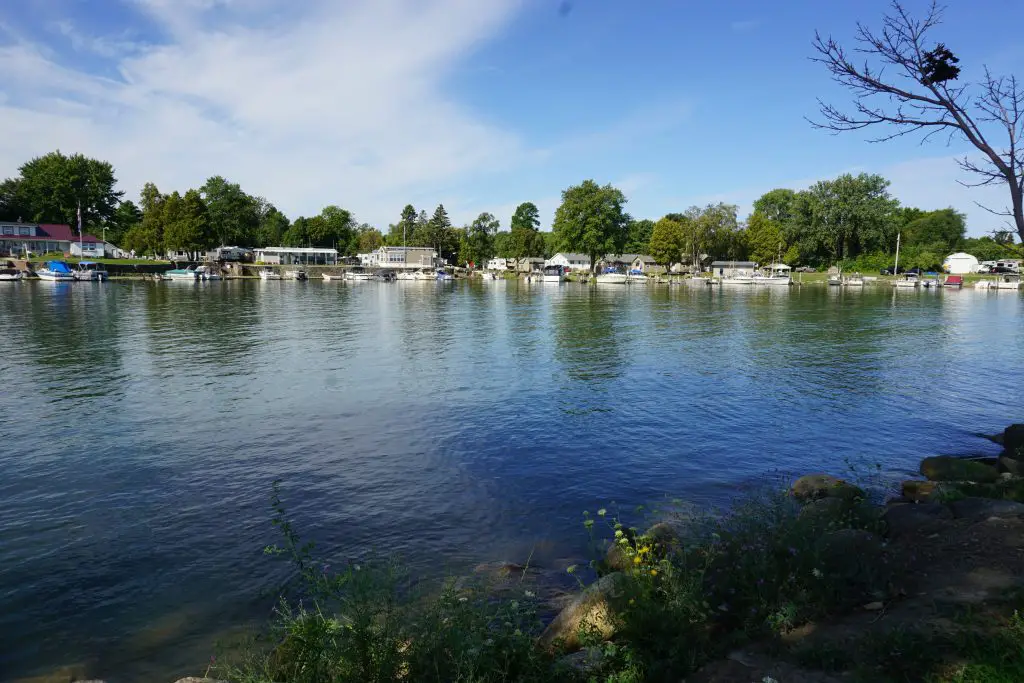 Since this is the second part of our Day Trips in Michigan story, our starting point is Grindstone City's harbor. This is the only natural harbor on the shore of Lake Huron in the Thumb. The other local harbors are man-made, such as the huge Harbor Beach, the largest freshwater harbor in the world. Or developed from river outlets such as Port Austin's Bird Creek and Caseville's Pigeon River.
The road and pier of this small harbor was once the operation of the Grindstone City Stone Mill. There was a railway spur that took the huge grindstones to ships waiting in the harbor for transport all over the world. If you're ready for a lunch break, Shelly's Bar and Grill is a great place to grab a carry-out order. It's one of our favorites. An adjacent party store is next to Shelly's for cold drinks and other supplies.
B – Port Austin History Center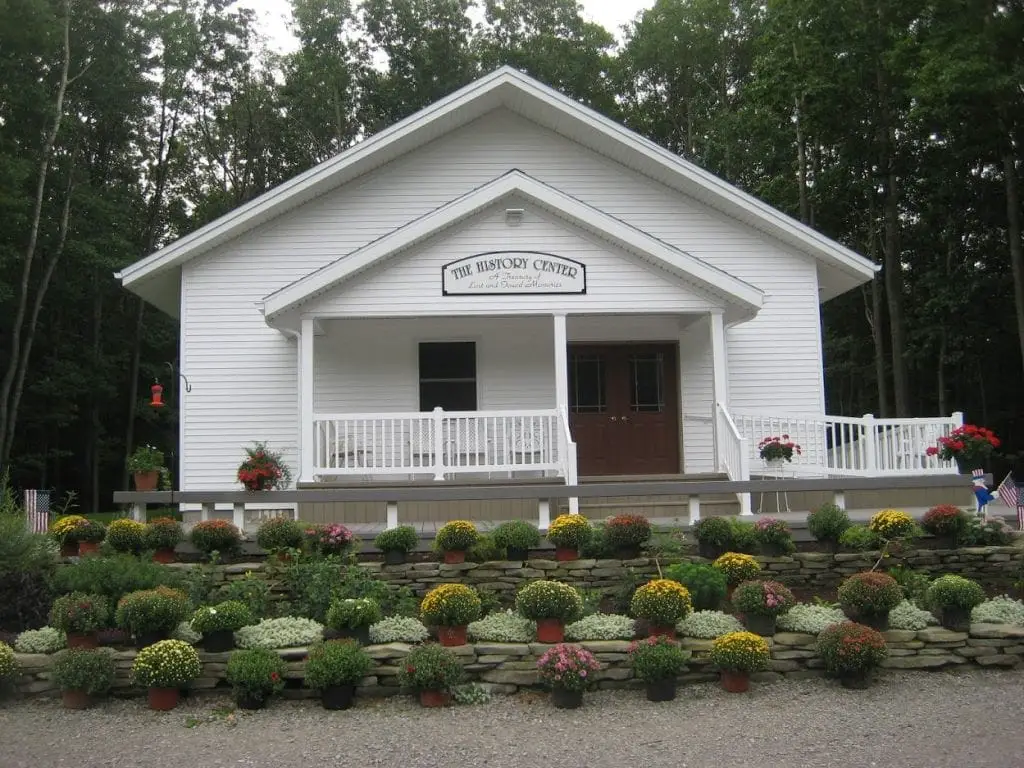 After lunch, we will begin our trip west, hugging the shoreline and taking Port Aux Barques Road to the Port Austin History Center. During the current coronavirus crisis, they are closed. However, they have an excellent outside display of pioneer log cabins and other historically interesting buildings. The Port Austin Historial Society is one of the most active in the area and they have events happening just about every week throughout the year and on most weekends. This is a spot to keep in mind for another visit when things return to normal in the future.
C – Veterans Waterfront Park Port Austin
This short stop affords great views of Port Austin Harbor. If the weather is nice and you have the time, consider stretching your legs with a walk along the long pier that extends out into the lake. This harbor is a recreational destination for watercraft and sailboats traversing Lake Huron and Saginaw Bay.
Two break walls guard the harbor, totaling approximately 3,400 feet in length. The harbor provides an ideal spot for kayakers to put into day trips to Turnip Rock and the iconic Broken Rocks. There are also charter boat services for fishing and mid-week tours during the summer season to Port Austin Lighthouse. When the weather is nice, and you are thinking of staying in the area, check out our things to do in Port Austin Michigan for great family adventure ideas.
D – Port Crescent State Park
This is a must-see of our stops in our day trips in Michigan series. This state park is one of the larger parks in southern Michigan. Located at the tip of Michigan's "Thumb" along three miles of sandy shoreline of Lake Huron Saginaw Bay, the park offers excellent fishing, canoeing, hiking, cross-country skiing, birding, and even hunting opportunities.
A little-known aspect of this park is that it sits in the location of a ghost town. Port Crescent prospered as a lumber town from about 1864 to 1881. One sawmill became so busy salvaging thousands of trees felled in one of the infamous fires experienced by the Midwest in 1871 that it added a 120-foot brick chimney to help power the plant. The remains of this chimney can be seen in the campground area.
To hike the trails on this former ghost lumber town and to see the magnificent views, go past the campground entrance and park next to the Buccaneer Inn. Walk across the iron bridge to access the walking trails. There is a nice trail sign at the bridge. Going straight back, you can peer out over the Pinnebog River and Saginaw Bay from high atop a sand dune.
E – Thompson Turnout Scenic Park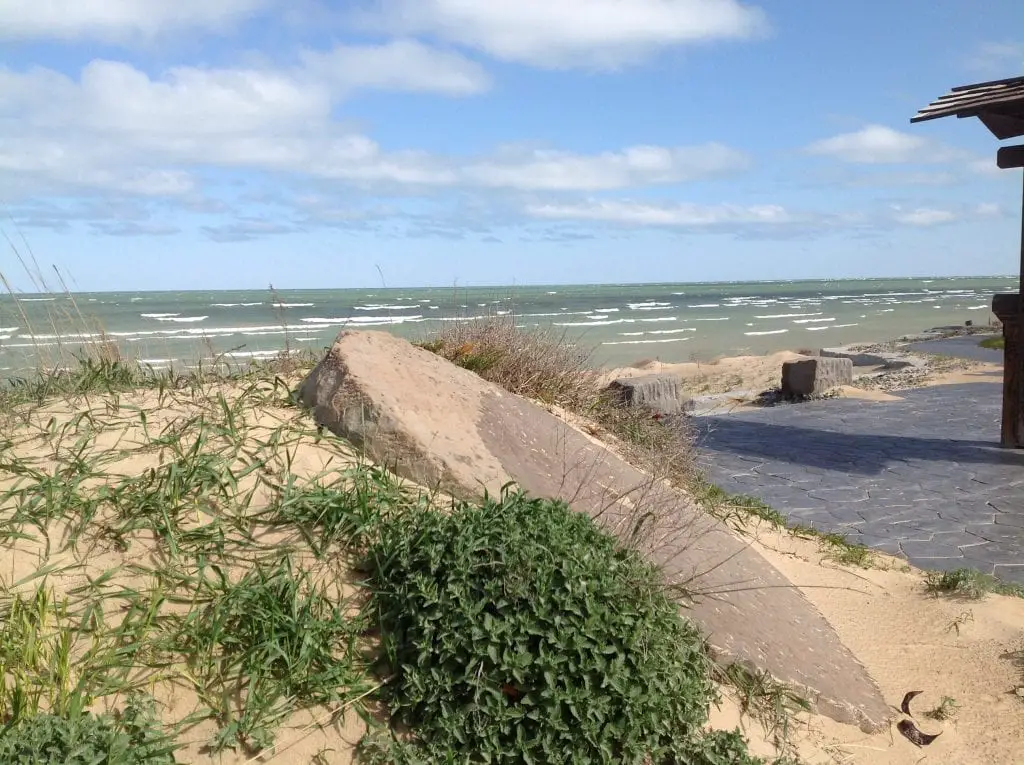 From Port Crescent State Park, head west on M-25 toward Caseville. Watch for signs for Thompson County Park. This small scenic park offers a commanding view of northern Saginaw Bay. Huge grindstones guard the shore down to the beach. This is a great spot for a selfie. If the weather is warm and you bring a bathing suit or shorts, take a wade and cool off. Unlike the big Great Lakes, Saginaw Bay is sandy, shallow, and has no undertow. So it's perfect for children learning to swim or being fearful of the water. However, keep an eye on the little ones.
F – Caseville Pier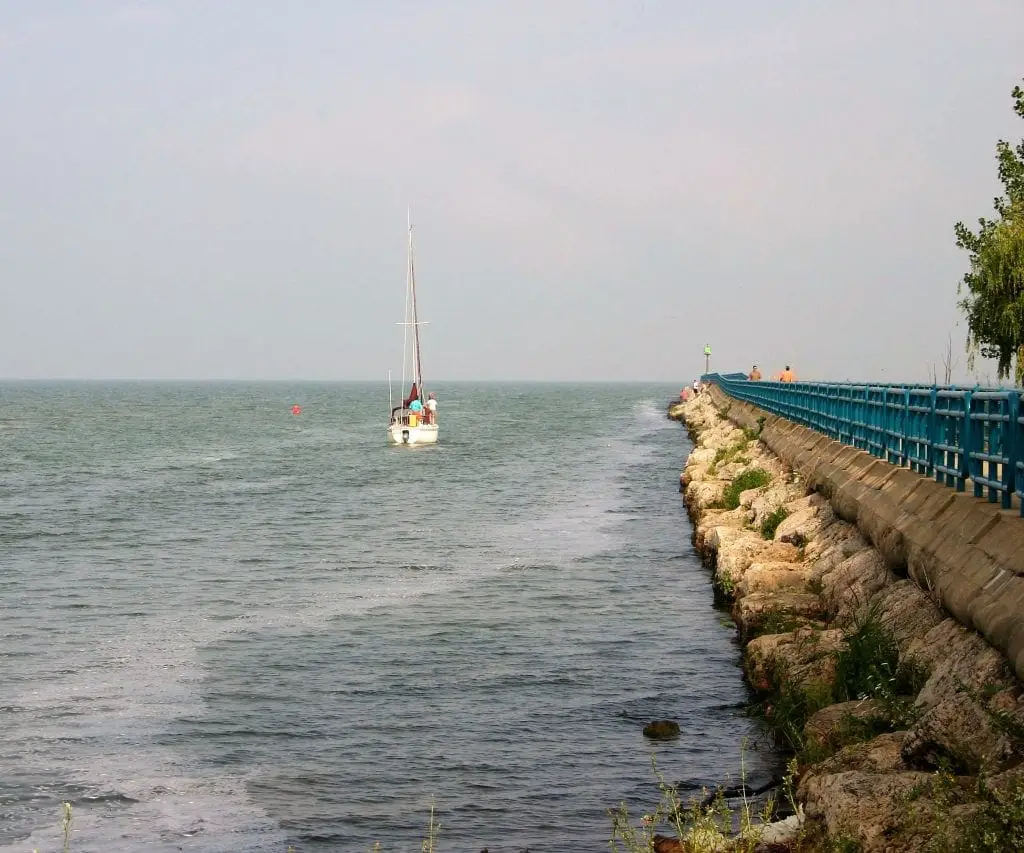 It's one of the few piers/break walls anywhere that encourages you to walk out and look at Saginaw Bay, almost like a boat would. You can fish, walk and catch a cool breeze on this 1/4-mile thick path of concrete and stone out into Saginaw Bay. This point is also a market spot on the Tip of the Thumb Heritage Water Trail. There is a special kayak launch area at the entrance to the pier that you can use to launch your kayak.
Watch the boats come in and out in the early morning and late afternoon. However, ifs it's stormy, be prepared to get wet.
G – Bay Port and the Bay Port Fish Company
Continue your Michigan Day Trip by heading west on M-25 out of Caseville. Soon, you will pass Sand Point. This spike of land extends over a mile into Saginaw Bay and has some of the neatest cottages in the area. When you return for a longer visit, consider exploring the Sand Point Nature Preserve. It offers a glimpse of what much of the Thumb area looked like before settlers arrived in the 1800s. Continue west along Wild Fowl Bay until you reach the town of Bay Port. Watch for the big, blue fish company sign and turn right toward the docks.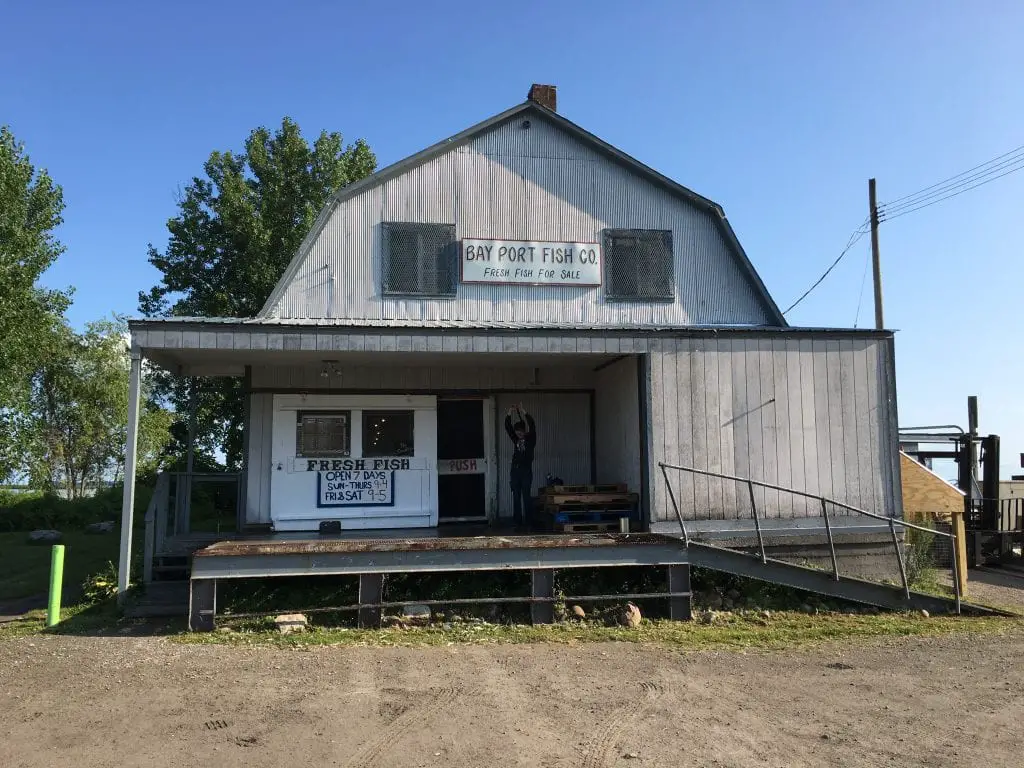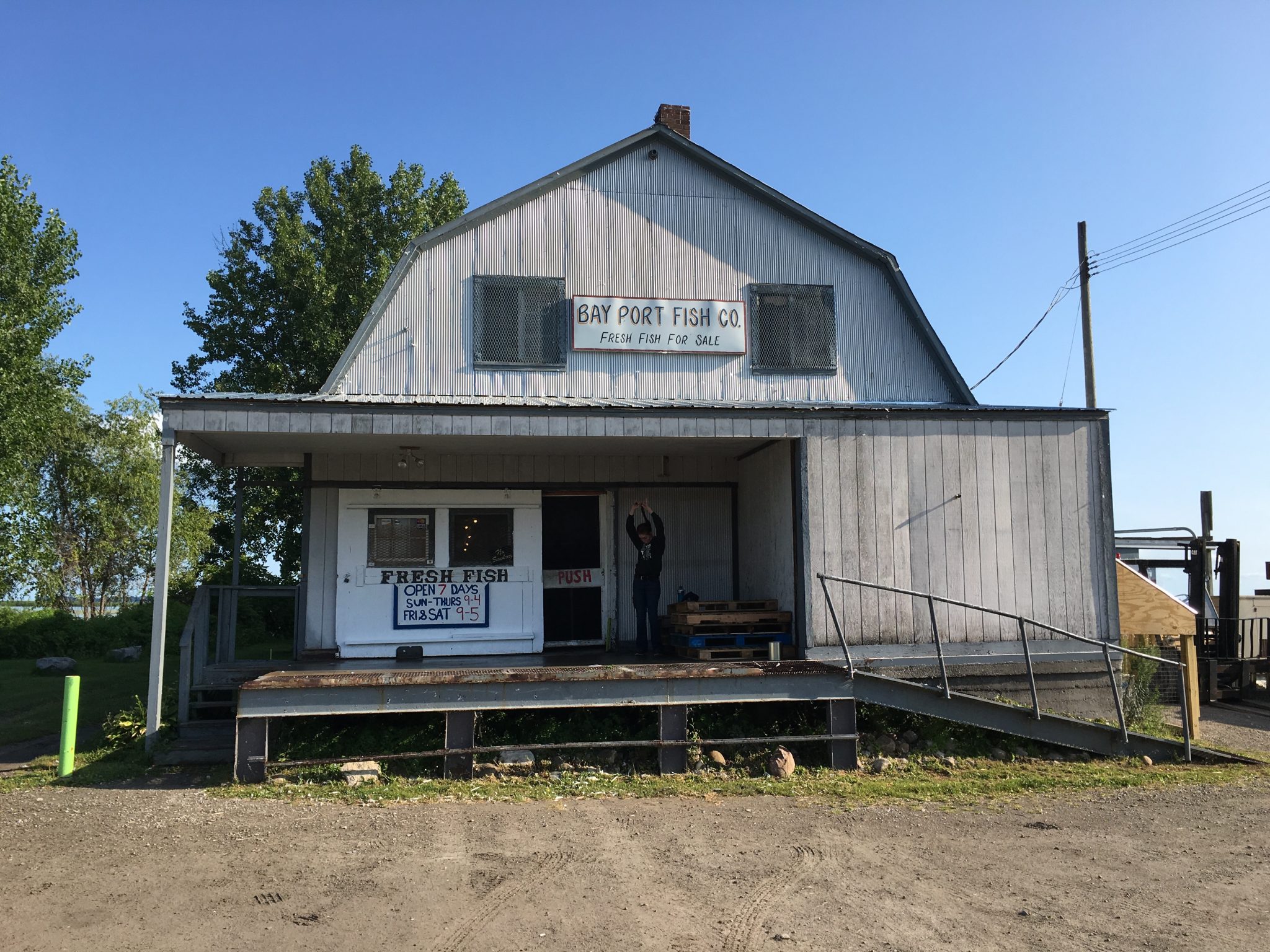 This stop in our day trips in Michigan is a rarity. The Bay Port Fish Company has been a commercial fishery in Lake Huron and Saginaw Bay since 1895. It's listed in the registry of national historic places. Today the company operates between spring and fall, depending upon the weather, and has four boats: the Osprey, the Argo, the Patsy, and the Sunflower. The Osprey and the Argo are tied up near the market or sometimes in Caseville harbor just south of the break wall. They are open seven days a week during the season. Sometimes the staff will be busy cleaning and packaging various fish. It's a fascinating process. Be aware "it smells like fish."
H – Sebewaing's Historic Downtown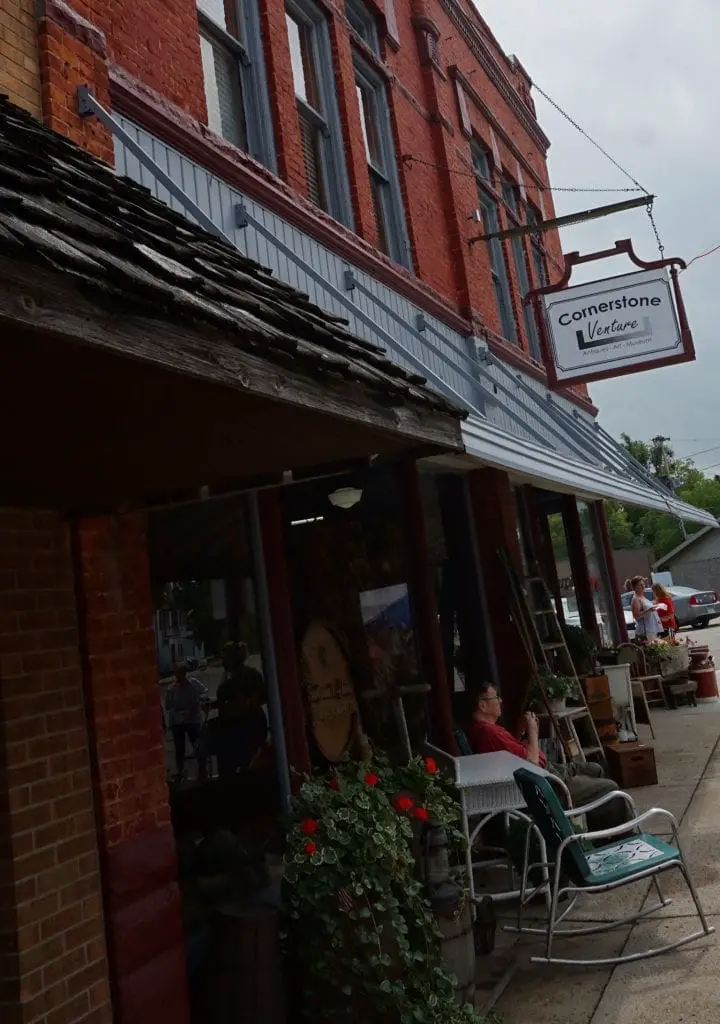 This is one of the oldest settlements in the Thumb. It was first established as a mission among the Native Americans who had lived in the area for generations. The town is the headquarters of Michigan Sugar Company. You will see large mounds of locally grown sugar beets prepared for processing as you come into town. A stroll through the historic downtown is an interesting activity. Bring your camera along.
I – Quanicassee and The Jenny the Bear Drinking Bear Monument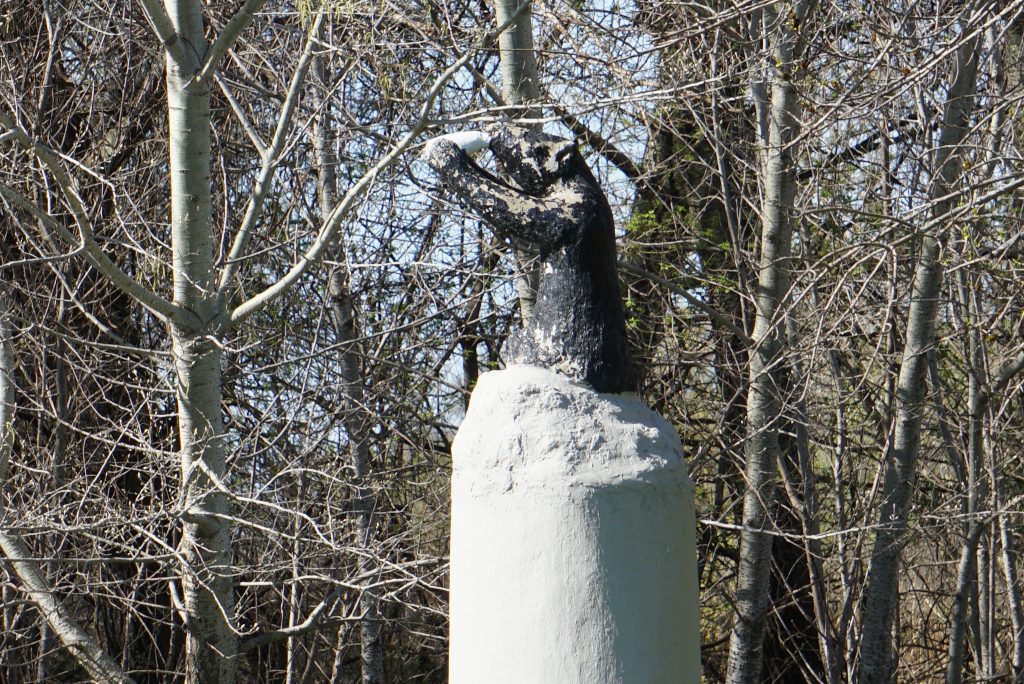 A Michigan Day Trip would not be complete without a visit to an obscure place that not many folks know about. Quanicassee was known by Native Americans and today's sportsmen as a fishing and wildlife area. The name "Quanicassee" is of Native American origin, meaning "lone tree". The region at the crook of the Thumb had been a fishing village, and the marshes were known for wild rice long before the arrival of Europeans. White settlers. In the early 1900s, a larger-than-life personality named Frank Vanderbilt built a resort in Quanicassee. As an attraction for motorists, they kept a bear named Jenny who was known for her like of bottled beer, which the tourist bought and gave to the bruin.
A monument to this once-famous roadside attraction is located off of M-25 near the bridge on Old State Road. It's on private property, so be respectful and stay on the road.
J – Frankenmuth's Wooden Bridge (Holz Brücke)
Our Michigan Day Trip concludes in historic Frankenmuth. This town was founded by German settlers in 1845 and has kept so much of its original Deutsche character that its nickname is "Little Bavaria".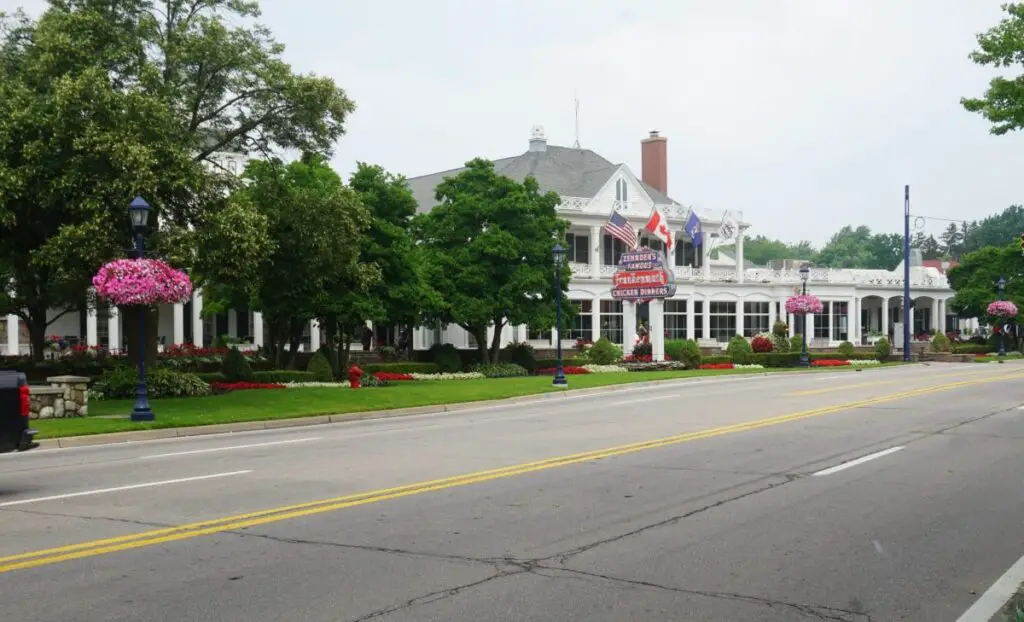 Today the town is internationally known for its home-style chicken dinners from the Bavarian Inn or Zehnder's and the Bronner's Christmas Wonderland, which promotes itself as the "World's Largest Christmas Store."
This 239-foot covered bridge spans over the Cass River in Frankenmuth and was built in 1980 to connect the Bavarian Inn restaurant to the Bavarian Inn Lodge and waterpark. It's one of Michigan's long-covered wooden bridges, and you can actually drive across it. The Langley Covered Bridge in southwest Michigan is longer at 282 feet.
We hope you enjoyed this extensive day trip around Michigan's Thumb. If you encounter something noteworthy that we should include in an update, please drop us a note on our About page.
FAQ – Day Trips In Michigan
What are the must-visit places for a day trip in Michigan's Thumb?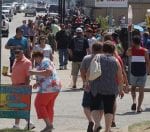 A: Some must-visit places in Michigan's Thumb include Grindstone City Harbor, Port Austin History Center, Port Crescent State Park, Caseville Pier, Bay Port Fish Company, Sebewaing's Historic Downtown, and Frankenmuth's Wooden Bridge. Each location offers unique experiences and insights into the region's history and natural beauty.
Are there any family-friendly activities and destinations in Michigan's Thumb?
Yes, Michigan's Thumb offers a variety of family-friendly activities and destinations. Port Crescent State Park provides excellent opportunities for hiking, bird-watching, and beach activities. Saginaw Bay's sugar sand beaches are perfect for swimming, especially for children. Frankenmuth's Wooden Bridge and the town's Bavarian charm are also enjoyable for the whole family.
What is the best time of year to visit Michigan's Thumb for a day trip?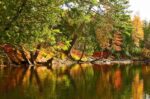 The best time to visit Michigan's Thumb for a day trip is during the warmer months of late spring, summer, and early fall. This allows visitors to fully enjoy the outdoor activities, beautiful beaches, and scenic parks. However, some attractions, such as Frankenmuth's Wooden Bridge and Bronner's Christmas Wonderland, can be visited and enjoyed year-round.
Video: Spooky and Scary Places in Michigan's Thumb
More Amazing Travel, History, and Stories – Day Trips In Michigan
7 Amazing Michigan Thumb Shoreline Webcams You Can View Now – These live Michigan Thumb webcams are strategically located in various spots along the St.Clair River, Lake Huron shore, and Saginaw Bay within the Thumb region.
Haunted and Spooky Sites to Visit in Michigan's Thumb – The area has long been acknowledged as an active paranormal region and has been the subject of books, film, and television. Here are the most active haunted Michigan Thumb sites in the area.
Great Lakes Cruising History – Luxurious Times – Prior to the railroads and highways being built in Michigan the only quick way to travel between any major Michigan port town or Chicago, Detroit, and Bay City was by steamer. We take a look at the glory days of Great Lakes cruising history and 1800s ship travel.
Michigan Shipwrecks – Find and Dive – Interactive Map – I was surprised to learn that there are an estimated 6,000 sunken ships across all the Great Lakes with about 1,500 Michigan shipwrecks located in local waters. With so many wrecks, it's no wonder that in 1980 Michigan started establishing Underwater Preserve Sites.
---