Welcome to a world submerged underwater, a haven for exotic marine and aquatic life – the Aquarium at Great Lakes Crossing. This phenomenal location, steeped in history and brimming with a vast assortment of marine life, was established to not only entertain its visitors but also educate them on aqua life conservation. In this comprehensive SEA Life Michigan Aquarium Guide, we delve into the history of this aquatic marvel, its unique features, and the impressions it leaves on its visitors. Plus, we also share essential visitor information, tips, and tricks to ensure you have an unforgettable aquatic adventure.
What We Will Cover
History of the Aquarium at Great Lakes Crossing
Establishment of the Aquarium at Great Lakes Crossing
The SEA LIFE Michigan Aquarium, situated at Great Lakes Crossing Outlets in Auburn Hills was unveiled to the Michigan public on January 29, 2015, as a major touristic core. The utensil behind the operation was Merlin Entertainments, a leading name in location-based family entertainment. It forms part of a chain of SEA LIFE facilities, carefully and expertly designed to immerse visitors in a world teeming with vibrant marine life.
Founded on the vision of educating visitors about marine life, conservation, and the wonders of the aquatic world, the SEA LIFE Michigan Aquarium was built to house over 5,000 sea creatures in approximately 150,000 gallons of water across its 35,000 square feet space. Unique to SEA LIFE centers is their aim to breed, rescue, and protect marine life, making the aquarium both an entertainment and conservation hub.
Challenges During Establishment
Unveiling an underworld cocooned within a bustling shopping mall was no easy feat. The construction of the aquarium posed some sizable challenges. The significant weight of water-filled exhibits necessitated intense reinforcement of the facility's base structure. Environmental control was another tumultuous hurdle. Maintaining appropriate temperatures, water quality, and circulation was crucial to securing the health and vitality of the trapped marine creatures.
Moreover, the location within a shopping center also posed logistical hindrances during the construction phase. With restricted access and limited working hours, the construction team had to work harmoniously with the shopping center's flow to ensure minimal disruption.
Growth and Development
Over the years, the aquarium has consistently grown in popularity, visitor numbers, and exhibits, thus underlining its value as an indoor leisure attraction. A significant developmental milestone for the Aquarium was the application and approval of the Association of Zoos & Aquariums (AZA) accreditation in 2016, symbolizing their commitment to animal care, welfare, conservation, education, and safety.
In an effort to expand their offerings, SEA LIFE Michigan continuously introduces exhibits that are both educational and interactive. Their newest additions include the "Reef Madness" interaction zone, "Sturgeon Touchpool," and "Shipwreck" for close-up interaction and learning. The growth of the aquarium goes beyond broadening the experiences for visitors. It also continues to raise awareness about the significance of marine life conservation and the role each individual can play in preserving our oceans and its denizens.
A Highlight on SEALIFE Michigan Aquarium at Great Lakes Crossing
Established within the bustling shopping mall of Great Lakes Crossing, the SEA LIFE Michigan Aquarium considerably advances the interests of marine education and conservation in the region. It's an exceptional destination for families and individuals who crave a blend of engaging education and entertainment centered around the marine world.
Exclusive Features of the Aquarium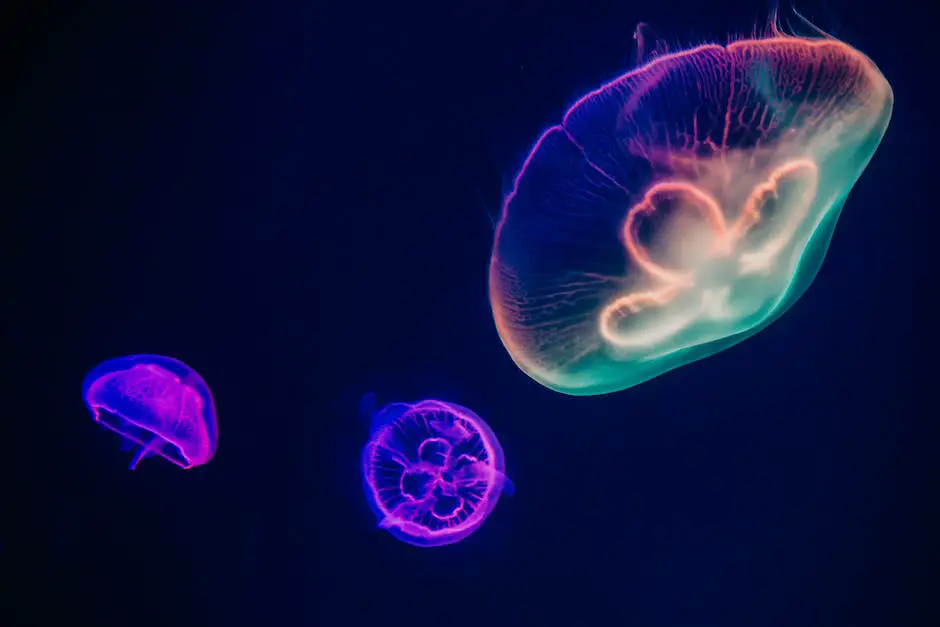 Outstanding Attributes of the SEALIFE Michigan Aquarium
The SEA LIFE Michigan Aquarium, strategically situated at the Great Lakes Crossing Outlets in Auburn Hills, is an advanced marine haven brimming with unique features. This includes its extensive display of a widely diverse marine life, ranging from sharks, sea horses, stingrays, and turtles to countless exotic fish species. It proudly houses upwards of 250 species and boasts a remarkable collection of over 2,000 sea creatures.
Unique Marine Life Exhibits and Interactive Touchpools
The Great Lakes Crossing Aquarium offers a range of uniquely themed exhibits, including the Interactive Touchpool, Freshwater Streams, Shipwreck, Dinosaur Seas, Coral Reef, and more. The Interactive Touchpool exhibit allows visitors to physically interact with a variety of aquatic creatures such as starfish and sea urchins, under the guidance of trained professionals.
The Dinosaur Seas exhibit takes visitors back in time, displaying ancient marine species, whereas the Coral Reef exhibit offers a close-up view of the vibrant world of coral habitats and their inhabitants. The Shipwreck exhibit showcases marine life that typically habituates shipwreck sites.
Advanced Viewing Technologies
SEA LIFE Michigan Aquarium utilizes a range of advanced viewing technologies, enhancing the visitor experience. A notable highlight is the 180-degree underwater ocean tunnel – one of the only few available in the Midwest. This tunnel provides an immersive experience as visitors get a surround-view of marine life, including sharks and stingrays swimming overhead.
Aquatic Conservation Programs
A key characteristic of the SEA LIFE Michigan Aquarium is its commitment to aquatic conservation. The aquarium has multiple campaigns and initiatives in place to protect the world's oceans and marine life. The Aquarium's "Breed, Rescue, Protect" initiative has been instrumental in conserving vulnerable species by breeding them within the aquarium, rescuing injured marine animals, and participating in various protection advocacies.
Educational Initiatives
The Aquarium also has a number of educational programs aimed at spreading knowledge about aquatic life and conservation. These initiatives include interactive talks, feeding demonstrations, and the SEA LIFE Michigan Aquarium Junior Ranger program for children.
Amidst a captivating blend of entertainment and education, SEA LIFE Michigan Aquarium at Great Lakes Crossing introduces visitors to an awe-inspiring experience, immersing them into the enchanting underwater realm. This distinctive attraction offers visitors unparalleled opportunities to delve deeper into the enigmatic world that life below the surface embodies.
Visitor's Experiences and Reviews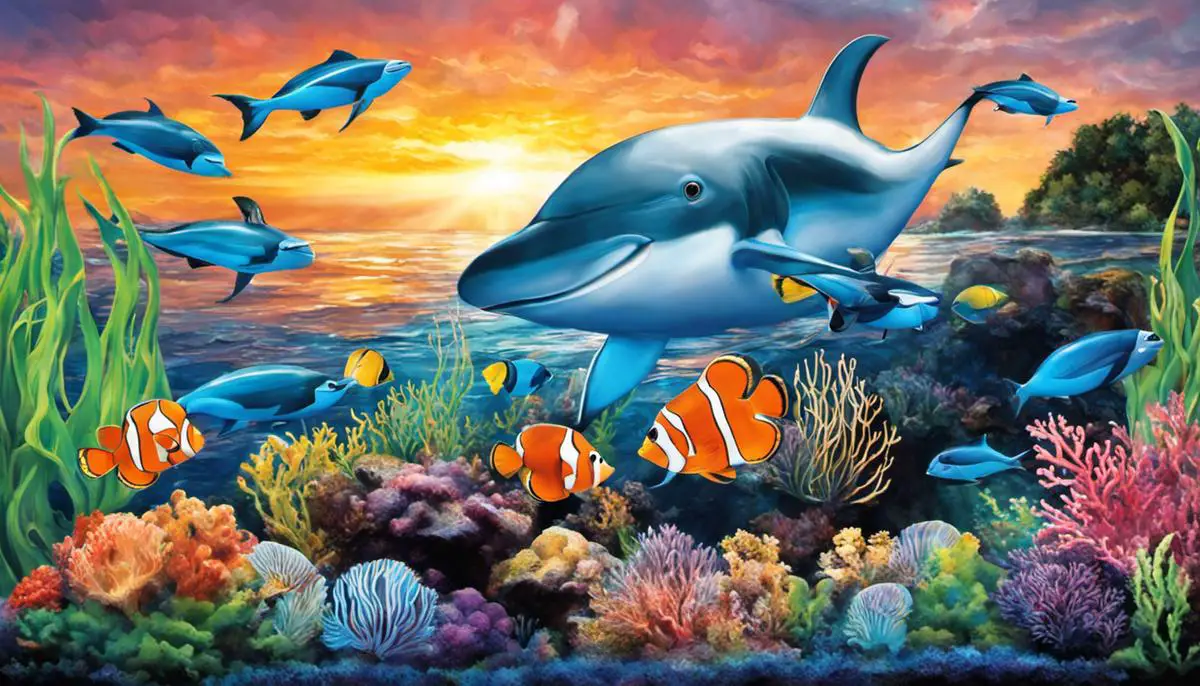 Navigating an Adventure at Great Lakes Crossing Aquarium
Families find an inviting and interactive environment at the SEA LIFE Michigan Aquarium at Great Lakes Crossing Outlets. Touch pool Experience is a cherished favorite, allowing guests the sensation of having close encounters with starfish, urchins, and a variety of other captivating marine life.
Lauded for its educational merits, the aquarium showcases intriguing panels and interactive installations that delve into detailed specifics of creatures and their environments. Conservation Cove, a sector fully committed to promoting the significance of conservation, is often applauded for its well-delivered and relevant information.
A prominent feature that typically emerges in guest reviews is the immersive underwater tunnel. Visitors are enthralled by the opportunity to observe a broad range of marine species, like sharks and rays, from an unusual vantage point. This spectacular 180-degree ocean tunnel invariably stands out as a major highlight of the trip.
Despite its many attractions, the Aquarium at Great Lakes Crossing Outlets has its minor drawbacks, as pointed out by some visitors. Often, comments are made about the perceived small size of the venue and a limited variety of exhibits and species than larger, more established aquariums. Some guests have also expressed feelings of the entry fee being somewhat high for the overall size of the aquarium and the duration of the visit.
Special Programs and Events
Visitor reviews also make mention of the numerous special programs and events hosted by the aquarium. The Behind-the-Scenes tour is often praised, giving visitors a glimpse of the work that goes into maintaining the aquarium and taking care of animals. However, this tour has an added cost and needs to be booked ahead.
The Toddler Time program, which offers an educational and interactive experience for young toddlers, is met with positive reviews from parents. It gives the little ones a chance to learn about marine life in an engaging way, fostering an early love and respect for aquatic animals.
Visitor Reviews Summary
Visitor reviews highlight a broadly positive impression of SEA LIFE Michigan Aquarium at Great Lakes Crossing. While there may be occasional critiques or suggestions for modification, the evident consensus finds the visit to be both rewarding and educational. This location is reported to be a popular spot for family outings, with a myriad of interactive exhibits and programs at its disposal. Thus, it is highly recommended for those considering a day trip in the region.
Photo by timbmyung on Unsplash
Visitor's Information and Tips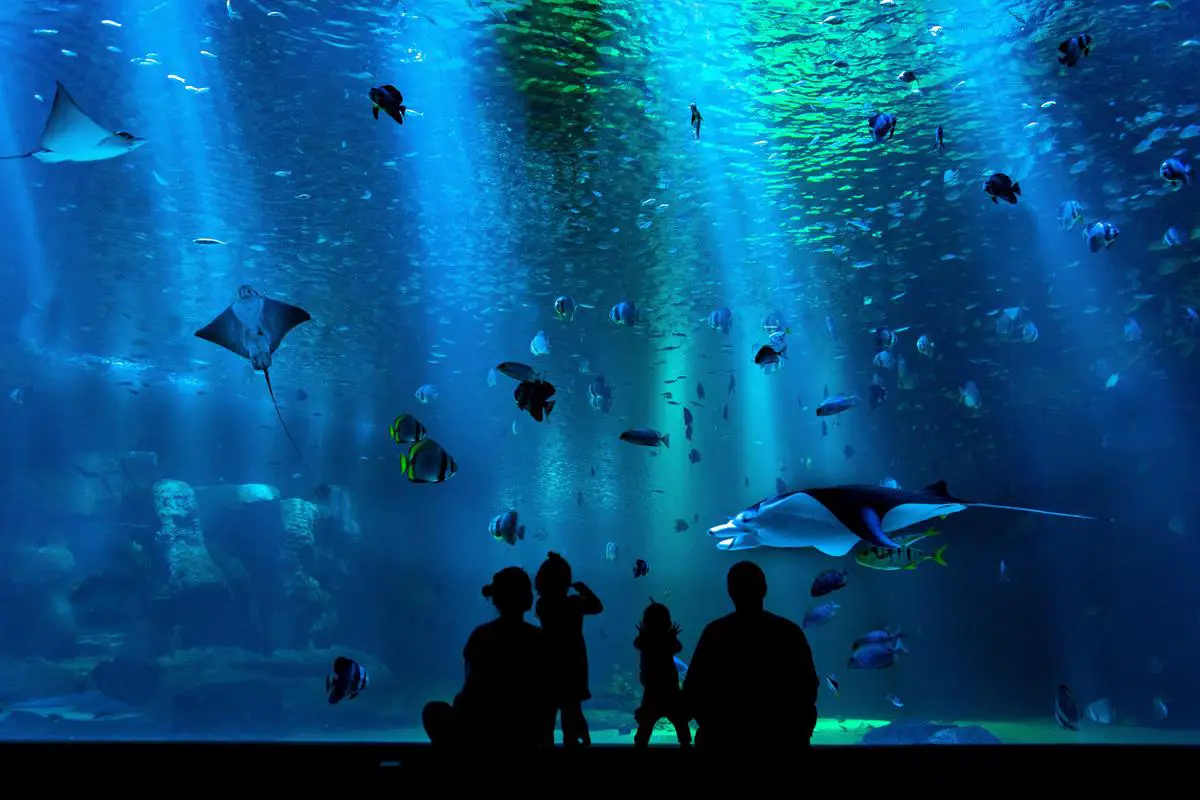 Visiting Hours and Optimal Timing
The SEA LIFE Michigan Aquarium, conveniently situated within the Great Lakes Crossing Outlets, is accessible to the public seven days a week. It operates from 10:00 AM to 9:00 PM from Monday through Saturday and from 11:00 AM to 6:00 PM on Sundays. To bypass large gatherings, the optimal visiting hours are at opening or after 5:00 PM. Always remember to verify updates on the timings or any closures for special events from the aquarium's official website. Please note that weekends and school vacation periods are typically the busiest times.
What to Wear
Since the aquarium is indoors, there is no requirement for specific attire. However, visitors are advised to wear comfortable footwear as the aquarium involves a fair amount of walking. A light sweater or jacket might be useful as it can sometimes be a bit chilly inside.
Parking Information
Parking at the Great Lakes Crossing Outlets is free and there is ample space available. The mall has over 6,000 parking spaces, so visitors to the aquarium need not worry about parking availability. The closest parking to the Sea Life Michigan Aquarium would be Entry 5.
Ticket Prices
Prices for admission to the aquarium vary based on age and type of ticket. An adult ticket (ages 13 and above) costs $24.95, while a child ticket (ages 3 to 12) costs $18.95. Children under three years of age gain free entry. The Aquarium also offers an annual pass with unlimited visits, which costs $60.00 for adults and $45.00 for children. In addition to this, there are also special packages and discounts related to group visits, scouting adventures, and birthday parties. Online purchase of tickets before the visit is encouraged to ensure entry and to avoid waiting in line.
Additional Tips and Hacks
To make the most of your visit, it is recommended you consider the feeding times and daily talks, which are included in the attraction's schedule. For a quieter visit, weekdays during the school term are usually less crowded.
In addition, don't forget to visit the Interactive Touchpool Experience, where you can touch a crab or sea star. Lastly, a visit to the aquarium will also offer you a great opportunity to visit the rest of Great Lakes Crossing Outlets, a shopping destination with over 185 stores, numerous restaurants, and other attractions.
Final Thoughts About SEA LIFE Michigan Aquarium Guide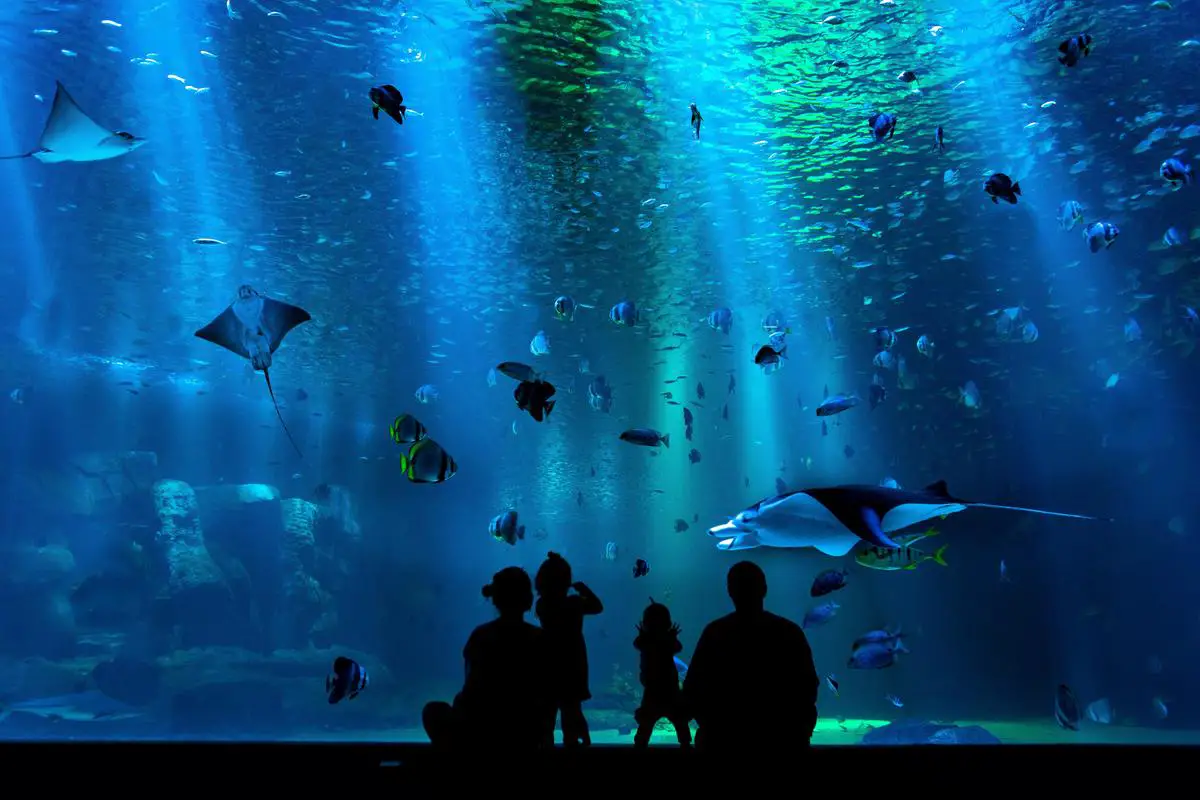 Photo by timbmyung on Unsplash
An entertaining, educational, and fascinating tour of the underwater realm awaits you at the Aquarium at Great Lakes Crossing. It offers a unique blend of enthralling fishy tales, a myriad of marine species to observe and learn about, and an array of visitor facilities to ensure your comfort. Whether you're a marine life enthusiast, a curious observer, or looking for an intriguing destination for a family outing, this aquarium offers an unforgettable experience. Step into the aquatic world, let your explorer alter-ego take charge, plunge in the deep sea mysteries, and swim back with a bag full of memories and knowledge.
Related Reading
Michigan Whitewater Rafting: 6 Unbeatable Spots for Thrilling Fun
Best Places to Visit in Michigan This Year
Climate Twins – Countries with Weather Similar to Michigan
Sources
Featured Image – Highsmith, Carol M, photographer. What's described as an 180-degree underwater ocean tunnel at the SEA LIFE Michigan Aquarium, housed within the Great Lakes Crossing outlet mall in Auburn Hills. The state's largest aquarium, with 250 species and 2,000 individual creatures. Its exhibits also include freshwater lakes, a coral reef, a shipwreck, and an interactive "touch pool". -11-05. Photograph. Retrieved from the Library of Congress, <www.loc.gov/item/2020722766/>.