We almost take it for granted that beach access near the lake in Huron county that your a short walk or drive away from being able to put your toes into the water. But unfortunately, that was not always the case.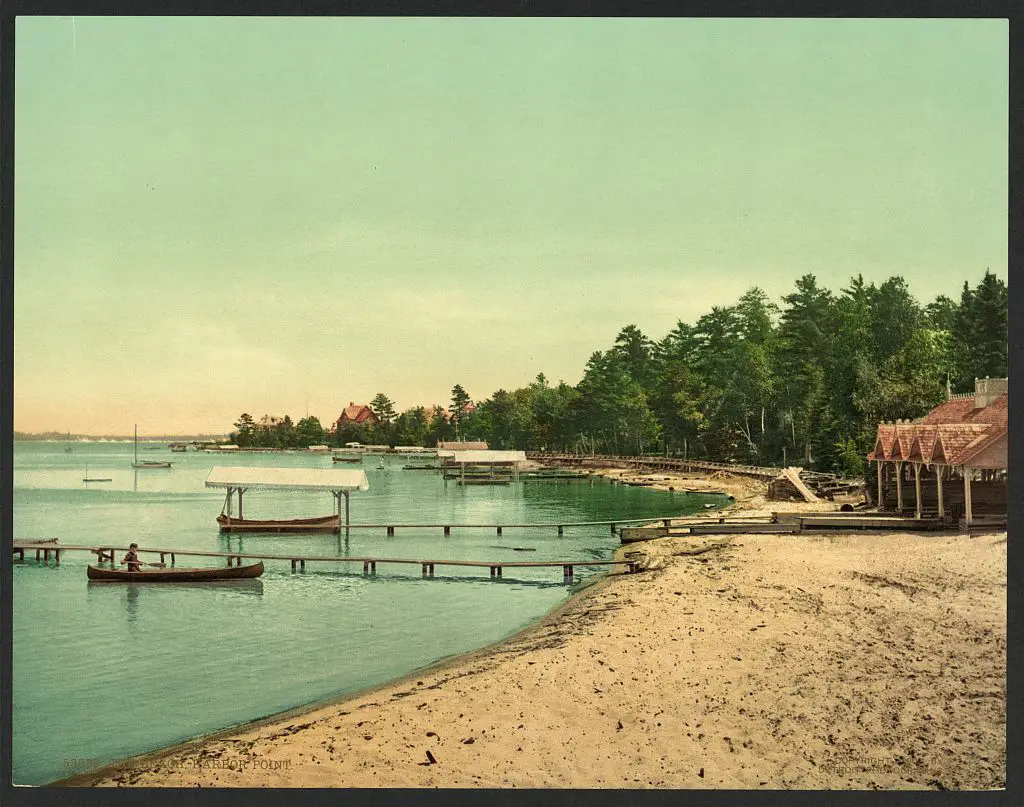 I remember stories from my grandparents and others that the beachfront was some of the last land to be sold and developed. After the lumber boom had fizzled out in the 1880's attention turned to farming. Since the sand dunes and swampy areas near the water were pretty unfit for agriculture, they stayed clear of development until well into the 1900s.
It was said my family owned a couple of acres on a Lake Huron beach in the 1900s. It was nothing but a simple shack on the sand dunes. It had no heat, no water, and was a spot where the old folks would stay all summer. I wish we had those several acres of beachfront today!
Public Access to the Great Lakes Was Rare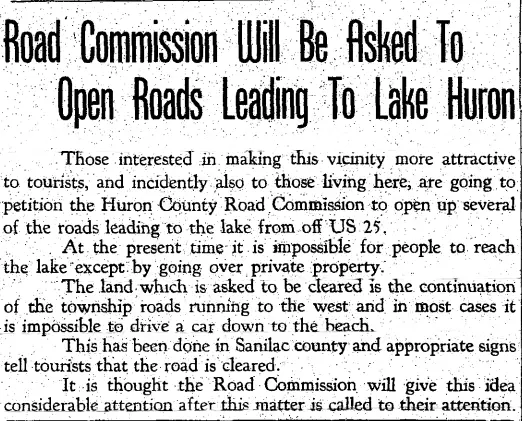 Parks were available, but they were far and few in between. This small article appeared in 1937 in the Harbor Beach Times newspaper as many miles of M-25 was being paved. It called on Huron County Road Commission leadership to extend the township roadways that stopped at M-25 right to the shore so tourists could access the beach and lake.
Sanilac County took the lead on establishing easements that were a model for much of the Great Lakes region. Today an example of a township easement can be seen at Oak Beach County Park. The road runs right up the water where, for many years, there was a boat ramp available right on the edge of the park.
Today I wonder how many of the beachfront community parks we have today were nothing more than a continuation of a lonely county road right down to the beach's edge in the 1930s. However, memories are short and some counties are walking away from the maintenance of end-of-the-road beach access as happened with Oak Beach County Park in Huron County in 2021.
---
Related Reading Beach Access
Fun at Caseville Beach – Over the years I've encountered numerous folks from Southeast Michigan who have fond memories of heading to Caseville Beach. It's close enough to Southeast Michigan that it's a perfect Michigan Day trip for the family. However, today with everyone sharing every minute of their day Caseville County Park Beach is one of the most posted spots on Social Media
Leland's Fishtown is a Photographers Dream – We went for a Saturday of wine tasting with friends up to Old Mission point in Northwest Michigan. The numerous wine vineyards and scenic countryside are well worth the trip. The next day we took a forty-minute morning drive north of Traverse City to the small scenic slice of the historic Fishtown on the edge of Lake Michigan on the Leland peninsula. Walking the docks at Leland Fishtown is to experience a scene that is over one hundred years in the making.
The Salt Industry in Michigan's Thumb – The first successful attempt to manufacture Michigan salt was made by the East Saginaw Salt Manufacturing Company in 1859. The success of this company led to the rapid development of the industry in the Saginaw Valley where the blocks were operated in connection with sawmills. This industry soon took off in Huron County in Michigan's Thumb and across Lake Huron
---