The winters of the early 1970s were long, cold, and snowy. At the annual Port Austin winter carnival, this was the spot to gather a team and play broomball. Families could make snowmen and drink hot chocolate. Back in the day, the festival was massive, complete with parades and the coronation of the Winter Carnival Queen. Postcards were also printed. The icy event returns for the third year in a row with the Port Austin Winter Carnival 2023.
This year's Port Austin Winter Carnival 2023 takes place the last weekend in January. The chilly event restarted in 2021 after an 11-year absence from the Upper Thumb Social Event Calendar. While the focus will be the broomball tournament, the village's ice arena will be hosting several events. The festivities begin on Friday, January 27th, and run through Sunday, January 29th, 2023.
Port Austin Winter Carnival 2023 Schedule of Events
Friday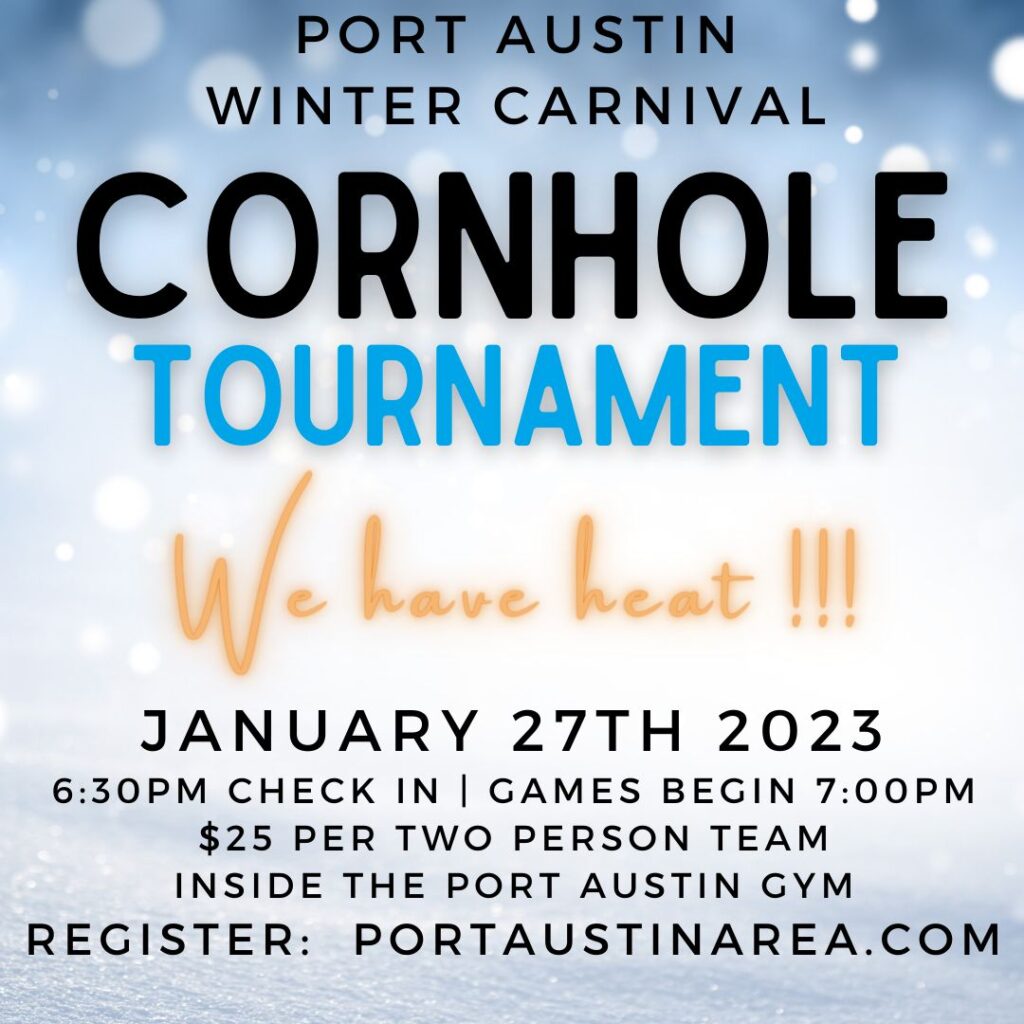 The first event begins on Friday at 1:30 p.m. with a Village Green Snowman Contest. The Cornhole Tournament starts with a check-in at 6:30pm in the Old Gym. Play commences at 7 pm. There is a Broomball Captains meeting at 5:30pm. Cost per team is $100.
You can register your team on the Chamber website or follow this link. Port Austin 2023 Winter Carnival Event Registration. The snowman building contest begins, and The Bank 1884 is open as a warming station from 5-11 pm.
Saturday
The day kicks off with a Tug-of-War and kids' games at 11:30 a.m. Dodge ball starts at 2 pm along with games for kids and adults. A Mustache Contest begins at 4pm and the snowman judgeing content is at 5 pm.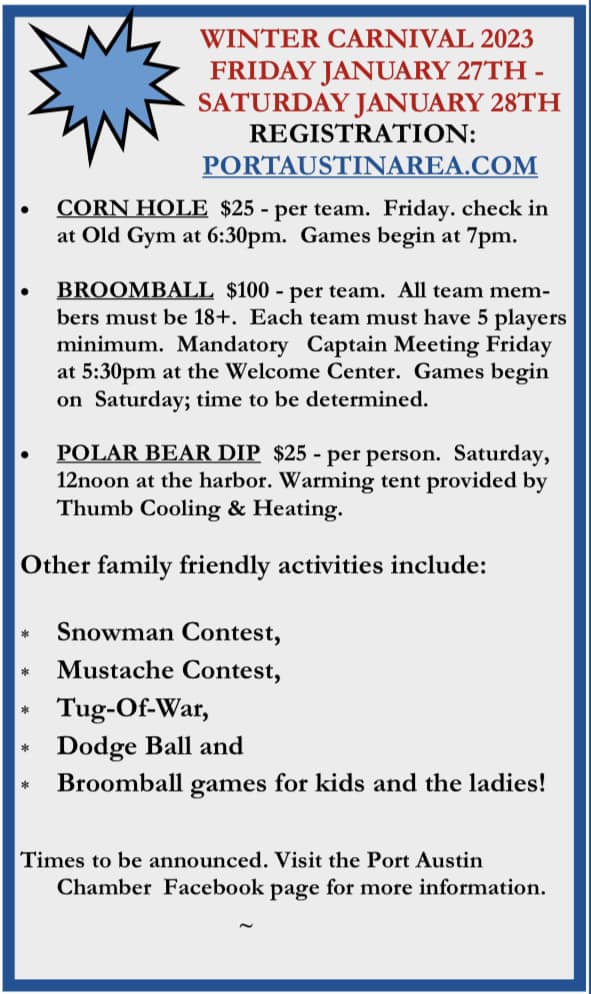 At prior carnivals he Broomball Tournament at 11 a.m. on Railroad Street. If necessary, the five-player teams may resume tournament play at noon on Sunday. The Chamber's Broomball Registration site indicates that the cost is $100 per team. The tournament schedule filled up quickly in years past, so act fast.
At noon, those who want to chill out can take a Polar Bear Dip in the ice-cold waters of Lake Huron. Each brave soul gets a t-shirt. The cost is $25. You can register your team on the Chamber website or follow this link. Port Austin 2023 Winter Carnival Polar Bear Dip Registration.
For more information and details and a specific schedule of events, see the Port Austin Chamber of Commerce Events Calendar.
Port Austin Winter Carnival 2023 Wearables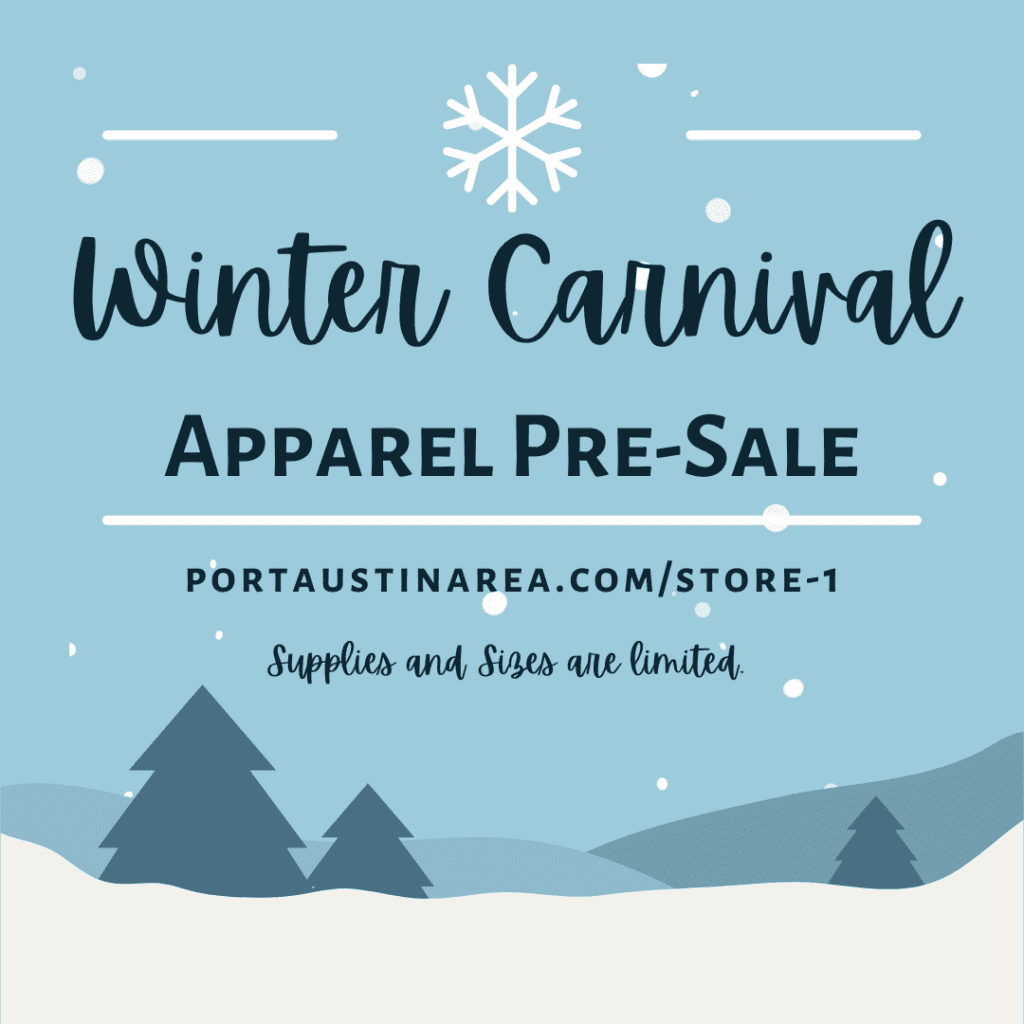 It wouldn't be a Chamber of Commerce event if there weren't a beefy sweatshirt or hoody for sale. The Chamber is currently preselling these thick sweatshirts online.
Video: Port Austin Winter Carnival Highlights 2021
Related Reading