Effective January 1, 2023, the Michigan walleye season will be open year-round on the lower Saginaw River in Bay and Saginaw counties from the mouth of the river upstream to the West Center Street (Douglas G. Schenk) Bridge. 
Table of Contents
Walleye Season Changes on Lower Saginaw River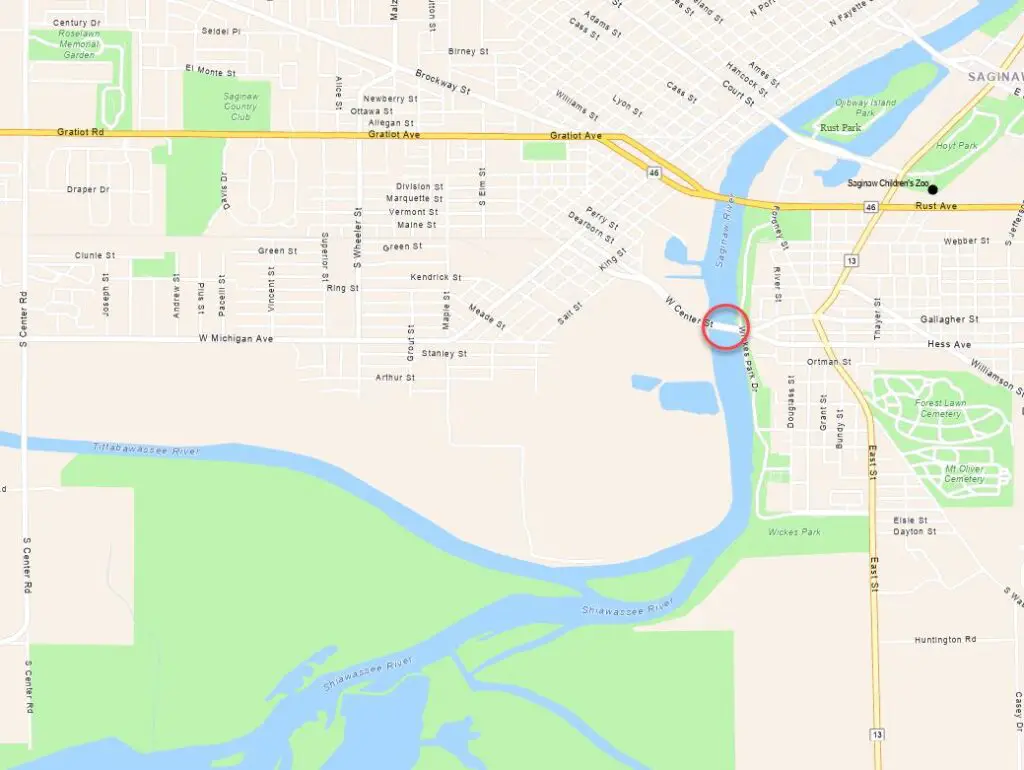 Walleye Season Change For Saginaw Bay
The same regulation is in effect on the Lake Huron waters of MH-4 (see page 20 of the 2022 fishing guide), including Saginaw Bay. The daily possession limit for walleye remains at eight fish with a 13-inch minimum size limit on these same waters.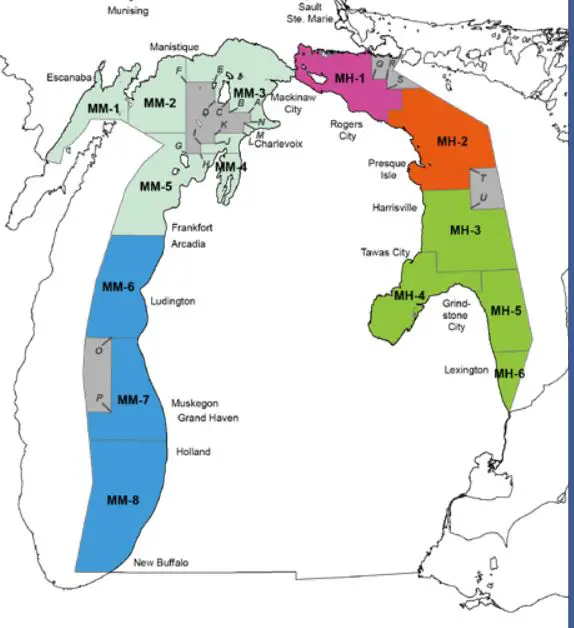 On December 9, 2021, the Michigan Natural Resources Commission approved this walleye season regulation to increase fishing and harvest opportunities for the Saginaw Bay walleye population. Prior to this new regulation, the season used to close on March 16 and reopen the last Saturday in April.
Download Michigan Fishing Guide
Anglers should look at the digital version of the fishing guide at Michigan.gov/DNRDigests for the most up-to-date rules. Downloading the new Michigan DNR Hunt Fish app will also provide access to the fishing guide and other useful resources.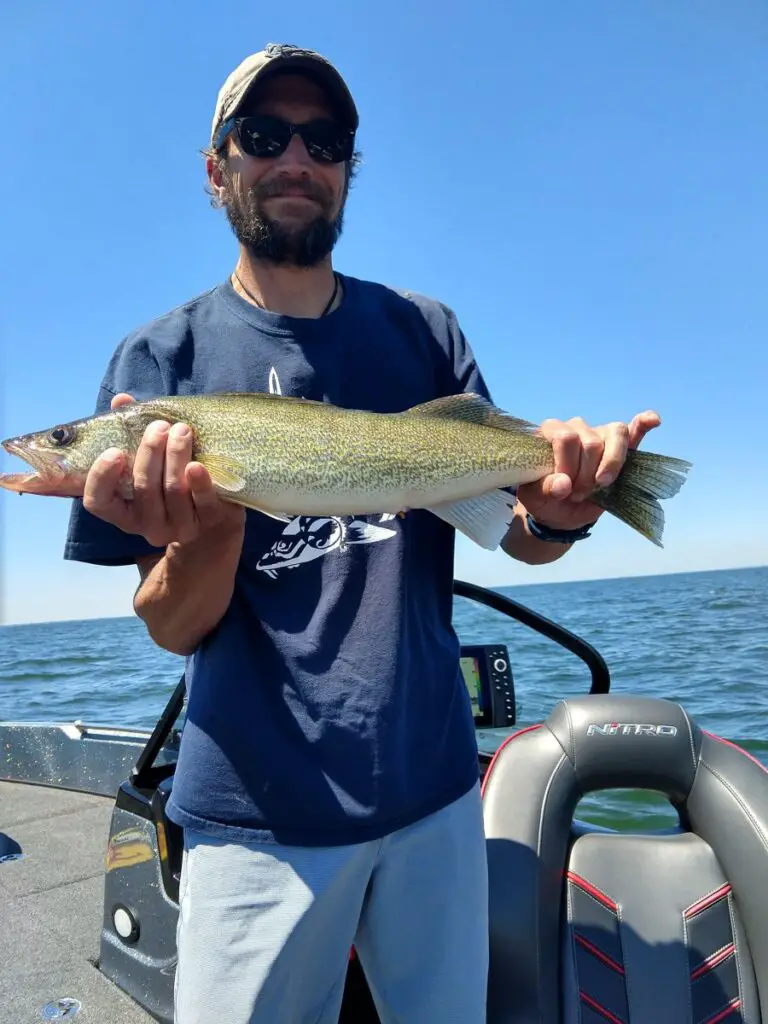 The DNR manages Michigan's fisheries resources for current and future generations by making scientific, research-based decisions and regulatory recommendations. Regulations are one tool the DNR uses to implement management strategies to protect, conserve, and improve Michigan's fisheries. Learn more about these efforts at Michigan.gov/Fishing.
---
Read More: Top Inland Walleye Lakes in Michigan
---
Ice Shanty Regulations
This excerpt is taken from the 2022 Michigan FIshing Guide p 70.
A person placing a shanty on the ice for fishing shall permanently affix their name and address OR drivers license number OR DNR sportcard number on ALL SIDES of the shanty in legible alphanumeric letters that are at least 2″ in height. The letters shall be readily visible and consist of material not soluble in water. The information identifying the owner must be on the shanty and may not be placed on a board or other material that is then attached to the shanty.
Tents or other temporary shelters must be removed from the ice at the conclusion of each day's fishing activity and do not require identification.
Persons placing a shanty on the waters of the Upper Peninsula shall remove the shanty by midnight of March 31 each year. Persons placing a shanty on Michigan-Wisconsin boundary waters shall remove the shanty by midnight of March 15 each year (see pp. 24-25).
Persons placing a shanty on waters in the counties of Alcona, Alpena, Antrim, Arenac, Bay, Benzie, Charlevoix, Cheboygan, Clare, Crawford, Emmet, Gladwin, Grand Traverse, Iosco, Isabella, Kalkaska, Lake, Leelanau, Manistee, Mason, Mecosta, Midland, Missaukee, Montmorency, Newaygo, Oceana, Ogemaw, Osceola, Oscoda, Otsego, Presque Isle, Roscommon or Wexford shall remove the shanty by midnight of March 15 each year.
Persons placing a shanty upon the waters of the remaining portion of the Lower Peninsula shall remove the shanty by midnight on March 1 each year. Shanties placed on L. St. Clair shall be removed before sunset on the first Sunday after Feb. 20 each year. In all areas, a shanty must be removed if ice conditions become unsafe, regardless of the date. After the above dates, a shanty must be removed at the end of each day's fishing activity.
Fishing Coverage on Thumbwind
The Amazing History Of The Bay Port Commercial Fishing District – Bay Port Commercial Fishing District was designated a National Historic Place in 1977. At the time there were seven buildings on the site. Now three remain.
Michigan Commercial Fishing Law – Governor Whitmer Signs Bill To Constrain DNR Rulemaking – Senate Bill 251 amends Michigan commercial fishing laws to limit the DNR's ability to create commercial fishing rules in favor of codified language set by the Michigan legislature.
Leland Fishtown – Picture Perfect Dockside Village In Northern Michigan – At the end of the Leland River just before it feeds into Lake Michigan, is Leland Michigan's picturesque Fishtown – one of the last working fishing districts on Lake Michigan.
5 Essential Safety Tips When Boating & Fishing With Dogs – With a bit of planning and forethought Fishing and Boating with your dog can be a safe and enriching experience.