The National Weather Service confirmed on Sunday, June 27th, that an EF-2 tornado touched down and wreaked havoc on farms, homes, and one business in the Michigan Thumb town of Port Austin. The event lasted approximately 11 minutes. News outlets reported six people were injured.
The twister started its run just four miles southwest of Port Austin as an EF-0 just north of Port Crescent and Sand Roads. It snapped branches and uprooted trees. It damaged several barns and outbuildings.
Gaining strength, the tornado continued northeast, crossing M-53 just south of the light on Grindstone Road (M-25). Now ranked at the strength of an EF-2, the tornado damaged or destroyed six houses, two garages. One barn was destroyed, along with substantial tree damage along its path.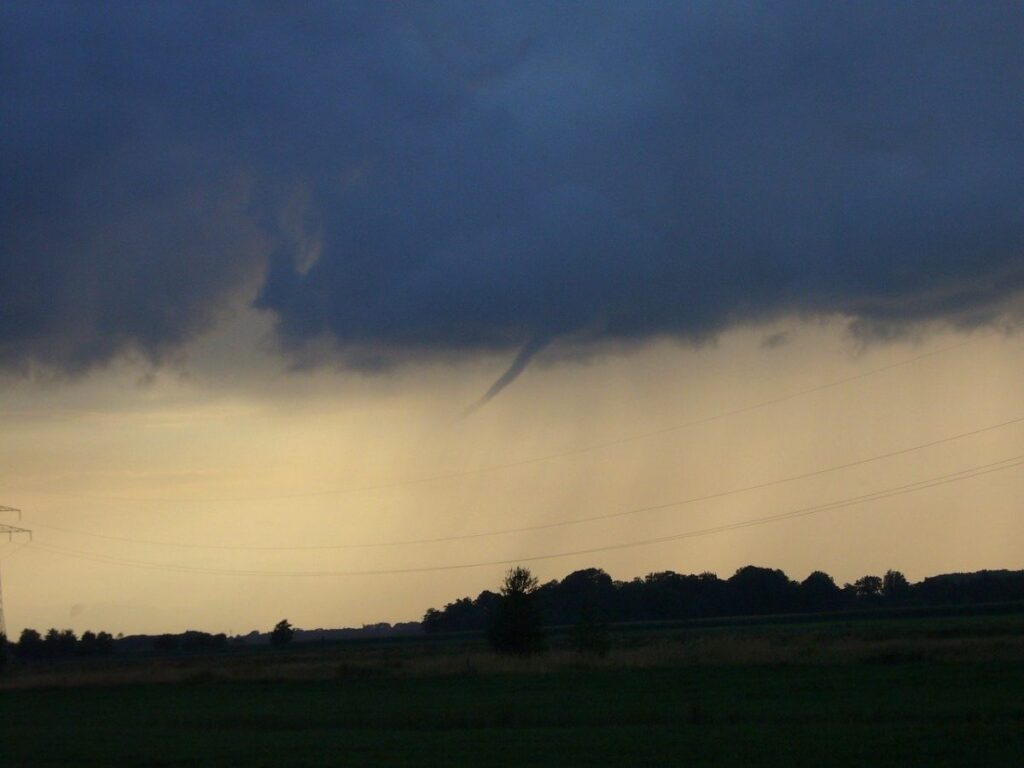 One business, Bird Creek Farms was busy with customers when the tornado struck. One patron, Pam Cates said, "It happened so fast we didn't have time to be afraid." She and other customers took shelter between the kitchen and the restrooms.
Now weakening as an EF-1, the twister continued tracking northeast toward North Hellems Road then ran along Pointe Aux Barques Road, where numerous pine and hardwood trees were damaged or destroyed. The tornado finally continued over the Eagle Bay public access point and out into Lake Huron, where it dissipated.
The NWS estimated that the tornado's path of destruction was almost seven miles long by 400 yards wide. It obtained winds of 120 mph. This was the first verified tornado to hit Huron County since an EF0 hit on November 6, 2015.
---
The Enhanced Fujita Scale Tornado Classifications
The Enhanced Fujita Scale or EF Scale which rated the Port Austin tornado became operational in 2007. It assigns a tornado a 'rating' based on estimated wind speeds and associated damage. The NWS is the only federal agency with the authorization to provide 'official' tornado EF Scale ratings. The goal is to assign an EF Scale category based on the highest wind speed within the damage path. The EF Scale was revised from the original Fujita Scale to reflect tornado damage surveys better and align wind speeds more closely with associated storm damage.
| | | |
| --- | --- | --- |
| EF-Rating | Classification | 3 Second Gust Wind Speed |
| EF-0 | Weak | 65 to 85 mph |
| EF-1 | Weak | 86 to 110 mph |
| EF-2 | Strong | 111 to 135 mph |
| EF-3 | Strong | 136 to 165 mph |
| EF-4 | Violent | 166 To 200 mph |
| EF-5 | Violent | > 200 mph |
---
EF-2 and 3 Tornados in Michigan Over the Last 10 Years
The last EF-2 tornado in Michigan was March 14, 2019, in Perry, northeast of Lansing. The twister ran for over 18 miles. Over 10 trailers and mobile homes were damaged from falling trees at the Shoreline Lake Condos. The tornado continued northeast. One roof was completely taken off, a second-story wall collapsed, and numerous homes with wall damage. This tornado resulted in over $9 million in damages.
On May 28, 2013, two EF-2 tornados were recorded. The first hit just northwest of Fenton. There was significant damage to homes, including removal of roofs, along with substantial tree destruction. Damage estimated was $225,000. The second EF-2 near Grand Blanc nearly destroyed a house and garage and wrecked storage. Total damage $350,000.
On March 15, 2012, the NWS reported an EF-3 near Dexter. The tornado severely damaged 20 homes and inflected some damage to at least 200 other homes. The total estimated was over $12,000,000 in damages. On the same day, an EF-2 was reported near Lapeer. The path extended over 4 1/2 miles destroying trees, a garage, and shifting a house off its foundation. Total damage $500,000.
On June 6, 201o a EF-2 hit near Dundee. It track over 13 miles through the town and did an estimated $50,000,000 in damages. On the prior day, June 5 two EF-2 tornados hit Michigan. One south of Benton Harbor, the other near Dowagiac.
Related Reading for the Port Austin Tornado