A 60-turbine Hillsdale County wind farm operated by Consumers Energy began operations in February 2021. The project can power over 64,000 homes. The wind farm's 60 turbines are spread across Adams, Moscow, and Wheatland townships.
February 2021 Announcement from Consumers Energy on the Hillsdale Site
Consumers Energy announced it began ownership of 166-megawatt Crescent Wind Farm, producing renewable energy for residents and businesses in Michigan. This is the first industrial wind farm in southern lower Michigan.
"We are thrilled to welcome Crescent Wind to our assets powering Michigan with clean energy," said Dennis Dobbs, vice president of enterprise project management, engineering, and services for Consumers Energy. "It's amazing to consider the addition of Crescent Wind completes a doubling of the wind energy parks we own and operate compared to a year ago."
Consumers Energy's newest wind project represents a $246 million investment in Michigan's clean energy infrastructure. It joins Lake Winds Energy Park, Cross Winds Energy Park, and Gratiot Farms Wind Project, which went online in late 2020, as wind energy projects Consumers Energy owns and operates.
Renewable Power For 64,000 Michigan Residents
Crescent Wind farm in Hillsdale County features 60 turbines with a capacity to power about 64,000 residents. Invenergy developed and built the wind farm. Consumers Energy took ownership and operations of the facility upon its completion on February 16th.
The Crescent Wind farm will be managed by a newly established service center in Jonesville, Michigan, completed in later February. A team of 11 full-time employees will operate the electric generation facility from the new service center.
Consumers Energy Wind Farms Now Powering Nearly 250,000 Residents
Combined, the four Consumers Energy wind energy farms can produce enough renewable energy to power about 249,600 residents. See Michigan Wind Farm Map for detail on other wind farms in service in Michigan.
The Crescent Wind farm plays a key role in fulfilling the energy provider's Clean Energy Plan, which calls for eliminating coal as an energy source, achieving net-zero carbon emissions, and meeting 90% of customers' energy needs through clean sources like renewable energy, energy waste reduction, and energy storage.
Hillsdale (Crescent) Wind Farm Links & Information
---
Images below may contain affiliate links that, if purchased, we may receive a commission. See our Affiliate Disclosure for more information.
Interested in Solar for Your Home or Business?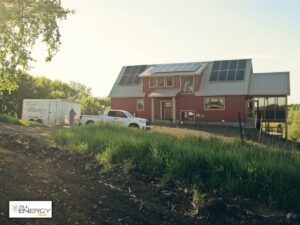 According to the Energy Information Administration, residential electricity rates have increased nationally by around 15 percent in the last ten years. With this steady increase in the cost of residential electricity, many consumers are wondering, "is making the switch to solar worth it?" The answer to that question depends on several factors, including your property, your local energy rate, what your system will cost to install, and if you qualify for any potential cost savings.
If you want to learn if a solar installation is right for your home, farm, or business, we encourage you to contact All Energy Solar. They will guide you through a qualifying evaluation to ensure that a solar installation makes sense and will see a return on your investment in solar. Not all homes and buildings are right for solar, and it's a great plan to know before you invest.

---