Michigan's beautiful lakes, rivers, and ponds are a source of joy and recreation for many. However, the potential for harmful algal blooms (HABs) is a growing concern that residents and visitors must be aware of. Collaborative efforts between various departments are ensuring public safety, but awareness and precaution are key. Here's everything you need to know about HABs and how to stay safe.
What Are Harmful Algal Blooms?
Formation: HABs form due to a rapid growth or "bloom" of cyanobacteria.
Occurrence: Naturally occurs in lakes, rivers, and ponds.
Toxins: These can produce cyanotoxins, which are harmful to people and animals.
Reports: In 2022, HABs were reported in 80 water bodies in 38 Michigan counties.
Health Effects of HABs
For Humans
Breathing in or swallowing water with HAB toxins may cause illness.
Symptoms include runny eyes, asthma-like symptoms, stomach pain, vomiting, diarrhea, weakness, headaches, or dizziness.
Skin contact may cause rashes, blisters, or hives.
For Animals
Animals can have vomiting, diarrhea, staggering, seizures, or even die after contact with HABs.
How to Stay Safe
If You Suspect a HAB
Do not let people, pets, or livestock in the water or near the shore in affected areas.
Rinse off people and pets after contact with any lake water.
Follow posted HAB advisory or closing instructions.
Report suspected HABs to EGLE or call 800-662-9278.
If You Feel Sick
Call your doctor or Poison Control at 800-222-1222.
If symptoms are severe, get medical attention right away.
For Animal Health
Keep dogs away from discolored or scummy water.
Rinse them off after contact with lake water.
Bring them clean drinking water.
Harmful Algae Blooms Testing Map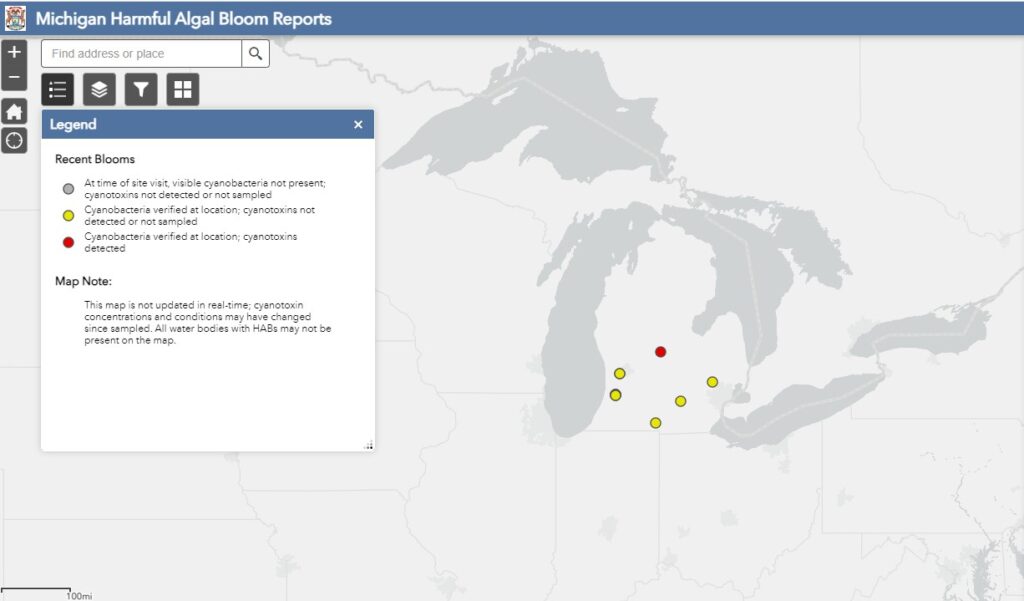 Michigan's efforts to combat Harmful Algal Blooms (HABs) are not just limited to awareness and precautionary measures. A significant step towards public safety is the MDHHS HABs Testing Pilot Project Map.
What Does the Map Do?
This interactive map serves as a real-time tracking tool that provides detailed information about:
Locations of HABs: Pinpoints the exact locations where HABs have been reported or identified.
Testing Sites: Shows the areas where local health departments are actively testing for HABs.
Status of Water Bodies: Indicates whether a water body is affected, being monitored, or cleared of HABs.
What Does It Show?
The map visually represents the ongoing efforts to monitor and control HABs in Michigan. It shows algae hot spots in Michigan's Inland Lakes and beaches. It's a valuable resource for residents, tourists, and authorities alike, offering:
Accessibility: Easy access to current data on HABs in various counties.
Transparency: Open information about the state's actions and response to HABs.
Education: An educational tool to understand the spread and impact of HABs.
The MDHHS HABs Testing Pilot Project Map is more than just a map; it's a commitment to public safety and awareness. By exploring this map, you can stay informed and make wise decisions about your recreational activities near Michigan's beautiful water bodies. It's a step towards a safer and more informed Michigan.
FAQ About Harmful Algae Blooms
What are Harmful Algal Blooms?
They are rapid growths of cyanobacteria in water bodies that can produce harmful toxins.
How can I report a suspected HAB?
Are animals also affected by HABs?
Animals can suffer symptoms like vomiting, diarrhea, and even death.
Video: What is An Algal Bloom?
Final Thoughts About Harmful Algal Blooms
Harmful algal blooms are a serious concern that requires awareness and precaution. By understanding the nature of HABs and following the guidelines provided, Michigan residents and visitors can continue to enjoy the state's beautiful water bodies safely.
Related Reading
New Systems Monitor Great Lakes Algae Blooms including Michigan's Saginaw Bay
What Is The Lawn Care Environmental Impact On the Great Lakes