NOAA and other organizations are actively monitoring Great Lakes Algae. The Harmful Algal Bloom (HAB) Monitoring System has been operational for several years. A new system was just launched in April of 2022 called Seagull. Both are expected to continue to be updated with new features and functionality.
Impact of Harmful Algal Blooms
Harmful algal blooms occur when certain kinds of algae grow very quickly, forming patches, or "blooms", in the water. These blooms can capture and carry pollutants and emit powerful toxins that endanger human and animal health. These blooms have increased in occurrence and caused an estimated $1 billion in nationwide losses over the last several decades to coastal economies that rely on recreation, tourism, and seafood harvesting. Blooms can lead to odors that impact public water supplies and result in algae, muck, and fecal-encrusted beaches in specific areas of the Great Lakes.
Lake Erie Looks to Improved Water Quality in 2022
According to NOAA's National Centers for Coastal Ocean Science (NCCOS), algal blooms in Lake Erie may be reduced this year. So far, the Maumee River's March and April rainfall, as well as accompanying discharge and phosphorus poisoning, have been below average. As a result, this summer's toxic algal bloom in western Lake Erie is expected to be lower than usual.
Summer is the peak season for the growth of harmful algal blooms (HABs), which can pose health risks to humans and pets. Algal blooms in Michigan often occur during periods of warm weather, lots of sun, and high nutrition levels.
Great Lakes Observing System, Seagull, Now Operational in 2022
The Seagull platform is a new cloud-based big data aggregation system that allows individuals access to Great Lakes data from many sources. This initial version provides updates on lake temperature, waves and currents, and water quality. It will be a critical tool in monitoring potential algal blooms not only in Lake Erie and Saginaw Bay but in other areas as well.
Algal Bloom Monitoring System
NOAA's National Center for Coastal Ocean Science has developed the Algal Bloom Monitoring System to routinely deliver near real-time reporting for use in locating, monitoring, and quantifying algal blooms in coastal and lake regions of the US. This new application offers time-lapse images for bloom detection. The service covers the Great Lakes at Saginaw Bay, Lake Erie, and Green Bay.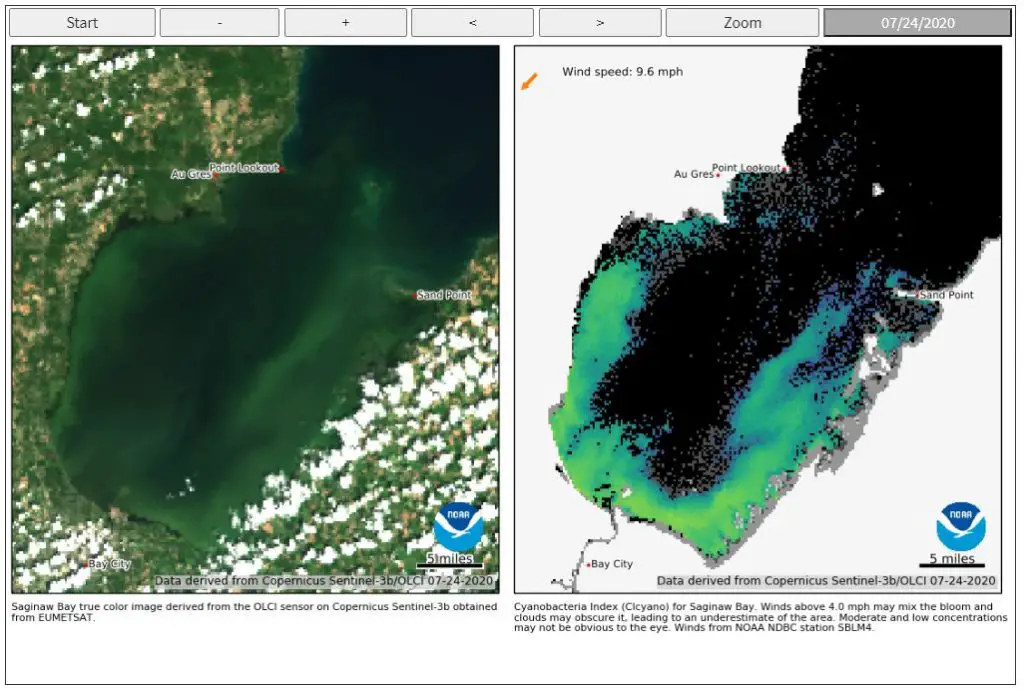 Great Lakes Algae Blooms Affect Water Quality
From time to time the pristine waters of Michigan's Saginaw Bay now look like Lake Erie in the 1960s. This observation was made by oceanographers with the National Oceanic and Atmospheric Administration. Images made by the Moderate Resolution Imaging Spectroradiometer (MODIS) on the Aqua satellite on October 9, 2011.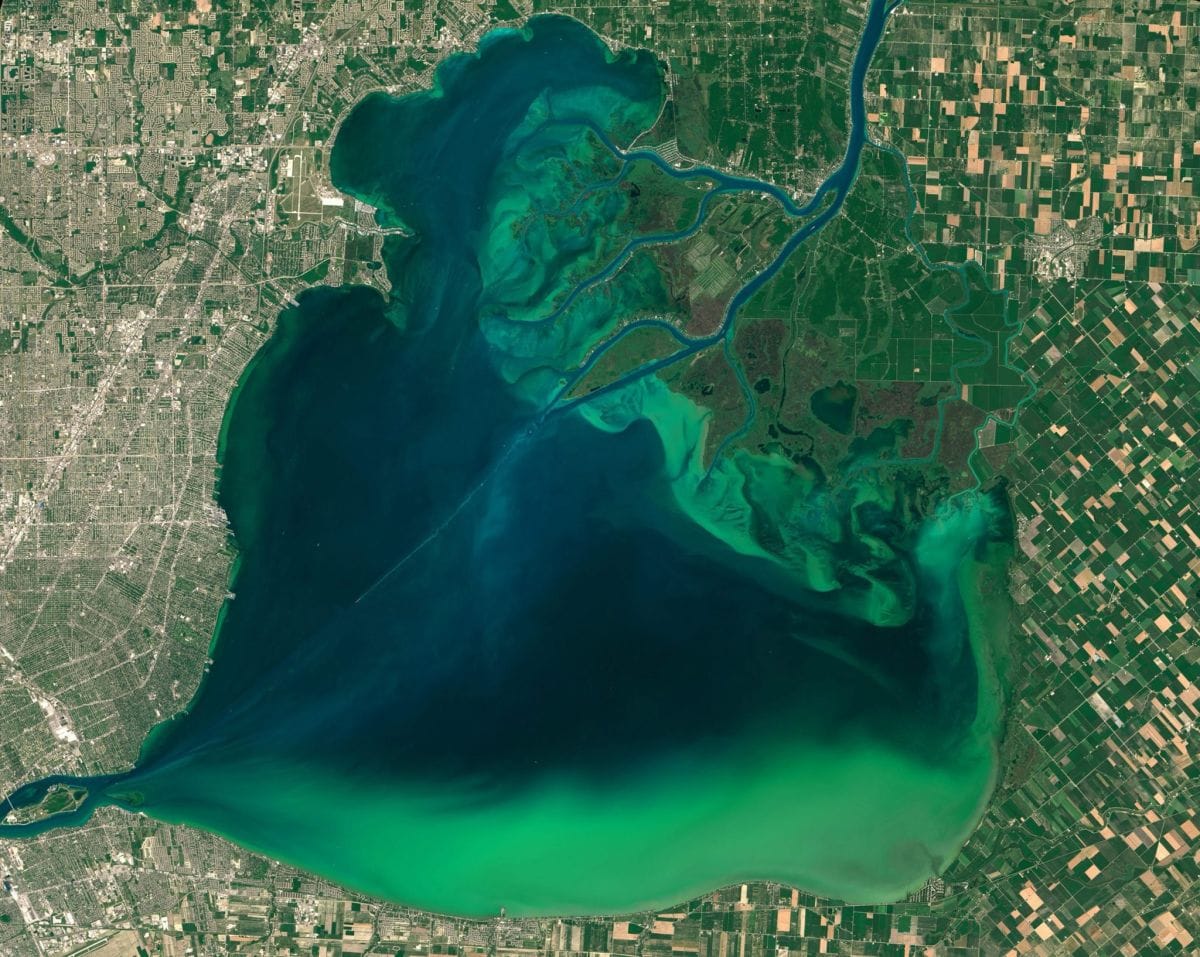 Researchers were comparing algae blooms in Lake Erie and Saginaw Bay in 2011. "This is considered the worst bloom in decades," says Richard Stumpf of NOAA. The green in Saginaw Bay is probably an algal bloom as well." According to NASA, over the past decade Microcystis, a type of blue-green algae known to produce the toxin microcystin, has returned to the Great Lakes. No single cause has been pinpointed, but runoff from cities, fertilizers, septic tank overflow, zebra mussels, and livestock near water supplies are likely culprits.
The EPA has listed Saginaw Bay as an Area of Concern for over 30 years. Algae blooms, dead zones, and invasive mussels are all contributors to the problem. Left unaddressed: the drinking water of 24 million Americans and 10 million Canadians are threatened.
Saginaw River a Significant Source of Nitrate Runoff
Despite $45 million in improvements, Bay City and Saginaw wastewater treatment overflow millions of gallons with partially treated wastewater into the Saginaw River which flows into the Bay. Laura Ogar, the Bay County Director of Environmental Affairs notes that reports show an average of six overflows a year. Published reports estimated that 90 million gallons of overflow occurred in 2011. Bacteria are still present in the water without full treatment.
Related Stories on Saginaw Bay Pollution
Pollution for 30 Years on Saginaw Bay – The EPA and the State of Michigan designated the entire region as a potential environmental disaster. The deterioration and pollution were so bad that the label "Area of Concern" was slapped on Saginaw Bay in 1987 and has not been lifted for 30 years.
Algae Bloom in Lake Superior – In 2012, a two-day thunderstorm dumped between five and 10 inches of rain on Duluth and along with many areas along the coast of Lake Superior. Already saturated with water from previous rainstorms, the area was primed for historic flooding. The immediate after-effect of the event came in the form of submerged soccer fields, broken pavement, and mangled streams and creeks that are still being restored today.
Great Lakes Under Stronger EPA Rules – The EPA plans to largely enforce the regulation as planned. They argued that the decision only applies to the 13 states that requested the injunction. In a statement shortly after the ruling, the EPA was defiant and said that the injunction only applies in the 13 states. The injunction does not apply to Michigan. Michigan and Ohio suffer from seasonal algae bloom in Saginaw Bay and Western Lake Erie due to sewage and farm run-off.
When the Flint Water Crisis went Global; What I Learned – 1000's individuals from all over the United States converged in Flint Michigan to donate their time and skills to alleviate the disaster of lead contamination in the Flint water system. Here are a couple of things to know that may help you hit the ground running during a major disaster.
---
---