Are you intrigued by the electrifying world of horse racing? Step into the vibrant scene of online horse racing betting in Michigan, where excitement meets convenience. From the comfort of your own home, become a part of the thrilling race events, and who knows, you might just hit the jackpot. Let's walk you through the process.
If we look at horse racing betting in the past decade, we can spot some major changes. First of all, we have the transition to online betting, which brings many benefits to horse racing handicappers. Online platforms make horse racing betting more accessible, and thanks to the many platforms that exist, people have many options when it comes to which horse racing event to place money on.
The Rise of Michigan Online Betting
Michigan, with its vibrant horse racing scene, offers enthusiasts the opportunity to conveniently place bets from the comfort of their own homes. 
All you need to do is find a reputable website, deposit some money, check out the racing schedule of popular racing events at TwinSpires, and place some bets.
Whether you're a seasoned bettor or a curious novice, this guide will walk you through the process of placing an online bet on a racing horse in Michigan, ensuring you don't miss out on the excitement and potential winnings.
Step-by-Step Guide on How To Place an Online Bet on a Racing Horse in Michigan
First things first, is online betting legal in Michigan?
Fortunately, State lawmakers authorized online betting by passing House Bill 4310, signed by Gov. Gretchen Whitmer making betting legal at the end of 2019.
This means that now you can safely place online horse racing bets both on online websites and mobile apps.
Find a Reputable Online Betting Platform
To begin your online horse race betting journey in Michigan, the first step is to find a reputable and licensed online betting platform. 
You should never deposit money into an online betting website without doing some proper research. Online gambling is regulated, but there are still many scams.
Look for platforms that are authorized to operate within the state, ensuring your bets are placed securely and in compliance with Michigan's regulations. Research user reviews, explore available features, and select a platform that meets your preferences and offers a user-friendly experience.
Create an Account
After you've found a secure and legitimate website, it is time to create an account.
Once you've chosen your preferred online betting platform, you'll need to create an account. Visit the platform's website or download their mobile app, and follow the registration process. Provide the required information, such as your name, email address, and age verification details, to create a secure account. 
One thing that most people don't consider is reading the Terms and Conditions before they sign up.
After all, you have to understand all the details before making an account.
Deposit Funds into Your Account
To place bets, you'll need to fund your online betting account. Even though most online betting websites have sign-up bonuses, they are usually tied with a deposit. In other words, you have to place money in order to get a betting bonus.
Online platforms offer various deposit methods, including credit/debit cards, bank transfers, and e-wallets. Choose the payment option that suits you best, provide the necessary information, and follow the instructions to deposit funds into your account. 
Most platforms have minimum deposit requirements, so be mindful of these when adding funds.
Familiarize Yourself with Horse Racing Terminology
Before placing your bets, it's essential to familiarize yourself with common horse racing terminology. 
Horse racing betting might look simple at first glance, but knowing all the details will set you up for success and you won't lose unnecessary money due to lack of knowledge. 
Learn about different types of bets, such as Win, Place, Show, Exacta, Trifecta, and more. Understand the odds, handicapping information, and how to interpret race programs. Online platforms often provide resources, guides, and tutorials to help you grasp the basics of horse race betting.
Select a Race and Horse and Place Your Bet
Once you've secured your account, it's time to do your homework. Horse racing is all about data analysis, and the more you research the better chances of winning you'll have.
Now that you have a potential winning horse, it is time to place your bet. Try not to go overboard. Most people make the same mistake of investing a lot of money on a single bet, whereas professionals only invest 5-10% of their entire budget.
Hope for the Best
That's it! All you have to do now is hope for the best. After all, horse racing is one of the most unpredictable sports in the world and there is no way to ensure that you'll win every single time.
FAQs – Online Horse Racing Betting in Michigan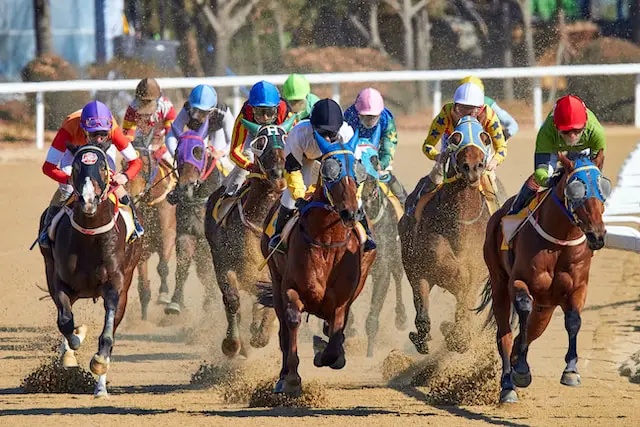 Is online horse race betting legal in Michigan?
Yes, it's legal. Michigan state lawmakers authorized online betting by passing House Bill 4310 in 2019.
What is the first step to start betting on horse racing online in Michigan?
The first step is finding a reputable and licensed online betting platform in Michigan.
What should I know before placing a bet?
It's essential to familiarize yourself with common horse racing terminology, understand different types of bets, and interpret race programs.
Final Thoughts on Online Horse Racing Betting in Michigan
And there you have it, your gateway to online horse racing betting in Michigan. With these guidelines, you're now equipped to join the exciting world of horse racing, make informed bets, and enjoy the thrill of this timeless sport. So, saddle up, choose your champion, and may the odds be ever in your favor!