It's difficult for auto mechanics to power through their work without constantly upgrading their knowledge to advance their services. But one great way to unearth knowledge and information on market trends and top-performing automotive systems is through automotive mechanic books!
Auto mechanic books are also a great way for beginners to figure out how to fix, service, and upgrade vehicles. The best part about getting your hands on automotive repair books is that it doesn't cost you as much as going to a trade school would!
So now that we have figured out how helpful it can be to learn through books, here's an elaborate list of the best auto mechanic books for beginners! 
Our top 8 list is all you need to start your auto repair journey today.
Are Auto Mechanic Books Even Helpful? 
Before sharing our list of the best auto mechanic books with you, we should take a step back and look at some of the ways these books come in handy. 
Instead of wasting time scouring the internet and digging out the relevant tips, opting for auto mechanic books can save you much more time. 
In fact, these books are useful and you can save your time, for example, during a road trip on a car hire at the moment.
Usually, you'll discover that in addition to the beginner guides, most automotive repair books cover a specific theme. There are many books available for automotive service, but here are a few things you can easily hope to learn from them: 
How to change the oil
How to check all of the fluids of a vehicle
How to change tires
Pretty much everything you need to know about automotive service!
Sounds basic, right? However, with the right book, you can also hope to gain insights into automotive technology, systems, trends, and even how to set up your own business!
Here are categories of books that you will observe once you start digging for auto repair books: 
Books on Automotive Service, Maintenance, and Repair
Advanced Automotive Engineering
Books on Cars and Vehicles, including Hybrid and Electric Vehicles 
Now that you have a slight flavor of what to expect from auto mechanic books, let's get straight into the list. 
The 8 Best Automotive Mechanic Books For Beginners
1. How Cars Work by Tom Newton
Looking for a basic book to break into the automotive industry? Then 'How Cars Work' should be your first choice. 
This book is a wholly illustrated book that features basic line drawings coupled with simple language to describe how 250 different car parts work. 
Here are a few reasons why this book is a great catch for auto repair beginners: 
It uses basic, clear, and concise language, which makes it easier for you to grasp concepts as a beginner in the automotive industry
The simple diagram illustrations help you understand effectively what the different parts are and how cars work
It will help you understand how your vehicle functions, including all the significant parts and functions
It features helpful tests at the end of each chapter to gauge how effectively you have absorbed key concepts 
It's a great read to expand the vocabulary of beginner auto mechanics
The book has a format that is easy to digest; Tom Newton covers one topic per page 
However, please note that this is a good beginner guide but not very useful for people seeking in-depth knowledge of automotive systems. 
2. Auto Repair For Dummies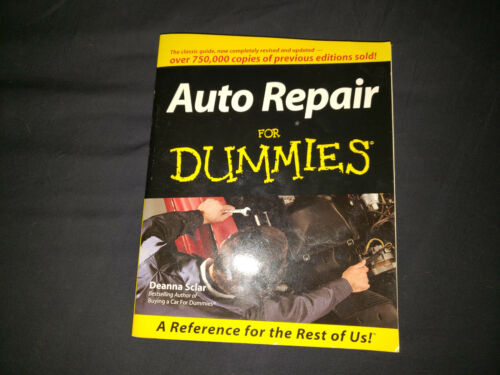 Auto Repair For Dummies is a popular beginner book for auto mechanics. The best part about the book is that although it is essential and has clarity, it's also fun and engaging!
So if you know auto mechanics still sitting on the fence about pursuing this industry, get them to read this book! It will introduce the basics while keeping them entertained also.
Let's look at some of the reasons why this book has gained traction for beginners: 
It teaches you how to perform routine maintenance, repairs, and servicing for major automotive systems
The book also features insights and key tips on how to handle roadside emergencies
You'll learn how to extend the life of vehicles and cars with best practices 
It will help you understand all the automotive systems that you initially find daunting or confusing. 
The book also features an under-the-hood checklist
The downside? Auto Repair for Dummies doesn't offer too much information on repairing automotive electrical systems. You can only hope to gain information or insights on major automotive parts and repair procedures. 
3. Automotive Technology: Principles, Diagnosis, and Service
One of the best auto mechanic books, Automotive Technology is packed with helpful and detailed information on automotive servicing and technology for auto mechanics.
Some of the reasons that make this one of the best auto mechanic books include:
This book is easy-to-understand and is a complete automotive service guide for beginners 
It includes detailed and in-depth information for auto mechanics and is a certified publication for students. 
It's also an excellent point of reference for professional auto mechanics on how cars work and should be repaired.
The concepts featured in this book have been distilled into short sections for easy-to-absorb coverage.
The downside to this book? It is one of the most expensive auto mechanic manuals in the market. Since it's packed with a lot of details, you might find some of its content to be fluff and not relevant for you, especially if you are a beginner. 
It will help you learn everything about the principles of diagnosis and service you need to get started in this field. 
4. Automotive Wiring and Electrical Systems 
Understanding automotive electrical systems are one of the most essential steps in becoming a successful auto mechanic. 
Automotive wiring and electrical systems are instrumental in making beginners make sense of the often confusing and complicated-looking electrical systems.
Automotive wiring and electrical systems are quite helpful owing to the following reasons: 
It's a detailed book that takes you through the world of electrical wiring for vehicles from the ground up 
It teaches an automotive technician how to work with automotive electronics, including designing, assembling, and troubleshooting electrical systems 
If you're already familiar with car wiring, this book will be quite valuable in advancing and leveling up your concepts 
The book supports you in understanding automotive electronics, including principles, amperage, resistance, and voltage to adding new circuits or installing aftermarket electronics.
While this book is excellent for understanding relevant wiring concepts, it lacks the latest information on automotive technology and new wiring systems. 
The book's diagrams can also throw off some beginner readers who are completely new to the world of electrical wiring and systems. 
Nonetheless, it's one of the best books to step foot into the industry. 
Another book within the same space includes how to diagnose and repair automotive electrical systems. 
In this book, the author and Automotive Service Excellence (ASE) certified master technician Tracy Martin explains the principles behind automotive electrical systems and how they work.
Interested in magazines instead? You can see the top 5 auto mechanic magazines here. 
5. Automotive Engines: Diagnosis, Repair, Rebuilding
Many automotive enthusiasts have always dreamed of repairing heavy-duty engines. But when it comes to repairing vehicle engines, you'll again need to get started with the basics.
And here's a book that can help you hit the ground running! Automotive Engines: Diagnosis, Repair, Rebuilding offers the complete, step-by-step process of working with engines. 
When it comes to learning everything about automotive repair and maintenance, this one book will help you get all the up-to-date information on engines. 
The book's author is Tom Gilles, an automotive professor for decades. Needless to say, you will be in good hands once you start reading this book!
Some of the reasons for adding this book to our list of must-haves for beginners include: 
It teaches you the complete theory of operation 
It will help you rebuild an engine 
It focuses on universal repair techniques that are relevant for a variety of car and truck makes and models 
It focuses on building your technical expertise and critical thinking skills to help you diagnose problems 
So what's the catch? Sure, the book is a great read to catch up on auto repairs and engines. But if you want to save money, this book is not the right choice for you. 
Given that the book is fully packed with heavy doses of technical information, it is also on the pricey side. But you can also find a way around the price and perhaps just rent the book!
You should do that if you want to stay abreast with the latest and most detailed insights into car repair and engines. It can be a little dry to read, but hey, no pain no gain!
6. Troubleshooting and Repairing of Diesel Engines
Looking to become a diesel mechanic? Or does your own car run on diesel? Then you must get up to speed on diesel engines!
And this book, as the name suggests, is the perfect place to get started. This book will help you break into the world of repairing diesel engines. 
Some of the reasons why you should consider getting your hands full with this book include: 
It contains all the information you will need on fuel systems and turbochargers
The book also has insights on electrical systems focusing on troubleshooting procedures – these car hacks can come in handy!
It has a complete section on biodiesel and vegetable oil 
It also offers good value for money 
7. Advanced Automotive Fault Diagnostics: Automotive Technology – Vehicle Maintenance and Repair 
Hands down, this book is a must-have for all auto mechanics looking to get acquainted with automotive technology. 
Being an advanced book, it has detailed, and hardcore in-depth guides on troubleshooting and root cause analysis. And let us face it, no auto repair journey is complete without learning about automotive technology. 
It makes the complete automotive repair process more manageable, efficient, and effective. And this book can certainly help you with that!
Reasons for checking out this book? Here goes nothing: 
It contains advanced knowledge and  information on troubleshooting for virtually all types of automotive systems 
The book also explores detailed information on advanced electrical systems, including keyless starting systems and a power-assisted steering system 
It is one of the most advanced and comprehensive guides on troubleshooting that you might come over 
This book is great for advanced mechanics looking to stay abreast with the latest insights and knowledge on troubleshooting and diagnosis. 
8. Today's Technician 
What if I told you that we have a set of books that could even be a replacement for a mechanic school? While it's obviously not recommended to miss your mechanic school, Today's Technician has a series of manuals and books with easy-to-read coverage. 
Getting a good grip on the concepts in this series can really help professional mechanics. 
This series includes the following books: 
Basic Automotive Service & Systems
Automotive Brake Systems
Automotive Suspension and Steering Systems
Automotive Engine Performance
Automotive Electricity & Electronics
Automotive Heating & Air Conditioning
Manual Transmissions & Transaxles
Automatic Transmissions & Transaxles
Automotive Engine Repair & Rebuilding
These auto mechanics and shop manuals are widely used in trade schools. And the reason? It's simple. 
The series is comprehensive and includes everything beginner or more advanced mechanics need to know. 
The series has two categories; the classroom and the shop manual. The classroom manual covers the theory, while the shop manual addresses the tools, diagnostic procedures, and testing.
Each book covers all the basics and helps build a solid and basic understanding of key concepts. 
Also, since the series contains several different books, it's a little on the pricey side. But the series is worth the money and won't leave you disappointed! 
Wrapping it Up 
Our list of books on car repair, maintenance, and troubleshooting will give you a complete bandwidth of knowledge and information you need to get started. 
It's recommended to start with the basics and gradually transition into the more advanced books. A solid foundation you can build upon will help you become a better and more well-rounded professional.