Several research institutes, mid-sized colleges, and high-ranking universities provide top-notch education in Michigan. It is the reason why many international students prefer to study in Michigan. For your convenience, we have narrowed down the search for you. Here are the top-tier colleges for international students in Michigan.
University of Michigan – Ann Arbor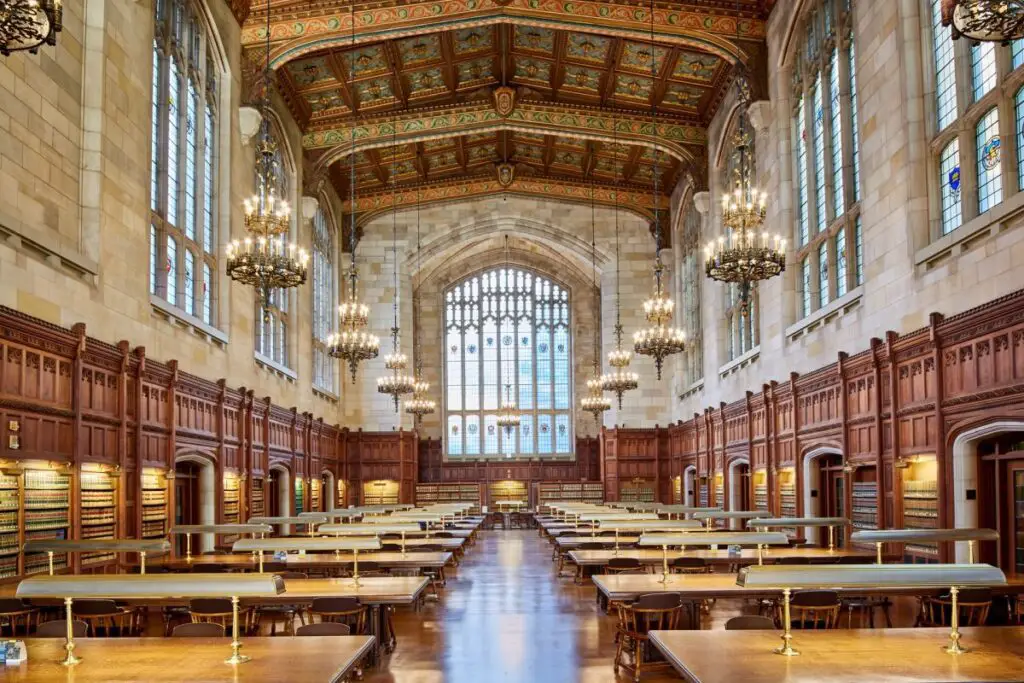 The state of Michigan in the USA lays great emphasis on education, and it was the first-ever state that provided the establishment of public libraries in its institution. Many public colleges for international students promise high-quality education at affordable rates, but the University of Michigan is the best. It has a rich tradition of providing the best research, learning, and teaching opportunities. 
Founded in 1817, it is a public research university in Ann Arbor. One of the reasons it is considered one of the top choices in seeking higher education is that it ranks at number 23 in National Universities. The ranking is based on different indicators. The University is located only 45 minutes away from Detroit and has a trimester-based academic calendar. It offers both undergraduate and graduate programs.
Apart from providing good education and research facilities, the University of Michigan provides sports and recreational options to students. Athletics and football are the cornerstones of the academic program at Michigan University. Students are also encouraged to participate in writing competitions to hone their writing skills. Apart from this, the professors give research assignments that inculcate the habit of research and writing among students. Those students who are pressed for time and are looking for reliable writing companies to do the job should search for writers who can write essays for me. You have to submit your topic details and inform them about the delivery time, and you will get a customized, good-quality essay delivered to your doorstep. 
At the University of Michigan, the most popular graduate academic programs are as follows:
Stephen M. Ross School of Business;
College of Engineering;
Taubman College for Architecture and Urban Planning.
The University of Michigan is the most selective for getting admissions, and it has an acceptance rate of only 26%. The acceptable SAT score is between 1340 and 1560, while the ACT score is 31 and 34. The application fee is $75.
The majors that are most popular and well-known are as follows:
Mechanical Engineering;
Political Science;
Business Administration and Management;
Economics;
Communication and Media Studies;
Experimental Psychology;
Behavioral Neuroscience.
Eastern Michigan University
Eastern Michigan University offers undergraduate, graduate, doctoral, specialist, and certificate programs at one of the top colleges for students. It was founded in 1849 and had a semester-based academic program. Located in Ypsilanti, 40 miles from Detroit, it has more than 200 significant subjects. There are many majors to choose from graduate programs in health, education, and business studies. Students can also participate in sports and athletics to keep themselves busy in healthy activities. The application fee is $35, and the admissions acceptance rate is 75%. In addition, it provides facilities that make life at the campus memorable.
The most popular and prominent subjects that are studied at the University are as follows:
Marketing;
Business;
Management;
Public Administration;
Biomedical Sciences;
Computer and Information Sciences.
Michigan Technological University
Founded in 1885, it has a semester-based academic calendar. It ranks at number 148 best colleges in National Universities. Students at Michigan Technological University choose from 120 undergraduate and Master's programs. The University offers a great learning environment and ample research opportunities. In addition, it provides student services that are unmatched across Michigan. From remedial tutoring, daycare, health insurance to controlled dormitory access, students are safe, secure, and enjoy studying at the top-notch University. In addition, it boasts a good reputation as an engineering school.
Full-time undergraduate students receive some form of need-based financial assistance. The average scholarship is $8,031. The acceptance rate is 75% which means it is not that selective. If you are not below average, you can quickly get admission to the University. Dubbed as the best colleges in Michigan, the most popular majors are as follows:
Engineering-related Technologies;
Natural Resources and Conservation;
Biomedical Sciences;
Communication and Journalism;
Mathematics and Statistics;
Kinesiology.
Wayne State University 
Located in Detroit WSU ranked 249 in National Universities as the best college, Wayne University offers a semester-based academic program. It has more than 300 programs, providing primary business, law, medicine, and pharmacy subjects. The best part about studying at Wayne University is that students get ample research opportunities. One of the best colleges in Michigan, it receives plenty of grants and research options. Students willing to spend more time in research activities seek admission to Wayne State University.
The application fee is the lowest at $25. Students belonging to the middle class can easily afford to seek admission at this top University. The acceptance rate is only 68% which is not that tough. Students who are above average and average can quickly get admission. Approximately 71% of full-time undergraduate students receive some financial aid.
Wayne State University provides excellent learning and researching opportunities. There are plenty of significant subjects that students are most interested in:
Marketing;
Computer Science;
International Business;
Finance.
Here are a few reasons why Wayne State University ranks on top in the state of Michigan.
According to U.S. News & World Report, Wayne Law School is ranked among the 100 best law schools; 
Its online Master's in Criminal Justice is considered the best in the nation as per the U.S. News & World Report;
The University has been awarded various research awards, contracts, and grants;
It has students coming from diverse backgrounds;
Nearly 1100 students come from around 70 countries outside the U.S.
Calvin University
One of the best universities in Michigan, it is known to provide scholarships on merit. Deserving students who wish to pursue a career in education, media and communications, linguistics, philosophy, sport management, and music can make a future at Calvin University. Founded in 1976, it ranks at number 4 in Regional Universities Midwest. It has an acceptance rate of 76%, which means students with an average performance can quickly seek admission at Calvin University. The application fee is as low as $35. It offers excellent courses and a learning environment for students. The primary subjects that are most popular among students are as follows:
Accounting;
Psychology;
Biochemistry;
Physical Education;
Speech Therapy;
Engineering;
Nursing;
Computer Science.
Final Thoughts on Best Colleges for International Students
These are the top colleges for international students in Michigan for graduate and undergraduate students. You can choose the University based on the courses and significant subjects offered. Check out the facilities the universities provide before making a decision. Your future is in your hands.