At the base of Michigan's Thumb is Bay City. Ideally suited along the Saginaw river leading into Saginaw Bay, it was lumber and industrial city well before Detroit became the Motor City. This is a series of Bay City Michigan postcard images and their story from Bay City in 1908.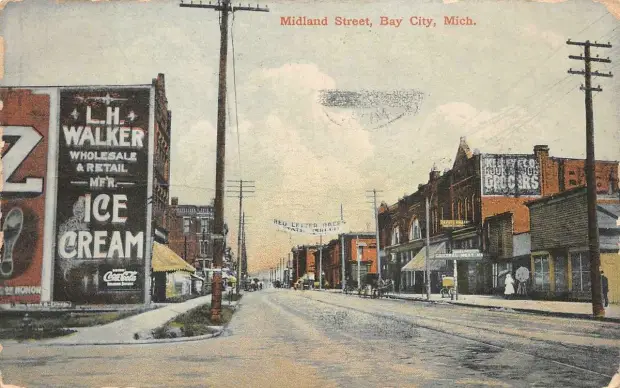 Bay City Was Becoming the Speed Boat Capital of the World
In 1908 Bay City was becoming a force in the emerging area of motorized boats. About a dozen companies were making knockdown kits of boat patterns. Kits would contain shippable boat patterns, knock-down frames, and complete boats to all globe points. Some companies equipped the kits with a locally made engine.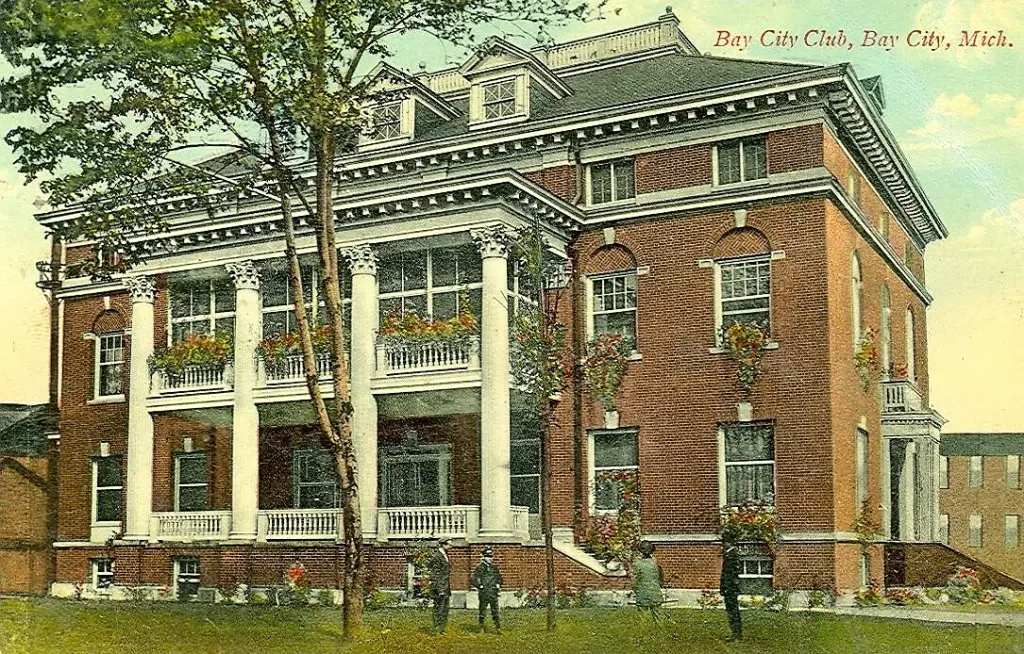 Bay City's proximity to the extensive pine and oak forests supplied the principal woods for small boat manufacturing. As a result, Bay City was on its way to becoming one of the leading boat manufacturing cities in the world.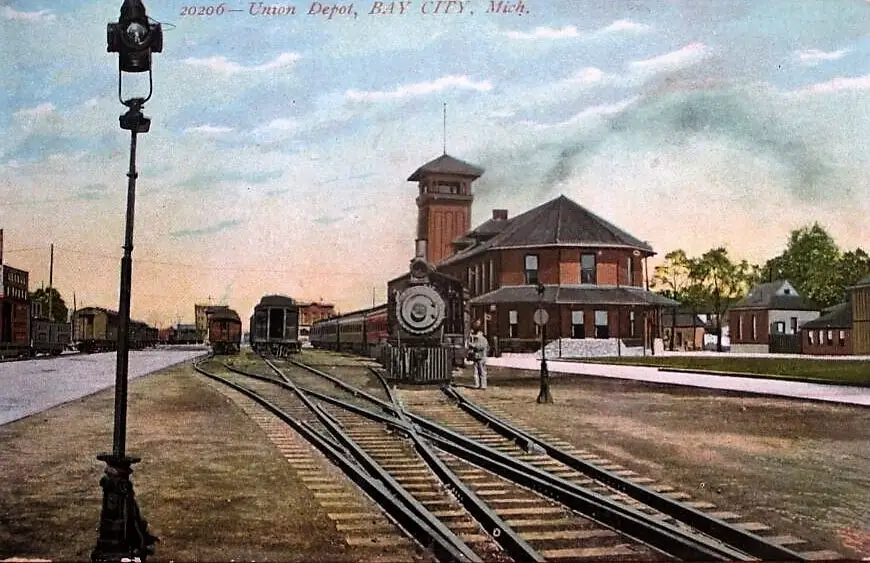 Needless to say, where ever there is a collection of boats, there has to be racing. Bay City was producing some of the fastest motor boats of the day. Speed boats such as the Arrow, Secret, and General saw speeds close to 30 mph with 15 to 20 horsepower engines.
Bay City's State Theater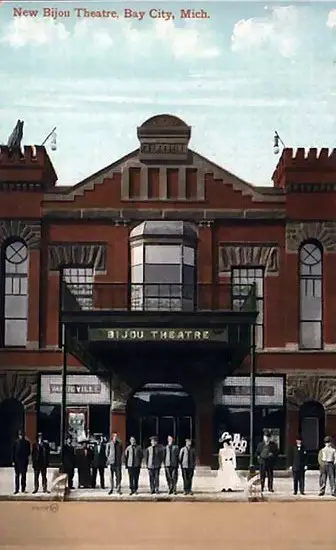 The Bay City State Theater was built in 1908. The stage becomes a local favorite for the entertainment of the day. The State Theatre was known as the Bijou. It offered both vaudeville acts and after-hours burlesque shows in downtown Bay City. In August 1920, the theatre's name was changed to the Orpheum.
The theater was renovated in 1930 to resemble a Mayan Temple by renowned architect C. Howard Crane. Crain also developed the Fox Theatre in Detroit. The theatre is a grand example of art deco architecture, radiating a warm and intimate character with seating on the main floor and a second-floor balcony.
Bay City Map 1908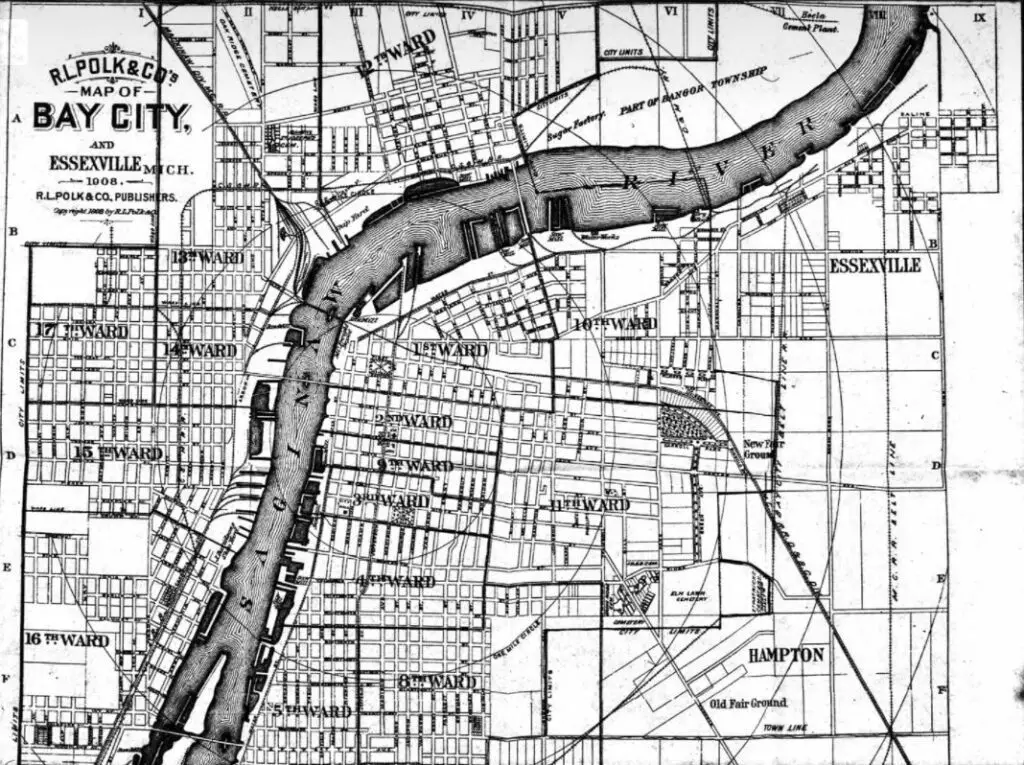 Sources
Yachting magazine, February, 1908
Library of Congress – Digital Collections
Related Bay City Michigan Reading
Route Map of the Pere Marquette Railway for Michigan's Summer Resorts 1913 – Pere Marquette Railroad. Passenger Dept. (1913). Michigan summer resorts: including the Michigan east coast resorts: a guide to the summering places in the lake and river region of the state of Michigan
Draken Harald Hårfagre – Bay City Michigan 2016 – The Draken Harald Hårfagre visited the Great Lakes in 2016. The Vikings have accomplished navigators, artisans, traders, and storytellers, but their greatest contribution was seafaring and the ships they built. The ship has a traditional dragon's head and tail and is richly ornamented with excavation patterns.
Local Deer Are Preparing For Winter – Get Ready With Deer Repellent – Although amazing, Michigan deer survive harsh winters when their preferred vegetation is nearly impossible to find. A Michigan Deer's usual winter diet includes food that is not particularly nutritious. Still, it's above the snow and available to feed on, like twigs, leaves, bark, and evergreen shrubs and trees like yews and arborvitae.
Finding Little Petoskey Stones In Saginaw Bay – The high lake levels have also revealed a new abundance of small Petoskey stones in Saginaw Bay. These are mixed in with the small pebbles and gravel at the water's edge.