The Mitten State has a dependable wintery climate because it's surrounded by the Great Lakes and its northern location. The enormous amount of ice and snow that Michigan receives each winter is one of the state's many claims to fame. Michigan winter festivals allow locals to celebrate the season and break that cabin fever. It's fun outside in the freezing streets. Here are a few of the top Michigan winter festivals this weekend and during the winter, no matter what area you are in!
Michigan's Winter Festivals
Winter Festivals In Michigan's Upper Penninsula
It's time to bundle up and get your winter on! Michigan's Upper Peninsula is the perfect place to celebrate the season with festivals, activities, and events. Here are the top six Michigan winter festivals 2023 in the UP.
Winter Carnival at Michigan Tech 2024 (Houghton)
The annual Michigan Tech Winter Carnival in the Upper Peninsula is well-known and held there for a century! The carnival, which takes place in mid-February 7-10, 2024, is a distinctive celebration of the significant snowfall northern Michigan receives.
Visitors can enjoy sleigh rides, outdoor activities, snow and ice sculptures, and the crowning of the Winter Queen. Additionally, Michigan Tech students do different acts, including comedic sketches. Moreover, there are awards for the most extraordinary snow sculptures!
3 Highlights of the Michigan Tech Winter Carnival
Spectacular Snow Statues: The snow statue competition is one of the carnival's most iconic features. Teams of students from Michigan Technological University and community groups spend weeks constructing elaborate and massive snow sculptures. These statues are not just impressive in size but also in their intricate designs and creativity, often reflecting a specific theme that changes annually.
Winter Sporting Events: The carnival is also famous for its various winter sports and activities. This includes traditional events like skiing, snowboarding, and broomball tournaments. There's also a variety of unique and entertaining competitions like snow volleyball, human dog sled races, and ice bowling, which add a fun and quirky twist to the winter sports experience.
Community and Campus Activities: Beyond the statues and sports, the Winter Carnival fosters a strong sense of community and campus spirit. Numerous events include comedy skits, queen's coronation, a torchlight parade, and fireworks. These activities provide a festive atmosphere, bringing together students, faculty, and the local community to celebrate the winter season in a fun and engaging way.
Michigan Ice Festival 2024 (Munising)
The locals host the annual Michigan Ice Fest in some of the iciest locations around Lake Superior. The opportunity to participate in ice climbing, a novel and thrilling outdoor activity unlike any you've attempted before, makes this more than just a time to rejoice. This season's Ice Fest is February 7-10, 2024
All visitors are welcome to join, and classes and equipment are provided for novices. Anyone who enjoys outdoor winter sports should attend this festival, a 30-year winter tradition in Munising.
3 Highlights of the Michigan Ice Fest in Munising
The Michigan Ice Fest, held in Munising, is a renowned event celebrating the beauty and challenge of ice climbing. It's particularly famous for its stunning location along the picturesque shores of Lake Superior in Michigan's Upper Peninsula. Here are three major highlights of the festival:
Ice Climbing Clinics and Demonstrations: The central attraction of the Ice Fest is the opportunity for both beginners and experienced climbers to engage in ice climbing. The festival offers a range of clinics led by professional climbers, catering to all skill levels. These clinics not only teach the basics of ice climbing but also cover advanced techniques. Additionally, there are impressive demonstrations by expert climbers that showcase their skills on the ice.
Scenic Ice Formations: The backdrop of the Pictured Rocks National Lakeshore provides a breathtaking setting for the festival. Climbers and visitors alike are treated to stunning views of frozen waterfalls and massive ice curtains along the cliffs of Lake Superior. These natural ice formations offer a variety of routes, making it a visually spectacular and unique climbing experience.
Community and Social Events: Beyond the climbing, the Michigan Ice Fest fosters a warm and welcoming community atmosphere. The event includes film screenings, gear raffles, and social gatherings where climbers can share stories and connect with others in the ice-climbing community. These social events are an excellent way for participants to unwind, make new friends, and celebrate their passion for ice climbing.
Christmas in the Village 2024 (Escanaba)
This festival is ideal if you enjoy vintage Christmas customs and the spirit of year-round holiday enjoyment. The so-called Antique Village puts on an "old-fashioned" holiday celebration with all the elements that give the season a cozy and cheery vibe. Along with bonfires and sleigh rides, there are a ton of holiday decorations, lights, and carols to enjoy. This event occurs on December 1-2, 2023
Additionally, complimentary and for-purchase goodies are available, including hot chestnuts, chocolate, popcorn, and Christmas cookies. Remember to enter the raffle to win a quilt made by hand! Finally, look at this breathtaking film of Christmas in the Village.
Tahquamenon Sled Dog Race 2024 (Muskallonge State Park)
Sled dog races are undoubtedly something you've heard about, but you might have yet to witness one in person. Since 1999, the Tahquamenon sled dog race has been an annual event in Muskallonge State Park. Numerous weekend races that feature amateur and professional race teams are held. This years races are being held January 6-7, 2024
Additionally, food trucks will be on-site where spectators can enjoy hot cocoa, BBQ, and other delights while taking in the race next to a bonfire.
Heikki Lunta Festival 2024 (Negaunee)
There is no place where Heikki Lunta, a legendary character, exists. The Scandinavian immigrants who settled in Michigan's Upper Peninsula created this fable. These festivities are exclusive to the local communities!
It's said that Heikki Lunta represents winter. So, the annual festival, February 2-3, 2024, celebrates everything chilly and wintry in his honor! Food and entertainment are abundant, as well as a parade, arts & crafts, and games.
3 Highlights of the Heikki Lunta Festival 2024 in Negaunee
The Heikki Lunta Festival in Negaunee, Michigan, is a unique and vibrant celebration of Finnish heritage and winter traditions. This festival, deeply rooted in the local culture of Michigan's Upper Peninsula, offers a blend of folklore, fun, and community spirit. Here are three highlights of the Heikki Lunta Festival:
Heikki Lunta Legend and Snow Dance: Central to the festival is the legend of Heikki Lunta, a mythical Finnish snow god. The tradition involves performing the "Heikki Lunta Snow Dance," believed to bring more snow. This dance, accompanied by songs and chants, is a quirky and enjoyable ritual, embodying the lighthearted spirit of the festival and the community's embrace of winter.
Winter Sports and Activities: The festival features a variety of winter sports and activities that celebrate the snowy season. This includes things like snowshoe races, skiing, and snow sculpting contests. These activities not only offer fun and entertainment but also encourage participants to enjoy the outdoor winter environment of Michigan's Upper Peninsula.
Cultural Celebrations and Finnish Traditions: Heikki Lunta Festival is a showcase of Finnish culture, featuring traditional Finnish music, dance, and cuisine. There are performances by local musicians and dancers, offering a glimpse into the rich heritage of the Finnish community in the area. The festival often includes a traditional Finnish dinner, serving dishes that are staples in Finnish cuisine, adding a flavorful cultural dimension to the festivities.
Winter Festivals in Michigan's Thumb
If you're looking for a way to keep the winter chill out of your bones, Michigan's Thumb is the place to be. Some festivals and celebrations throughout this region will keep you warm and entertained all season long.
Caseville Shanty Days 2024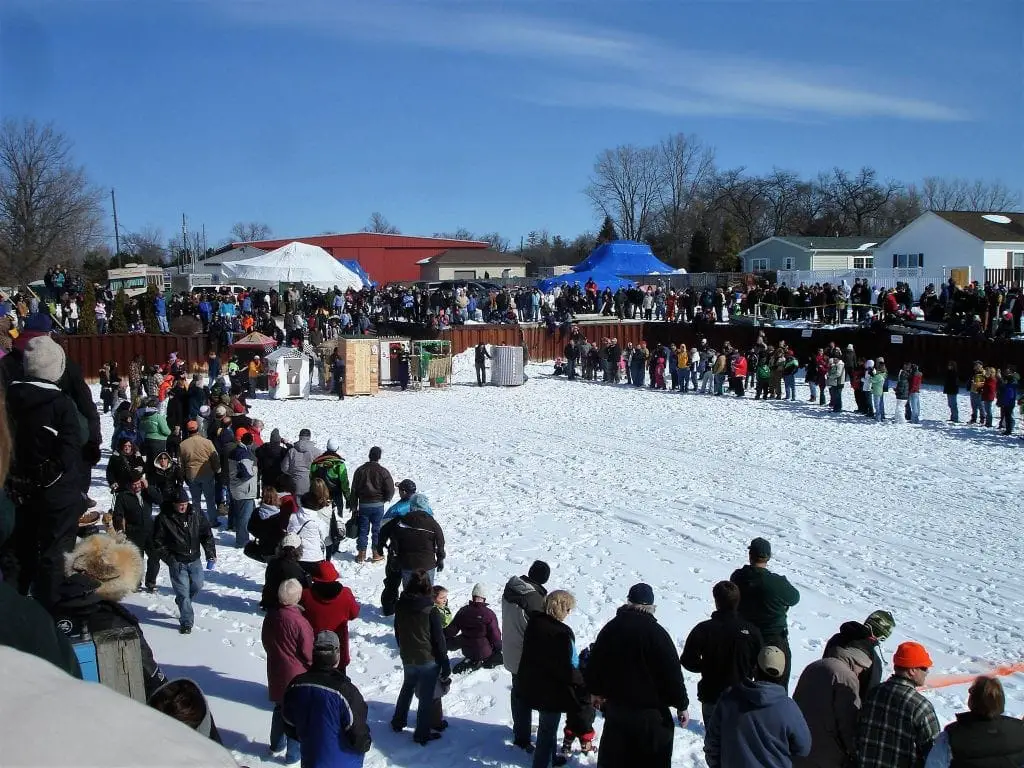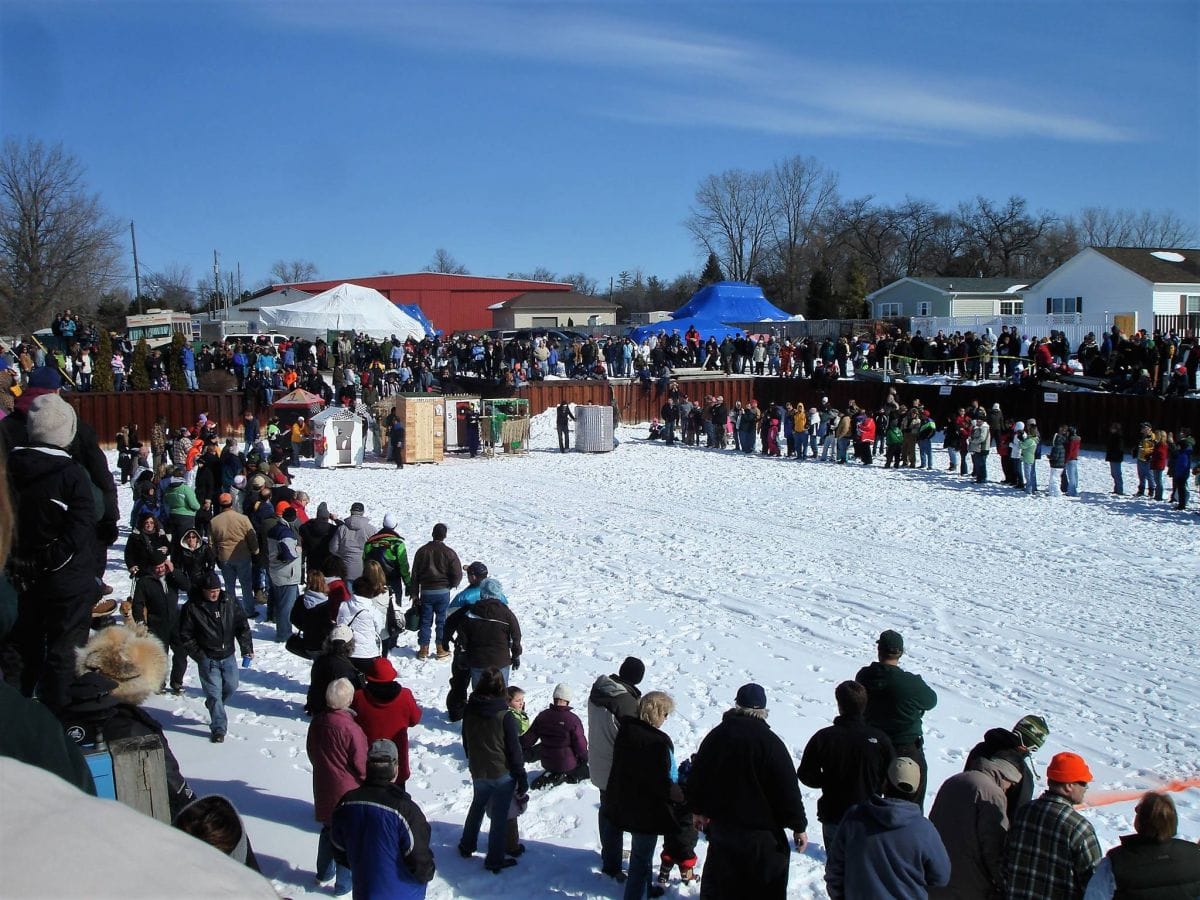 Caseville Shanty Days is a festival that takes place in Caseville, Michigan. It's held on February 16-17, 2024, and celebrates the area's heritage as a fishing village. The festival has been held for about 30 years and features a Broom Ball Tournament, an ice sculpture competition, and a polar bear plunge.
3 Highlights of the Caseville Shanty Days 2024
The Caseville Shanty Days, a winter festival in Caseville, Michigan, is known for celebrating winter fun and quirky activities. This festival brings a unique charm to the cold season in Michigan's Thumb region. Here are three highlights of the Caseville Shanty Days:
Ice Fishing Contest: A central feature of Shanty Days is the ice fishing contest held on the frozen waters surrounding Caseville. Anglers of all skill levels participate, setting up their shanties on the ice and vying for the catch of the day. This contest not only highlights the sport of ice fishing but also brings together the local fishing community, fostering a sense of camaraderie and friendly competition.
Polar Bear Dip: One of the most exhilarating and talked-about events is the Polar Bear Dip. Brave participants plunge into the frigid waters of Lake Huron, often dressed in costumes or funny outfits. This event is not only a test of courage but also serves as a fundraiser for local charities, adding a meaningful aspect to the fun.
Festive Activities and Entertainment: Shanty Days is also known for its various winter-themed activities and entertainment. This includes events like snow sculpting, a chili cook-off, and a family fun tent with games and activities for all ages. Live music and entertainment add to the festive atmosphere, making Shanty Days a lively and enjoyable experience for the whole family.
These highlights showcase the spirit of the Caseville Shanty Days, blending winter sports, community engagement, and festive fun, making it a much-anticipated event in the Michigan Thumb region.
Port Austin Winter Carnival 2024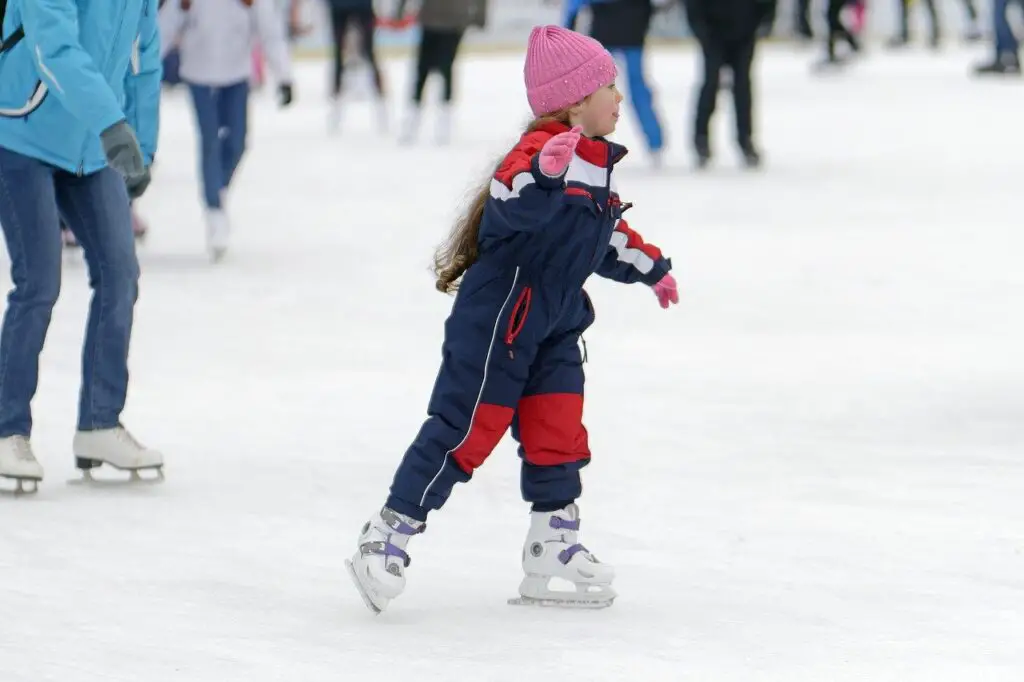 The Port Austin Winter Carnival takes place during the last weekend of January every year, (January 27-28, 2024)and it's one of the biggest winter carnivals in Michigan's Upper Thumb. It features a winter cornhole and broomball tournament and one of Lake Huron's coolest polar bear dips.
3 Highlights of the Port Austin Winter Carnival
The Port Austin Winter Carnival, held in the picturesque town of Port Austin, Michigan, is a celebration of winter's charm and the community's spirit. Here are three highlights of this delightful winter event:
Ice Skating Rink and Winter Sports: One of the key attractions is the outdoor ice skating rink set up for the carnival. This rink, often situated in a scenic location, provides a perfect setting for skating enthusiasts of all ages. Alongside skating, the carnival usually features other winter sports and activities, such as snowshoeing and cross-country skiing, making the most of the snowy landscape of Michigan's Thumb region.
Ice Sculpture Displays: The festival often showcases exquisite ice sculptures, which are not only a visual treat but also a testament to the artistic talent in the community. These sculptures, ranging from intricate designs to fun and whimsical figures, are created by skilled ice carvers and add a touch of magic to the winter setting.
Family-Friendly Activities and Entertainment: The Port Austin Winter Carnival is known for its range of activities suitable for all ages. This includes things like sledding, hayrides, and a bonfire for warming up and roasting marshmallows. The carnival often features live music and entertainment, creating a lively and enjoyable atmosphere for both locals and visitors.
Winter Festivals in Michigan's Lower Peninsula
When it comes to winter festivals, Michigan's Lower Peninsula has no shortage of options. Whether you prefer an old-fashioned holiday celebration or want to get your adrenaline pumping, there's something for everyone!
Tip Up Town USA 2024 (Houghton Lake)
Winter outdoor competitions are the focus of Tip-Up Town USA! This festival should be on your radar if you enjoy sweating outside in the winter. This year's events start January 20-22, & 27 2024. The residents of Houghton Lake get together each year for chilly entertainment, including a 5k run, a tug-of-war, games, an ice fishing contest, and snowmobile drag racing.
You are welcome to participate in the Polar Bear Dip in Lake Michigan if you are particularly adventurous. There is much to enjoy from the sidelines if you'd like to observe, such as cuisine and live entertainment.
Traverse City Restaurant Week 2024 (Traverse City)
Here is one of the winter festivals in Michigan where you can be indoors. Visitors to Traverse City can sample the distinctive menus of regional eateries every February. February 25, 2024 – March 2, 2024. Every year, the participating restaurants change, offering choices such as neighborhood breweries, coffee shops, bistros, steakhouses, and fine dining.
You can win a $75 gift card to any participating establishments if you dine at one of these neighborhood Traverse City eateries and post about it on social media. However, even if you don't, this event still allows you to sample some incredible new foods while assisting Traverse City's small businesses.
World of Winter (Grand Rapids)
Making the most of living in a chilly climate is the primary goal of Grand Rapids' World of Winter celebration. The Grand Rapids Winter Festival in 2022 and 2023 were a success, and they look to repeat it in 2024. They claim its the largest winter festival in the United States. To that end, the event seeks to offer enjoyable and lively neighborhood activities that are reachable even in chilly, snowy weather!
All visitors to World of Winter are welcome for free, and it is ideal for everyone. Public art pieces, a light maze, unique tours, scavenger hunts, snowman-building competitions, and other activities may be found here.
3 Highlights of the Grand Rapids World of Winter Celebration 2024
The Grand Rapids World of Winter Celebration in 2024 promises to be a vibrant and exciting event, with several standout features that cater to a wide audience. Three key highlights include:
Large-Scale Art Installations: More than 20 expansive and interactive art installations from both local and international artists will be on display throughout downtown Grand Rapids. This collection of visually striking and Instagram-worthy pieces offers a unique opportunity for art appreciation and interaction in a winter setting​​.
Ice Sculptures and Live Carving Event: Over 50 ice sculptures will adorn the town, starting on February 9th, providing a sparkling winter wonderland experience. Additionally, an engaging live ice carving event, known as the Ice Breaker, will take place in front of Rosa Parks Circle on February 10th. This event is a part of the annual Valent-ICE celebration, showcasing the talent and creativity of ice artists​​.
Luminary Workshops and Light Night Opening Event: The festival also features Luminary Workshops, where participants can learn to make their own lanterns. These workshops lead up to the Luminary Light Night Opening Event Parade on January 12th at Ah-Nab-Awen Park. This event combines the charm of handmade lanterns with the excitement of food trucks, fire pits, music, and interactive activities, creating a festive and engaging atmosphere for families and adults alike​​.
Southern Michigan Winter Beer Festival (Jackson)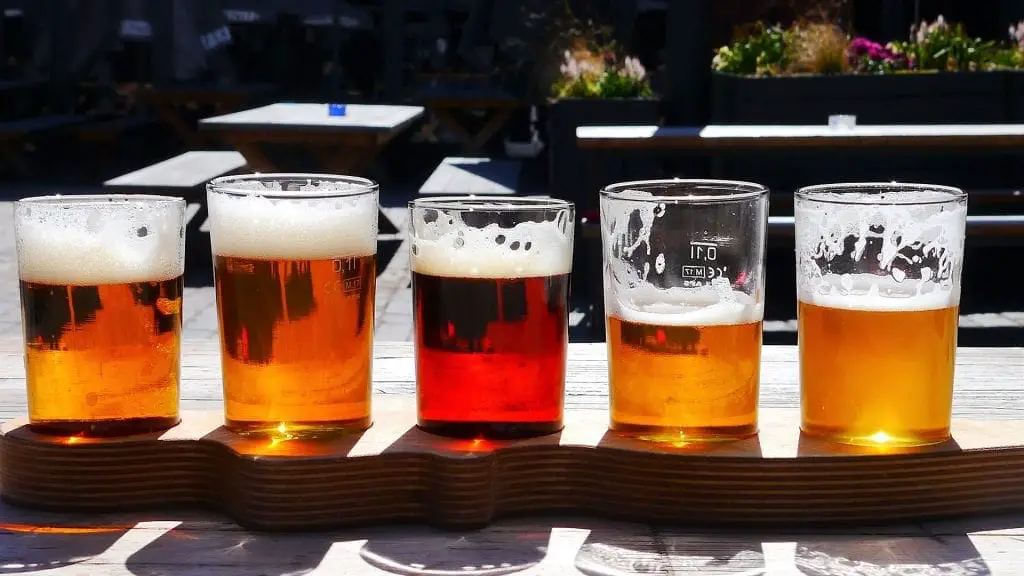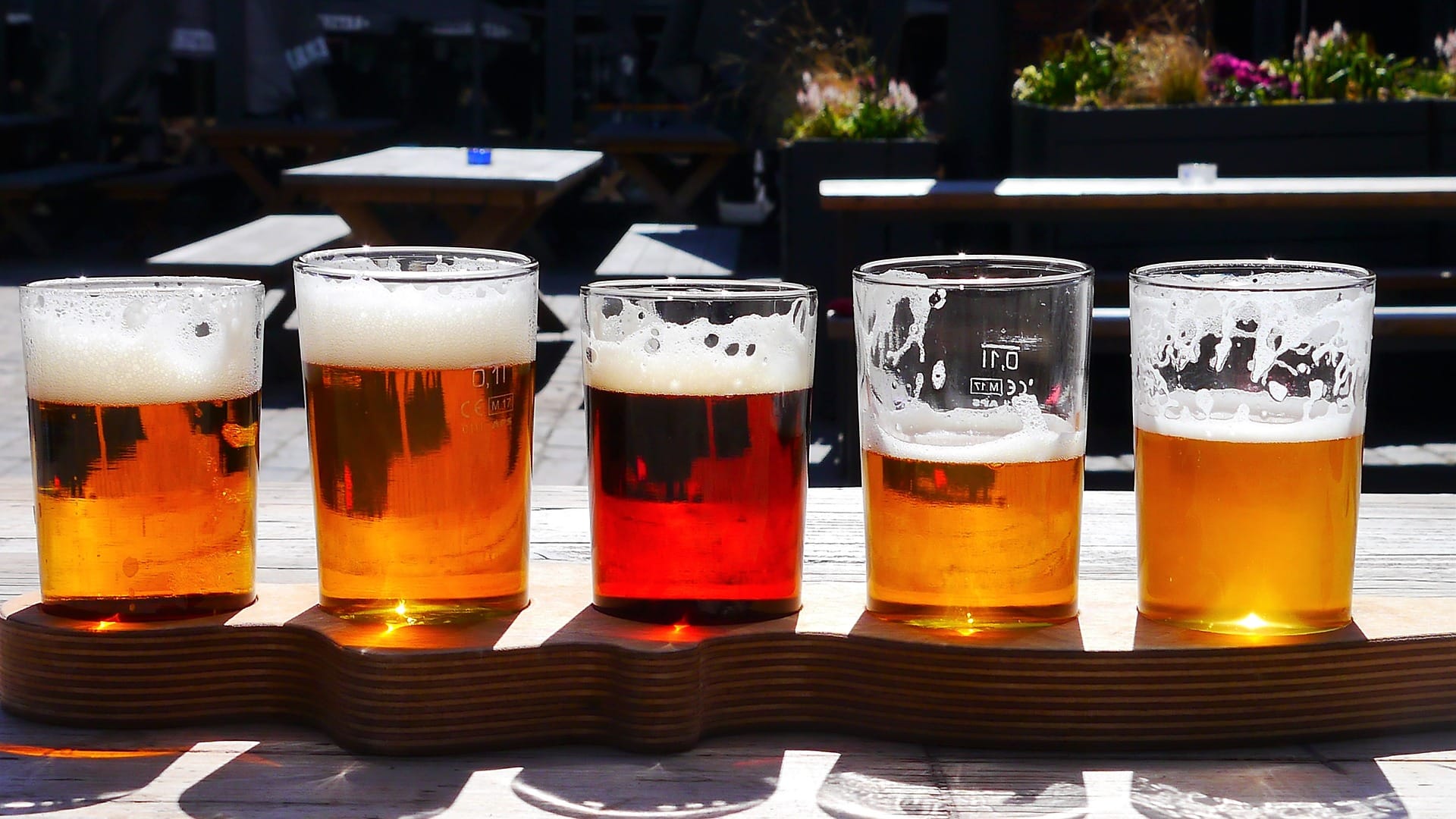 People from Michigan understand that occasionally, a decent drink will do the trick for chasing away the winter blues. The Southern Michigan Winter Beer Festival, March 9, 2024, is a craft beer celebration in Jackson, is one of the events and things to do in West Michigan that allows the opportunity to sample 150 craft beers, including domestic and imported brews.
Every year, more than 50 breweries participate. There is a ton of food, entertainment, and games during the event, which takes place indoors and outside. Outside are bonfires where you may have a meal and a beer while lounging in the snow.
Zehnder's Snowfest 2024 (Frankenmuth)
The Frankenmuth Ice Festival and Zehnder's Snowfest, January 24-28, 2024, have become two of North America's most well-known ice sculpture festivals! The giant ice and snow sculptures you have ever seen may be found at the Frankenmuth Ice Festival, but other attractions exist.
This unique event includes a petting zoo, many crafts and games, and even a fireworks display. The size of team entries in sculpture competitions can reach 100 ice blocks, up to and even single-person participation!
Final Thoughts on Best Winter Festivals in Michigan 2024
Suppose you are a college student and want to spend the weekend checking out the festivals but have a paper due. You can hire a paper writer to ensure you keep up with your academic performance and go to ice, snow, or other winter festivals in Michigan to experience!
There is plenty of wintertime entertainment around Michigan, regardless of where you are. So this year, avoid feeling gloomy by searching for the closest festival and participating in your community's celebration of the ice and snow.
Are We Missing a Key Winter Festival?
If we are missing a great winter festival, let us know! Comment and we will update our list.