With the lake water levels up in all the Great Lakes, it's been a time of change and discovery. The shifting sands have revealed sunken ships that we have never seen before. The high water has caused erosion, forcing shoreline owners to erect seawalls along the beach. It also changed the minds of some folks who decided not to put up boat hoists on Saginaw Bay, fearing they would never see their boat again if a fierce storm blew in.
However, the high lake levels have also revealed a new abundance of small Petoskey stones in Saginaw Bay and other Great Lakes beaches where these were seldom seen before. These are mixed with the small pebbles and gravel at the water's edge, especially near new seawalls. This is a new development between Sleeper and Port Crescent State Parks in the beach areas. This phenomenon is occurring on other beaches besides the northwest shores of Lake Michigan.
Why Are Petoskey Stones Suddenly So Prevalent On Saginaw Bay?
The truth is that the stones have always been in Saginaw Bay. Just they were buried by sand and silt. The high lake levels have moved some sand around to reveal gravel beds. However, so has all the work erecting hundreds of sea walls along the shore. The net result is that these little fossilized wonders are seeing the light of day.
Erosion from high lake levels reveals hidden stones every 20 to 30 years. The beaches will be almost devoid of rocks when the water levels recede. But, even today, it's easy to find them since the water reveals them as it rises. All you have to do is take a few steps into the water.
These are small stones. It is ideal for a quick polish and to make into jewelry or to place in a terrarium with tiny plants in their native state.
What is a Petoskey Stone?
A Petoskey stone is a rock and a fossil made up of Hexagonaria percarinata, a fossilized rugose coral. It is commonly pebble-shaped. Glaciers ripped stones from the bedrock, ground down their rough edges, and deposited them in the northern portions of Michigan's lower peninsula. As a result, complete fossilized coral colony heads have been discovered in the parent rocks for the Petoskey stones in the same places of Michigan.
Petoskey stones are found in the Traverse Group's Gravel Point Formation. They are coral reef remnants that were initially deposited during the Devonian period. The stone seems like an ordinary grey limestone when dry, but when wet or polished with lapidary processes, the mottled pattern of the six-sided coral fossils is revealed. These stones are used to make jewelry and other decorative items. Different types of fossilized coral, such as the Cheboygan Stone, are also prevalent in the northern Great Lakes.
How to Polish Petoskey Stones By Hand
How to Hand Polish a Petoskey Stone
Is it Illegal to Take Petoskey Stones?
Mlive discussed the question with a National Park Ranger. His suggestion was sound. Andrew Blake, acting chief ranger at Sleeping Bear Dunes National Lakeshore in Empire, advised against rock hunting in national parks. Collecting anything within the park is prohibited, and anyone caught doing so will face a hefty fine. "We mostly educate individuals and provide warnings, but we do issue tickets on occasion," Blake explained. If you take any fossils or wood, you will be fined at least $325. However, in Michigan State Parks, you are permitted to collect up to 25 pounds of rocks for each person.
Individuals may not take more than 25 pounds of rocks, fossils, or minerals per year from state parks, recreation zones, or the Great Lakes bottomlands in Michigan, according to state law.
Finding Petoskey Stones in Saginaw Bay
This silent video shows a rockhound scooping up dozens of Petoskey stones a couple of feet away from the sandy beach on a quiet day with no waves. The conditions are ideal. An exposed rocky area in shallow water with little or no wave action. He also shows success near recent seawalls that have been constructed on Lake Huron over the past two years as a result of the high lake levels.
Finding Petoskey stones in Lake Huron, Saginaw Bay, Summer 2019.
Tips and Tricks For Finding A Petoskey Stone
Find an uncrowded and somewhat rocky stretch of Saginaw Bay or Lake Huron beach. It's perfectly fine and legal to wade in the shallow gravel area at the water's edge. Bring a driver's mask to see clearly in calm waters. It will make finding these little Petoskey stones a lot easier.
Take your time. After you find a few, you will get better at recognizing the shape and color of the Petoskey stones, and your eyes will soon get tuned into just looking for them.
When Is the Best Time of Year to Look For Petoskey Stones?
Because wave activity and winter ice have delivered new stones to the shores of Lake Huron, spring is often the best time of year to find Petoskey stones. However, going out in the rain or right after a storm might prove productive in finding the tiny rocks.
Map On Where to Find Petoskey Stones in Michigan
With the Great Lakes constantly changing, the opportunity to seek and find Petoskey stones on just able any beach is a potential. Based on newspapers and social media reports, I created this map of the prime spots to look for Petoskey and Charlevoix stones.
However, some beach areas are well known for their ability to offer good quality large stones that you can collect, polish, and make into jewelry. Here are the top beaches that are good places to explore for Petoskey stones.
Petoskey Stone Hunting Near Charlevoix Michigan
In the Charlevoix area, there are at least five beaches to explore. The first is Mt. McSauba Recreation Area. While it's better known for its ski hill, the proximity to Lake Michigan is one of the prime hunting grounds for Petoskey stone hunters.
Just north of Mt. McSauba is the North Point Nature Preserve. This is known as a quiet sanctuary away from tourist areas. Take a short rock hound hike in the woods and dunes, right along the lake.
A short drive southwest of Charlevoix is Fishermen's Island State Park. Situated on Bells Bay on Lake Michigan, this lakeside park offers excellent Petoskey hunting opportunities.
In Charlevoix, take a short walk to Michigan Beach Park. This is a great little beach where Charlevoix and Petoskey stones can be found. Lots of fun! It offers excellent scenery and picture-taking opportunities too.
Finally, take a day trip by ferry out to Beaver Island if you are adventurous. You can take your car over or bring a bike and circle the island exploring the best spots for Petoskey stones. If you visit the Beaver Island Head Light, take the stairs down to the beach and explore.
The Petoskey Stone's Namesake Town is A Place to Hunt
Between the tourist towns of Petoskey and Harbor Springs is Petoskey State Park. The beach is a mile long and at the extreme eastern edge of Little Traverse Bay. This prevailing winds drive waves and opportunities to uncover Petoskey and Charlevoix stones.
Find Petoskey Stones on Lake Michgian Near Frankfort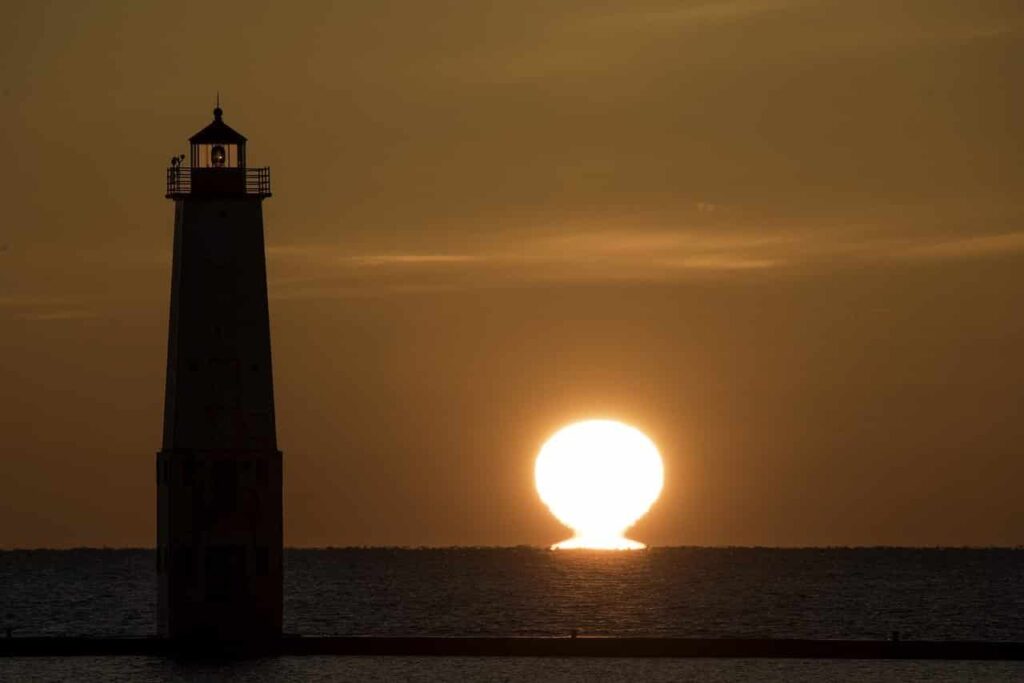 Another prime Petoskey hunter location is a five-minute drive north of Frankfort, Michigan. Again, the Point Betsey Lighthouse Beach is a great place to pursue. Unfortunately, the Lake Michigan water levels have severely eroded the beach. However, this tends to turn up new Petoskey stones under the shifting sands.
Prime Petoskey Finding Near Manistee
Those hunting Petoskey's further down the shore should stop at Orchard Beach State Park. The park is situated on a bluff that offers shaded campsites and a stairway down to the beach. One local tip is that the ridges at the park are a great spot to watch a sunset.
Other Petoskey Hunting Spots in Leelanau County
We previously mentioned that taking Petoskey Stones on the Sleeping Bear National Lakeshore is a no-no. However, the area has other beaches to explore too. One spot to visit for the day is Empire Beach. This offers million-dollar views of the Sleeping Bear dunes and a place to look for Petoskey's
The other location is at the tip of the Leelanau Peninsula at Leelanau State Park. The park has been described as having breathtaking views with waves lapping on the stony pebble shore. Take a tour of the Grand Traverse Lighthouse for a few bucks.
Find Petoskey Stones Near the Scenic and Historic Fishtown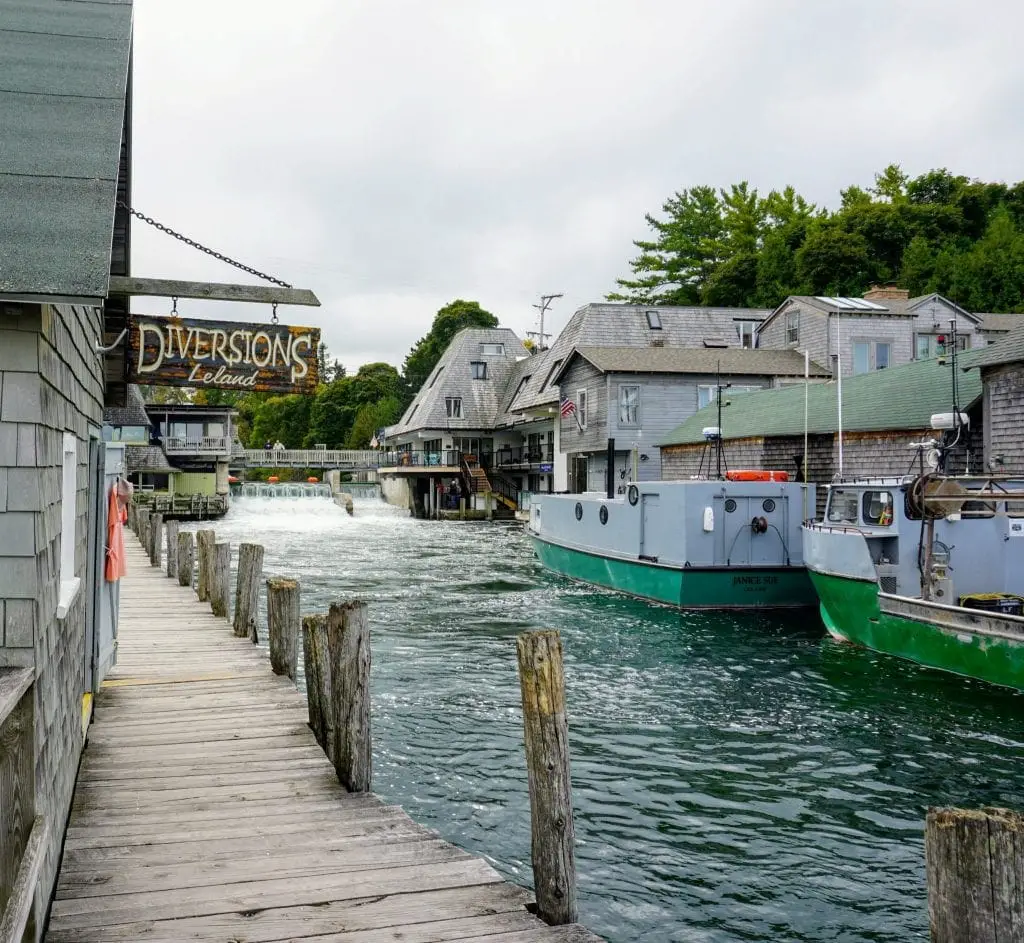 If you are in the area, it is worth stopping at the famous Fishtown for a picture and an ice cream cone. Few people know it's an excellent location to find Petoskey Stones. Just south of Fishtown is Thompson Street Beach. It is a rock hunter's prime spot and a place to look for another collectible stone, the Leland Blue.
Petoskey Stone FAQs
How Old Are Petoskey Stones?
Both Petoskey and Charlevoix stones are prehistoric coral that dates back 350 million years to the Devonian Period. These stones are distinguished by their distinct exoskeleton structures.
How Are Petoskey Stones Formed?
Glaciation created the stones by picking up the stones from the bedrock, grinding down their rough edges, and depositing them in northern Michigan and Saginaw Bay on Michigan's lower peninsula.
Are Petoskey Stones Rare?
Petoskey stones aren't particularly rare, they're the state stone of Michigan, but they can be hard to find. Since many people search for them, popular beach areas tend to get picked clean of stones.
---
Petoskey Stuff on Amazon
Images below may contain affiliate links that, if purchased, we may receive a commission. See our Affiliate Disclosure for more information.
---
Related Reading About Michigan Petoskey Stone
History of Michigan Thumb's First Industry at Grindstone City – Within the Great Lakes region, the rim of the geologic formation of Marshall Sandstone comes up to the surface at the Tip of Michigan's Thumb. This outcropping of abrasive stone can be found throughout Huron, Jackson, Calhoun, and Ottawa counties. At the extreme edge of this outcropping is Grindstone City.
The Sentinal of Grindstone City – The Wallace Mill – If you visit Grindstone City's Harbor, you will immediately notice a large four-story stone building nobly standing on a bluff overlooking the lake. It's an intriguing sight. I knew it was a mill but had little background if it was part of the quarry operations in the area.
Grindstone City – The Thumbs First Industry – In the mid-1800s, many quarries were opened in the area, and the Marshall Sandstone was used for building purposes. In the late 1800s, Grindstone City was one of the first flourishing industry towns and produced the world's largest and finest grindstones.
Is There a Version of Stonehenge In Lake Michigan? – If verified, the carvings could be as much as 10,000 years old – coincident with the post-Ice Age presence of both humans and mastodons in the upper Midwest.
Sanilac Petroglyphs – A Michigan Native American Story in Stone – The petroglyphs were donated to the State of Michigan by the Michigan Archaeological Society and managed by the DNR since 1971. The Sanilac Michigan petroglyphs are the largest known group of ancient rock carvings in the state.