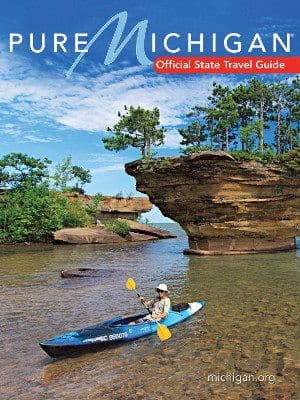 I was at Detroit Metro airport and spied a tourist handout that I couldn't resist picking up. It was the Upper Thumb's own Turnip Rock on the cover of the 2016 Pure Michigan Official State Travel Guide. The guide is published twice a year and highlights the best-of-the-best tourist attractions across Michigan.
My enthusiasm was short-lived as there was no "cover story" that highlighted the wonderful experiences that can be offered in the Upper Thumb. However, the fact that one of the most interesting and beautiful aspects of the Upper Thumb was highlighted a snapshot for all of Michigan was a boost. The iconic rock is only accessible by kayak or canoe. You can rent kayaks in Port Austin and paddle to Turnip Rock and back in a few hours.
Credit was given to Johnny Qurin of Port Austin for the cover shot.
Related Amazing Pure Michigan Reading
Paddling to Turnip Rock – 5 Things to Know – One of the most amazing sites in the Upper Thumb is Turnip Rock. Considered one of the 10 most beautiful places in Michigan. Carved over time by the force of constant wave action, the soft limestone has been shaped to its namesake and separated from the mainland over thousands of years. CNN called it one of the Most Amazing Rock Formations in America and Pure Michigan featured it on its 2016 magazine cover.
Things to Do and See in the Upper Thumb – We encountered many folks who have come up to Michigan's Thumb for their entire lives but never have seen these interesting sites. How many have you been to? If your visiting Caseville, Port Austin, Bay Port, Gagetown or Harbor Beach check these out and let us know if you have a "must-see" from the tip of the Thumb.
Michigan's Indian Trails – Amazingly, Michigan's first trails were not made by Indians but ranging buffalo herds in migration. This was especially true on the St. Joseph trail in Southwest Michigan. We cover all the major trails in Michigan.
Port Austin Lighthouse In The Winter – In 2015, one bold video producer captured some of the most awesome and intriguing shots of the winter ice of the Upper Thumb. Braving treacherous ice flows we see rare ice shots of the Port Austin Lighthouse, Turnip Rock and Port Austin Harbor transformed to the warm summer magic of Michigan's Thumb.
Places to Stay to Enjoy Port Austin Michigan – Port Austin offers a wide range of accommodations. From romantic rooming at a bed & breakfast, cozy cottages, to beachfront suites there is accommodation for a long weekend to a month of vacation days. As a year-round destination, we looked for the top places to stay in Port Austin that are often ignored by the large travel websites.