From 2012 – A Ban on Copper Bottom Coatings
In the February 2012 issue of BoatUS, there was a special report on activity taken by several states to ban copper marine antifouling bottom paint by 2020. Copper is added to the bottom paint as a biocide to prevent slime, plant, and zebra mussels from attaching to the hull. Unfortunately, the typical recreational boat sits in her slip much of the time; the copper coating in the paint slowly leaches into the water and settles in the bottom. At the same time, copper is a naturally occurring element, especially in Michigan. The concentrations in the silt since its introduction in the late 1980s have created a poisonous wasteland in the basins in some ports and marinas.
In the 1990s, Copper began to become a concern in some harbors in California. Two large harbors, Marina Del Rey and the Port of San Diego, were seeing high concentrated measurements. As a result, studies were undertaken to determine the extent of the problem and determine if remediation was necessary.
Michigan has over 200 marinas and over 900,000 registered watercraft. So it's only a matter of time before the issue hits our shores. Currently, only Washington and California are actively taking steps to curb the use of copper bottom paint.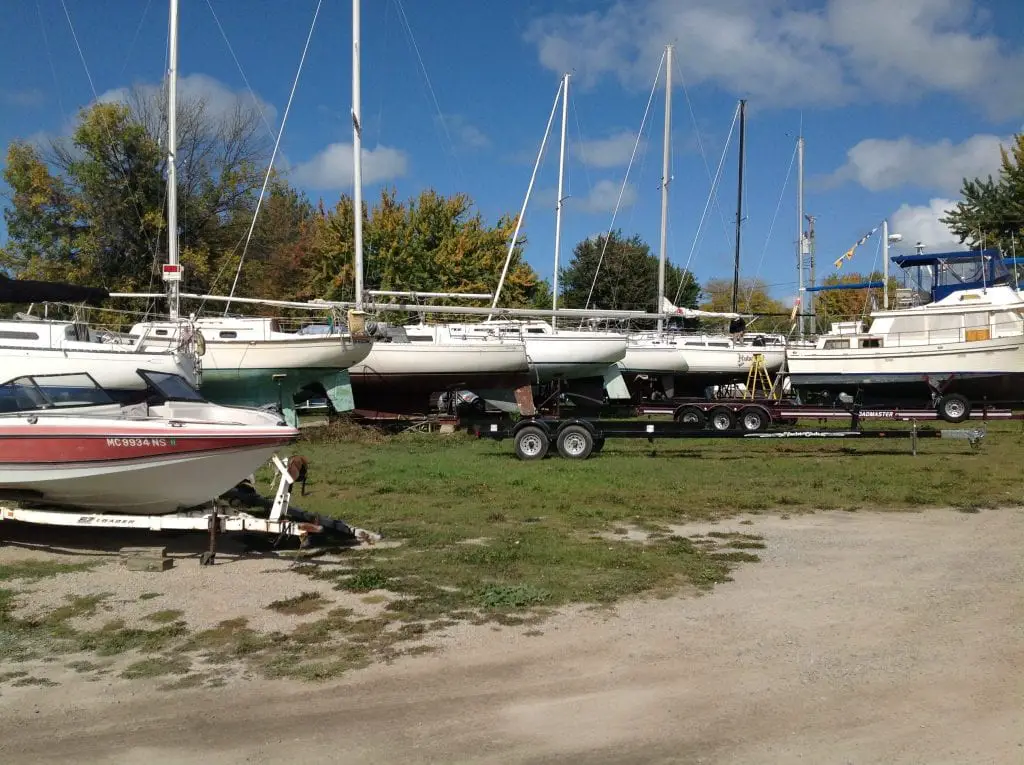 Current alternatives to copper-based antifouling paint are being developed but have serious environmental and cost concerns. For example, switching to a non-biocide or organic requires stripping the existing coating from the hull. This can cost thousands of dollars and create a cloud of copper-laden dust which is considered hazardous waste. In addition, the application of the new coating requires the use of a sprayer. However, as the commodity cost of copper skyrockets, environmentally friendly alternatives may be cheaper in the long run.
It may be several years before Michigan lawmakers consider taking similar steps. In the meantime, the paint industry will continue to develop and refine non-copper alternatives. However, boaters should keep this issue in mind when they prepare their craft for the next boating season.
In 2018 a ban on the use of antifouling copper coatings in Washington state had been delayed until more research can be conducted to identify safe alternatives.
Factoids on Copper and Antifouling Paint
How big is the market for antifouling Copper paints & coatings?
Who makes Copper and other antifouling paints & coatings?
Top players are BASF S.E, Sherwin-Williams Company, BoeroYachtcoatings, Nippon Paint Marine Coatings Co. Ltd, Chugoku Marine Paints Ltd, PPG Industries Inc., Chugoku Marine Paints Ltd, and others.
Why are Copper antifouling paints & coatings used on boats and ships?
Copper coatings or paints are used to prevent microbes from collecting on the submerged hull. Thus making it resistant to corrosion. Copper coatings also shield the ship from bacteria, algae, diatoms, which reduces the vessel's running speed. In addition, this slick surface improves fuel conservation.
Is antifouling copper paint banned?
Tributyltin (TBT)-based antifouling paints have shown effective at preventing the fouling of ships' hulls and consequently the transport invasive species. As a result, the U.S. partially banned TBT in 1988, and a global ban is expected.
---
Related Stories to Antifouling Coatings
---