It's hard to capture the grandeur and vastness of Saginaw Bay's beauty during the winter months. In 2015, one bold video producer captured some of the most awesome and intriguing shots of the winter ice of the Upper Thumb. Braving treacherous ice flows we see rare ice shots of the Port Austin Lighthouse, Turnip Rock and Port Austin Harbor transformed to the warm summer magic of Michigan's Thumb.
Thumbwind gives a tip of the hat to  "Lighting in a Bottle Rainy Day Productions" for featuring this Pure Thumb experience.  Enjoy.
The Port Austin Reef Lighthouse was put into service in 1878, and its base pier was modified in 1899. The Lighthouse is still operational and is automated. The tower is constructed of yellow brick. It is an octagonal, 60-foot tall tower, with an attached keeper house. The focal plane is 76 feet. It utilized a fourth-order Fresnel lens by Henry Lepaute of Paris and was installed in 1899.
Nearby Turnip Rock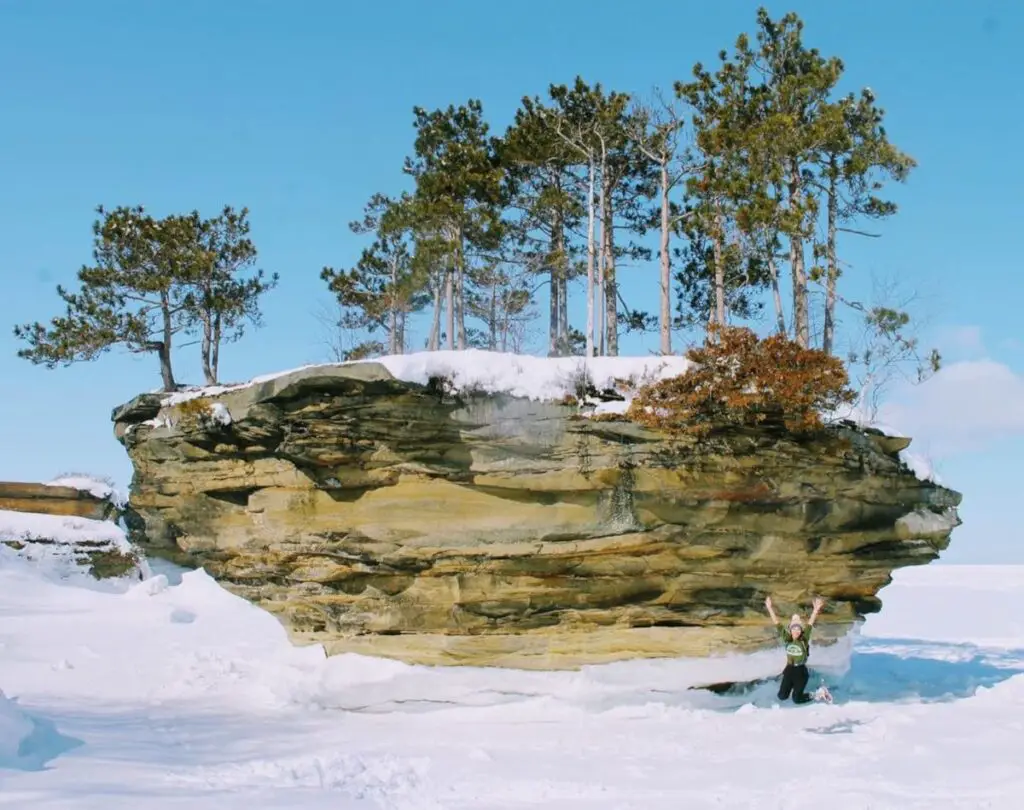 Just off the tip of Michigan in Lake Huron is Turnip Rock. It's a large turnip-shaped sandstone island. The unique shape is the result of thousands of years of erosion by wind and water of the lake.
Tall trees, moss, and other vegetation have grown at the top of the isolated rock. Nearby is the "thumbnail" (or "tip of the thumb") outcropping, which is considered the most northern point on the "thumb" of Michigan.
The surrounding land is privately owned by residents of the Pointe Aux Barques community, so visitors can only view the rock by kayak or hike over the frozen lake in the winter.
Touring the Port Austin Reef Lighthouse
From Memorial Day to Labor Day weekend, tours of the Port Austin Reef Lighthouse are held every Saturday. The charter boats that convey groups to the lighthouse may accommodate up to 12 passengers. Because the lighthouse sits out on the open on Lake Huron, the weather is usually the largest obstacle for excursions, with about 40% of trips being canceled due to inclement weather. Private excursions have been conducted until December in rare cases where the weather has cooperated.
Related Port Austin Lighthouse Reading
---